PIRTEK has a long relationship with motorsports racing on a global scale. DJR Team Penske is the Australian counterpart of the world-renown Team Penske, winner of multiple NASCAR and INDYCAR accolades. Lookout for their place in the 2019 V8 Supercars Championship season, forming an epic team with the Shell V-Power Racing Team.

Founded by Dick Johnson, DJR Team Penske represents one of the oldest and most successful Australian racing teams. With 7 Australian Touring Car Championships, 3 Bathurst 1000 victories and titleholder of the 2018 Drivers Champion in Scott McLaughlin under their belt, DJR Team Penske have proved their firm status in Australian motorsports.
Pirtek's partnership with DJR Team Penske allows for a mutually supported relationship, utilising Pirtek's technical expertise in fluid transfer solutions along with DJR's iconic place in Australian racing.
PIRTEK AND PENSKE - PARTNERS ON TRACK AND IN BUSINESS
Pirtek and Shell V-Power Racing Team have agreed to an extension of their sponsorship agreement, taking up the option to continue their existing partnership.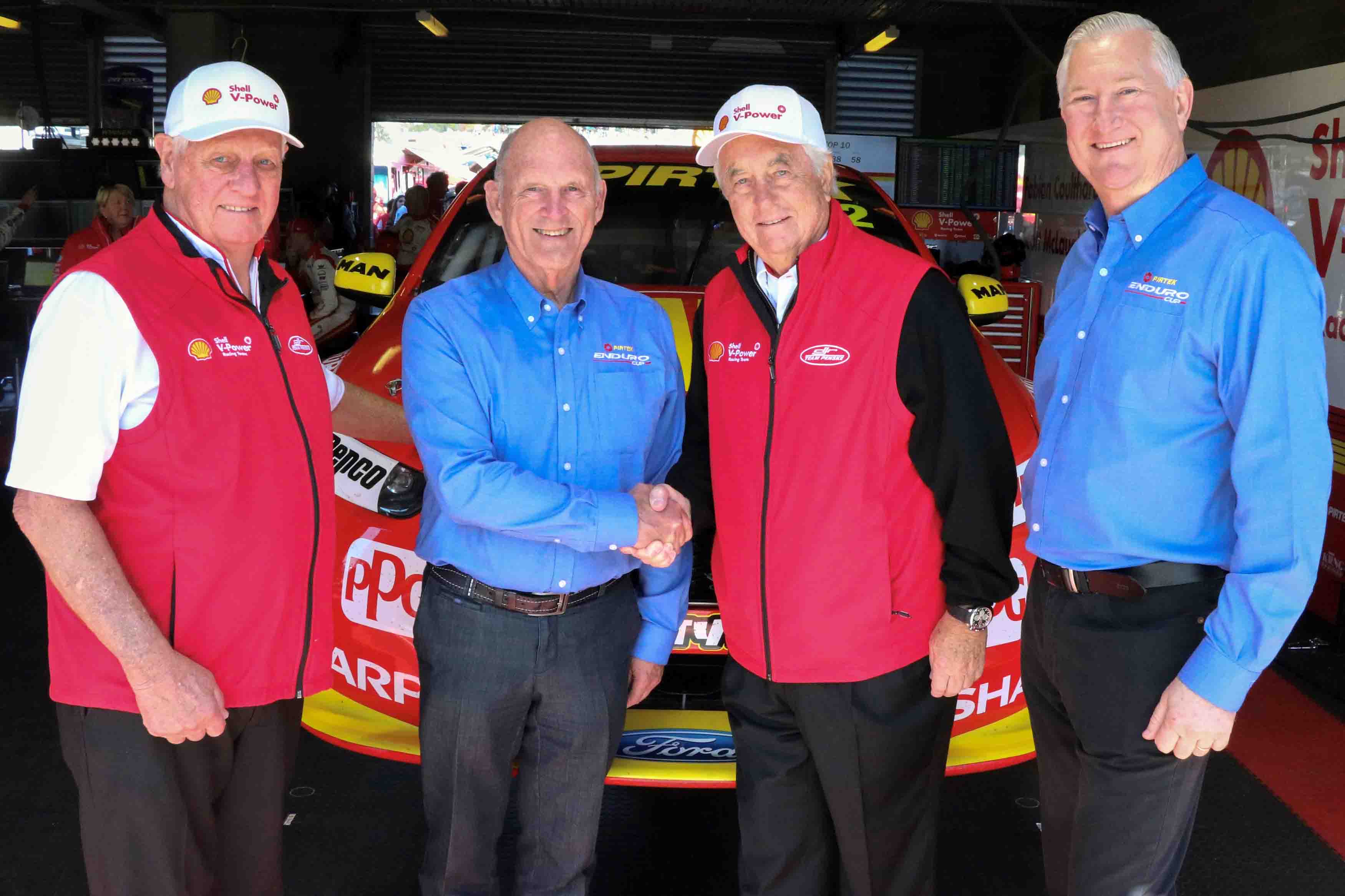 (L to R) Dick Johnson, Pirtek Chairman Peter Duncan, Roger Penske and Pirtek CEO Stephen Dutton at the Bathurst 1000 last weekend.
Pirtek is Australia's leading hydraulic and industrial hose supplier and has been a partner of the team since its inception as DJR Team Penske in 2015.

Stephen Dutton, CEO of Pirtek Fluid Systems said that the business was very excited about taking up the option to continue the sponsorship agreement through 2020.

"As we celebrate 20 years since Pirtek's first Bathurst win as a sponsor, it seems an opportune time to continue our involvement in Supercars and the fantastic relationship we have with DJR Team Penske," said Dutton.

"The fact that the team won the Pirtek Pitstop Challenge at Bathurst last week for the second year in a row is the icing on the cake. We wish the team all the best for the rest of the season and into the future."

Peter Duncan, Chairman and Founder of Pirtek said: "This is a relationship built both on & off the track with Penske & Pirtek businesses working together for a common purpose. We share the same values of professionalism, experience and presentation across our network and have no hesitation in extending our deal."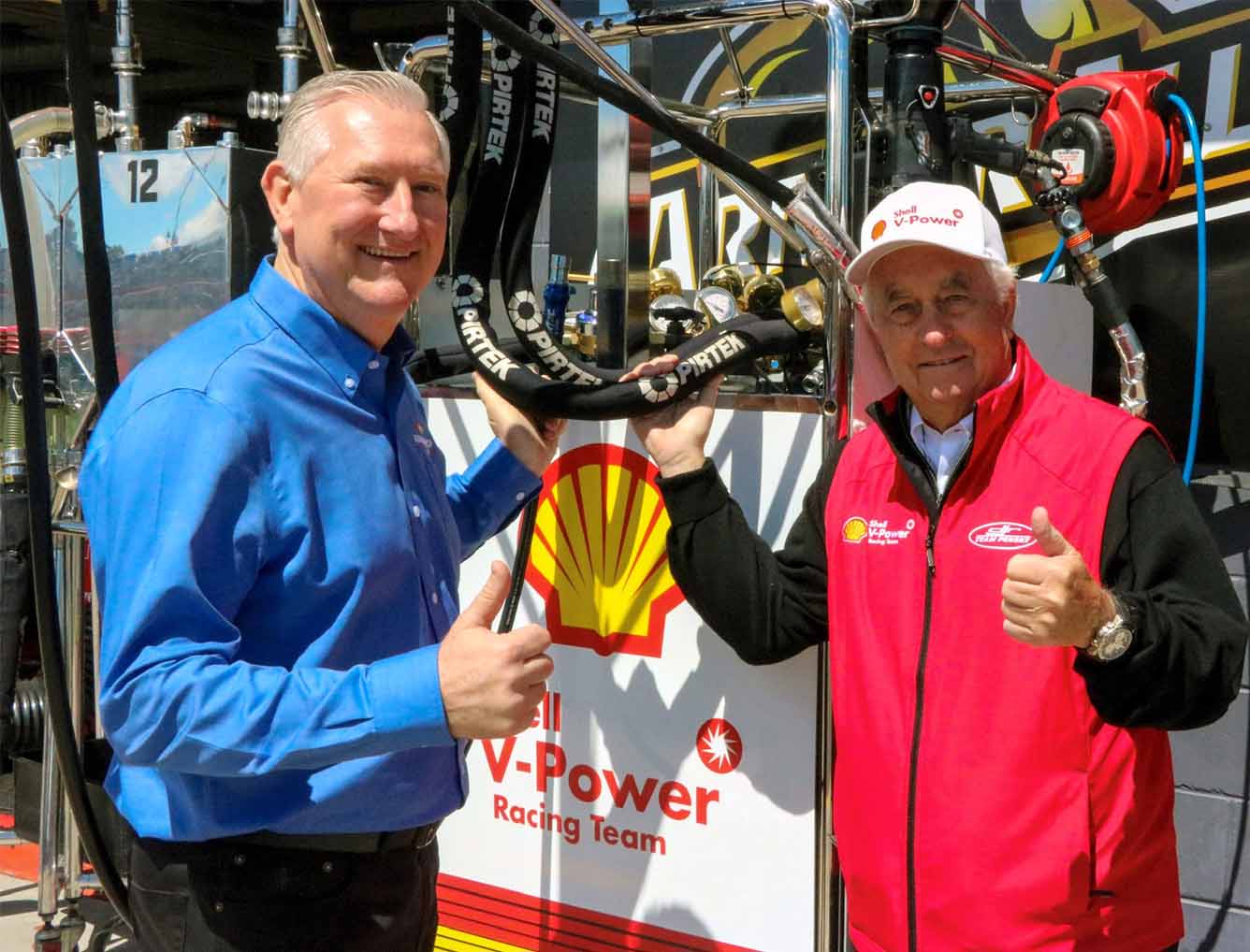 Stephen Dutton (L) and Roger Penske (R) inspect the Pirtek hydraulic hoses that allowed Shell V-Power Racing to win the Pirtek Pitstop Challenge for a second year running.
Roger Penske, Chairman and Founder of Penske Corporation said that the relationship between Pirtek and Penske is one that was established on the track, but now has deep roots in business.

"Pirtek joined us as foundation partners with DJR Team Penske in 2015 and the company has grown with us and been a big part of our success in Supercars," said Penske.

"Stephen (Dutton) and his team have worked closely with Penske Transportation Group in Australia - along with many of our other team partners - to build very strong and productive business-to-business relationships. Our partnership has grown internationally as Pirtek is now also a key part of our motorsports teams in the United States."

Shell V-Power Racing Team Co-Owner and Australian Motorsport Legend Dick Johnson said the relationship between Pirtek and the team is a special one, both personally and professionally.

"Partnerships like this don't come along often, and their support is fabulous. Not only do they support DJR Team Penske, but also Team Johnson and our entry in the Touring Car Masters.

"They have been a strong supporter of Australian Motorsport for the last 20 years. Thanks to Stephen, Peter and the team for their continued support and valued partnership.