News
Pirtek launches exclusive Fluid Injection Resistant Safety Glove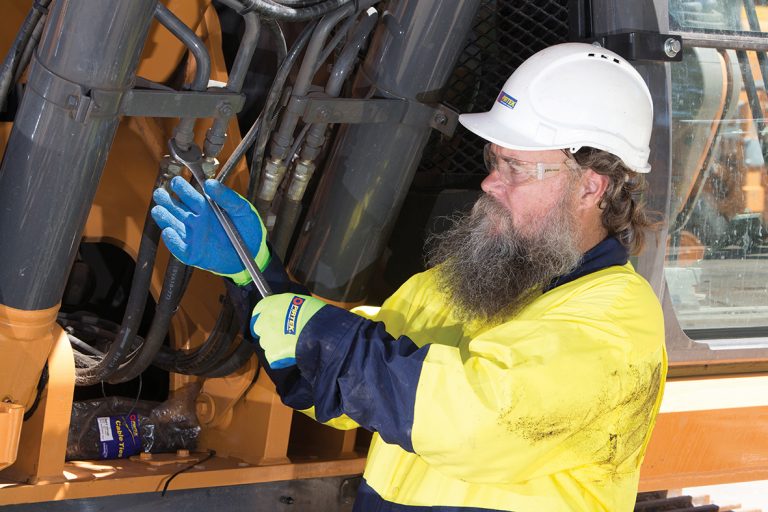 The new Power Glove in action
We are proud and excited to introduce the new Fluid Injection Resistant Safety gloves, part of the Pirtek Protect range of products.

As you know, fluid injection injuries can be devastating and severely damaging to workers. Injection injuries can be extremely harmful with all cases requiring emergency surgery. Pirtek is all about mitigating the risk of injury and this product goes a long way in reducing that situation.
DOWNLOAD THE BROCHURE HERE

Our mission at Pirtek Fluid Systems is to ensure that safety is a top priority for people working in and around fluid transfer systems. The patented technology in these gloves has resulted in a product with better cut, puncture, abrasion and tear resistance whilst also improving dexterity and feel. The added bonus and exclusive additional benefit of fluid injection resistance makes this a 'must have' product your team.

A typical example of how and when workers are at risk of receiving a fluid injection injury is through hydraulic hose failures. The velocity of fluid forced through a pinhole break in a hydraulic hose can be in excess of 250 metres per second (600 ft/s) close to the muzzle velocity of a gun. Fluid, released in a fine jet at this velocity, is sufficient to penetrate through protective clothing, including protective gloves.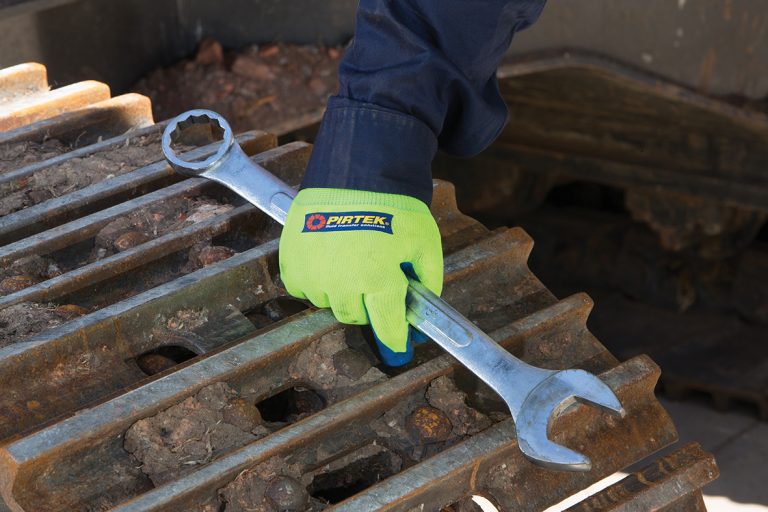 Available exclusively from Pirtek
Skin penetration can occur up to 100 mm away from the fluid source and at pressures as low as 100 psi. The toxicity of the injected fluid leads to necrosis of the affected area, in addition compartment syndrome occurs, calling for the need for timely surgery.

Compartment syndrome is caused when fluid under pressure enters the hand causing nerve and tendon damage by over pressurising the compartments in the hand, including nerve and tendon compartments, which can lead to permanent damage.

There is also a risk of blood poisoning and bacterial infection. Surgery is required in 100 percent of cases to remove the dead tissue and clean out the injected fluid from the wound.

Failure to act quickly may result in the need to amputate fingers and limbs. The risk of amputation significantly increases if the wound is not treated within six hours. But, Pirtek has devised a solution.
Fluid Injection Resistant Glove

The Pirtek Fluid Injection Resistant Glove, with its unique hydraulic injection resistant technology, is one of the only gloves available today that offers protection against hydraulic injection injury as standard.

The Pirtek 9030P Fluid Injection Resistant Glove is tested in accordance with EN388:2003, offers protection up to 700BAR (10,150 psi).

The comfortable, close fitting design ensures hands can move freely making it an ideal choice for working on hydraulic systems in a number of roles including:
Underground Mining – long wall roof supports, pumps, monorails, power generation

Open Cut Mining – heavy lift jacks, drilling rigs,

Manufacturing – chemical plants, sand blasting, concrete batch plants

Earthmoving – motors, cylinders, control valves, attachments

Sewage/Drainage Facilities – Pumps, high pressure cutting tools, sewer jetters

Waste – coatings & paint removal, loader mechanisms, compactors

Defence – Anti-slip equipment on Aircraft carrier runways, pumps for stern & rudder control

Marine – dredging, paint & rust removal, pile driving, propulsion systems

Rigorous Testing
During rigorous laboratory testing at the Health & Safety Executive laboratory facilities (HSL) in Buxton, the injection resistant technology used in the Pirtek Fluid Power Glove demonstrated injection resistance at pressures up to 700 Bar (10,150 PSI) from apertures ranging in size from 0.05 to 0.3 mm using standard hydraulic oil.

The lightweight design and dexterity make it a must-have PPE garment for all personnel working on or around hydraulic plant or equipment.

Available in sizes ranging from Small to XXL, the Fluid Power Glove is a must have for your PPE requirements to protect workers who are exposed to hydraulic systems and circuitry.

The Pirtek Fluid Power Glove is available via your local Pirtek Centre, which can be found by calling 134-222 or by searching for your nearest centre on the Pirtek website here.

This product immediately expands Pirtek's portfolio of industry-leading products for the fluid transfer segment.

Pirtek is globally known for its leading role in the market and its innovation in safety. For several years customers have asked us for solutions to protect against cut, puncture and impact resistance in our field. In partnership with the HexArmor's product expertise these gloves immediately expands our broad range of new solutions and innovations for our customers.

Pirtek is built on innovation, leadership, premium protection and differentiation. Our focus is to bring the best products to the market for our industry. We have a 37-year track record of success and have a portfolio of advanced products. As a family owned business, they have built a powerful culture of innovation and sustainability. Their design expertise and manufacturing competence is simply unparalleled in the fluid transfer sector. These new products will further differentiate Pirtek from the rest of the market.

Customers may anticipate many new offerings from the Pirtek group in the coming months.

We trust these will be a highly sought after piece of Personal Protective Equipment (PPE) allowing people operating in these dangerous environments to enjoy an added level of safety.

DOWNLOAD THE FULL BROCHURE HERE

FIND OUT MORE ABOUT PIRTEK HERE
Tags
Pirtek Products and Services