News
Pirtek Supporting the Local Community
Pirtek franchises across Australia have always been known to provide great support to their local communities.

Pirtek Muswellbrook is no exception, with Gus Mather stepping up to support local cricketer, Harry Scowen. At the young age of 18, Harry is on a rising trajectory towards an exceptional cricketing career.

Muswellbrook local and cricketer, Harry Scowen, has recently been named in the New South Wales Combined High School team for his outstanding batting and wicket keeping abilities.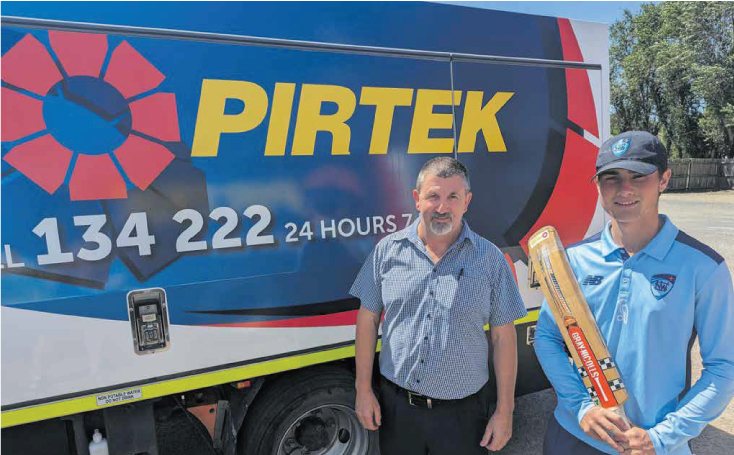 Harry has stated that he's built up his love for cricket over the past seven years, and it's certainly kept him busy during this time.

Recently, at the Combined High Schools cricket carnival, the Muswellbrook High School student was awarded both the Steve Rixon Best Batter and Alan Davidson Player of the Tournament awards, both highly acclaimed accolades.

The Hunter team made the final, which unfortunately they lost, but Harry was still able to find positives like achieving an impressive 119 runs in the semi against Western. "It's [a] pretty big achievement for myself as well, being able to play that four days of consistent cricket and be able to perform at that level," he shared.

"Then I was lucky enough to be chosen in the New South Wales combined high schools team as a result of the four day carnival," he added.

Come March 2024, Harry and the New South Wales team will compete against other independent and Catholic schools teams across the State.

Outside of the schools side of competition, Harry is juggling starting year 12 and is currently playing for Newcastle City on weekends. Last weekend, Newcastle City won the Tom Lockyer Shield for the first time in 12 years, defeating Wallsend in the 40 over final. His sporting journey continues on and, in just a few weeks' time, he will travel to Albury to play in the Under 19s New South Wales Country team as a wicket keeper and top order batsman, which is a fantastic achievement for the 18 year old.

"At the 19s they will pick a squad for the Under 19s World Cup to be played in Sri Lanka in January, so that is a goal as well," Harry shared.

A lot of work goes into Harry's training, and he is grateful to have had Len Kelman Transport and Pirtek Muswellbrook come on board to sponsor him in his sporting ambitions.

"We saw the opportunity last year to help Harry out the best we could through sponsorship, and then we've jumped back on board this year," franchisee Gus Mather explained.

"If he is in a situation where he cannot afford it, there is a potential we're gonna lose a top line cricketer. And not only that, the key to it all is he is representing Muswellbrook and that is great for our town and great for future youth to aspire too."
We wish Harry all the best in his cricketing career and future endeavours, and we also thank Gus Mather, of Pirtek Muswellbrook, in supporting Harry's efforts.

Keep an eye out for Harry!