News
2021 Franchise of the Year Awards
In Pirtek's night of nights, we were pleased to announce the finalists and winners of the 2020/2021 National Franchise of the Year Awards.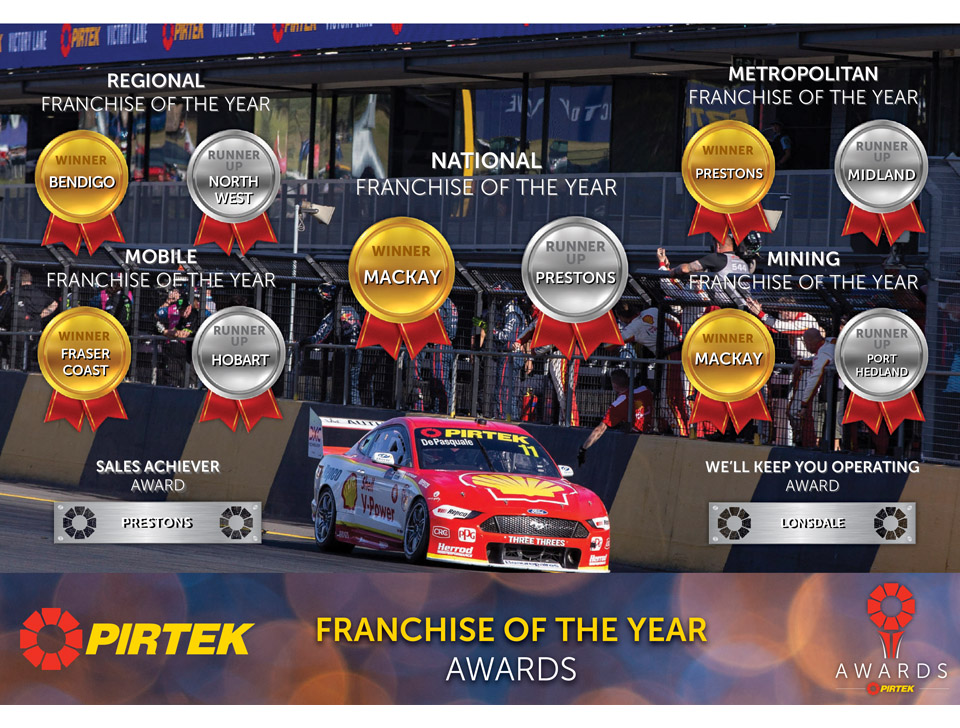 It was with much excitement that we were able to acknowledge the Winners and Runners Up, as well as crown the National Runner Up and overall Winner of the coveted title of Franchise of the Year for 2020/2021!
Congratulations to the Winners and Finalists of the 2021 Pirtek Franchise of the Year Awards and thank you to all of our hard working and dedicated Franchisees and Staff who have kept operating and achieving great results throughout a difficult year.
Franchise of the Year Winners and Runners Up are listed below:
Sales Achiever Award - Prestons, NSW
We'll Keep You Operating Award - Lonsdale, SA


Mobile Franchise of the Year - Runner-Up - Hobart, TAS

Mobile Franchise of the Year - Winner - Fraser Coast, QLD


Mining Franchise of the Year - Runner-Up - Port Hedland, WA

Mining Franchise of the Year - Winner - Mackay, QLD


Metropolitan Franchise of the Year - Runner-Up - Midland, WA

Metropolitan Franchise of the Year - Winner - Prestons, NSW


Regional Franchise of the Year - Runner-Up - North West, TAS

Regional Franchise of the Year - Winner - Bendigo, VIC


National Franchise of the Year - Runner-Up - Prestons, NSW

National Franchise of the Year - Winner - Mackay, QLD

Pirtek - We'll Keep You Operating