News
Auckland SuperSprint Recap
The opening day of the 2018 Auckland SuperSprint brought both pleasure and pain for the Shell V-Power Racing Team. With all cars running green tyres from the beginning of the day, all cars rolled out fast.

Fabian Coulthard went to p1 on his opening flyer, before Scott McLaughlin then improved the time to take over the p1 slot. Times continued to drop across the session, McLaughlin improved his time to hold the p1 slot. Coulthard improved his time also to finish 5th.

In Practice 2, McLaughlin set his fastest lap on his opening flyer, however he then locked his brakes at Turn 3 and went into the tyre wall on his second flying lap, with the session being red flagged as a result. Damage was minimal, and the team immediately set about repairing the car.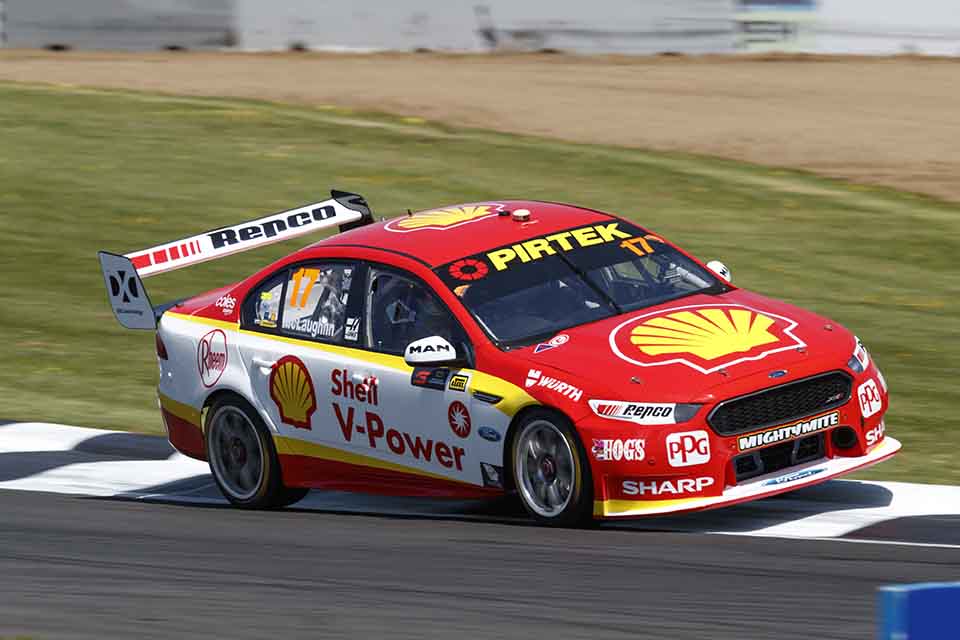 Coulthard improved his time on his second to last lap, finishing the session in p14.

Saturday's weather conditions at Pukekohe made things challenging, with practice held in wet conditions, before a qualifying session and race that saw intermittent rain.

Race 28 saw clean starts for both cars, with Scott McLaughlin maintaining the lead after starting from pole position. McLaughlin's chief championship rival, Shane van Gisbergen pushed extremely hard on lap one in an attempt to take the lead, however McLaughlin held the lead and built a gap.

Fabian Coulthard was up to 16th at the end of lap one and 15th by the end of lap two, after starting 19th. Coulthard had a coming together with Will Davison causing front end damage, however was able to continue with cosmetic damage, but not major issues.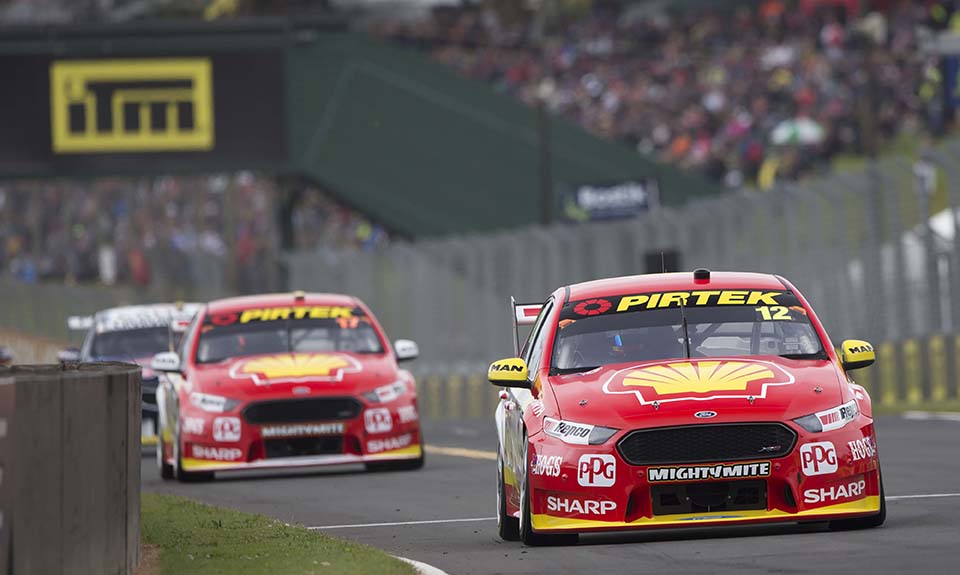 By the end of lap five, McLaughlin had extended his lead over Van Gisbergen to 1.2s. Rain started to fall on lap six, with McLaughlin getting stuck behind the Tickford Falcon of Winterbottom, who pitted on lap one.

Unfortunately for the team, Coulthard was hit in the rear on lap 8, at the high-speed Turn 11 and had a huge crash which damaged both ends of the car. Thankfully, he exited the car safely and was unharmed. The Safety car was then called, so Car 12 could be recovered.

Most cars entered pit lane under caution for tyres and fuel. McLaughlin rejoined in 2nd position behind James Courtney, who short filled at his first stop to gain track position.

We got the restart on lap 15, with Courtney leading and McLaughlin in p2. Just like at the race start, Van Gisbergen pushed very hard to pass Car 17 off the restart, including an attempted bump and run at Turn 10.

Courtney began to hold up McLaughlin on lap 21, allowing Van Gisbergen to close the gap, before making the pass for p2 and the effective lead on lap 22.

McLaughlin reported that the car is good at the beginning of the stint, but it begins to fade away towards the end. He struggled to stay with Courtney and Van Gisbergen from lap 30 onwards.

McLaughlin pitted from p3 on lap 32, rejoining in p21. He was ordered to put in qualifying style laps by engineer Ludo Lacroix, in an attempt to undercut those in front of him.

All other runners stopped with Scott having worked his way back to p2, however Van Gisbergen chose to go long on this stint, finally stopping on lap 45. Scott's efforts early in his final stint meant that he was able to pass Van Gisbergen before he returned to the circuit, taking a four-second lead into the final section of the race.

Using his fresher tyres, SVG closed the gap to two-seconds over time the following 10 laps. It is announced that he is being investigated for wheels spinning during Pitstop, with the investigation referred to post race.

The gap was down to 0.2s by lap 60, before SVG shoved his way past at the hairpin, receiving a 5sec time penalty for a driving infringement against McLaughlin.

Over the final five laps of the race, Scott pushes as hard as he possibly can, but SVG manages to get a 5.5s gap at the flag to take the victory.

A stellar team effort brought Fabian Coulthard's damaged No.12 Shell V-Power Ford back to life overnight, following his huge crash in Saturday's race in Pukekohe. He repaid the team in kind, qualifying for the Top 10 Shootout, before booking himself the sixth grid position for this afternoon's 200km, 70-lap affair.

Scott McLaughlin also had a great run in qualifying, taking the second position in the shootout, to start alongside 2017 Champion Jamie Whincup. Both drivers got solid starts, with McLaughlin maintaining his second position and Coulthard getting by Chaz Mostert to take fifth place.

McLaughlin was able to build a gap to Van Gisbergen behind him over the opening laps, before Whincup pitted from the lead on lap six. McLaughlin assumed the race lead as a result, 2.2s in front of Van Gisbergen.

Coulthard was up to p4 at this stage. The leading gap was up to 2.4s by lap 10, when McLaughlin began to be held up by lapped traffic on lap 11, with Mark Winterbottom slowing him down. The team took the decision to pull him out of the traffic, pitting him from the lead on lap 12. He rejoined in p12, behind Whincup, in front of Lowndes.

Coulthard pitted from third on lap 15, taking fuel and tyres before rejoining in p14. McLaughlin was back to p2 behind Whincup on lap 20, 4.4s behind after the first round of stops. Coulthard was sitting in p9. Coulthard passed Courtney for p8 on lap 24, and was told to push by engineer Mark Fenning, then gaining another position a few laps later.

McLaughlin maintained p2 through lap 30, keeping the gap consistent at around 4s to Whincup in the lead. He then assumed the lead on lap 33 as Whincup pitted, with Coulthard up to p3. McLaughlin took his second stop on lap 38 from the lead, rejoining in p5 in front of Whincup after racing him on the exit. Coulthard took his second service on lap 40 from p2, another clean stop and rejoined in p9 once more.

By lap 45, McLaughlin had built a 1.2s lead over Whincup. Van Gisbergen pitted on lap 47, and dropped back to p5. McLaughlin was now race leader over Whincup by 1.4s. He continued to lead solidly, with a 1.2s gap on lap 58, with Coulthard in p7. The gap came down to 0.5s on lap 64 as Whincup began to apply pressure to McLaughlin, however McLaughlin put in an incredible drive to hold Whincup at bay to take a sensational victory. Coulthard finished 7th – a fantastic result after Saturday's dramas.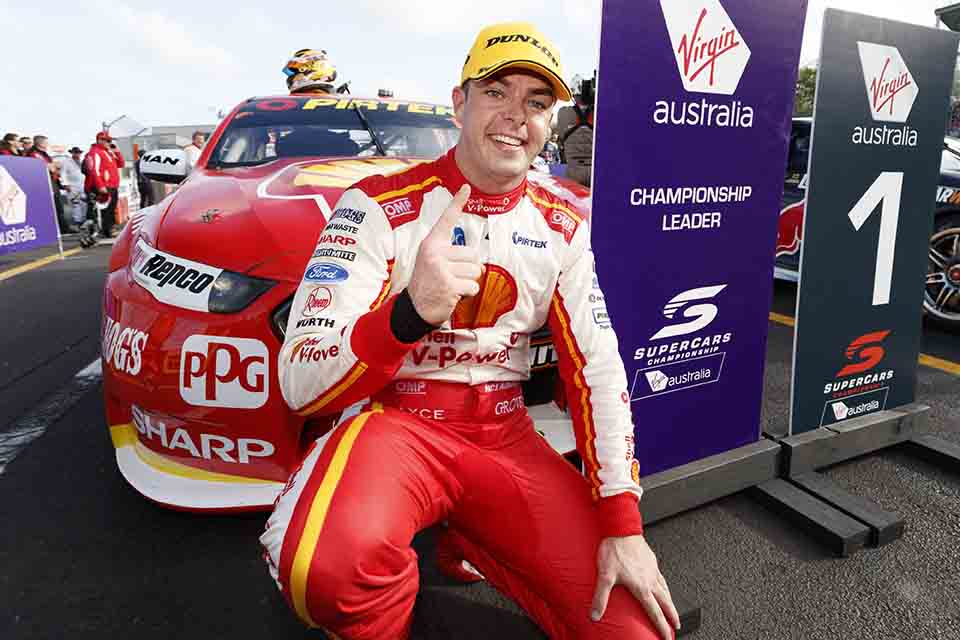 McLaughlin leaves New Zealand with a 14 point Championship lead, heading to Newcastle in a few weeks' time.

COULTHARD QUOTE: "I think we had a good car, and it's a shame about yesterday, as I think we could have had two good races this weekend. The guys getting the car back on track for me today was awesome, and I really wanted to repay them for all of their hard work. We made the shootout and ran in the top seven all day. I think we could have probably run a little higher, but we probably were a bit unlucky with strategy. I'm not unhappy with today."

MCLAUGHLIN QUOTE: "What a weekend. I'm so pumped. Today was massive for us. We had to answer them after yesterday's race, and we did that today. It was a genuine battle between Jamie and I, immense pressure. To win in front of my home crowd is special. I haven't won here since 2013, and to take the Jason Richard Trophy is the icing on the cake. Having JR's parents on the podium was great too. What a fantastic day. I can't wait for Newcastle."
DRIVERS' CHAMPIONSHIP POINTS


1.

Scott McLaughlin

3656

2.

Shane Van Gisbergen

3642

-14

3.

Jamie Whincup

3175

-481

4.

Craig Lowndes

3117

-539

5.

David Reynolds

2918

-738

6.

Chaz Mostert

2669

-987

7.

Fabian Coulthard

2450

-1206

8.

Scott Pye

2410

-1246

9.

Rick Kelly

2377

-1279

10.

Nick Percat

2221

-1435


TEAMS' CHAMPIONSHIP POINTS


1.

Triple Eight Race Engineering (Whincup/SVG)

6787

2.

Shell V-Power Racing Team

6106

-681

3.

Tickford Racing (Mostert/Winterbottom)

4693

-2094

4.

Brad Jones Racing

4329

-2458

5.

Erebus Motorsport

4318

-2469

6.

Walkinshaw Andretti United

4276

-2511

7.

Nissan Motorsport (Kelly/Heimgartner)

3960

-2827

8.

Garry Rogers Motorsport

3353

-3434

9.

Triple Eight Race Engineering (Lowndes)

3117

-3670

10.

Nissan NISMO (Caruso/De Silvestro)

2894

-3893