News
WD-40 Phillip Island 500 2018 Recap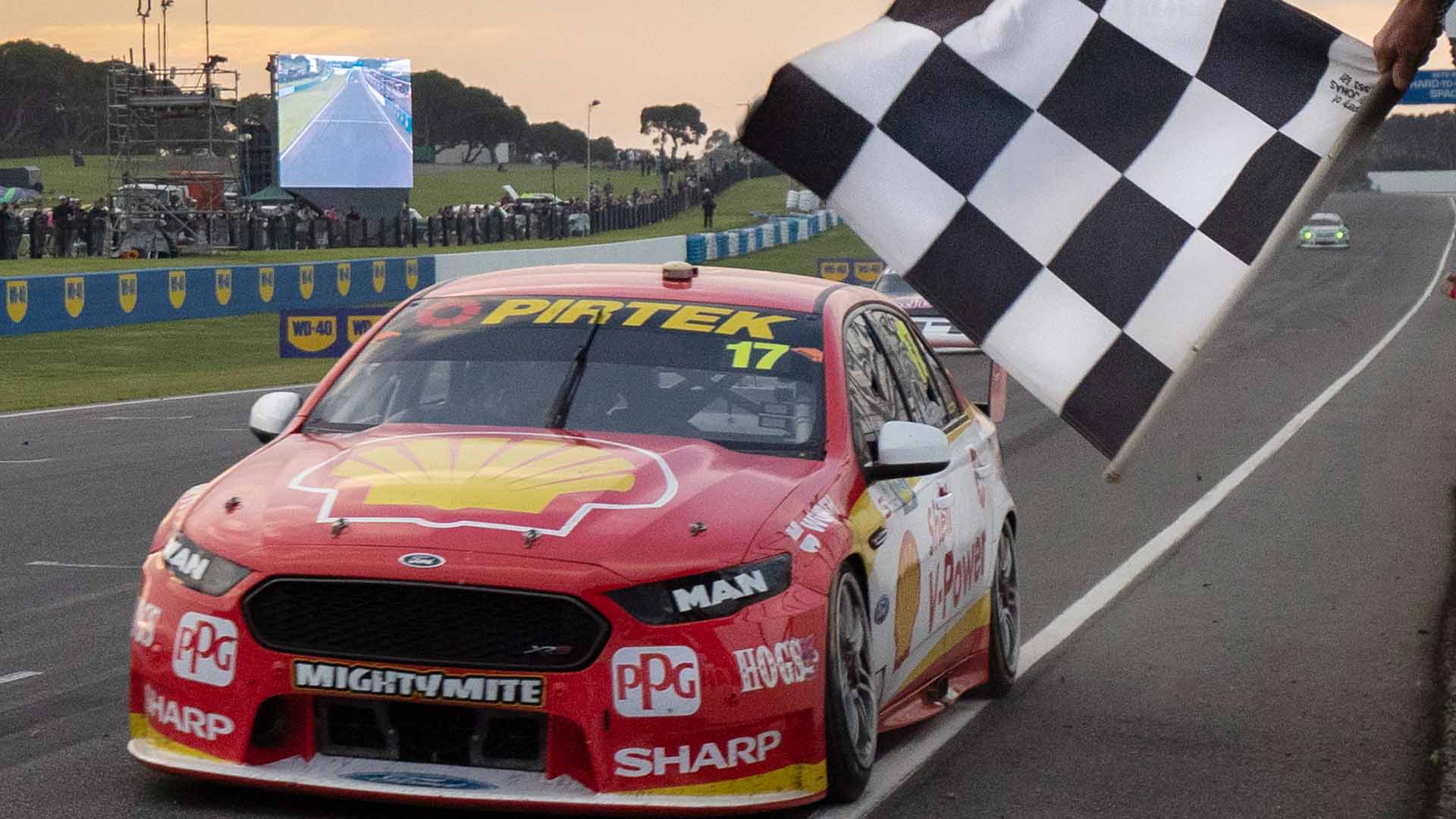 Race 9
In Race 9 of the WD-40 Phillip Island 500, Pirtek-backed DJR Team Penske's Scott McLaughlin emerged victorious in an intense battle with Jamie Whincup; also becoming the championship leader in the process.

McLaughlin and Whincup started evenly off-the-mark then Whincup briefly gapped McLaughlin before both drivers entered the pit lane nose-to-tail at the end of Lap 17. The distance between them was so close in the pit lane that there was contact amongst them at the speed limit line. The #1 Red Bull HRT Commodore just beat McLaughlin who just received brand-new tyres before going into the fast lane.

Thereafter, for another short stretch after their first pit, the swift pair ran line consistently against each other until both pitted together again at the end of Lap 31. McLaughlin repeated his first pit manoeuvre into the fast lane, having to wait in line just behind Whincup. Then, despite having green tyres on all four corners and McLaughlin's #17 Falcon working side only, Whincup struggled for pace and was forced to run a defensive line particularly at MG corner.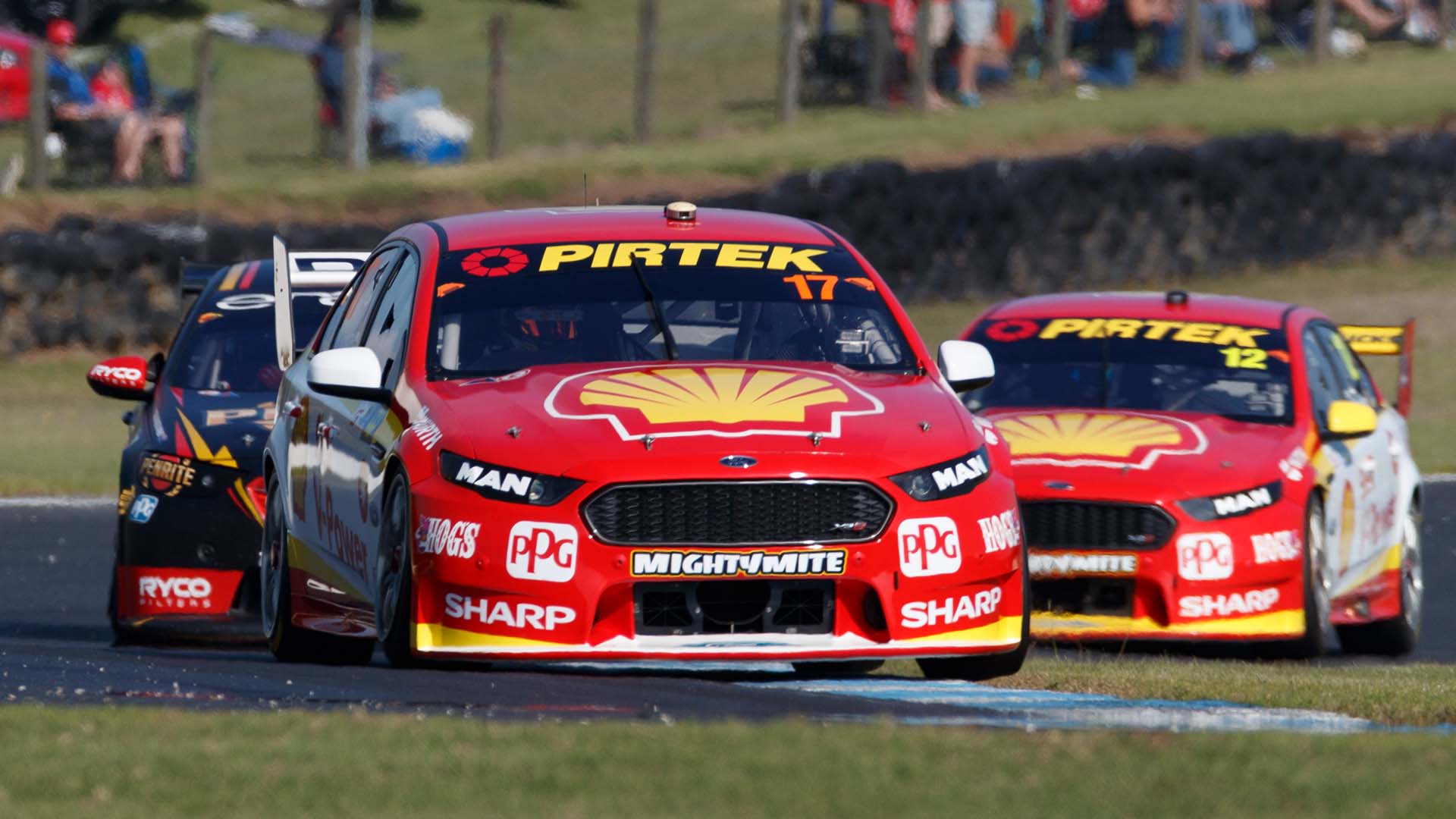 The tables turned, however, when Whincup asserted himself early to push through McLaughlin at Doohan Corner and pull ahead during the Southern Loop, taking the lead until Lap 41. The reigning 2017 Supercars Champion maintained a straight-line advantage, though it was his slight mistake of stepping just wide of the ideal line through Southern Loop on Lap 41 that allowed the #17 Falcon of McLaughlin to pass. McLaughlin had fought through a tight clash before seizing the unexpected opportunity, eventually pulling past in a tiny gap.

From that moment on, the New Zealander driver of the #17 powered on to edge a 0.90s win after the 57 laps, his second of the season. "I'm happy we looked after the tyres at the end; we need to look at them big time for tomorrow," said McLaughlin. He continued, "I was working him [Whincup] for ages and I need to get close through [Turn] 1; I was good there. His thing is so fast down the straight; even in the tow he's pulling away from me. Anyway, the thing's all good and we're having fun."

Following the top 2 finishes, Rick Kelly rose to 3rd from a starting 5th, Shane van Gisbergen came 4th despite enduring some power steering problems and his teammate Craig Lowndes rounded off the top 5.

Following McLaughlin's well-earned win, his stunning result has meant that he has climbed over Whincup in the championship standings by a single championship point.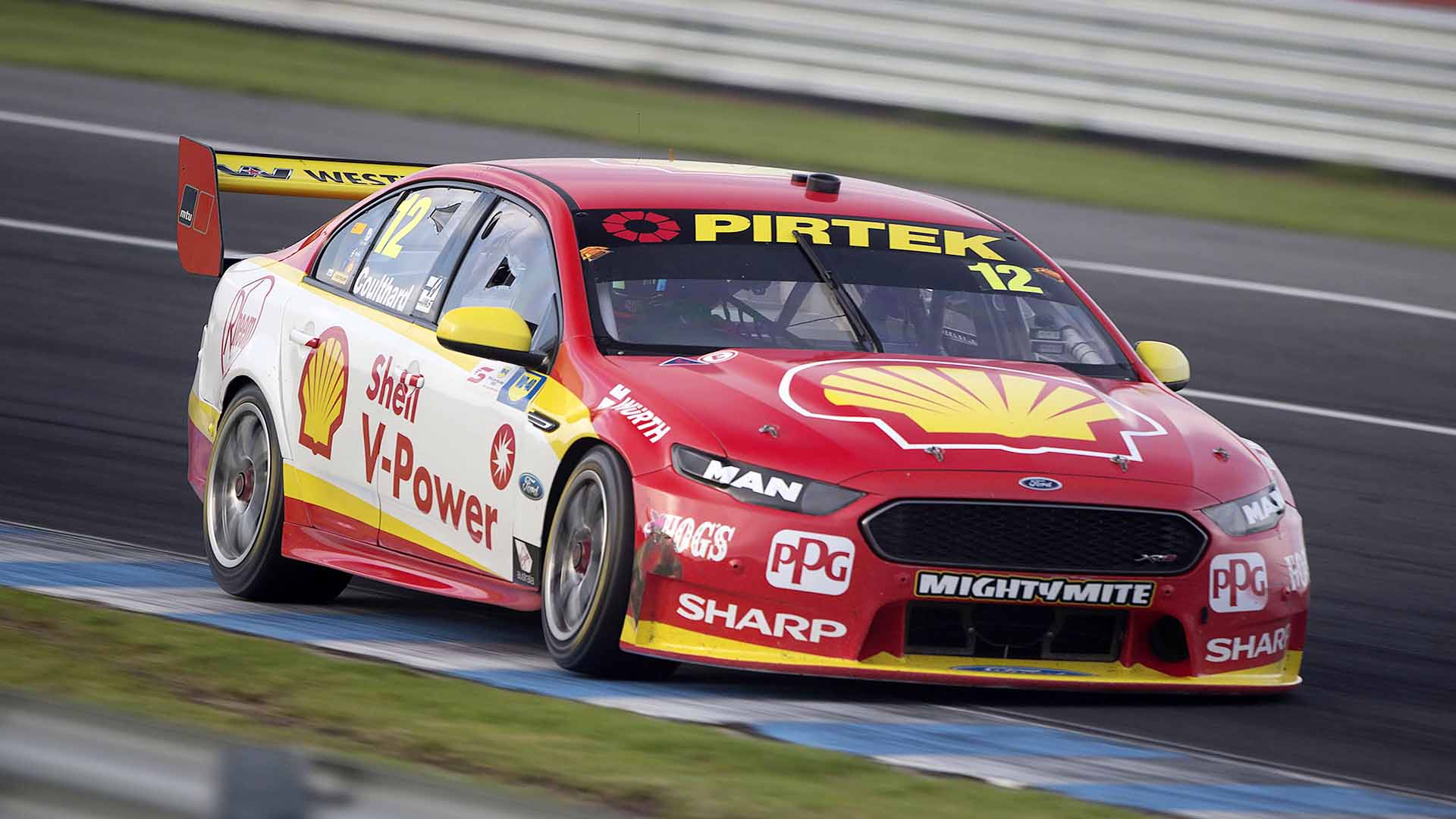 Fabian Coulthard, who was second-fastest in qualifying but then excluded for having too much rear wing angle, climbed from the rear of grid to mid-pack during his first stint. The #12 DJR Team Penske Falcon made little progress thereafter and took the chequered flag in 13th.
Race 10
Scott McLaughlin has completed the WD-40 Phillip Island 500 with a superb back-to-back win ending on Sunday with Race 10. McLaughlin went through a series of battles including overcoming a pit lane delay and strong defence from David Reynolds to bring in a winner in the final championship race of the weekend.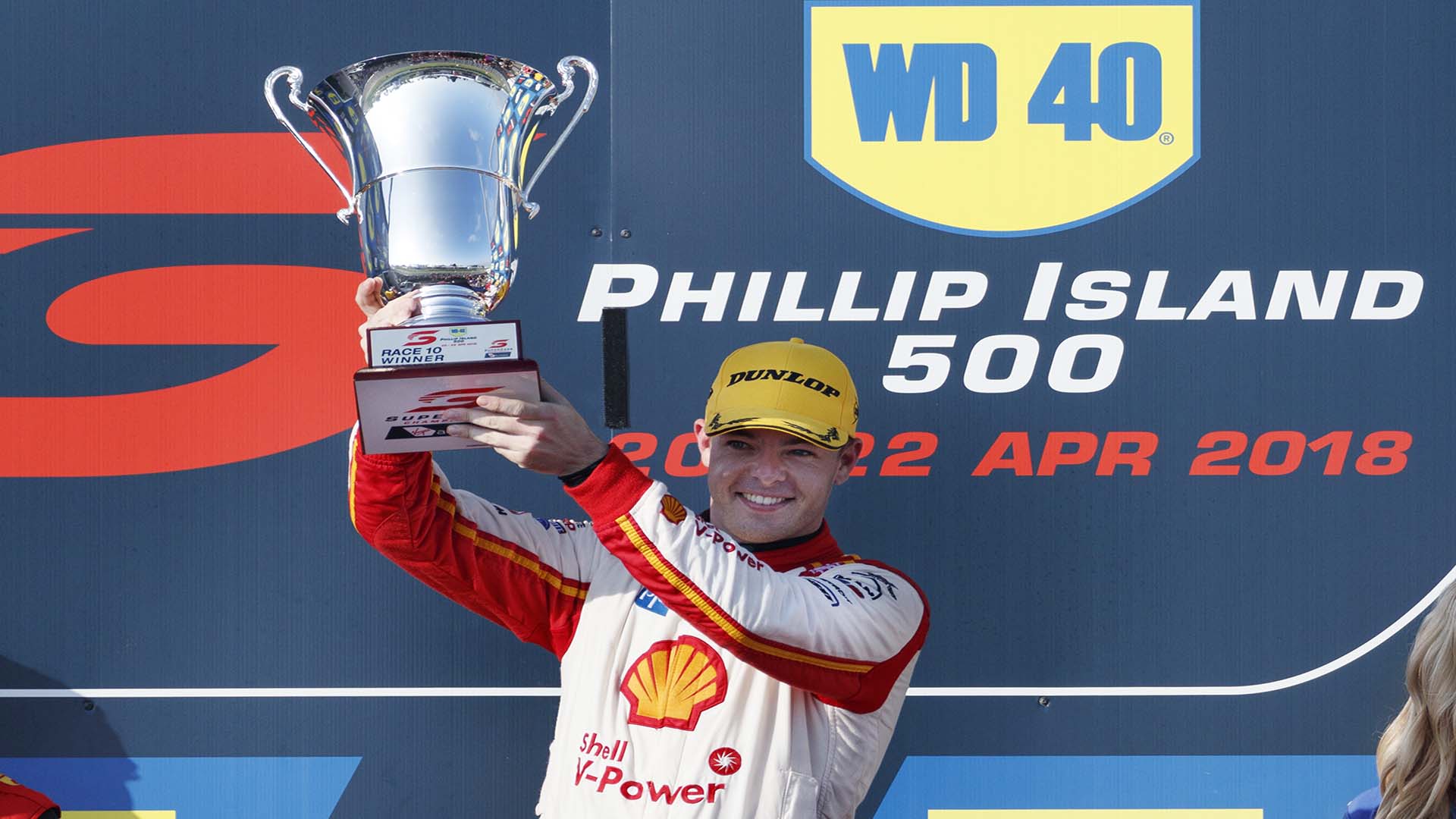 McLaughlin received a challenge from Reynolds as soon as the starting lights went out, with Reynolds' #9 Erebus Penrite Commodore launching quick off-the-mark. Having pole position, though, meant that the #17 Shell V-Power Racing Falcon of McLaughlin was able to take the inside line and keep an advantage. Meanwhile, Coulthard, Kelly and Whincup held on to their starting positions marking the fastest 5.

Lap 8 brought about the race's first bout of commotion as the Safety Car got called-in to rescue James Courtney's #25 Commodore, which had a suspected driveline issue prompting the car to come to a stop next to pit entry. McLaughlin then slid down to 4th following his choice to receive a larger fuel fill than his peers, forcing him to be delayed upon exit of the pit box.

As a result of McLaughlin's minor pushback, Kelly proceeded to lead the pack consisting of Reynolds, Caruso, McLaughlin and Coulthard. Kelly had been called preceding the yellows in preparation of the race being neutralised. Kelly continued his reign as the leader as he eventually gained the position after the restart on Lap 11, in front of Reynolds by over 2 seconds and clear of McLaughlin by 4 seconds who was in 4th at the time.

Despite a respectable lead, by the time the second pit stop completed, Kelly was not able to maintain his reign, possibly due to having a shorter first fill. Instead, McLaughlin passed through, with 30 laps remaining. Upon re-entry into the track, Reynolds led McLaughlin though allowed McLaughlin to bounce back in front at Stoner Corner. However, Reynolds regained his top place as he swept past the #17 Falcon at the Turn 4 Hairpin. Despite the intense clash, the Kiwi in the #17 managed to gradually pass Reynolds' #9 Commodore shortly after as he applied further pressure on Lap 31; a move resembling his fight against Whincup the preceding day.

McLaughlin's win was then virtually secured as his duel with Reynolds in the 1-2 positions were locked-in for the remaining laps of the 57-lap race. Crossing the finish line, McLaughlin won by 0.67s over Reynolds with Rick Kelly following closely behind in 3rd and Fabian Coulthard, also of DJR Team Penske Racing, in 4th. Michael Caruso of Drive Racing rounded off the top 5 in his #23 Nissan Altima.

"I can't do it without my great team; we had an awesome rocket ship all weekend," said McLaughlin. "I had to fight there a little bit and Ludo said to back off just that lap, and I said, 'Just give me one more lap we'll try and get past him,' and we got past him [Reynolds] in the end."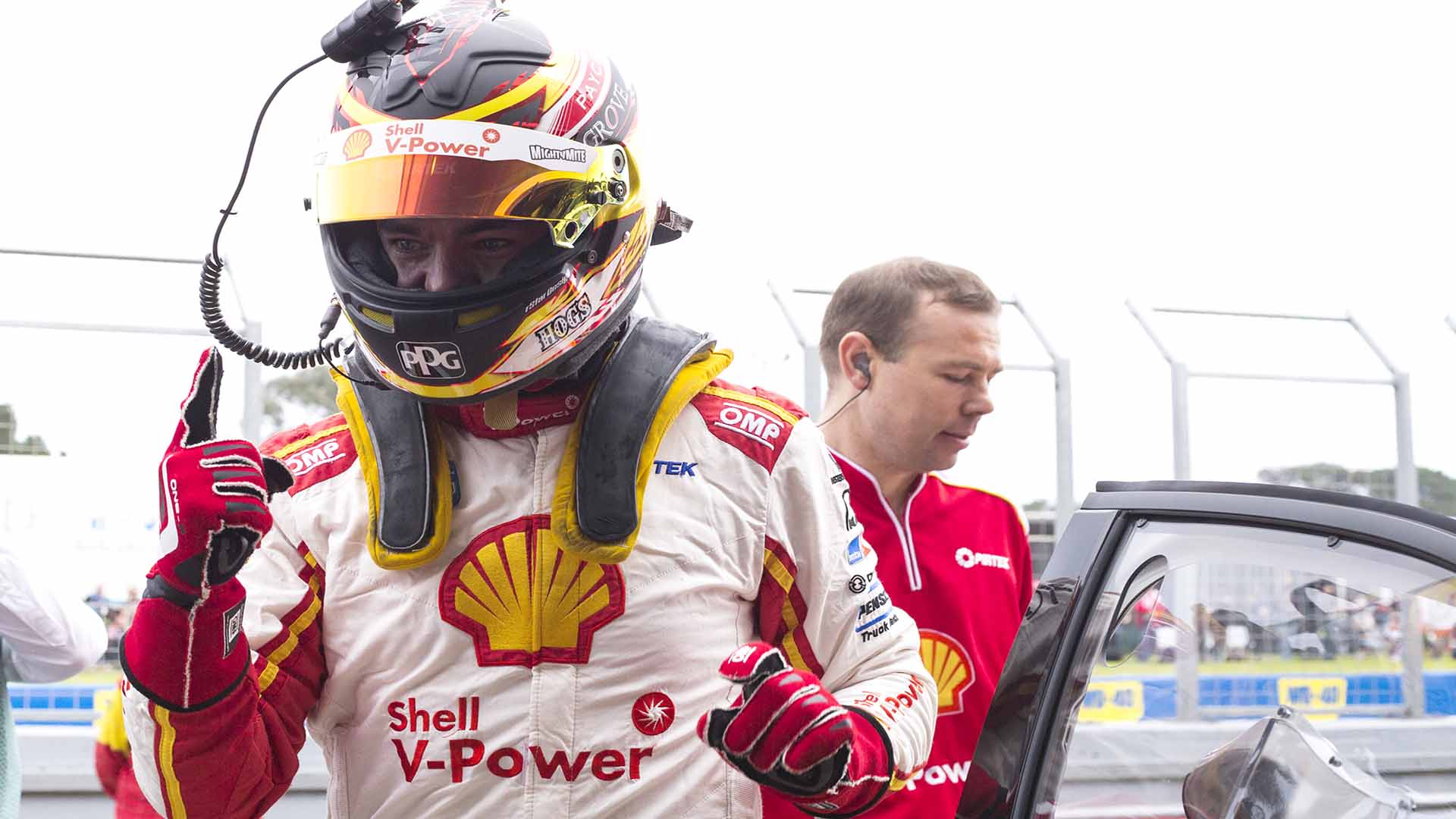 Reynolds finished 2nd right behind McLaughlin but expressed frustration for not being able to hold on to the top position, "it wasn't that epic for me because I lost out. We jumped him in the pits and came out and I just had a lot of understeer those first few laps. He just snuck past me and there was not much I could do about it." Reynolds also expressed admiration for McLaughlin's pacing, "I was surprised I could hang with him [because] he's very fast around here; they could rename him 'Phillip Mclaughlin'."

Other racers who completed the top 5 finishes included Rick Kelly, who took his #15 Castrol Racing Altima into the pits for a second time at the end of the 30th lap, having to wait to confirm he could meet the requirements of the 140-litre fill. His efforts gained him a 3rd position on the podium. McLaughlin's DJR teammate Coulthard, who pitted after Lap 32, tightened the gap towards the end though he was unable to get tight enough to make it into the top 3 finishes. Completing the top 5, behind the #12 DJR Falcon, was Michael Caruso with his #23 Drive Racing Altima, earning Nissan Motorsport a double top 5 following his position gaining upon the first pit stop cycle.
| | | |
| --- | --- | --- |
| Position | Driver | Points |
| | | |
| 1 | Scott McLaughlin | 947 |
| 2 | David Reynolds | 887 |
| 3 | Shane van Gisbergen | 849 |
| 4 | Craig Lowndes | 813 |
| 5 | Jamie Whincup | 805 |
| 6 | Scott Pye | 745 |
| 7 | Chaz Mostert | 695 |
| 8 | James Courtney | 678 |
| 9 | Fabian Coulthard | 662 |
| 10 | Tim Slade | 626 |
| 11 | Garth Tander | 621 |
| 12 | Nick Percat | 598 |
| 13 | Rick Kelly | 592 |
| 14 | Mark Winterbottom | 587 |
| 15 | Michael Caruso | 541 |
| 16 | Cameron Waters | 535 |
| 17 | Will Davison | 508 |
| 18 | Anton De Pasquale | 467 |
| 19 | Jack Le Brocq | 452 |
| 20 | Andre Heimgartner | 413 |
| 21 | Lee Holdsworth | 375 |
| 22 | Tim Blanchard | 317 |
| 23 | Todd Hazelwood | 313 |
| 24 | Simona de Silvestro | 285 |
| 25 | James Golding | 281 |
| 26 | Richie Stanaway | 227 |