News
2019 Recap of Adelaide 500
Race 1

It was a great start to the season for the DJR Team Penske drivers at the Adelaide 500 this past weekend. Fabian Coulthard took the first pole of 2019 in the Top 10 Shootout, followed by his teammate Scott McLaughlin who took the first win in the new Mustang and the new Supercars championship season.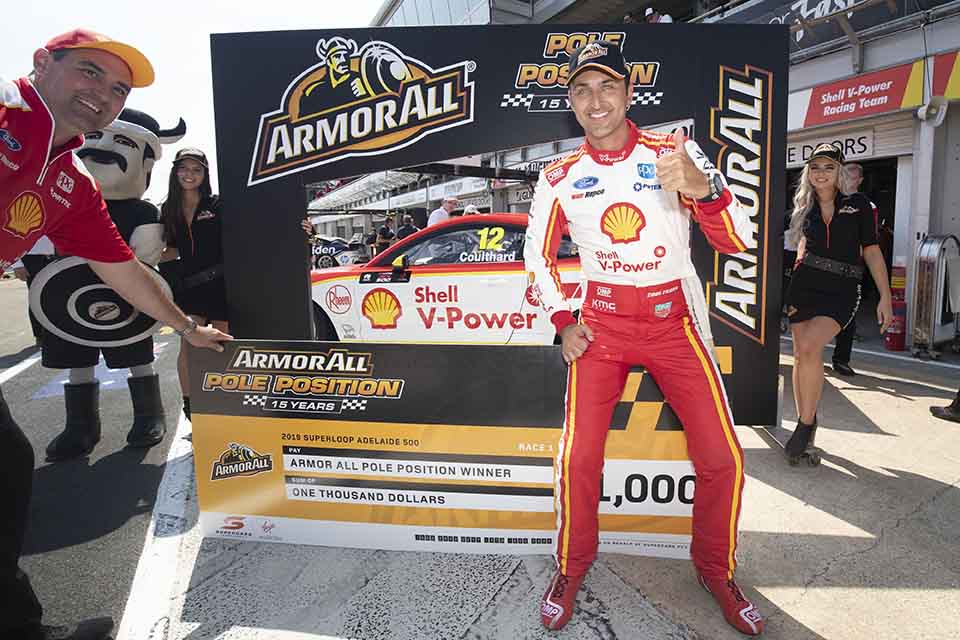 The opener to the season proved to be a very warm round, with temperatures steadying at 40 degrees, forcing cabin temperatures to reach the mid-60s.

The race started with Coulthard in pole and McLaughlin in 3rd. McLaughlin then passed both Coulthard and Jamie Whincup to take the lead, with Coulthard in second. Unfortunately, Coulthard was given a 10-second time penalty for a jumped start at his first stop. This brought him down from second to 22nd. Coulthard then went on to take up a strong recovery drive.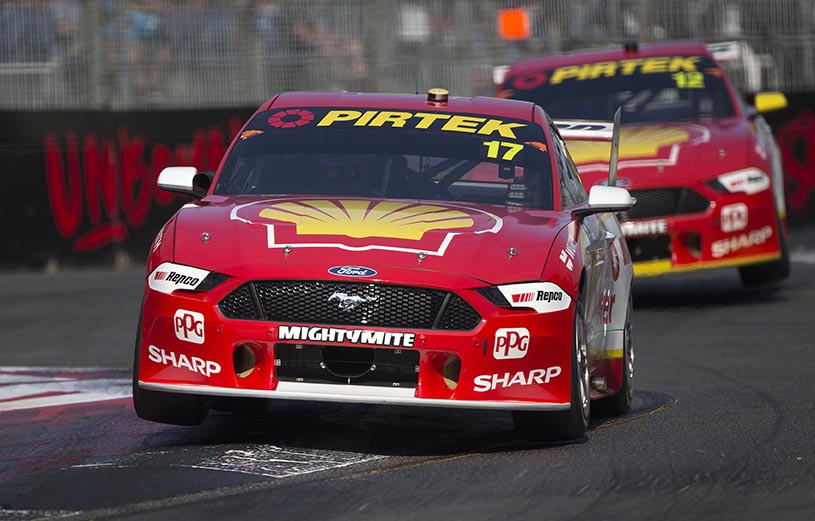 McLaughlin took his first stop on lap 20, keeping his effective lead. Coulthard powered through the field to claim 6th on lap 30, 14 seconds from the lead. McLaughlin put himself into a comfortable 6 second lead by lap 35, as Coulthard's tyres began to wear off.

As the second round of stops began, Coulthard rose to 3rd, behind Whincup and McLaughlin. Coulthard went in for his second and final stop on lap 45, going back to the race in 7th.

McLaughlin further extended his lead by 12 seconds by the time Whincup took his final stop, with McLaughlin's #17 being the last car to take second service. When McLaughlin entered the lane, his gap to Whincup was 55 seconds. Once taking fuel and tyres, he returned to the track with a 15.3 second lead over Whincup.

When there was 20 laps remaining, McLaughlin had to deal with lapped traffic, which cost him some time. He kept an 11-second lead, before rebuilding it to over 13 seconds over the following 5 laps. Coulthard climbed to 6th, three seconds behind Mostert and twenty-three seconds off the lead.

At the close of the 250km race, McLaughlin took the chequered flag in a stunning opener to the 2019 season in what is also the first race for the new Mustang Supercar. Fabian Coulthard took sixth position following a terrific recovery drive.

Following the race, McLaughlin fronts the Drivers' Championship, with Coulthard in sixth and DJR Team Penske in second for the Teams' Championship standings.

Coulthard commented on the race: "I ballsed up the start, Jamie flinched and then I did the same. We had great car speed though. Congratulations to Scotty and the car 17 crew, they got it done today. Tomorrow should be a little easier temperature wise, so hopefully it will be a lot of fun."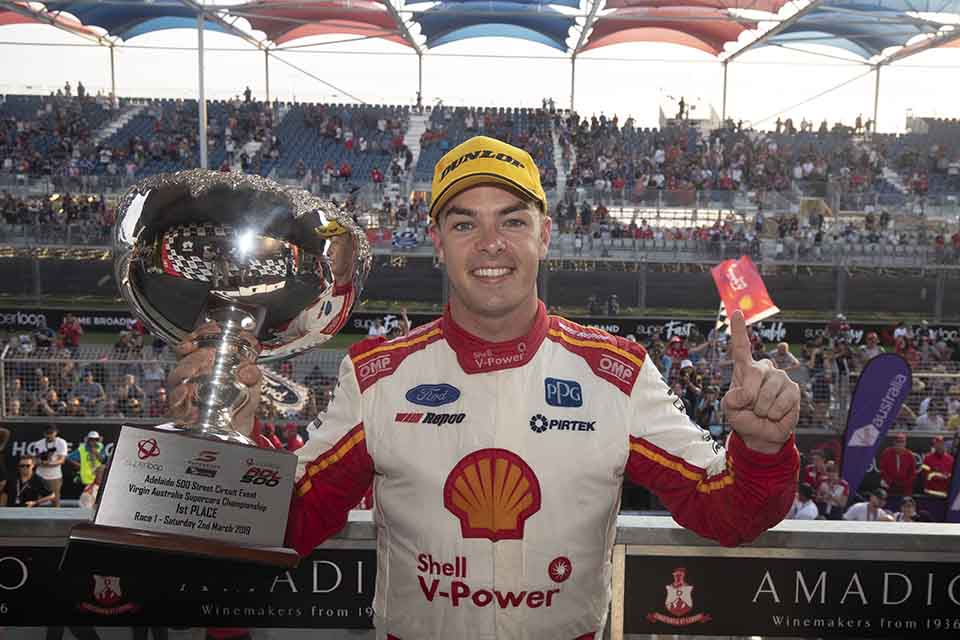 McLaughlin said: "That one's for you Ford fans, first weekend for the Mustang. We're here, we're here to party and we're going to have a good time. It was really tough, but the cooling and all that stuff was really good for us and I just brought it home. I'm really happy with the car. We don't have number one on the car but we're number one today, it's a great start."

Race 2

For the second-day-in-a-row, both DJR Team Penske Mustangs booked a place in the Top 10 Shootout with Scott gaining pole position in astonishing style and Fabian taking third. Unfortunately for Coulthard, he fell to 10th after being excluded from the Shootout when his team had to pop the bonnet in pit lane before his run.

Race 2's start had to be delayed by 25 minutes due to a loose manhole cover at Turn 1, which required fixing. It was only discovered when the Course Car completed its final run just shortly prior to the scheduled race start. This meant that the race would be time certain from the beginning, scheduled to finish at 5:25pm plus one lap.

Both cars received a strong start, with McLaughlin going head-to-head with Shane van Gisbergen in the first series of corners before pulling ahead. After starting 10th, Fabian made moves into 9th on the opening lap before challenging David Reynolds for 8th.

By lap 3, Scott was leading Shane by 2.4 seconds, as Fabian took Reynolds on lap 4, moving into seventh before passing Hazelwood for sixth.

Cam Waters pitted on Lap 9, pushing Coulthard into fifth. Coulthard then passed Percat for fourth on Lap 11. By Lap 12, McLaughlin had a 4.5 second lead over van Gisbergen.

Coulthard pitted from fourth on Lap 15, going back to the race in 14th after taking fuel and tyres. McLaughlin sustained his lead extending it to 7 seconds by Lap 17. Coulthard set the fastest lap of the race on Lap 16, with a 1m20.7269s lap.

McLaughlin took his first pit on Lap 25, re-joining the pack as the effective leader. A caution period on Lap 27 brought both cars both DJR cars back in. A strange crash for Chaz Mostert and Rick Kelly caused a blockage in pit lane, which delayed Coulthard's return to the pack.

Coulthard then returned to the lane the following lap for fuel after an error in his first stop.

At the restart on Lap 30, Scott was in third and Fabian twenty-first. Coulthard moved into 18th in the following two laps and proceeded to push into 15th by Lap 38. Fabian pitted for the final time on Lap 41 with a wheel nut issue causing a delay. He re-joined in 21st place.

McLaughlin took his last stop of the race on Lap 46, going back to the track ahead of Waters and behind van Gisbergen who was yet to pit. Van Gisbergen then pitted on Lap 56, re-joining in position 3 behind McLaughlin and Waters. His aim was to use fresher tyres to pass the Mustangs on the road.

Coulthard was involved in an incident with Garry Jacobsen, where he was investigated for an unsafe pass. He then received a drive through penalty, dropping him back to 20th place. Van Gisbergen used his fresher tyres to drive up to the rear of Waters, but was unable to pass him.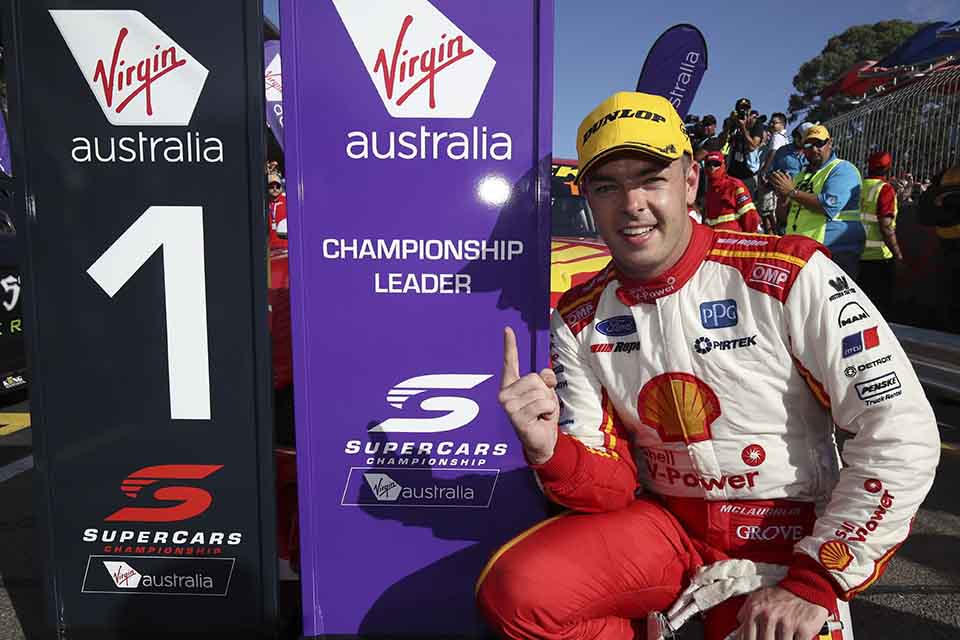 McLaughlin took his second race victory of the weekend to open his 2019 stats in immaculate fashion. Unfortunately for Coulthard, marked by trouble in the pit lanes, he finished 20th.

McLaughlin leads the Drivers' Championship standings, with Coulthard in 11th. The team is 2nd in the Teams' Championship standings.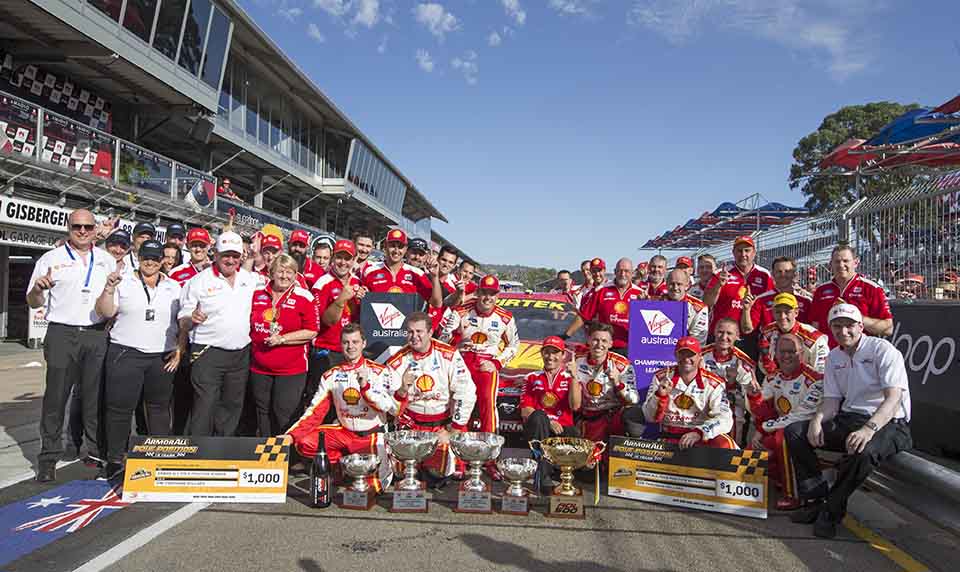 Coulthard said of the event: "I'm a little bit low. Obviously we had really good pace, and got the first pole for the Mustang which was really cool. Scotty then backed that up with two wins, so it's nice that our team got the first poles and the first race wins for Mustang. We've spent a lot of time developing this car, starting from scratch in CAD to what you see on the track today and a successful race car. For me, we were fast, but some things were out of my control and we probably should have been on the podium quite easily today. But with what happened in the pits, it just wasn't our day. On the upside, we're heading to the Grand Prix and we normally go well there. We've got a really good buggy, so I'm looking forward to it."

McLaughlin mentioned: "It was fantastic to have the team from Ford Performance and Ford Australia here this weekend, and great to share the podium with Mark Rushbrook. We also had Jonathan Gibson from Team Penske here, so it's been a really big weekend. It's massive for the sport, and massive for our team. It's been an awesome weekend. We had to work for it, and we ended up having the perfect day today, and an awesome start to the season. I'm stoked."