The opening day of the Newcastle 500 was held in very windy conditions, with a strong westerly gusting up to 47km/h. Practice 1 was spent tuning the cars for balance, with both Scott McLaughlin and Fabian Coulthard looking for additional drive off corners across their first outings. The team made damper and spring rate adjustments as the session continued, and McLaughlin reported back on his third run that the car felt good.

Coulthard continued to report drive issues through the session, and work continued on Car No. 12, before he made a slight error at the hairpin on his final flyer, which cost around four-tenths of a second, pushing him down the order. McLaughlin didn't get a clean lap in either, so attention turned to Practice 2.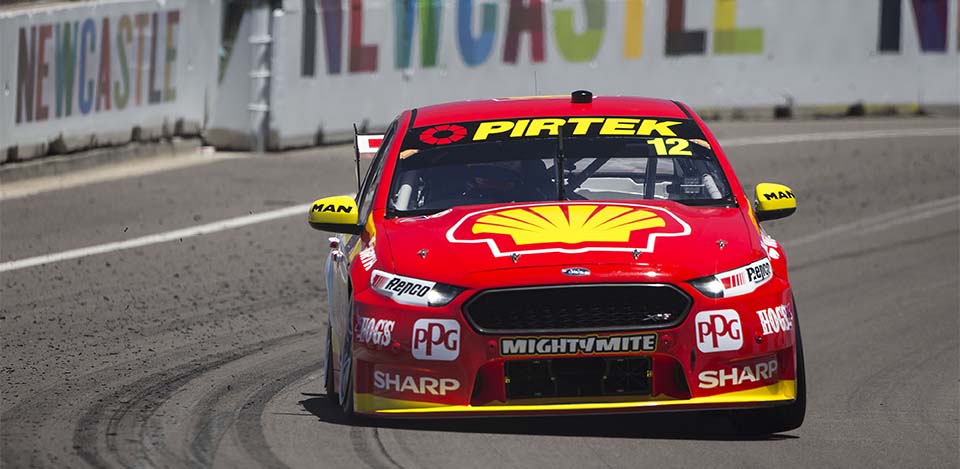 Practice 2 saw tuning continue across both Shell V-Power Racing Fords, with McLaughlin went fastest in his second outing in the session, which remained the benchmark for the whole session. The wind continued to play havoc with drivers and their braking markers, with front locking a continuing issue. Coulthard set his best time of the session on his 14th lap, pushing him to p4 at the end of the session.
After a strong qualifying session where both Shell V-Power Fords qualified on the second row, Race 30 of the 2018 Championship got underway in great style. Both Scott McLaughlin and Fabian Coulthard got a good start, with Coulthard into third and McLaughlin into fourth. Triple Eight rivals Jamie Whincup were first and Shane van Gisbergen second.

Coulthard pitted on lap seven from fourth, rejoining 19th and the first of those who'd already stopped. By lap 10, SVG was out to a 6s lead over Whincup, with McLaughlin half a second back. Whincup pitted on lap 17, rejoining in p16, three positions behind Coulthard.

McLaughlin pitted from second on lap 25, rejoining in 10th place after a very slick stop. Van Gisbergen stopped a lap later and rejoined just in front of McLaughlin. Both had long stints to run in this section of the race.

McLaughlin applied massive pressure over the next couple of laps, staying with Car 97. By lap 35, SVG had gotten to a 1s lead over McLaughlin, with Coulthard in p4. Unfortunately Coulthard crashed into the fence at turn 1, on lap 43 which brought out a safety car. The restart came on lap 48. Holdsworth then got a Pit Lane Penalty for breaching safety car restart procedure, pushing McLaughlin into the lead.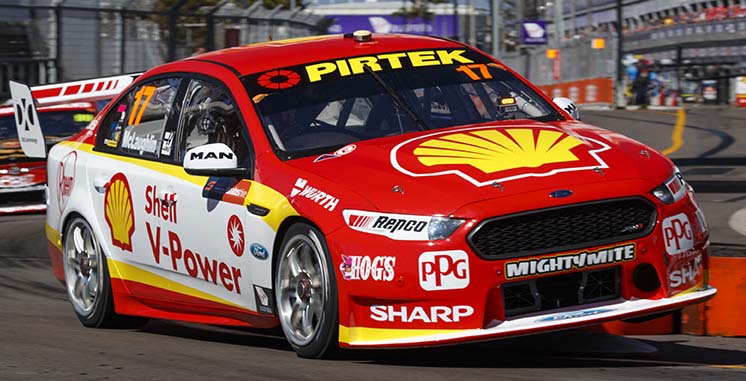 By lap 65, McLaughlin was out to a 1.5s lead over Walkinshaw Andretti's Scott Pye with Van Gisbergen in third, seven seconds further back. By lap 73, that gap was out to two-second, however McLaughlin needed to start saving fuel.

The gap was six-seconds on lap 83, with both McLaughlin and Van Gisbergen in fuel saving mode, and with five to go the gap dropped under five-seconds, as McLaughlin saved fuel to get to the flag. With two laps remaining, McLaughlin got the low fuel warning and started maximum fuel saving. Unfortunately, McLaughlin was passed for the lead by Van Gisbergen at the final corner of the final lap to finish second, taking a two-point lead into the final race of the season tomorrow.
The final day of the season started with a pressure relief of sorts for Scott McLaughlin, with the news that Shane van Gisbergen had been given a penalty for a pit stop infringement in Saturday's race, that dropped him down the order and gifted McLaughlin a 53-point lead heading into the Race 31 decider.
It was a solid start for McLaughlin, slotting into second, Fabian Coulthard settled into 10th place.

McLaughlin sat in second across the opening stint, one-second behind David Reynolds, with Van Gisbergen half-a-second further back. Coulthard took his first stop on lap seven, returning to track in 23rd place.



The gaps stayed steady until, on lap 19, Jamie Whincup pushed Coulthard into the Turn 12 wall which caused a Safety Car period. McLaughlin entered pitlane during the SC and returned as the effective race leader in front of Reynolds and van Gisbergen.

Coulthard lost his rear wing in the crash and returned to the garage for repairs. He rolled back out onto the track three laps down. The race restarted on lap 22, with McLaughlin leading Reynolds and Whincup in third.

The gap at the front had expanded to 3.8s on lap 42, and four-seconds by lap 44, where it remained for several laps. McLaughlin took his second stop on lap 51, fuel and tyres to run to the flag. He rejoined in fourth, and effective leader once more with Reynolds behind.
With a long run to the flag, engineer Ludo Lacroix coached McLaughlin to look after his tyres and manage the gap. On lap 60 McLaughlin assumed the lead as Lowndes took his second stop. He had a 1.8s gap to Reynolds, with Whincup third and van Gisbergen fifth.

Coulthard stopped for fuel and tyres on lap 70, still more than three laps down after his earlier incident. He remained 25th.

With 10 laps remaining, McLaughlin was just under a second in front of Reynolds, 16s in front of Whincup. McLaughlin let Reynolds by with five laps to go, only needing to finish in front of Van Gisbergen to win the championship

McLaughlin crossed the line second, to secure his first championship victory and the 17th and final championship victory for the Ford Falcon.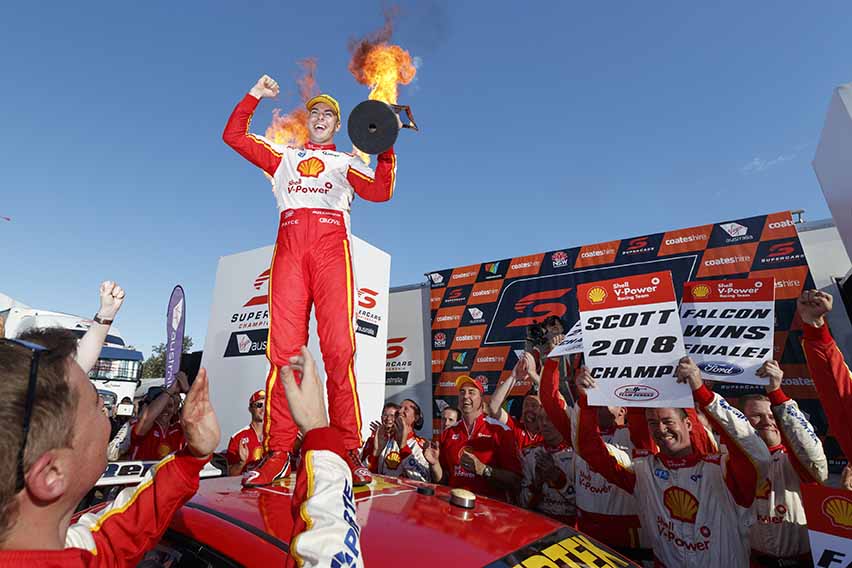 It caps an incredible year for Team Penske worldwide, with victories in the Indy 500, NASCAR Cup Series, Brickyard 400 and the team's 34th National Championship. Roger Penske himself describes it as "Probably the greatest year for the team, ever."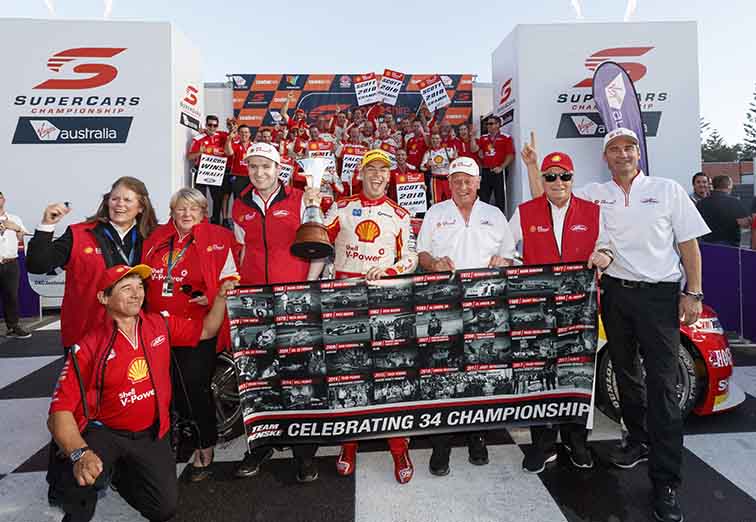 COULTHARD QUOTE: "Firstly, massive congrats to Scotty and the team on getting the championship win. It's been a huge effort from everyone to get it done, and I'm proud to be a part of this team. We had a front-running car both days this weekend, but when there is a championship on the line you have to play the team game. I knew that coming into this weekend, we needed to be fast and be a nuisance and I think we achieved that. Yesterday was good for Scotty, we were able to create that gap and drop him into that gap with no dramas which set him up nicely for today. For me, there's positives to come out of the weekend. We were fast on this street circuit, so I'm really looking forward to going to Adelaide 2019 in the Mustang. It's been one of the tougher years I've had, but the light at the end of the tunnel is very bright and I'm looking forward to coming back and giving it a red hot go."

MCLAUGHLIN QUOTE: "I'm so relieved! Last year was just a massive kick in the guts, and I feel like we built all year to come back and turn that negative into a positive. I'm so proud to get this done for everyone at Shell V-Power Racing. It means everything. I never dreamt of being a Formula 1 driver, I dreamt of having my name on this trophy, and now I've got that done. It's a pretty emotional day for me and my family. I promised my Gran that I would do this before she passed away, so to do it is really special. It's been a pressure cooker of a year, and I'm just so bloody proud to finish it. It's a massive weight off the shoulders. There are some amazing names on this trophy, and to have my name on that trophy is incredible. Taking DJR Team Penske's first Supercars Championship is a surreal moment."