News
Perth SuperSprint Recap
Race 11

Scott McLaughlin has landed his 3rd straight win in the 2018 Supercars Championship, following his Race 11 win on Saturday at Perth's Barbagallo Raceway.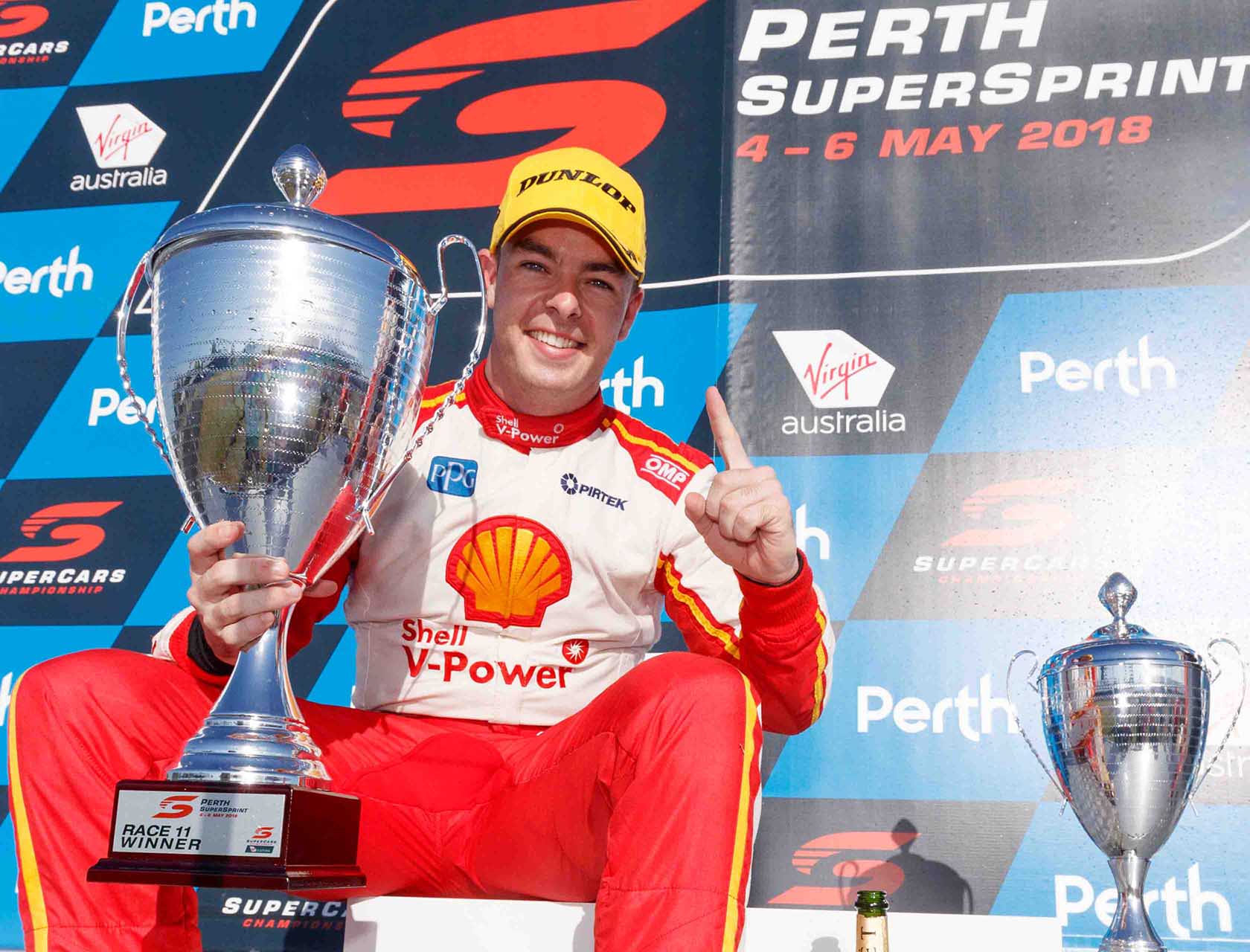 The #17 DJR Team Penske Falcon of McLaughlin took the advantage from the start, heading up the hill in Lap 1 from pole, just in front of teammate Fabian Coulthard. Cameron Waters in his #6 Monster Energy Falcon came in from the outside of the front row but suffered from wheelspin as the lights went out, falling back to fourth. His Tickford Racing teammate Winterbottom was right in front of him, with Slade's Freightliner Commodore in the back.

McLaughlin made a steady move up to the front, gapping the competition in the process. Coulthard defended against Winterbottom but was still 7.3s behind his #17 teammate out front by the time the #17 went into the pit at the end of Lap 19. Coulthard began to pace well into the lane a lap later whilst Winterbottom waited a while longer until the end of Lap 29 to apply increased force. Meanwhile, McLaughlin came in front of Chaz Mostert, who came out of pit in seventh on Lap 16, and Jamie Whincup, the second driver to pit at the close of Lap 15 and who started in 14th.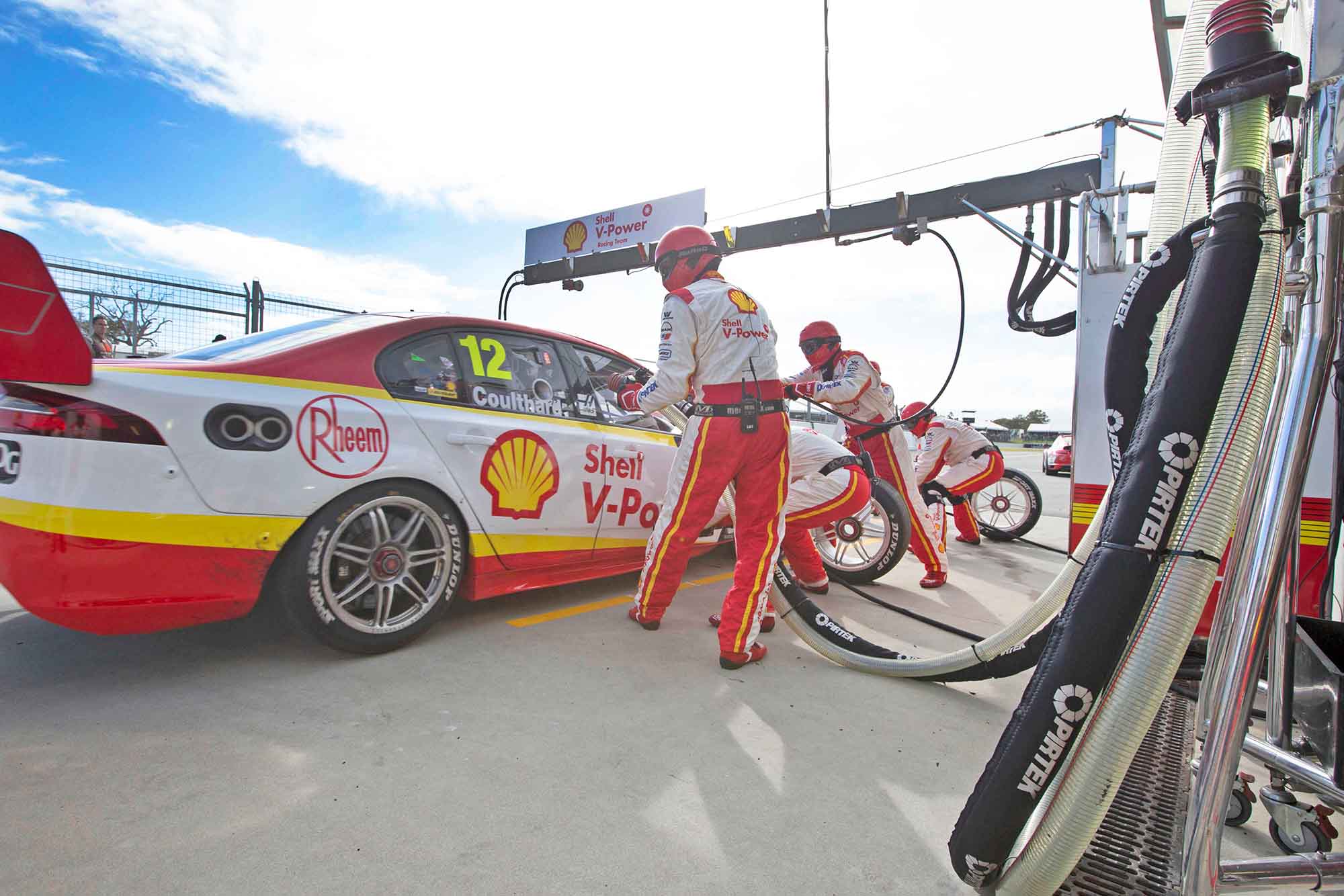 The order of drivers remained the same with McLaughlin enjoying a significant and increasing lead until Mostert tried to pull ahead for pit lane at the completion of Lap 33. Despite his attempts, Mostert's Supercheap Auto Falcon was taken over by Whincup as Mostert's speed decreased through Turn 7 and his car spun-out prompting further service, resulting in his return in 22nd position. Whincup didn't have much luck either as he suffered from tyre life issues and gradually begun to drop positions with a little over 10 laps remaining.

Freightliner Racing's Tim Slade and Bottle-O Racing's Mark Winterbottom were serious challengers to McLaughlin's top spot but in the end, it was Winterbottom who prevailed as the closest contender for the title. Shane van Gisbergen followed close behind, overtaking Slade's #14 on the final lap to finish 3rd from a starting 12th. Winterbottom's Bottle-O Falcon made a bold comeback from 15th following his fairly late pit stop. Across the finish line, Winterbottom came behind 5.6s behind McLaughlin's top spot. McLaughlin taking his 4th win of the 2018 season, boosting his championship even further.

"I was a bit worried there," McLaughlin revealed. "When I came out from the pit stop there were lapped cars everywhere and they were battling which they're entitled to. It got a bit hairy at one stage." He continued, "I got a really good start, which is what I wanted and trucked on. For everyone at Shell V-Power Racing it's a good start, three in a row now which is nice and great for our championship."

Tim Slade finished 4th, just ahead of Lowndes, Waters, Davison, and Coulthard, who dropped 6 seconds down the pack as he overshot his pit box and was experienced a slow left-rear wheel change.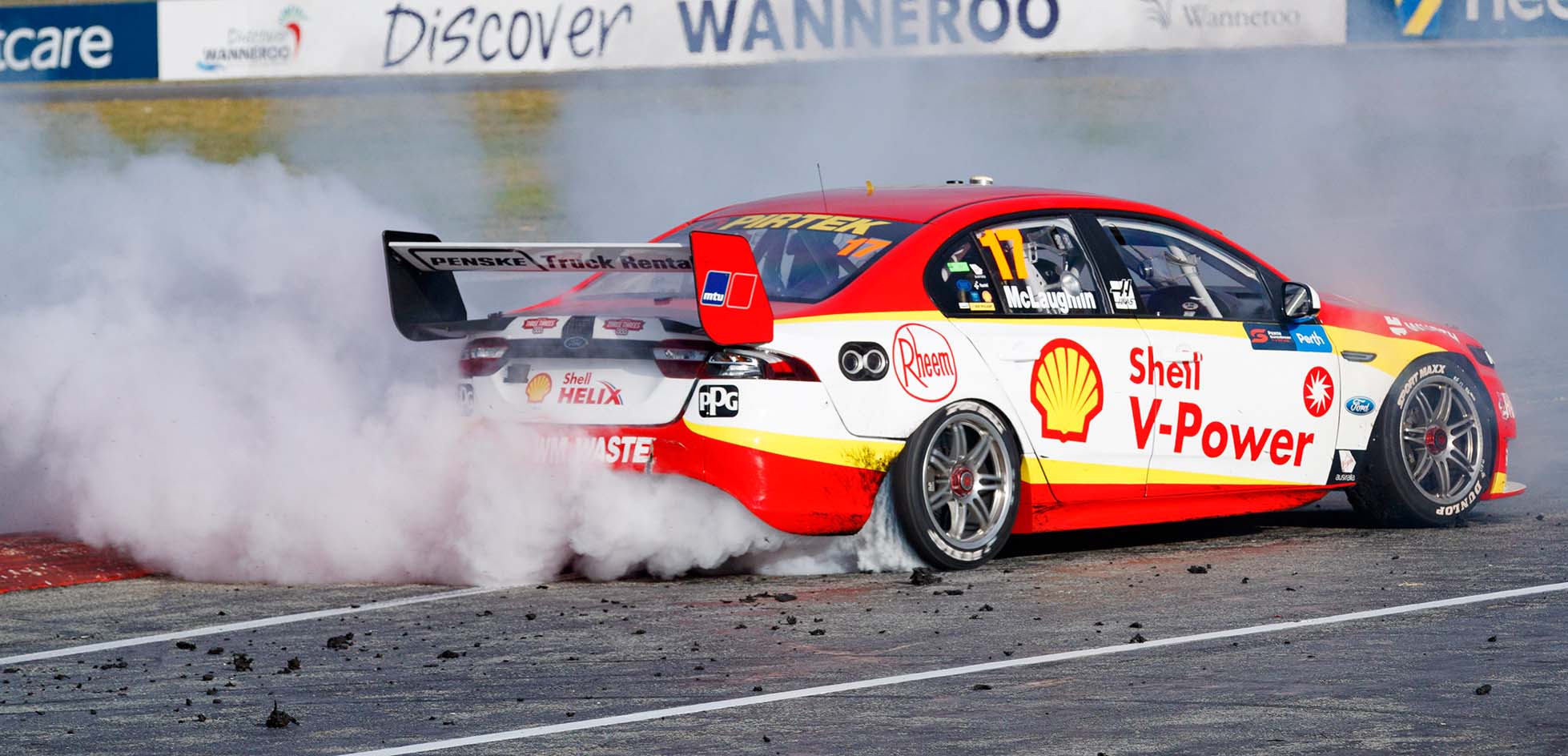 McLaughlin completed the race as the undisputed leader, having led the pack for the entire race bar the pit stops. The DJR Team Penske driver finishes Race 11 with 1097 total points on the Drivers' Championship table, 119 points ahead of his closest rival on the ladder, van Gisbergen, the 2016 Supercars champion.

Race 12

In an exceptional comeback, Scott McLaughlin of Pirtek-backed DJR Team Penske has secured his 5th title of the 2018 season and his 4th straight win. Despite his 19th starting position from qualifying, the #17 Falcon made impressive advances to lead David Reynolds, Craig Lowndes and others to claim Race 12 of the season at Barbagallo Raceway in Perth.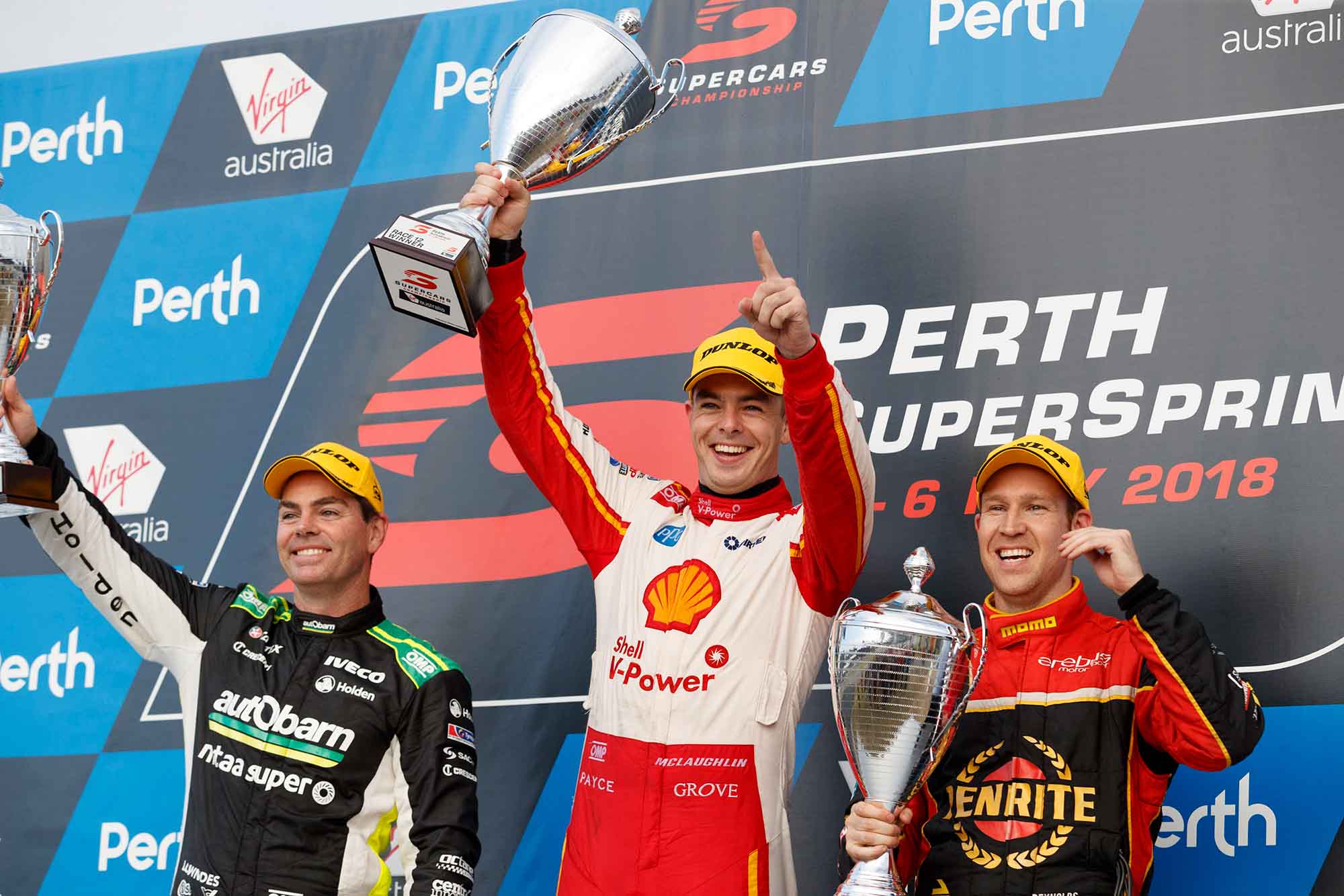 The Kiwi in the #17 DJR Falcon took advantage of track position in the early moments, gaining him the top position for much of the first half of the race. At the start, however, Jamie Whincup and Shane van Gisbergen led the way, with Whincup leading Shane as the latter broke into wheelspin on the inside of the front row and fell to third behind Chaz Mostert.

McLaughlin barely avoided a multi-car clash on Lap 1 when Richie Stanaway in his Mega Falcon charged Scott Pye's Mobile 1 Boost Commodore through Turn 5 and Fabian Coulthard headed into the grass on the left of the road. Race stewards are set to investigate the incident post-race. Things headed further south as the Safety Car was called-in for the first time in six Supercars Championship races on Lap 4 when James Golding went off the road and marooned his Wilson Security GRM Commodore on Turn 1.

All drivers then decided to pit shortly after the incidents, except for Will Davison who drove his #400 Milwaukee Falcon ahead of Mostert, Reynolds, Heimgartner, Whincup, Percat, and McLaughlin on the restart. At the same time, van Gisbergen fell back to 18th being forced to get behind his teammate Whincup. Although Davison pushed ahead, he had actually developed suspension damage from before when he came into contact with Michael Caruso – an incident requiring Caruso's Altima to pit and Davison's Falcon to suffer performance losses. As a result, Davison got passed by Mostert in six corners who, with Reynolds, led the pack in the top 2 places. The top 2 continued, being only under a second apart for much of the time, until another pit came about on Lap 27 for Mostert, Heimgartner, and McLaughlin. All whom pitted a lap after Whincup.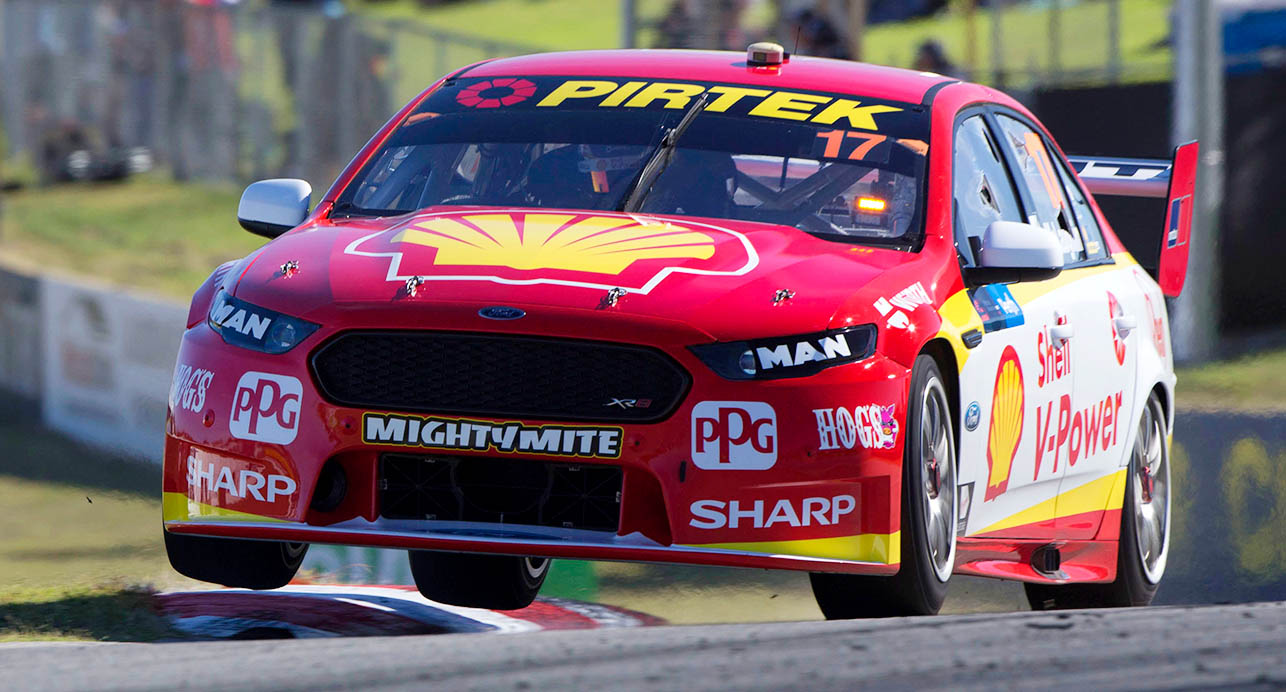 McLaughlin gapped his closest rivals at the time, Mostert, Reynolds, and Heimgartner while Reynolds made his move on Lap 32 to take his second stop to emerge over 8 seconds behind the Kiwi leader. The 3-stop strategy was becoming popular amongst many racers. Cameron Waters pitted on Lap 34, giving over the lead to McLaughlin for the first time as Reynolds begun to slowly close-in on the leader.

The gap between McLaughlin and Reynolds was a dynamic move between short and long as they both fought to keep on top of traffic. The #17 Falcon of McLaughlin then made its final pit stop towards the end of Lap 59, a lap before Reynolds' pit who resumed from the box at 7.3 seconds behind the #17 Kiwi. Reynolds eventually came within 2 seconds of McLaughlin's Falcon though it became evident, with 5 laps left, that McLaughlin would continue his firm grasp on the lead.
Reynolds, in his Erebus Penrite Commodore, finished second behind McLaughlin despite veering slightly off-road during the last corner of the race. Craig Lowndes got through James Courtney on the penultimate lap to finish 3rd from a starting 25th. Shane van Gisbergen rounded off the final 5 in his Red Bull HRT Commodore.

McLaughlin, in a superb comeback, triumphed from his 19th starting grid position to bring him his fourth straight race win and further elevated his championship lead by 158 points. "I'm stoked. Couldn't believe it," said McLaughlin. "These guys just gave me an unbelievable car and the strategy was on point. Got a decent start, for the first time in my life." Scott continued, "I'm puffing, I was jumping up and down; it was awesome. So stoked for everyone at Shell V-Power Racing and home. We made it difficult for ourselves, stuff it, brought it back."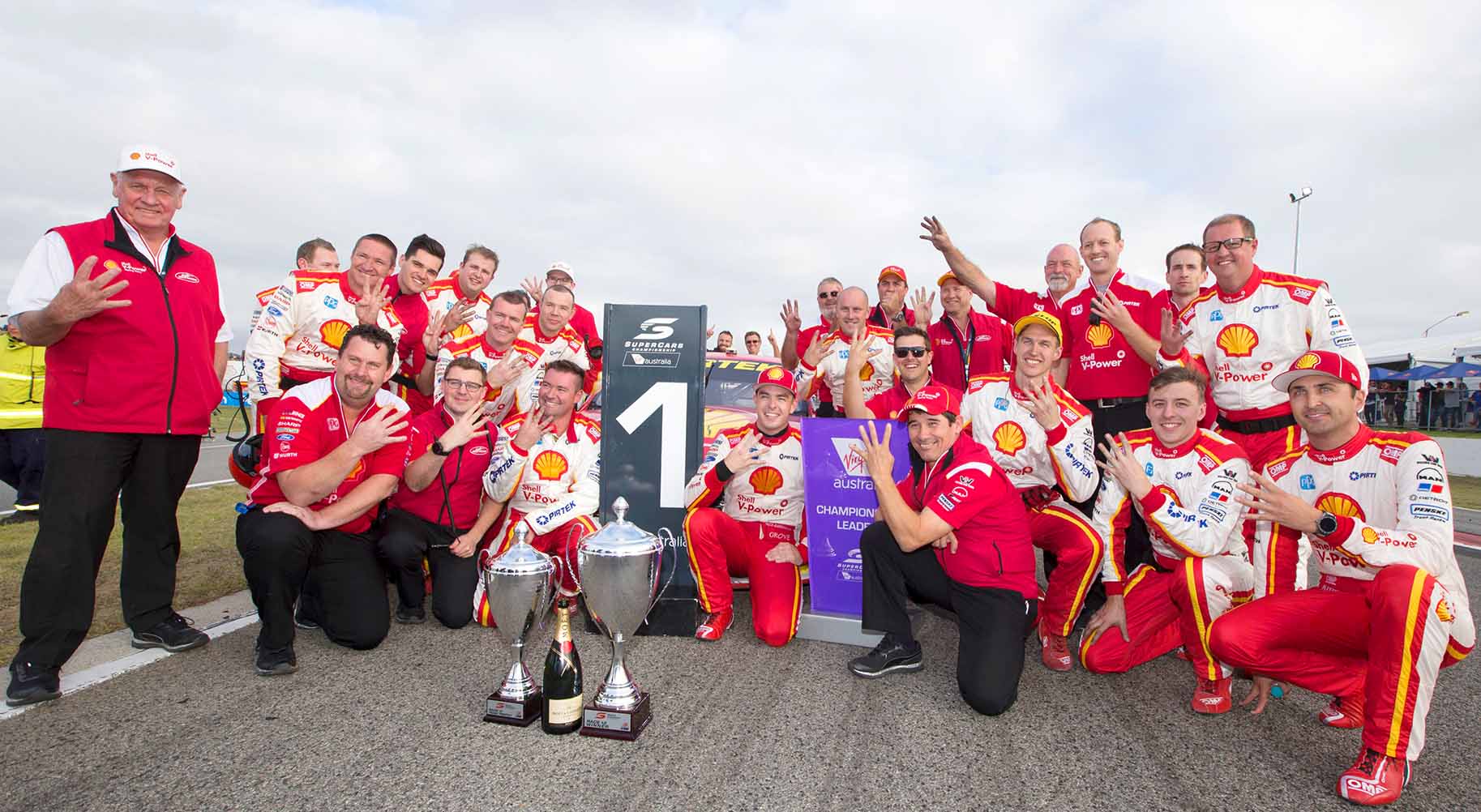 David Reynolds was also thankful of his finish behind the leader despite coming very close to giving up his podium when he took off from Turn 7 on the last lap. He managed to regain his momentum just in time, trailing behind the #17 leader at just under 8 seconds. "It was a pretty dick move at the last corner on the last lap," he admitted. "Luckily I had a bit of a gap to Craig and still maintained second." He continued, "It was a good race for Scott, he had good pace, but it's the best performance I've had here so really good thanks to the team; they did an amazing job all weekend."

McLaughlin's DJR Team Penske teammate Fabian Coulthard finished 16th. An incident between himself and Lowndes on Lap 8 is set to be reviewed by stewards post-race.

The Virgin Australia Supercars Championship resumes on May 18-20 with the Winton SuperSprint.
Championship Standings:
| | | |
| --- | --- | --- |
| Position | Driver | Points |
| 1 | Scott McLaughlin | 1247 |
| 2 | Shane Van Gisbergen | 1089 |
| 3 | David Reynolds | 1079 |
| 4 | Craig Lowndes | 1053 |
| 5 | Jamie Whincup | 979 |
| 6 | Scott Pye | 874 |
| 7 | James Courtney | 864 |
| 8 | Chaz Mostert | 845 |
| 9 | Fabian Coulthard | 809 |
| 10 | Tim Slade | 800 |
| 11 | Nick Percat | 778 |
| 12 | Mark Winterbottom | 767 |
| 13 | Rick Kelly | 733 |
| 14 | Garth Tander | 732 |
| 15 | Cameron Waters | 703 |
| 16 | Will Davison | 649 |
| 17 | Michael Caruso | 613 |
| 18 | Jack Le Brocq | 593 |
| 19 | Anton de Pasquale | 554 |
| 20 | Andre Heimgartner | 533 |
| 21 | Lee Holdsworth | 462 |
| 22 | Simona De Silvestro | 414 |
| 23 | Todd Hazelwood | 394 |
| 24 | Tim Blanchard | 350 |
| 25 | James Golding | 350 |
| 26 | Richie Stanaway | 308 |