News
PIRTEK Muswellbrook Revamp
Pirtek Muswellbrook Franchisee's Gus & Sharon Mather have just completed a major revamp of their Service & Supply Centre to better serve their community and customers from the upper Hunter Valley.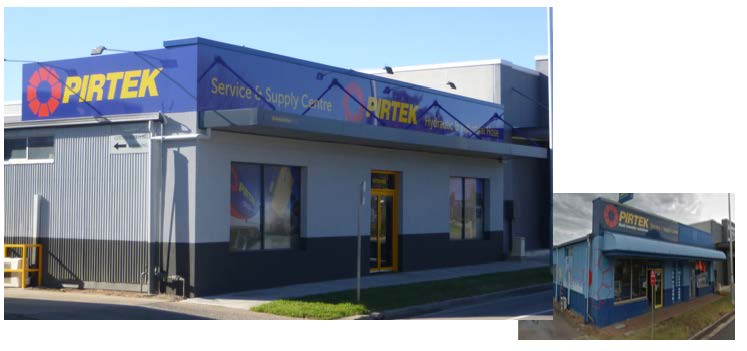 The Service & Supply Centre employs 21 staff from the local community whom are all excited about the recently completed improvements.
The dedicated team managed to keep the Service & Supply Centre operational throughout the extensive redevelopment. The Pirtek Muswellbrook team are sure customers will experience significant benefits such as convenient parking directly out the front for cars/utes whilst larger trucks can easily access the expansive rear carpark.
Additional improvements are in the pipeline to further enhance the customer service experience.
Given the success of the business and the subsequent increasing workload of the Service & Supply Centre, they are always on the lookout for people with the appropriate skill set to join their team. Register your interest via email to: employment@pirtek.com.au
Franchisee Gus Mather said: "The upgrades at the Centre will lift the experience for our customers. We've had lots of positive feedback from the community and glad that we can add to the professional presentation of other businesses in Muswellbrook".
"At Pirtek, we work hard day in, day out to maintain the highest standards of product and service in the industry. The revamp reflects our professional approach to service."
"Because we're growing, we're adding more products, services & systems. It's not just hose & fittings any longer, it's spill control, lubrication & fire suppression to name just some of our product range."
"The redesigned shopfront has created a better retail space for our customers and additional office space for our Support team."
"Our strong corporate identity is well recognised in the public arena and the new look fits in perfectly with our brand."
Pirtek Muswellbrook has been located within the same facility for 31 years and had its last makeover in 2000.
• New street front entrance
• Upgraded facia & awning
• Improved lighting
• More than 50,000 Hydraulic & Industrial hose related products
• Specialty services such as testing, calibration & machine change out kits
• Supported by a 24 hour 7 day a week breakdown service. Rotating shift rosters have our Mobile Service Technicians awake & ready to keep you operating.
For inquiries for Pirtek Muswellbrook contact the Centre direct on 02 6543 4255 or email muswellbrook@pirtek.com.au