News
2017 Pirtek Fishing Challenge Now Worlds Biggest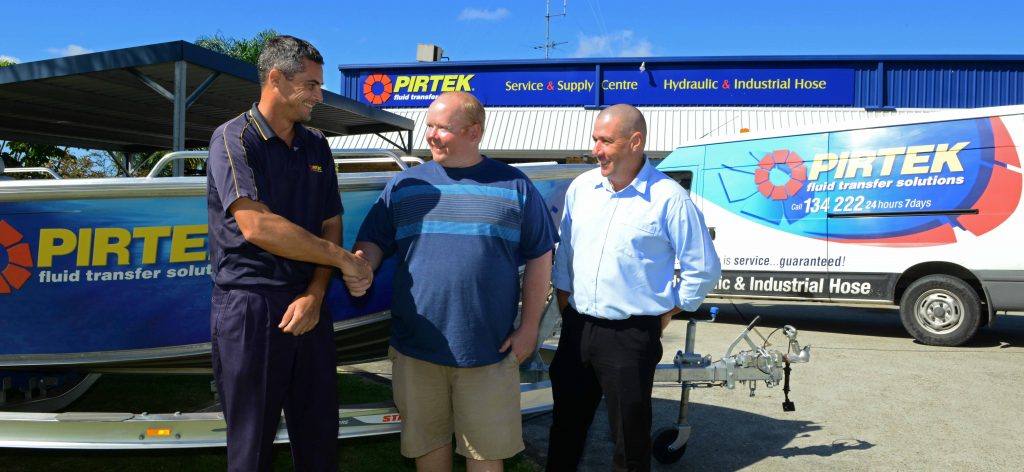 From left: Wade Croak, Pirtek Newcastle; Matt Daniel, winner with his new $25,000 boat package thanks to Stacer and Valvoline; and Nathan Pearson, Pirtek Fluid Systems
The ninth annual PIRTEK Fishing Challenge, which attracted almost 9000 participants, has been recognised as the world's biggest competition for anglers.
With entrants from every Australian state and territory, the event also raised in excess of $A70,000 for the Prostate Cancer Foundation of Australia and the Peter Duncan Neurosciences Research Unit, with more than $A850,000 being donated during the last nine years.

Australia's unique landscape was subject to an equally varied range of weather conditions for this year's Challenge, which produced an endless list of 'tales' and interesting images loaded to the event's official website.
There were some impressive fish caught including a flathead just over the magic metre mark by a NSW angler, barramundi in Queensland up to 123cm and big trevally and saltwater barramundi in the Top End.

There were 136 individual prize winners across Australia all sharing in the $176,000 prize pool – see below for links to winners.

PIRTEK provides $70,000 cash which is divided between 22 mystery length target fish, providing all entrants with the opportunity to win big without necessarily catching the biggest fish.

One of the highlights of the challenge is the On The Water prize draw and this year's major winner was Matthew Daniel from Goulburn, who won the $25,000 boat/motor/trailer package thanks to Stacer and Valvoline.

Other major prize winners included Luke Tatchell, who won the Humminbird Helix 10 DI GPS sounder valued at $2,349; Michael Schmidt, who picked up a a $2000 tackle pack thanks to ABU Garcia and Berkley; and Wolfgang Kager will be adding to his tackle box thanks to a $1500 BCF gift card.

One of the most popular prizes every year are the Spotters Australian-made sunglasses.

Tournament director, Michael Guest, was delighted with another record-breaking year.

"I was very proud to see so many keen anglers supporting the Challenge and our charity partners in this year's challenge," said guest.

"It goes to show what a bunch of dedicated anglers can achieve when we all get together for a good cause.

"I know conditions were tough in some parts of the country, especially the East Coast of NSW but it didn't slow too many fishermen down with thousands of photos uploaded to the website across the country.

"2018 will be our tenth year of the Challenge and our target will be 10,000 anglers."

PIRTEK Australia's Chief Executive Officer, Stephen Dutton, said that the success of the PIRTEK Fishing Challenge was something all his company's staff, suppliers and franchisees could be enormously proud of.

"It is hard to believe that the PIRTEK Fishing Challenge has just completed its ninth year and we have again notched up record numbers," said Dutton.

"It is incredible to think how this initiative has grown under the leadership of tournament director, Michael Guest, who came to us with a terrific vision almost 10 years ago.

"While the PIRTEK Fishing Challenge provides us with a chance to bring so many anglers together for a fun event with some terrific prizes, it is also satisfying to know that so much money is being raised for the Prostate Cancer Foundation of Australia and the Peter Duncan Neurosciences Research Unit.

"We have to thank all the event's support sponsors and everyone will be happy to know that planning for next year's 10th anniversary is well under way and we have a goal of breaking the magical 10,000 mark for entrants which would well and truly establish another world record."

The 10th anniversary PIRTEK Fishing Challenge will be held in March 2018.

RESULTS, PRIZE WINNERS & IMAGES CAN BE FOUND BY FOLLOWING THE BELOW LINKS (by Region):

– NSW-ACT
– Queensland
– South Australia
– Tasmania
– Victoria
– Western Australia – South
– Northern Territory
– East Coast Freshwater
– Great Dividing Range
– Murray-Darling Basin
– On The Water Prizes

For further information about the PIRTEK Fishing Challenge visit:
www.pirtekfishingchallenge.com.au
www.facebook.com/pirtekfishingchallenge

For further information about PIRTEK visit:
www.pirtek.com.au
www.facebook.com/pirtek
http://twitter.com/PIRTEK_AUS