News
2019 Recap of Melbourne 400
Race 3
The final two qualifying sessions of the weekend were held first up this afternoon, with Scott McLaughlin taking his 50th career pole for the start of Race 5. He then backed it up with second place for Race 6. Coulthard will start the races 5th and 8th respectively.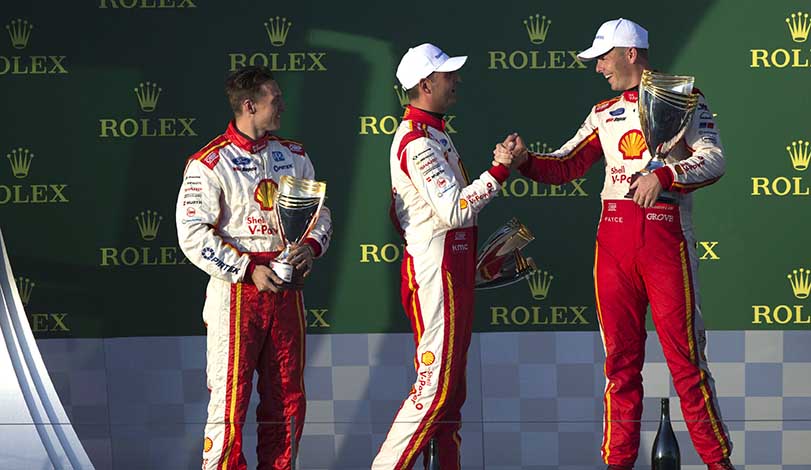 The first race of the weekend was held in the early evening, starting just before 6pm.

Both drivers got strong starts off the front row of the grid, skipping out to a half second lead by the end of lap one. McLaughlin, Coulthard and Cameron Waters started to move away from the field on lap two, forming a trio of Mustangs at the head of the field.

At the start of lap four McLaughlin was out to a one-second lead over Coulthard, with Waters a further second behind, and by lap seven the gap between McLaughlin and Coulthard was 1.9s, with Waters steady one-second further back. The gap was then 5.3s to Van Gisbergen's Holden in fourth.

Coulthard pitted from second on lap 11, taking fuel and tyres, rejoining in 14th, first of those who'd stopped to date. At that stage, McLaughlin had a gap of 4.7s to Waters on lap 12, before pitting on lap 13 from the lead. He came back in the pack as effective p1, with Coulthard effective p2.

With all cars having stopped on lap 15, McLaughlin returned to the lead with Coulthard p2. From that point on McLaughlin and Coulthard managed the pace, with over 2.7s back to Waters on lap 20.

Van Gisbergen's car retired at the exit of turn one on lap 22, leaving Mustangs as the Top 5 on the road. The two Shell V-Power Mustangs crossed the finish line first and second, four-seconds in front of third-placed Waters.

Both drivers dedicated their efforts to their New Zealand countrymen after the horrific attacks in Christchurch earlier in the day.

McLaughlin continued his perfect start to the season, with 400 points and the continued Championship lead. Coulthard has moved into ninth place, with the team at the top of the Teams' Points.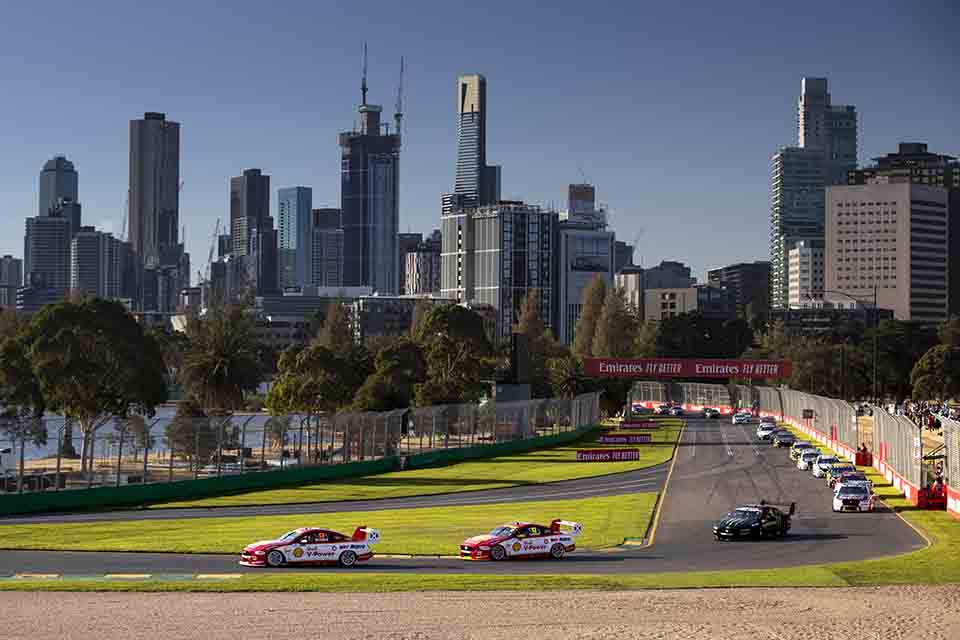 Coulthard said of the event, "Awesome to finish 1-2 for Shell V-Power Racing Team this afternoon. That was special to stand on the podium with Scott and hear the NZ National anthem play. It's been a dark day for our country today, and we raced today in their honour. Our thoughts are with everyone in Christchurch. This result is for them."

McLaughlin commented, "Fabs and I are from New Zealand, and I'm originally from Christchurch. We heard about what had happened after qualifying, and it was a pretty big shock to the system. Just hearing the New Zealand anthem was pretty special and gave me goosebumps. I'm sending big love to everyone over there. It's a small town, it's hard to believe something so bad could happen there. That win was for New Zealand. Stay strong everyone."
Race 4 and Race 5
In a sign of solidarity with the people of New Zealand, both Shell V-Power Mustangs wore black mirror caps with silver ferns at Albert Park, in honour of the victims of the Christchurch attacks.

Scott and Fabian also wore silver ferns on their helmets in an additional tribute.

The second race of the Beaurepaires Melbourne 400 weekend would be a 13-lap sprint around the Albert Park Grand Prix circuit.

Scott McLaughlin got a solid start from pole to lead into the first corner, with Coulthard slotting into fifth, with Cameron Waters in second. McLaughlin set the fastest lap of the race on lap three, and had a two-second lead by lap five

Coulthard struggled with balance, tuning the car with the roll bars as he looked to pass Whincup who sat in fourth. By lap 10 the gap was over four-seconds, now to Mostert with Waters having been relegated to third.

Coulthard was solid in fifth, sandwiched between Whincup and Davison. As they started the last lap McLaughlin was three-seconds ahead of Mostert, eventually winning the 1000th ever Australian Touring Car/Supercars race by 2.5s to maintain his perfect start to 2019. Coulthard finished fifth.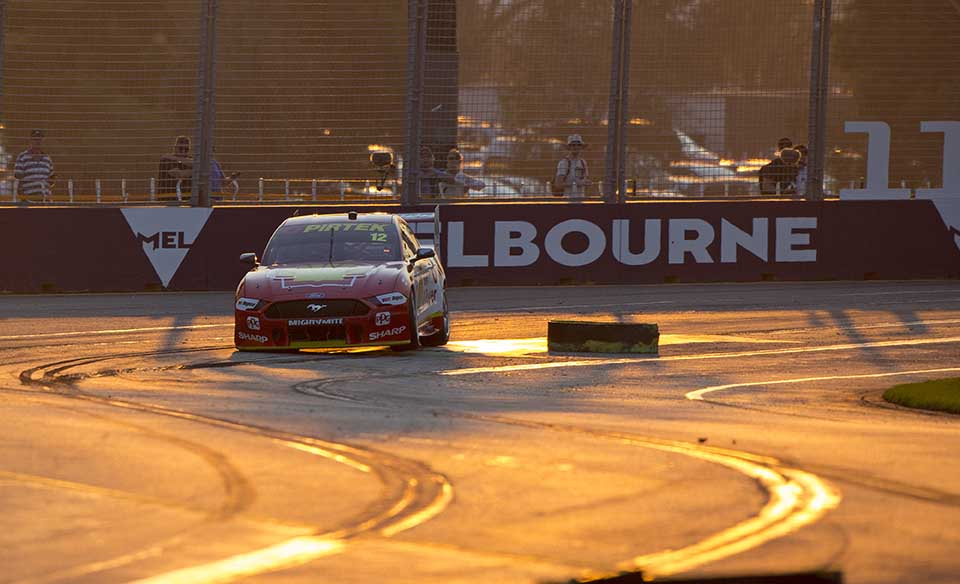 McLaughlin again dedicated the victory to the people of Christchurch, his home town.

The second race of the day would be over before it began for McLaughlin in extremely bizarre circumstances. While on the out lap for this evening's 25-lap, 130km race, Tickford's Cameron Waters came into contact with Scott McLaughlin, forcing them both into pit lane prior to the race start.

The damage was too great to repair, so Scott's car did not start the race. With the front row of the grid empty, Fabian's fifth place start effectively became a third placed start.

After a slow start, Coulthard slotted into fifth place on the road, and settled in there. By lap five was just under one second behind Reynolds.

A late Safety Car period was called when a wheel came off Shane van Gisbergen's Triple Eight Holden, however the result was unchanged with Coulthard securing another fifth place finish. He is now sixth in the points.

McLaughlin continues to lead the Championship by 24 points over Whincup. The team remains at the top of the Teams' Points, with a 64 point lead over Triple Eight.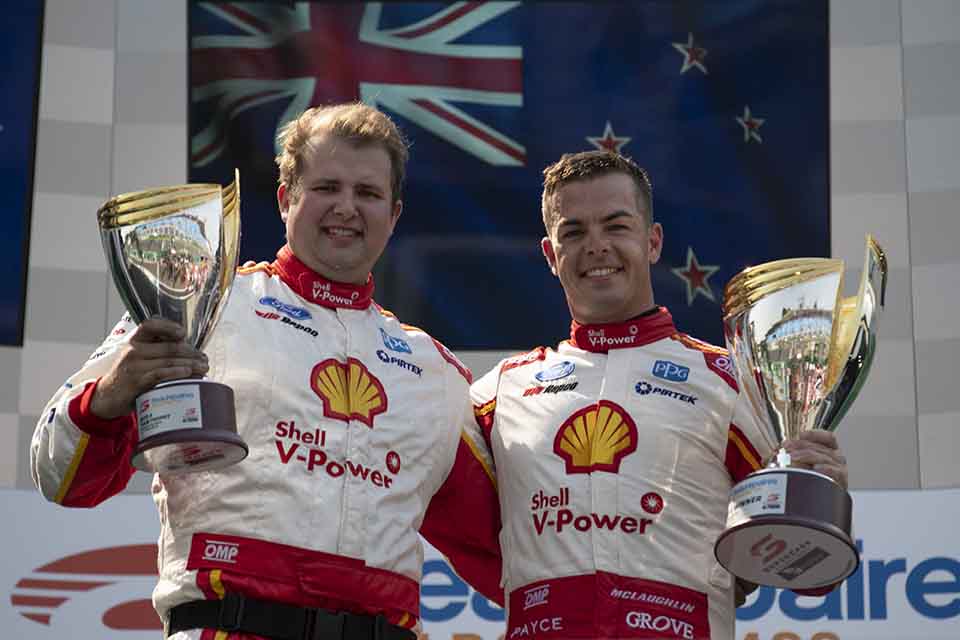 Coulthard said, "We just haven't quite got our balance there. We're trying hard, Mark [Fenning, Engineer] and I to get it there, but we don't have the front as accurate as we'd like it to be. Normally I go really well here, I know what to do, I'm just not able to do it. We've pulled a great bunch of points, and if the car isn't good we have to salvage as many points as possible and that's what we're doing. Guys have finished fifth all year and won championships, so I can't be too unhappy. What happened to Scott was really unfortunate, I had a front row seat for what happened and he was pretty much the innocent guy in it. It happens, but I feel very sorry for all of the car 17 guys."

McLaughlin said, "It was awesome to win the 1000th ever Australian Touring Car race this afternoon. I love a good stat, so that's a very cool thing. It's a real shame about what happened this afternoon, but we race humans and humans make mistakes. I'm just really sorry for my team, who have a damaged car to repair tonight. Eyes forward, we get another opportunity tomorrow and we'll try to grab another win."
Race 6
The final race of the Beaurepaires Melbourne 400 saw Scott McLaughlin start from second and Fabian Coulthard from eighth.

Both drivers got excellent starts, with McLaughlin slotting into the lead, and Coulthard into seventh. Coulthard made a minor error at turn 11, locking a brake and running wide which allowed Shane van Gisbergen to pass, setting off a chain of events that saw Van Gisbergen make his own errors - firstly at Turn 11 and then again at Turn 13. This forced Fabian off track, and down to 21st position.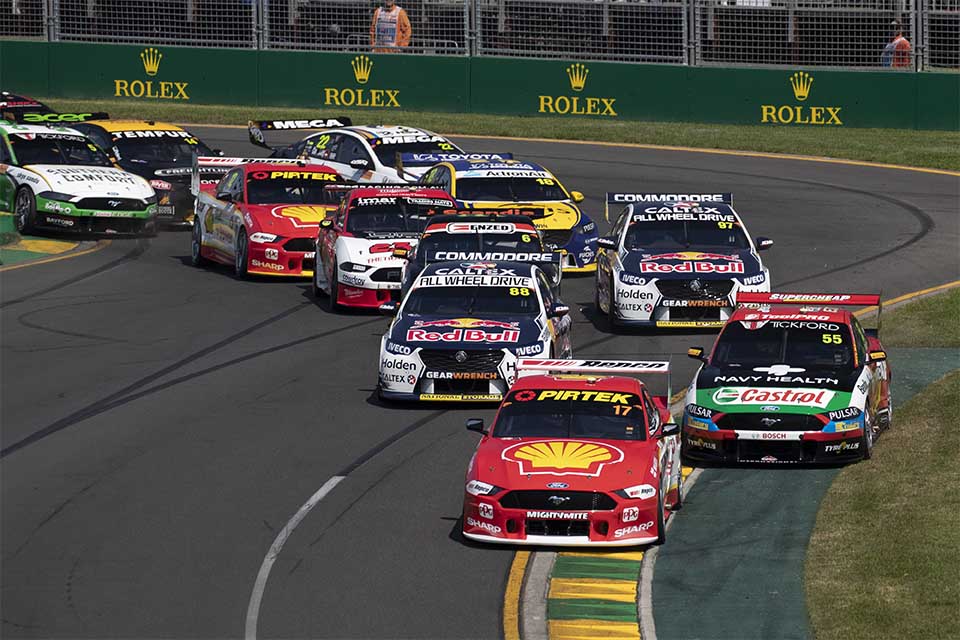 On lap five a Safety Car was called when Macaulay Jones ended up in the turn six wall, with the race restarting on lap seven. At the restart, McLaughlin jumped to a half-second lead.

Coulthard was up to 19th by the end of the lap, when it was announced that Van Gisbergen had received a 15-second penalty for his earlier infringement on Coulthard. He continued to make moves, and was 17th at the end of lap eight. McLaughlin's lead was just under one second at that point.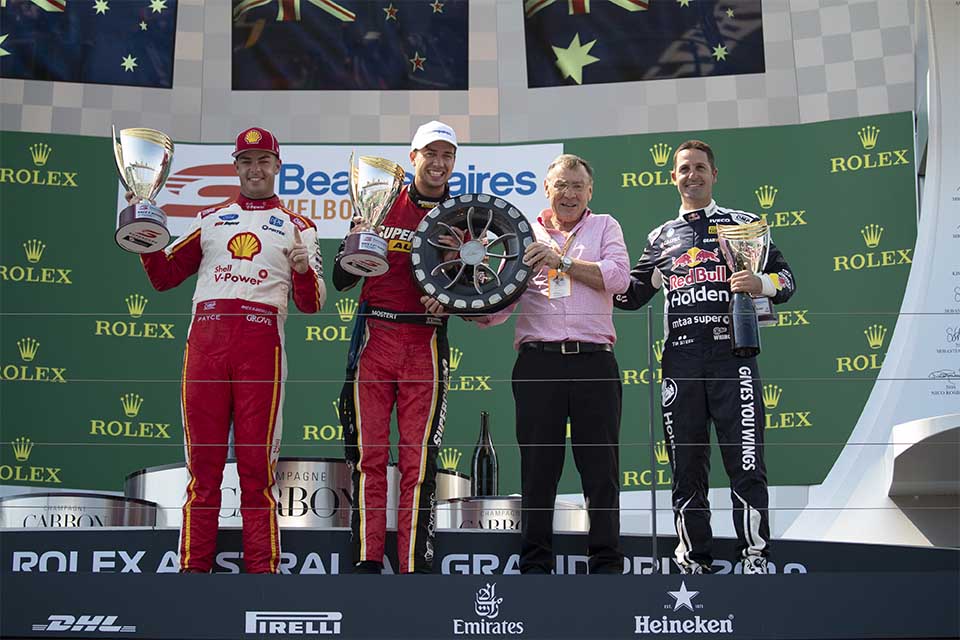 Coulthard had great pace and a strong car, moving up to 16th, that became 15th when Van Gisbergen's penalty was applied. McLaughlin continues to lead the points, by 31 over Jamie Whincup. Coulthard is sixth, 130 behind McLaughlin. The team leads the teams points by 106.

On the event, Coulthard mentioned, "That's a pretty bitter pill to swallow today, as we had a seriously fast car and weren't able to get the result due to other's desperate driving. The car hasn't been where I really wanted it this weekend, however the team have worked hard to get it right and we got there today. Again we're robbed of a good result due to circumstances outside our control. Looking at the positives, we've gained lots of positions in the Drivers' title and we lead the Teams' points by a decent margin. We'll be aiming for the W at Tassie in a few weeks' time."

McLaughlin's word on the final race, "It was a good day, obviously better than yesterday! Today it was all about the start up against Chaz, and I got a good one. I had a fast car, and I was really having to push hard, especially after the Safety Car restart. It was a good battle, and I'm really looking forward to the rest of the year. I knew what I needed to do, and was able to execute so it was really pleasing. We had the fastest cars all weekend, so it's nice to take the last win of the weekend."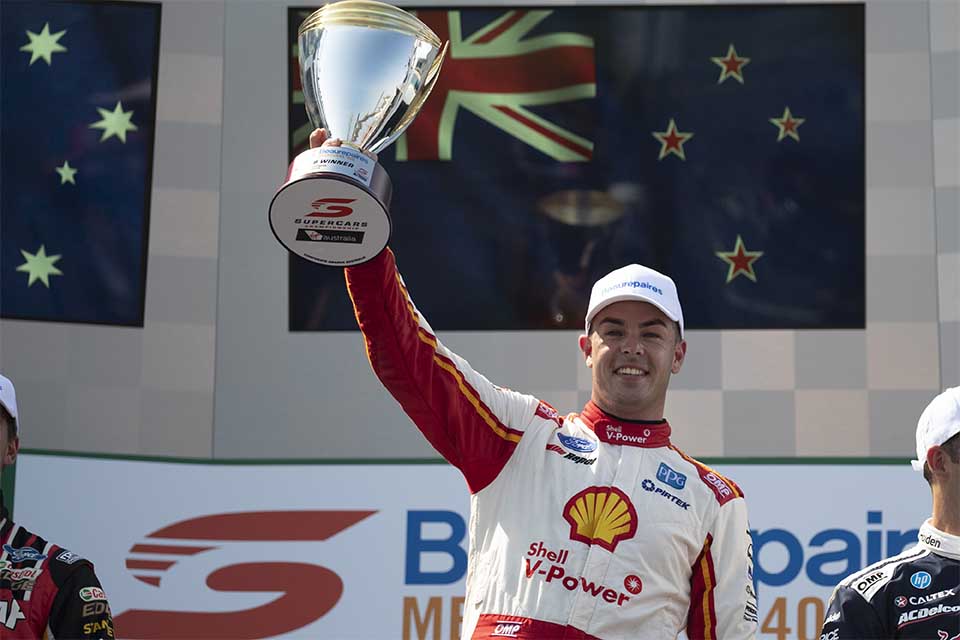 DRIVERS' CHAMPIONSHIP POINTS

| | | | |
| --- | --- | --- | --- |
| 1. | Scott McLaughlin | 500 | |
| 2. | Jamie Whincup | 469 | -31 |
| 3. | Chaz Mostert | 437 | -63 |
| 4. | Will Davison | 413 | -87 |
| 5. | Tim Slade | 390 | -110 |
| 6. | Fabian Coulthard | 370 | -130 |
| 7. | David Reynolds | 368 | -132 |
| 8. | Nick Percat | 355 | -145 |
| 9. | Cameron Waters | 346 | -154 |
| 10. | Mark Winterbottom | 334 | -166 |
TEAMS' CHAMPIONSHIP POINTS
| | | | |
| --- | --- | --- | --- |
| 1. | Shell V-Power Racing Team | 870 | |
| 2. | Triple Eight Race Engineering (Whincup/SVG) | 764 | -106 |
| 3. | Tickford Racing (Waters/Davison) | 759 | -111 |
| 4. | Brad Jones Racing | 745 | -125 |
| 5. | Tickford Racing (Mostert/Holdsworth) | 704 | -166 |
| 6. | Erebus Motorsport | 629 | -241 |
| 7. | Walkinshaw Racing | 503 | -367 |
| 8. | Nissan Motorsport (Kelly/Heimgartner) | 469 | -401 |
| 9. | Garry Rogers Motorsport | 396 | -474 |
| 10. | Nissan NISMO (De Silvestro/Jacobsen) | 377 | -493 |