News
2020 Recap of Sydney SuperSprint
Race 7:
Fabian Coulthard - No. 12 Shell V-Power Racing Ford
Qualifying Part 1 – 3rd (Fastest Lap: 1m28.8502s)
Qualifying Part 2 – 10th (Fastest Lap: 1m28.4469)
Top 15 Shootout (Fastest Lap:1m28.4978s)
Race 7 - 10th (Fastest Lap: 1m30.8096s)

Scott McLaughlin - No. 17 Shell V-Power Racing Ford
Qualifying Part 1 – 1st (Fastest Lap: 1m28.3851s)
Qualifying Part 2 – 1st (Fastest Lap: 1m28.1578s)
Top 15 Shootout (Fastest Lap: 1m27.9658s)
Race 7 - 1st (Fastest Lap: 1m30.8163s)

After more than three months away from the track, McLaughlin led from start to finish to claim the first race back at the Sydney SuperSprint. DJR Team Penske set the pace early in Qualifying, and both McLaughlin and Coulthard easily cruised through to the Top 15 Shootout.

While Coulthard clocked a time good enough to start Race 7 in P10, McLaughlin claimed pole position and was just two-hundredths off the Qualifying lap record which he set at his last outing at Sydney Motorsport Park in 2018.

Coulthard had a blinding start when the lights went green and was up three places as he went into turn 1. McLaughlin had a slight stumble off the line but recovered quickly and had opened a gap of almost three seconds over the rest of the field by lap 5.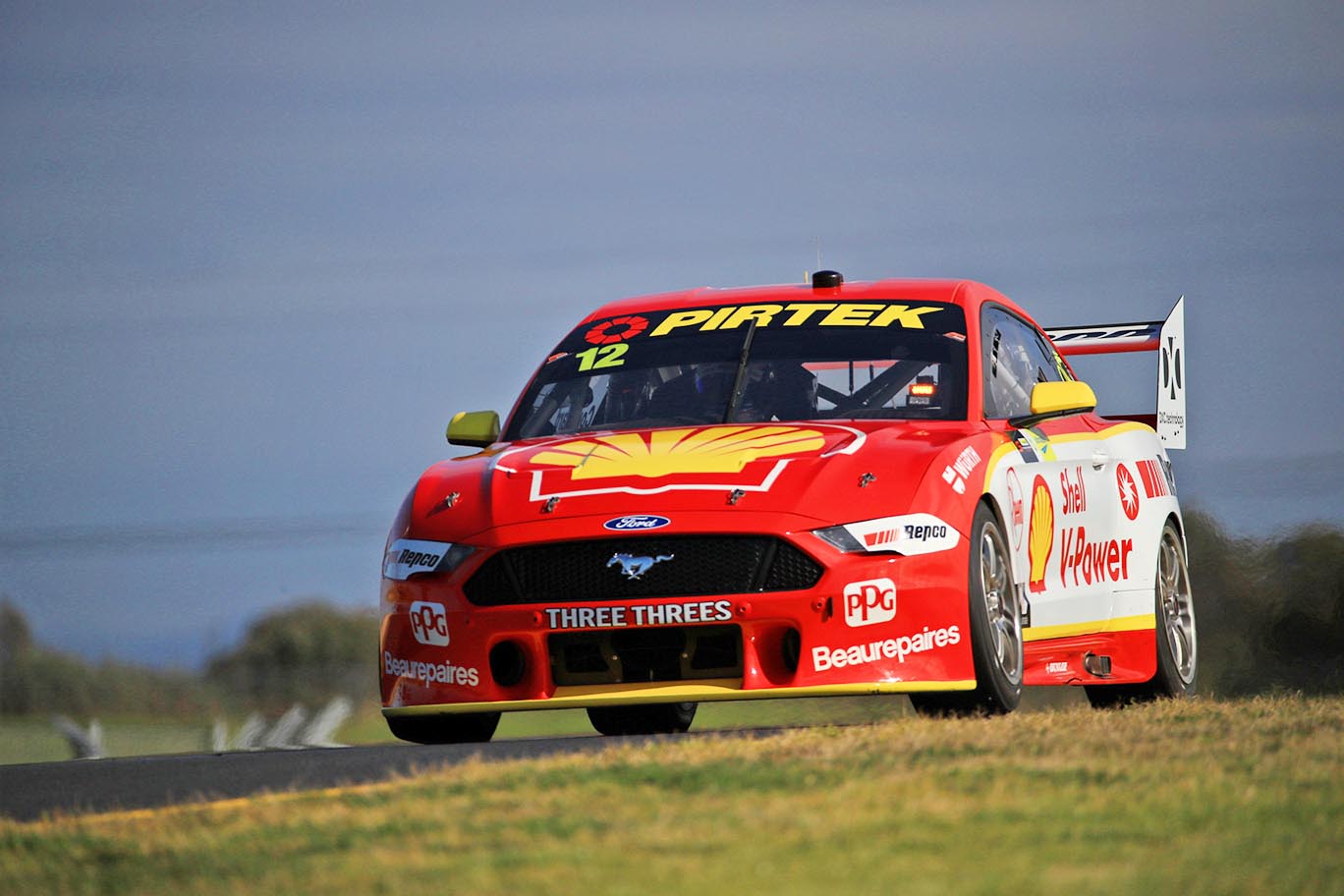 A lockup by Coulthard on lap 9 opened the door for de Pasquale to pass on the last corner, shuffling Coulthard down the order. By mid-way through the race, rival van Gisbergen had gained on McLaughlin and his lead was reduced to under a second.

Coulthard was the first DJR Team Penske driver to stop, coming in on lap 14, with McLaughlin in for his stop just one lap later. Each took four fresh tyres. Coulthard was the pacesetter on lap 16 and clocked the fastest lap at that point (1m30.8096s).

In the closing stages of the race, McLaughlin was holding his lead as van Gisbergen and Whincup were pushing to hunt him down. Meanwhile, Coulthard was battling with the pack in P11.

With two laps to go, McLaughlin had van Gisbergen hot on his tail when we received a bad sportsmanship flag for exceeding track limits. It was a nail-biting final lap, but McLaughlin kept his cool and held off his fellow Kiwi to claim the win. Coulthard crossed the finish line in P10.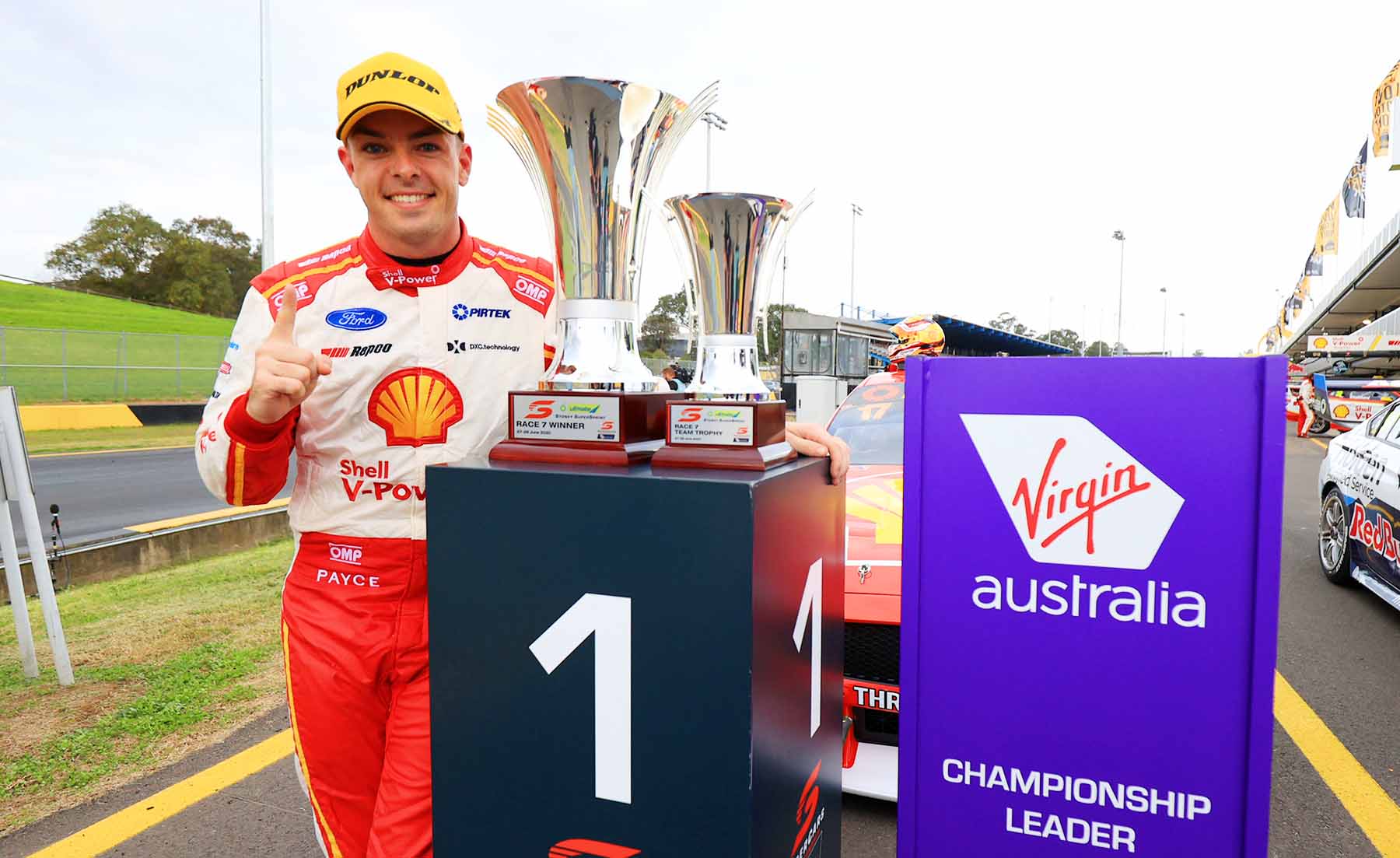 Coulthard commented, "It's nice to be back in the car, it's been a long time - a hundred and something odd days that we've been out of the car. So to hop back in and smell the fuel and hear the exhaust and things like that is pretty good."

"It was pretty intense today, just the format, it was like practice, practice, short break in between, then qually, shootout and race. It was pretty full-on."

"I made a small error in the race and flat-spotted the right-front tyre and backed up everyone behind me. So I think to claw our way back to 10th wasn't too bad a job."

"We have lots of things look at overnight, but we have a little bit of time now, so hopefully we'll tune her up and come back stronger tomorrow."

McLaughlin added, "It was a tough last five laps, but I just did the best I could, and thankfully we came out on top."

"For me, the front tyres went away; I was a bit too aggressive at the start of the first stint, so just brought it back at the start of the second stint."

"That helped me have a bit more pace to fight Shane at the end. I knew that when he got to my rear he'd have a little bit of dirty air there which would make it a bit tougher for him."

"I'm really happy today. When you have all the nice silverware and the purple board in front of you, you know it's been a good day."

Race 8 & Race 9:
Fabian Coulthard - No. 12 Shell V-Power Racing Ford
Qualifying for Race 8 – 4th (Fastest Lap: 1m28.5546s)
Qualifying for Race 9 – 7th (Fastest Lap: 1m28.4645s)
Race 8 – 15th (Fastest Lap: 1m31.5862s)
Race 9 - DNF (Fastest Lap: 1m32.4064s)

Scott McLaughlin - No. 17 Shell V-Power Racing Ford
Qualifying for Race 8 – 3rd (Fastest Lap:1m28.1404s)
Qualifying for Race 9 – 1st (Fastest Lap: 1m27.9193s Track Record)
Race 8 – 3rd (Fastest Lap: 1m31.2568s)
Race 9 – 1st (Fastest Lap: 1m31.8902s)

Race 8:
Despite sacrificing track position in the opening stint, McLaughlin stormed home to a position on the podium, finishing Race 8 in P3.

The DJR Team Penske Ford Mustang GTs locked out the second row of the grid, having qualified in P3 and P4. McLaughlin started the 32-lap race strongly and fired up the order to P2 by the second corner. While Coulthard also had an explosive start and tried to grab P3 from van Gisbergen, his lack of tyre quality was immediately evident as he dropped back to P7.

McLaughlin and Coulthard both sacrificed track position in the first stint of the race, saving the better rubber to finish the 130km sprint. Coulthard was first of the DJR drivers to stop on lap 12. Just one lap later, McLaughlin stopped for four new tyres.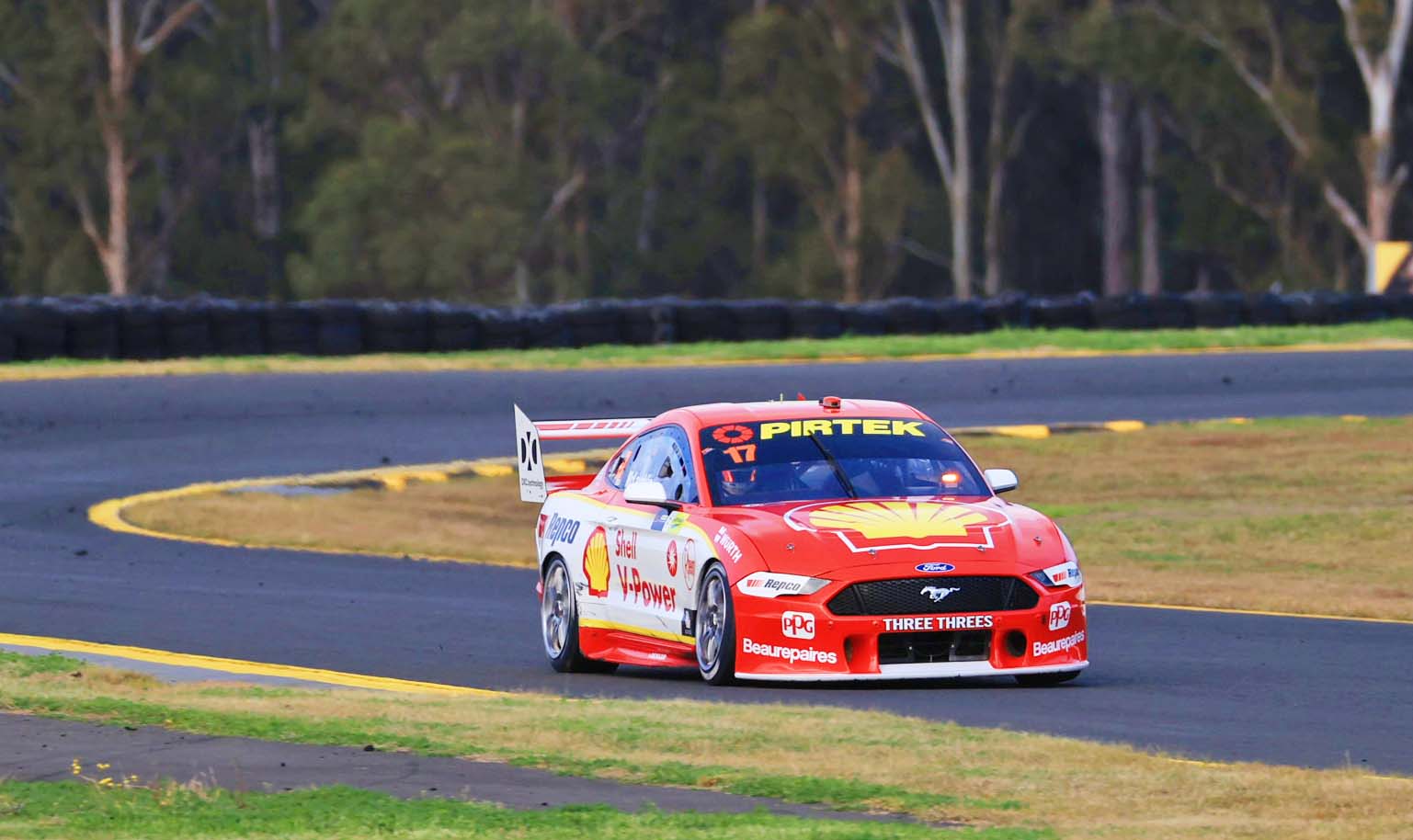 With all stops completed and 10 laps to go, McLaughlin was in P6 and Coulthard P15 as they improved on their race pace. On lap 26, McLaughlin was on the charge as he stormed past Reynolds into P5. He continued to hunt down Mostert and Waters in a fight for a podium position.

He had his work cut out for him, but a lap later the job was done despite contact by Waters. McLaughlin crossed the finish in P3, while Coulthard's position remained unchanged. He finished in P15.

Race 9:

After starting Race 9 on pole position, McLaughlin was never in doubt to secure the top step of the podium as he led from start to finish, claiming his 46th Championship race win. A horror afternoon saw Coulthard struggle with tyres before a gearbox issue ended his race. He recorded a DNF.

McLaughlin set a new Qualifying lap record for Sydney Motorsport Park and took his tally of career Championship poles to 63. His teammate Coulthard started in P7.

There was a clean start to the race with McLaughlin fighting hard against Whincup to hold his lead. McLaughlin quickly pulled away to open a gap of 1.3 seconds by lap 3. Coulthard was quick off the line, but had dropped to P9 by the end of lap 1 and found himself battling with the pack.

Ten laps into the race, McLaughlin led the field by almost 3 seconds but was conserving his tyres while slowly widening his gap. On lap 14, Coulthard stopped for two right-side tyres and the following lap McLaughlin followed suit. When all stops were completed, McLaughlin still led the race by 3.2 seconds, and Coulthard was P10.

The second stint of the 130km race saw Coulthard lose track position as he struggled with tyre degradation. On top of that, he suffered a gearbox issue on the final lap of the race, which caused him to stop on the track and not make it to the finish line.

With four new tyres fitted during his CPS, Holdsworth made a late charge on McLaughlin, but the No.12 pilot's lead was too big, and he comfortably took his second win and third podium of the weekend.


McLaughlin extended his lead in the Supercars Championship by 49 points to 574, while Coulthard dropped to 13th with 254 points. The Shell V-Power Racing Team is 2nd in the Team's Championship with 828 points.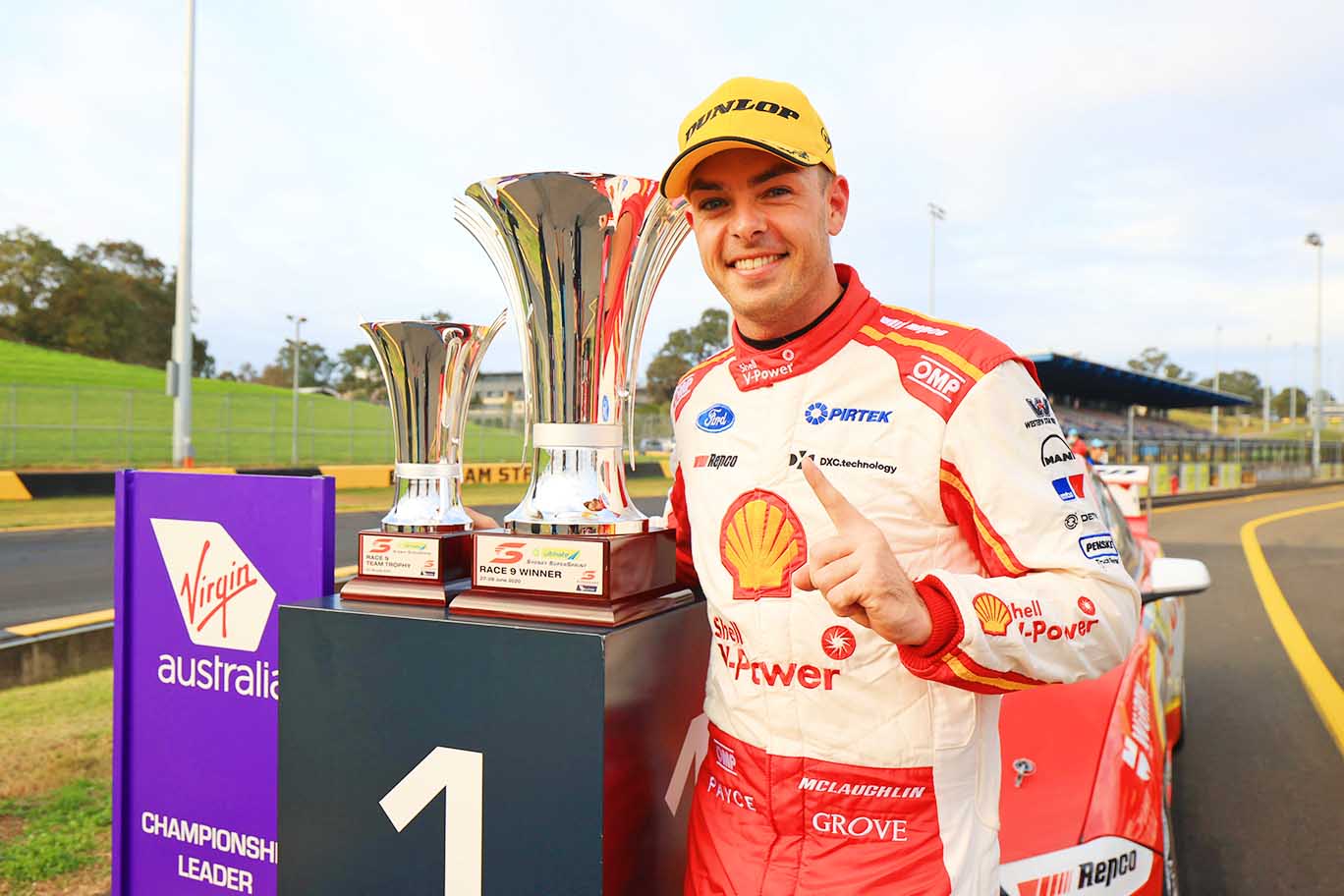 Coulthard noted, "For us, there are a few positives to come out of the weekend, and we tried a few things with the car. At the Grand Prix, we struggled for qualifying pace, which I feel like we got back here this weekend, which is a positive."

"We need to have a bit of think about the race pace side of things. On my side of the garage, we obviously struggled with tyre choice and also a little bit of set-up. But we suffered from the same things all weekend, and we couldn't really get on top of it."

"To finish the weekend the way we did with a mechanical and gearbox issue is frustrating as I know all the guys put in a lot of time and effort to prepare these cars the best they can. Sometimes these things are out of our control."

"We've got to keep our chin up, remain positive and focused, and look forward to Winton."

McLaughlin spoke of the event, "Overall, it was a solid day and the outcome was exactly what we wanted. Our qualifying pace was right there all weekend, and I felt really comfortable with the car. We just had to make it better across the race run compared to yesterday, which we did.

"I think we did a really good job with the car with regards to tyres. I couldn't really look after them that well yesterday but we put a few thought processes into it and it went well today. The car was an absolute dream to drive in that last race."