News
Pirtek Exhibiting at Pacific Expo 2019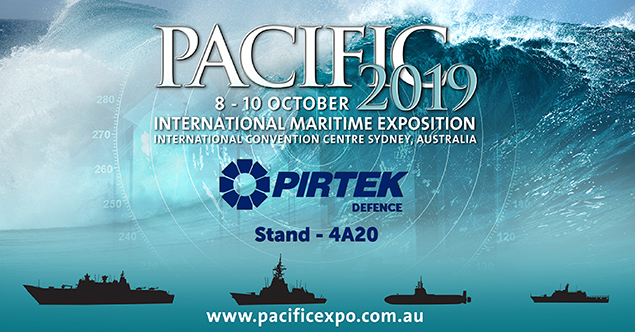 Pirtek will be exhibiting at the Pacific International Maritime Exposition (Pacific 2019) in Sydney at the International Convention Centre, from the 8th to 10th October 2019.
Pirtek will be at stand 4A20, demonstrating a broad range of Service and Testing capabilities, while also showcasing a wide range of cutting-edge products for the commercial maritime and naval defence industries.
If you're a maritime or defence industry professional and are interested in attending the Pacific 2019, please make sure you register free of charge at: https://www.pacificexpo.com.au/visit/registration.asp
What is Pacific 2019?
Pacific 2019 is an industry-only trade show for commercial maritime and naval defence-related government and industry sectors. Pacific 2019 is Australia's global maritime business event, attracting senior merchant marine, shore services, maritime and defence industry, military and government decisionmakers from around the world.
Navy Chiefs and senior Navy leaders from more than 35 countries are expected to participate. With the support of other Australian Government agencies and a range of civil industry stakeholders, invitations are also being extended to international leaders in defence equipment acquisition and material, marine transport, security, environmental affairs, cargo handling, port services and maritime technology across the globe, with particular emphasis on the Asian and Indo-Pacific regions.
Pacific 2019 is strongly supported by the Royal Australian Navy, Sydney Harbour Foreshore Authority, the Capability Acquisition and Sustainment Group (CASG), Defence Science and Technology, the Department of Industry, Innovation and Science, the Department of Infrastructure, Regional Development and Cities and the Government of the State of New South Wales.