News
Coates Hire Newcastle 500 2017 Recap
Saturday 25th November
Armor All Qualifying
Scott McLaughlin of DJR Team Penske took the top spot in Saturday's qualifying run to secure himself the best position in Race 25, after posting a stellar 1:09.90s time in an understandably competitive session. McLaughlin came out on top in what is his 15th pole of the season. McLaughlin said, "This weekend is the most important of the year and obviously to get pole and be in this position is fantastic. It's going to be a tough track to pass but there's going to be a lot of strategy and people behind us are going to come at us pretty hard." Fabian Coulthard (DJR Team Penske) came within the top 10 times by coming 8th.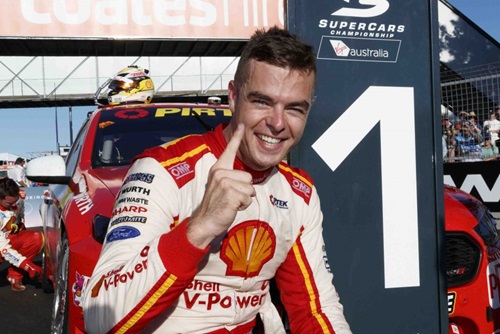 Race 25
A stunning 1-2 finish for DJR Team Penske's Scott McLaughlin and Fabian Coulthard in the penultimate race of the season has secured DJR's win of the 2017 teams' championship. For McLaughlin, this presents the best opportunity to claim his maiden Supercars title after becoming victorious in a dramatic Race 25, forcibly putting a huge dent in Whincup's chances of winning another championship title. In a crucial race to help decide the year's champion, the DJR Team Penske driver achieved his 8th victory of the season moving him into a 78-point lead over the previous leader Jamie Whincup.
Despite starting in pole position, McLaughlin spent a great deal of the race fighting to be in the top 5 as he dropped from the lead when the Safety Car came in on the opening lap that brought about disaster for Whincup. Whincup, coming into the race with a 30-point championship lead, suffered a major setback as his steering broke down as he came into contact with 4th place Michael Caruso during Turn 3. Meanwhile, McLaughlin, was right behind Red Bull Holden's Shane van Gisbergen for a lengthy period of a time before the final run of stops saw him shoot up into 2ndposition. McLaughlin then passed Erebus Motorsport's David Reynolds to take the lead until the finish line, successfully holding on despite a late entry Safety Car brought on by Garry Rogers Motorsport's James Moffat.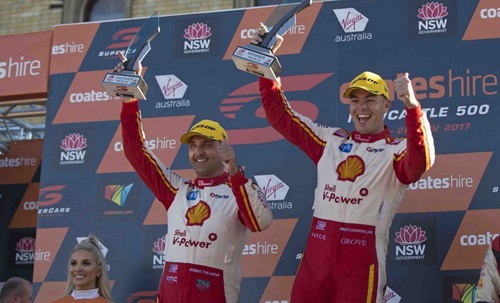 McLaughlin now only needs to finish 11th or better in Sunday's Race 26 in order to claim the championship title. "Long way to go, but yes! That was awesome I'm just so pumped," said McLaughlin. "Whatever happens tomorrow, we've given it our best shot and a team one, two for Shell V-Power Racing is as good as it gets. McLaughlin continued: "I really wanted it bad (the victory), got a really good start for once in my life and we were going okay, and then obviously the pit lane was tight in places. But to get the first race win after a full on one is awesome." The race excitement ensured an astonishing finish as the podium placements were altered in a matter of laps. DJR Team Penske's Fabian Coulthard also came in strong with an impressive 2nd place finish. Coulthard had fought hard for his 2nd place position, having come through being double-stacked twice during a 91-lap battle.
The DJR Team Penske squad now holds an incontestable 294-point advantage heading into the Race 26 championship finale, also giving a great opportunity for Scott McLaughlin to claim his maiden drivers' championship title. "Look I'm stoked for the team, the teams' championship is big, that's what we wanted," said McLaughlin. He continued: "For me that's almost a bigger relief to just have that sorted now we need to just move on and maybe tick one more goal. For us, we're still trying to get 1-2 in the championship. Obviously we've sealed the team's championship which is fantastic." Triple Eight team manager Mark Dutton was among the first to congratulate the DJR squad: "They have done a good job," Dutton told Speedcafe.com. "We were fighting for it and we obviously wanted to win it but they have done a cracker job all year so they deserve it." Success for DJR Team Penske in the teams' championship signifies the first time since 2009 that Triple Eight hasn't won the title. This ensures the Ford team is moved into the much-favoured first garage in pit lane for 2018.
Sunday 26th November
Armor All Top 10 Shootout
Scott McLaughlin set himself up for a prime position in the final race of the Supercars Championship by taking out the last Armor All pole position of the season. McLaughlin renewed his consistency in qualifying performance by posting a time of 1:10.52s to secure his 16th pole of the season. The Armor All Top 10 Shootout was a challenging run with less grip, compared to the previous day's qualifying run, as organisers had since laid-out a group of patches overnight to protect the track surface on Turns 8, 9, and the final corner. Fabian Coulthard came in 8th in the top 10 time trial.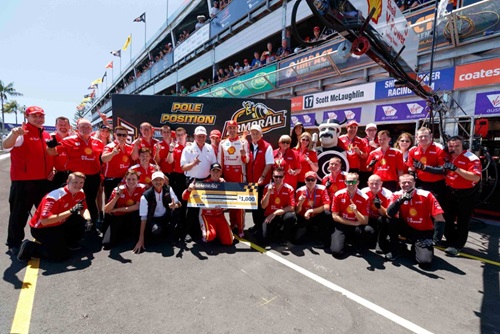 Race 26
Jamie Whincup claimed an improbable seventh Supercars championship title after unfortunate penalties plagued favourite Scott McLaughlin and ultimately robbed his chances of landing a maiden Drivers Championship title. Whincup and McLaughlin were toe-to-toe throughout many instances in what proved to be an unpredictable and chaotic race ending in commotion. Although McLaughlin crossed the finish line in 11th, the bare minimum required for him to clinch the prime title – even despite suffering from 2 early race penalties. McLaughlin's efforts came extremely close of a title victory but fell short due to an arguably controversial penalty issued on the final lap of a whirlwind championship decider at Newcastle. The Kiwi had managed to pass James Moffat on the penultimate lap putting himself in the top position. However, contact with Craig Lowndes on the section between Turn 1 and Turn 2 forced the latter to hit the wall and spin out – requiring retirement from the race. This disastrous incident saw the stewards hand out a pit lane penalty just before the chequered flag, inevitably dragging McLaughlin down in standings to 18th.
This unfortunate episode saw Whincup being handed a previously unlikely title after admitting himself that he needed a miracle following his mistakes made on the previous day's race. "Never say die, but I had sort of written myself off," admitted Whincup. "We needed a lot of luck today and it came our way. Just as car #17 had bad luck we had [a] similar thing yesterday, but massive respect for car #17 – he'll probably go on and win the next eight." Whincup continued, "It was a proper battle this year, we did what we could, grabbed every point we could and got the chocolates."
Meanwhile, McLaughlin portrayed a disappointed look post-race following his penalty for his clash with Lowndes. "I just gave it my all, gave it my all for the boys, Shell V-Power," McLaughlin said. "I lost my left-hand mirror so early and I had no…obviously I knew we were close but I didn't think we were that close. I just defended the line to two and then we got inter-locked and caught up, I genuinely didn't mean to push him to the wall." Shane van Gisbergen came in 2nd to make it a Triple Eight one-two finish while Erebus Motorsport's David Reynolds completed the podium. McLaughlin had established a great start as he made full use of his pole position passing van Gisbergen, quickly making himself the race's leader. Despite this, the volatility of the intense final race saw McLaughlin dropping to 22nd after the Kiwi was given a drive-through penalty for speeding in pit lane after 15 laps. This big drop in places meant that the title was back in the hands of Whincup, who went from 5th to 3rd following the first round of stops.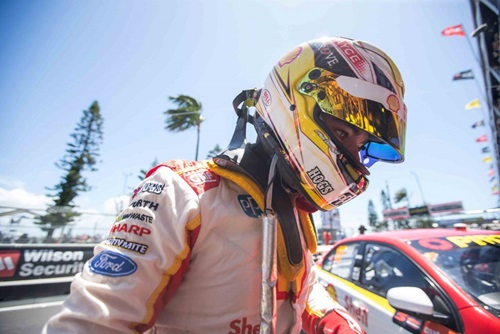 McLaughlin quickly shot back up to 12th with a run of moves that pulled him back into his bid for the title. Then another calamitous incident hit, seeing him issued with a 15-second penalty. This incident took place on Turn 2, when McLaughlin tagged Simona de Silvestro of Nissan Motorsport as they fought for the 11th spot. As a result of the penalty, Scott dropped down to 23rd and out of the pursuit of the title when he served it on his second stop during lap 50. McLaughlin was then given some salvation when the Safety Car was called-in after Lucas Dumbrell Motorsport's Taz Douglas found the wall, forcing a huddling of the field in the process. This left the 24-year-old with 45 laps to strive for the pivotal 11th position needed to land the title. However, his job was made more difficult when van Gisbergen let Whincup through to the front after the restart. McLaughlin succeeded in slicing his way to 13th before the race was once again neutralised for debris deposited on the circuit by James Courtney at Turn 9. Only the two Commodores of his former team Garry Rogers Motorsport stood in the way when the action restarted on lap 73.
Astonishingly, McLaughlin found himself wrapped up in another contact incident on the restart when Scott Pye dived underneath his car at Turn 1, making contact before taking another hit from Jason Bright as the field pooled together. The latter contact left the DJR driver's left rear tyre smoking but the car was still able to continue. Another move on Moffat for the decisive 11th spot at the hairpin of lap 93 ensued, though it was largely in vain as it led to McLaughlin's melee with Lowndes at the start of lap 94 which ultimately resulted in the defining penalty which took away his title glory.
Along with Lowndes retirement from the race, the only other retirement came from the #12 Falcon of DJR Team Penske's Fabian Coulthard who experienced a driveline failure after 15 laps. Whincup came in 1st, with van Gisbergen following behind in 2nd and Reynolds not far back in 3rd. Whincup scored his 1st crown in 2008 for Triple Eight before succeeding again in the 2009, 2011, 2012, 2013 and 2014 championships. "I hate comparing them but you'd have to say this one's the greatest," said Whincup. "It's been an unbelievable battle with some unbelievably good competition, and for it to come down to the last lap, or the dying moments, or the last 10 seconds of the year, this one's right up there." The final Race 26 win was only Whincup's fourth of the season compared to McLaughlin's eight, forcing Whincup to do everything in his power and skill to keep consistency primarily against DJRTP's McLaughlin and the rest of Team Penske. Given the circumstances of the 2017 season, the 34-year-old Whincup confesses that this is his best championship yet.
Whincup admitted he was not entirely sure he had secured the title when he crossed the finish line due to the erratic nature of final laps. "I thought I was second [in the championship] and I asked the guys and girls, 'What's going on? Fill me in,' and then I just heard screaming down the radio so I thought, 'This is looking good, this is a good sign.' Then Dutto (Team Manager Mark Dutton) came on and said, 'Yeah mate, you got it.' Unbelievable," Whincup added. While confirming his participation in motorsports for many years to come, Whincup is treating this victory as his last title success realising the current crop of young talent, including McLaughlin, emerging through the ranks. He said, "We dedicate our lives and we make a stupid amount of sacrifices for these moments right now. If I'm realistic, this could potentially be the last one so [I'm] certainly appreciating the moment. I'm not retiring but I'm not getting any younger so I'm treating this one like it's the last, that's for sure."
Although Jamie Whincup of Triple Eight Race Engineering topped the Drivers' Championship after a turbulent final battle, winning his 7th title, DJR Team Penske's Scott McLaughlin and Fabian Coulthard also put in consistently outstanding efforts and were not far behind in 2nd and 3rd place respectively – with Scott trailing by only 21 points and Coulthard short by 230 points.
Teams' Championship
Roger Penske has stated that he considers winning the Supercars teams' championship as one of the best accomplishments of Team Penske during the past 50 years of successes. Scott McLaughlin and Fabian Coulthard had already ensured the title belonged to DJR Team Penske at the end of Race 25, as the drivers came in with a stellar 1-2 finish. Beating the previously dominant Triple Eight Race Engineering in only the third season since he headed control over DJR ranks among Roger Penske's all-time highlights. "I think you'd have to put it close to the very top because within three years to be as competitive as we've been this year is really amazing," Penske told Speedcafe.com.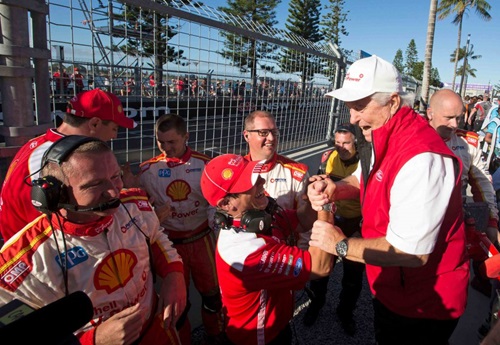 Team Penske is the most successful motorsport team in American racing history, winning a record 16 Indianapolis 500s, 31 national championships in IndyCar, NASCAR, sports cars and Trans-Am, and more than 470 major races in 51 years. The Supercars Teams' Championship is Team Penske's first title outside North America, making it notably important to the 80-year-old tycoon who expanded his international business operations to Australia and New Zealand in mid-2013. Roger Penske puts DJR Team Penske's Supercars crown on the same level as his IndyCar squad's recent historic triumphs in the 2015 Indy 500 and back-to-back championships in 2016/17. "This is one of the best accomplishments we've done in the last three years," he said. "People don't know much about this series in the US, but I can tell you this [is] a real big deal." Penske continued.
Penske admitted that the team has surpassed his expectations this year. "Absolutely," he said. "I think it's been pretty amazing. I'm thrilled. I take my hat off to all the guys. Fabian and Scotty have over-achieved from the standpoint of what we had expected. If you started the season and said you could have the number of wins we had or even half of that, you'd have been very excited. The payback is that our sponsors are getting a lot more than they expected. So, commercially, this has been a terrific year for us."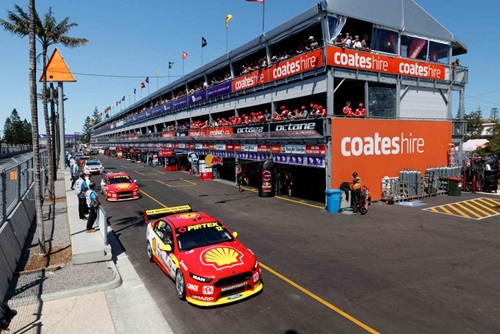 He went on to acknowledge the recent additions to the squad of McLaughlin and ex-Triple Eight technical engineer Ludo Lacroix, mentioning both of their significance and value to the team. He also recognised the trackside leadership of team manager Ben Croke. "Certainly, Scott and Fabian have gotten along well together, which is important, and Ludo has really created a can do, let's go attitude on the engineering side and we've had the opportunity to bring some other good young people on board," Penske said. He continued, "Ben Croke has matured another year with us, so this has been all about building. The teams that we're racing, they've been doing this for eight or 10 years with lots of success, so it's not easy to get on the train. We have 12 championship race wins and three more in the Australian Grand Prix support races, plus 17 pole positions. It's pretty exciting."