News
Recap of Vodafone Gold Coast 600 for Shell V-Power Racing Team
Race 21

Chaz Mostert and Steve Owen's joint efforts delivered an impressive victory in Race 21, following an eventful drive to the chequered flag in unforgiving wet conditions at the Vodafone Gold Coast 600 on Saturday, the 21st of October.

The race proved to be an important moment in the Pirtek Enduro Cup championship as the pole-sitters were able to use the surrounding drama, hitting 3 of the 5 title contenders, to their benefit.

A large majority of teams opted to put their co-drivers on first for the intense rain conditions experienced on the grid.

From pole, Owen led the opening laps before forfeiting his lead to the fast-starting #14 Freightliner Racing Commodore of Andre Heimgartner on Lap 8. Continuing the opening rounds, the Supercheap Auto Falcon of Owen then fell to 5th after heavy contact, received from Paul Dumbrell's #88 Red Bull Holden at the first chicane, left Owen's Ford briefly broadside on the track. However, Owen managed to bounce back following a Safety Car on Lap 55, brought on by Lee Holdsworth of Preston Hire Racing. Holdsworth had knocked over the tyre bundle onto the racetrack at the beachside chicane neutralising the race temporarily and prompting the second round of pit stops, signifying a pivotal moment in the race.

The opening stint was largely free from drama until Alex Premat's #17 DJR Team Penske Falcon spun up on Lap 5's Turn 11, losing the rear to a stream of cars. This costly incident forced the #17 to slip back to the rear of the field. Premat continued the race despite being passed by Luke Youlden of Erebus Motorsport and Macauley Jones of Brad Jones Racing.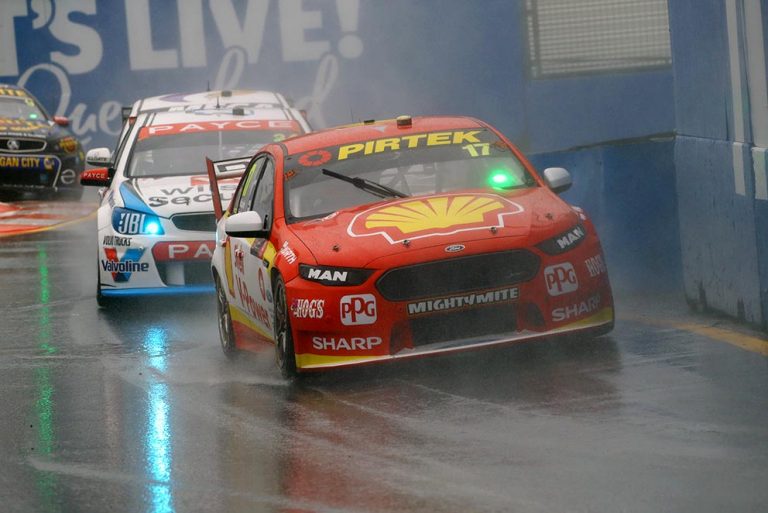 The Todd Kelly/Jack Le Brocq #7 Nissan Altima retired on Lap 45, following sustained damage to the front and rear brought upon by a collision with Garth Tander of Garry Rogers Motorsport at Turn 2. Holdsworth also joined the list of retirements along with the #3 Commodore of Aaren Russell and Taz Douglas.

Mostert overtook Prodrive teammate Cameron Waters, who had previously came up in the lead on the restart, before keeping his lead for a comfy win in a time certain finish. Waters was forced to opt for 2nd through the fine driving of his co-driver Richie Stanaway in the opening stint, who climbed from 14th on the grid to 2nd.

Tim Slade drove the #14 Brad Jones Racing Holden home in 3rd, following a fall from a substantial lead caused by a jack issue in the pits which delayed the left rear tyre change.

Shane van Gisbergen made a stunning drive in his #97 Red Bull Holden pushing his 9th standing to a 4th in the final laps. Teammate Jamie Whincup slipped back to 6th, despite running 3rd for a majority of the opening laps. Whincup had to work hard to recover from a 15-second penalty, following contact on Owen brought on by co-driver Dumbrell earlier.

Unfortunately, while the #12 DJR Team Penske Falcon came through in 10th position at the finish, championship leader Fabian Coulthard had also incurred a 15-second time penalty for his earlier indiscretion whilst tagging Nick Percat's #8 BJR Holden – putting the #12 DJRTP Ford further back to 19th place.

Cameron Waters and Richie Stanaway rounded off Mostert and Owen's victory by giving Prodrive Racing Australia a 1-2 finish in the Surfers Paradise race held on Saturday.

Race 22

Scott McLaughlin has praised the efforts of his co-driver, Alex Premat, for laying the groundwork for their #17 DJR Team Penske Falcon's inspiring comeback triumph in Race 22 at the Vodafone Gold Coast 600 on Sunday, the 22nd of October.
Following a sudden and costly spin in wet conditions in Race 21 on Saturday, Premat surfaced as an exceptional performer as he drove the #17 Falcon through from a 13th standing to an honourable 4th position at the driver change. A wise decision to pit early on Lap 59, helped contribute to the #17's fight to the top.

The fight for a strong placing in the final leg of the Pirtek Enduro Cup seemed like a slight stretch for the pair, having missed out on qualifying for the Top 10 Shootout. Nonetheless, Premat's drive, combined with a strong opening run and an aggressive yet inspired fuel strategy, guided the team towards victory on the podium.

As McLaughlin joined in on the race from Premat's 4th, on Lap 59's pit, he was able to undercut the race leaders to pass the #88 Red Bull Holden of Jamie Whincup and Paul Dumbrell as well as the #97 Holden of Shane van Gisbergen and Matthew Campbell – both cars from Triple Eight Race Engineering, the former being the race leader of every lap until the successful undercut from McLaughlin. Following Whincup's Lap 64 stop, McLaughlin maintained his lead in front with a 1.1s gap ahead of Whincup with van Gisbergen a further second behind.

Meanwhile, Mark Winterbottom was placed 5th in front of James Courtney. A valiant performance from Tony D'Alberto in the first stints of the race meant that Fabian Coulthard was able to gain 9th position (from a 22nd start on the grid) after the first round of pit stops.

Although fuel management was questionable, McLaughlin was able to pull through under pressure from Whincup and van Gisbergen to secure the top place in a race free of Safety Cars and held in dry conditions. "Alex basically saved the day, he came through like a champ. I jumped in the car in P5, jumped Winterbottom in the pit stops, we were P4 I think at the time," said McLaughlin.

Speaking with Speedcafe.com, he continued, "Then we were able to sort of just knuckle down, had really good pace, the car was completely different, was actually better than it was on Friday when it was its best. I was very surprised to pop out in front of Jamie, I thought he probably would have had us, when we popped out in front it was like 'we are on', it was pretty cool."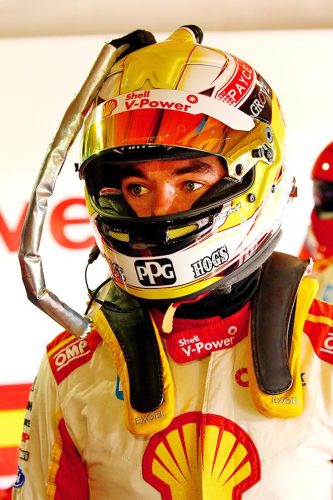 Whincup crossed the finish in 2nd with van Gisbergen 3rd, despite holding 2nd prior to the final round of pit stops. In addition, Prodrive Racing's Chaz Mostert and Steve Owen were awarded the Pirtek Enduro Cup following a 7th place finish.

McLaughlin revealed that he was shocked to manage a win following a shortage of car pace during qualifying rounds, "It was zero to hero in some ways. To be honest the guy that set it up was Alex; he produced a fantastic drive and all credit goes to him and [engineer] Ludo [Lacroix] for giving us a rocket car. We were scratching our heads a lot after qualifying and to get what we did was fantastic. I was pretty worried there was no positives that came out of that qualifying session. We had a big swing at it and we risked a lot with the strategy. It was practically a perfect race for us."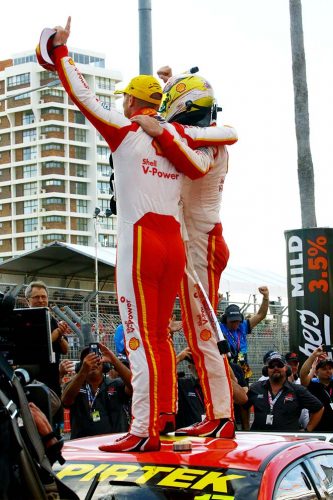 Premat, now a two-time Gold Coast 600 race winner, is already determined for next year's Pirtek Enduro Cup campaign with his team, "I never thought we could win the race before the start of the race, but it is a great feeling. Finishing the Enduro Cup like this, it is great, especially after the previous day and what happened at Bathurst with the DNF. Next year is a new year and we are going to fight for the Pirtek Enduro Cup again."
With two rounds to go in the championship, McLaughlin is now lying in 3rd – with just 27 points away from current championship leader Jamie Whincup. Teammate Fabian Coulthard is also doing well in his current position of 2nd, being only 17 points away from Whincup. The next stop for the championship sees teams travel to New Zealand for the ITM Auckland Super Sprint during November 3-5.