News
Winton SuperSprint Recap
Race 13
Fabian Coulthard - No. 12 Shell V-Power Racing Ford

Practice – Second (Fastest Lap: 1m19.6696s)
Qualifying – Second (Fastest Lap: 1m19.2419s)
Race 13 – Fourth (Fastest Lap: 1m20.7755s)

Scott McLaughlin - No. 17 Shell V-Power Racing Ford

Practice – First (Fastest Lap: 1m19.4601s)
Qualifying – First (Fastest Lap: 1m19.1136s)
Race 13 – Fifth (Fastest Lap: 1m19.7651s)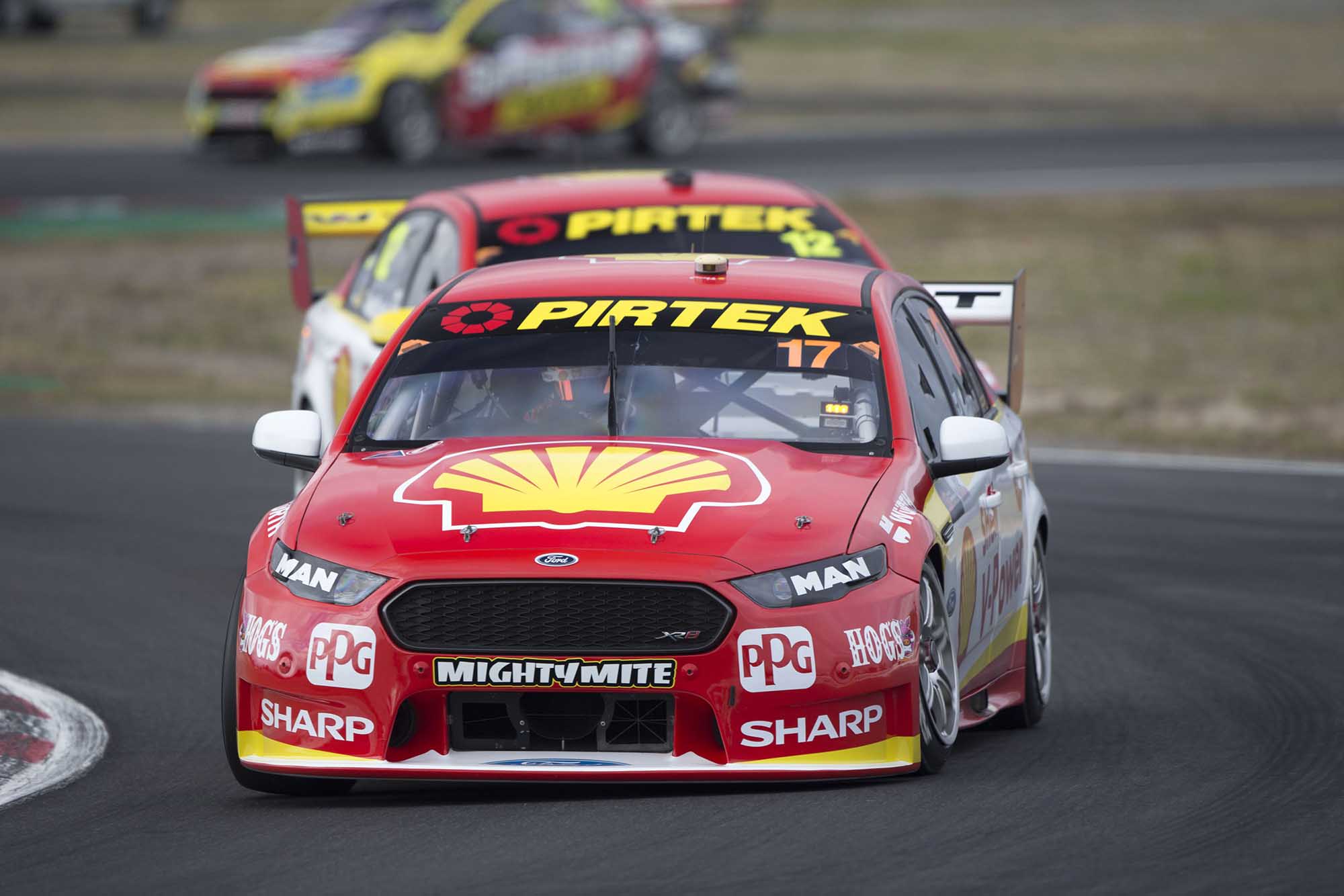 After topping the timesheets in final practice and qualifying side-by-side in a front row lockout, Race 13 of the Championship started strongly for Shell V-Power Racing. Scott McLaughlin got off the start well, leading the field into turn one. Coulthard had a slow start, falling back into fourth place behind the Nissans of Caruso and Kelly for the opening stint of the race.
McLaughlin took his first stop on lap seven, rejoining the race as the first of those who'd stopped and the effective race leader. Coulthard took service one lap later, slotting in two positions behind McLaughlin in a net third place. With over 30 laps of racing left to the flag, both drivers were coached by their engineers to look after their tyres, trying to ensure they had something in reserve should they need it later in the race.
Other cars ran long first stints, looking for a tyre gain late in the race. McLaughlin and Coulthard continued to race well, keeping the cars straight to look after their Super Soft rubber. Unfortunately a late race Safety Car negated the six-second gap that McLaughlin had built in the lead of the race, with Coulthard pushed into fourth place by those on fresher tyres.
The post SC restart saw McLaughlin head into turn one with too little heat in his tyres, run wide and then be pushed into the dirt – dropping from first to fifth as a result, right behind Coulthard. They then ran to the flag nose-to-tail, with Fabian fourth and Scott fifth. Shell V-Power Racing now leads the Teams' title by 36 points over Triple Eight.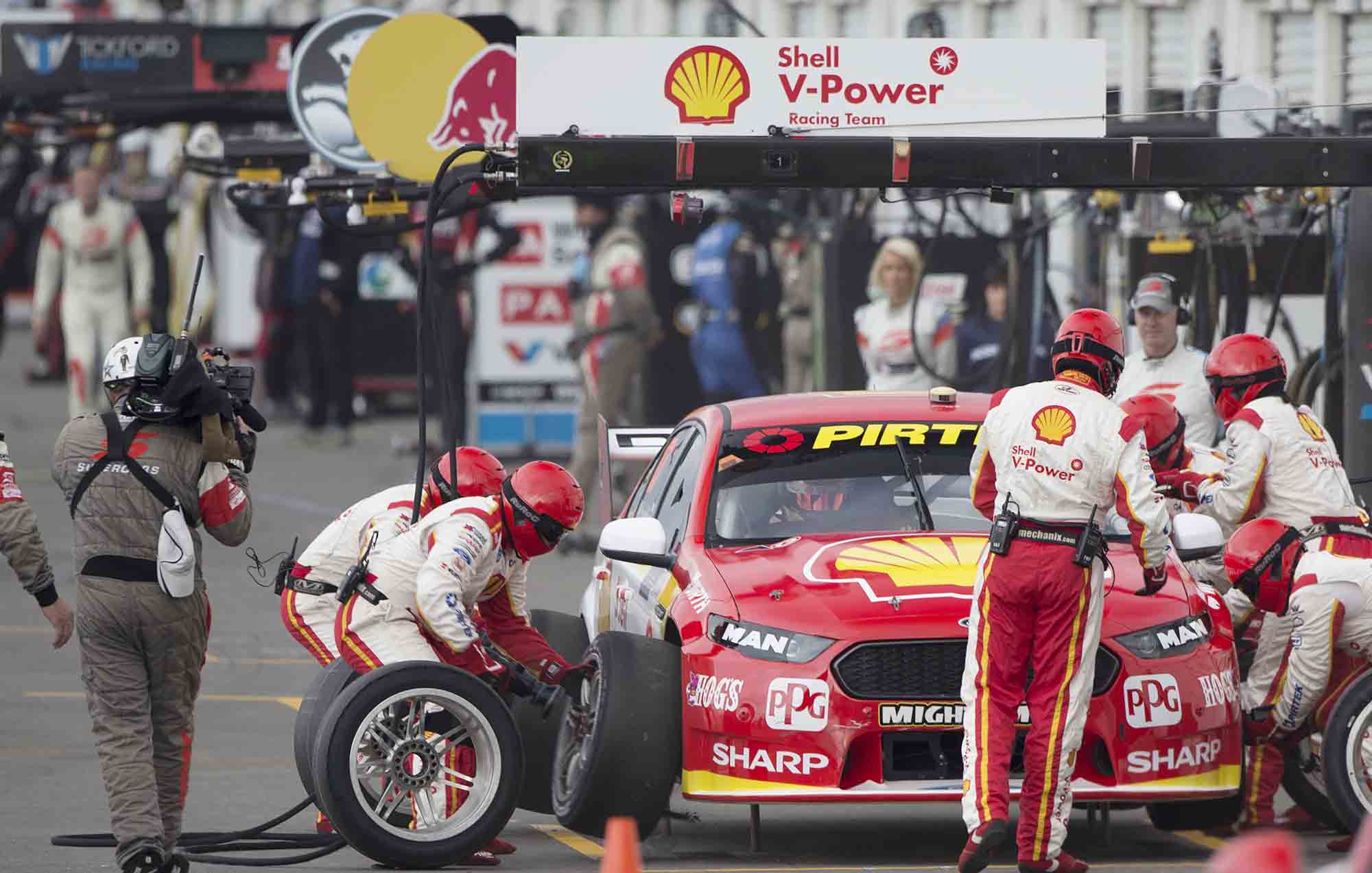 Scott has maintained his Championship lead, now 140 points over Shane van Gisbergen. Fabian has jumped into eighth place. Tomorrow will see a 20-minute qualifying session, with a 200km race in the afternoon.

Coulthard said of the race, "I got a really poor start, and that sort of set my race up from there. We had really good race pace, we were able to set consistently good lap times, but that safety car really didn't help Scott or I. Being able to finish fourth still meant we pulled good Teams' points, and we'll come back stronger tomorrow."

McLaughlin's words on the race, "That little error at the end there cost us. I just didn't have enough temperature in the surface of the tyre at the restart, so the win got away from us. That was unfortunate, but we still took a big bag of points and the positive is that we now lead the Teams' Championship for the first time this year. We've got a fast car, and we'll bounce back tomorrow."
Race 14
Fabian Coulthard - No. 12 Shell V-Power Racing Ford

Qualifying – Second (Fastest Lap: 1m19.1392s)
Race 14 – FIRST (Fastest Lap: 1m20.1970s)

Scott McLaughlin - No. 17 Shell V-Power Racing Ford

Qualifying – FIRST (Fastest Lap: 1m19.0200s)
Race 14 – Third (Fastest Lap: 1m19.9402s)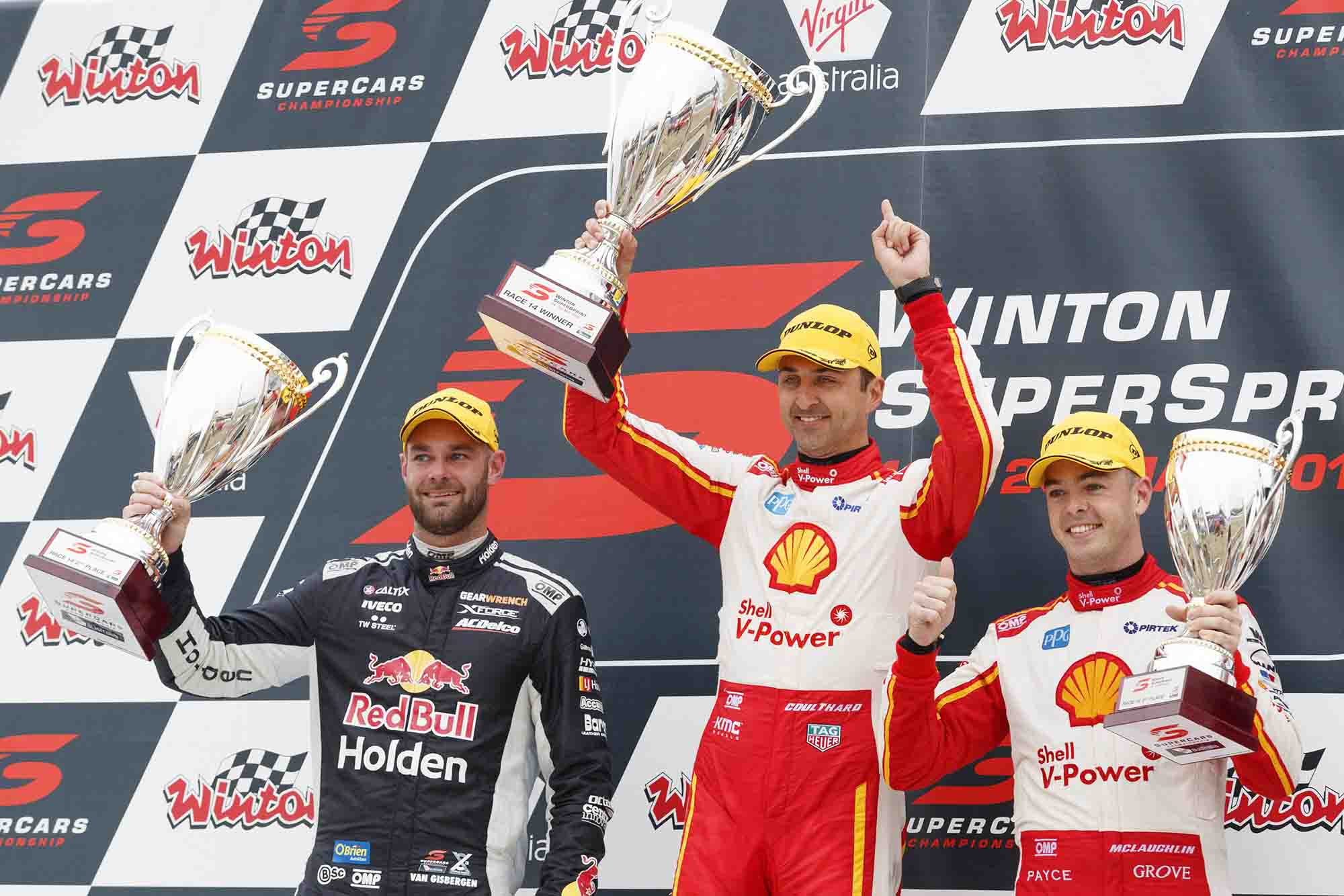 The 200km Race 14 came up this afternoon after the Shell V-Power Fords took a front-row lockout to go along with yesterday's one-two start. McLaughlin earned his seventh pole of 2018, and his fourth in a row at Winton after taking the double at this venue in 2017. It was McLaughlin's 40th career pole, moving him to fifth on the Supercars all-time list. The race start would see Scott McLaughlin from pole with Fabian Coulthard alongside.

Coulthard got a fantastic start, and lead the field into turn one, building a strong lead across the opening stint of the race. He took his first stop on lap 20 – one of the last to do so, and maintained the race lead on exit in front of McLaughlin. He held the lead throughout the second stint, eventually building a 12-second gap on the field before taking his final stop on lap 38 and then settling in for a long run to the flag.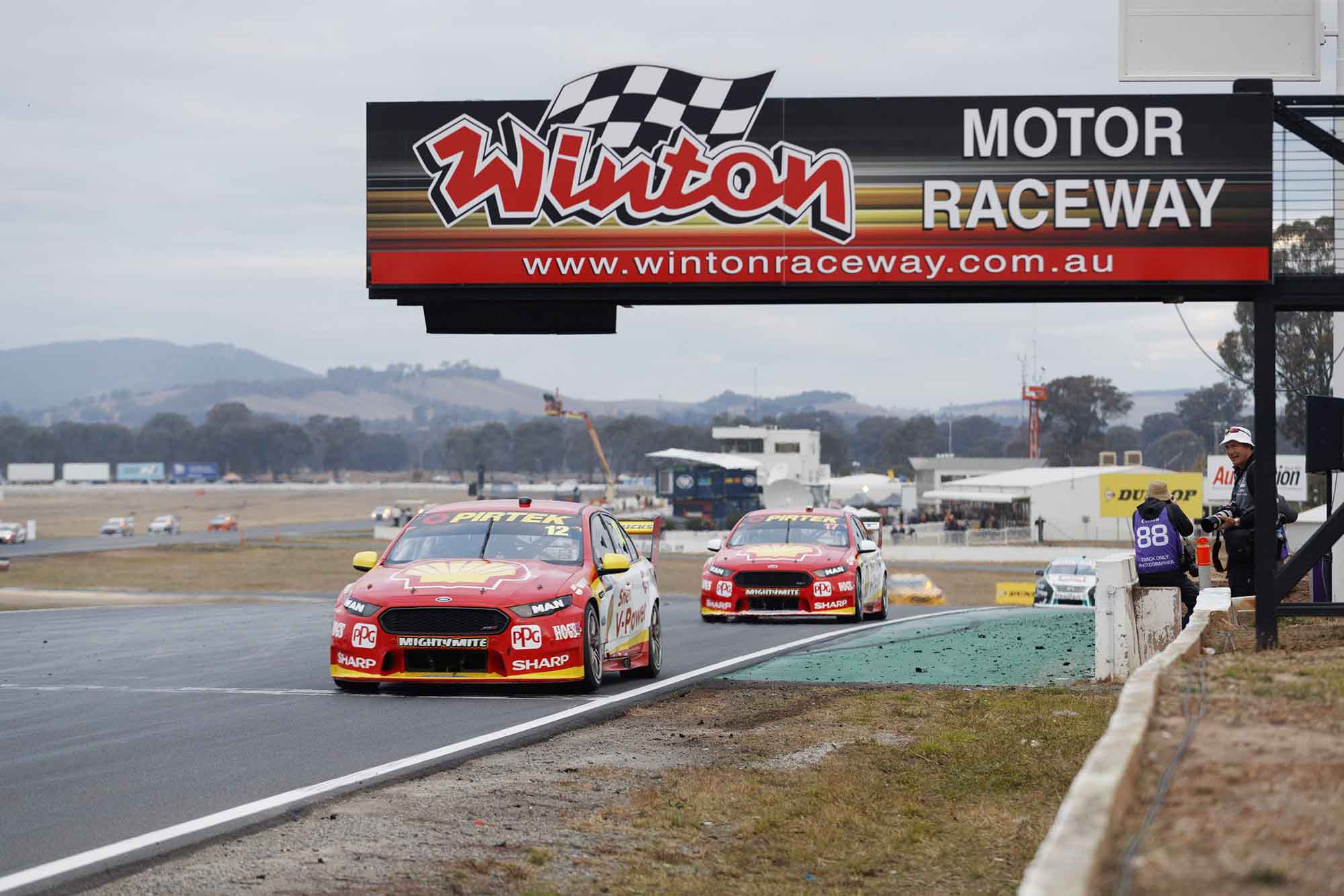 There was a brief chance of a threat from Shane van Gisbergen on fresher tyres late in the race, but it came to nought and Coulthard took his first race win of 2018, and his first victory since Sydney Motorsport Park in August, 2017. He has now jumped to seventh on the Championship points table.

McLaughlin had a poor start, and fell back to eighth on lap one. The team pitted him early on lap eight to get him out of traffic, short-filling to gain some track position. He then set several fast laps, including the fastest lap of the race as he jumped the field to slot into second place behind Coulthard after the first round of stops. McLaughlin pulled in for his second and final stop on lap 30 of 67, staying in the effective second position as the field took their second service. Van Gisbergen was one of the final runners to pit, and fell in behind McLaughlin on lap 42, using his fresher tyres to hunt down and then pass the No.17 to take second place. It was then a run to the flag, with gaps being managed front and rear to take a double podium for the team.

McLaughlin has maintained his Championship lead, now 131 over Van Gisbergen. The big positive from the weekend is that Shell V-Power Racing now leads the Teams' title by 87 points over Triple Eight. Our next event is the Darwin Triple Crown at Hidden Valley Raceway across June 15-17.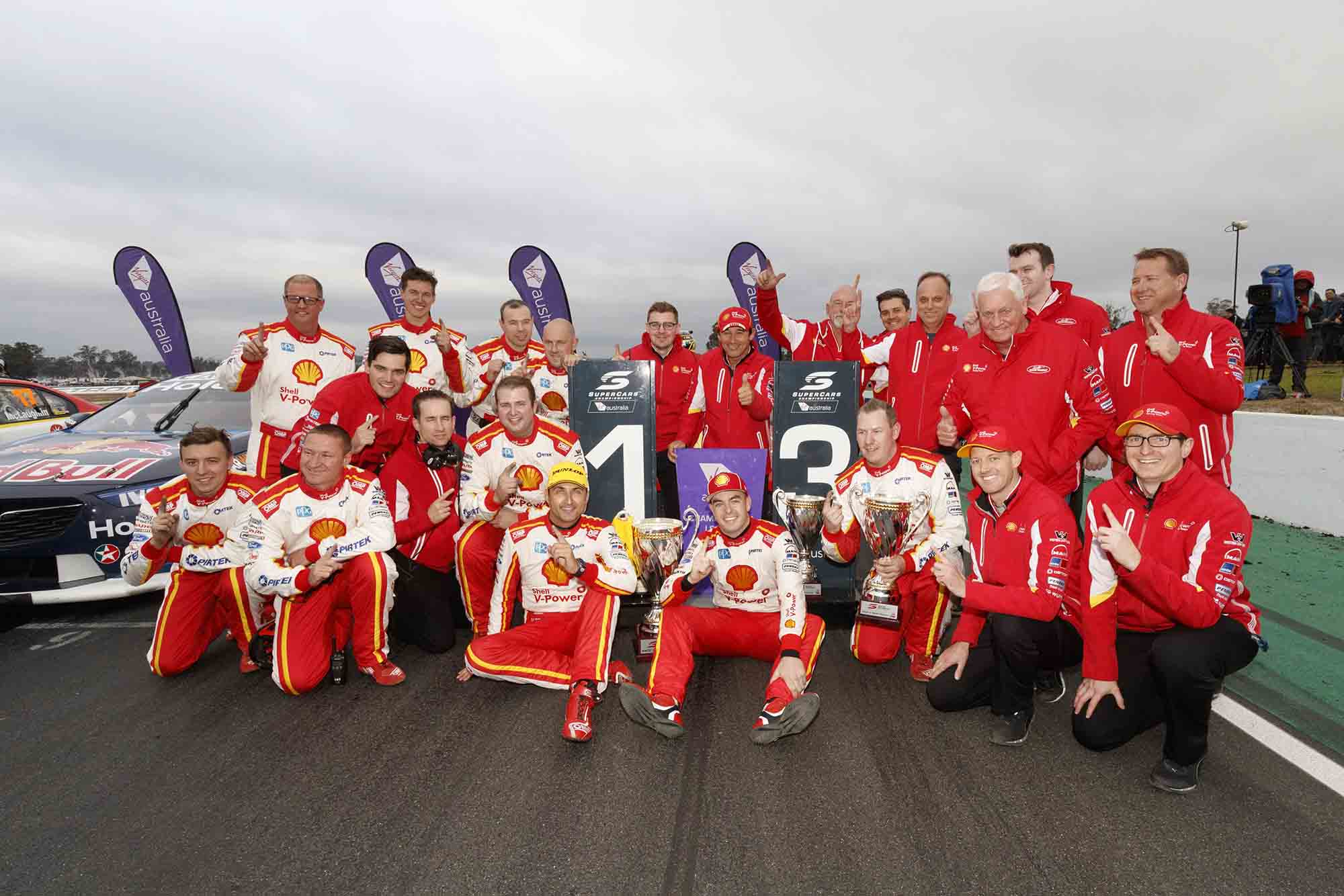 Coulthard's words on the conclusion of the event, "I'm so fortunate to drive such a fantastic car – it was on rails today, and that's down to the team giving me such an awesome car. It all came down to the start, I got a great one and lead into turn one and was able to maintain and manage it from there. It's a confidence builder being back here, being in the number one spot. It's good for everyone in the team. The relationship with my engineer Mark Fenning is new, I think it's his first win in Supercars as well, so there's been a few milestones today. It's so good to be back here."

McLaughlin added, "It's great for the team to take the one-three today, especially after I fell back to eighth early on. I was a bit worried there, letting the team down after starting off the front row. To be able to come back through to take third, and see Fabs really control the race to take the win was good. Fantastic for us as a team, we take the Teams' title very seriously and it's really important to keep earning those points. I think we're in a really good spot now, and we just need to keep building on it as a team and keep the momentum going."
DRIVERS' CHAMPIONSHIP POINTS

1. Scott McLaughlin 1487
2. Shane Van Gisbergen 1356
3. Craig Lowndes 1188
4. David Reynolds 1169
5. Jamie Whincup 1123
6. Scott Pye 1114
7. Fabian Coulthard 1079
8. Rick Kelly 1003
9. James Courtney 996
10. Tim Slade 992

TEAMS' CHAMPIONSHIP POINTS

1. Shell V-Power Racing Team 2566
2. Triple Eight Race Engineering (Whincup/SVG) 2479
3. Walkinshaw Andretti United 2110
4. Brad Jones Racing 1884
5. Tickford Racing (Mostert/Winterbottom) 1876
6. Erebus Motorsport 1789
7. Nissan Motorsport (Kelly/Heimgartner) 1665
8. NISMO (Caruso/De Silvestro) 1340
9. Garry Rogers Motorsport 1286
10. Triple Eight Race Engineering (Lowndes) 1188