News
2019 Phillip Island SuperSprint
Race 9

Following session topping runs and a superb first-row lockout qualifying effort prior in the day, both Scott McLaughlin and Fabian Coulthard secured solid starting positions in Race 9, heading into turn one side-by-side. McLaughlin opened into first with Coulthard second for the starting lap where they were swiftly out in front with a 1.5s lead over Rick Kelly in third.

Coulthard reset the race lap record on lap two, a 1m31.1893s lap time, three-100ths quicker than McLaughlin's old record.

McLaughlin pitted from the lead on lap six, with an exceptionally quick 4.4s tyre-only stop to come back to the track in 17th spot and amongst the first of the stoppers. Coulthard stopped one lap later, his solid stop seeing him slotting in just behind McLaughlin to come back to a strong second spot.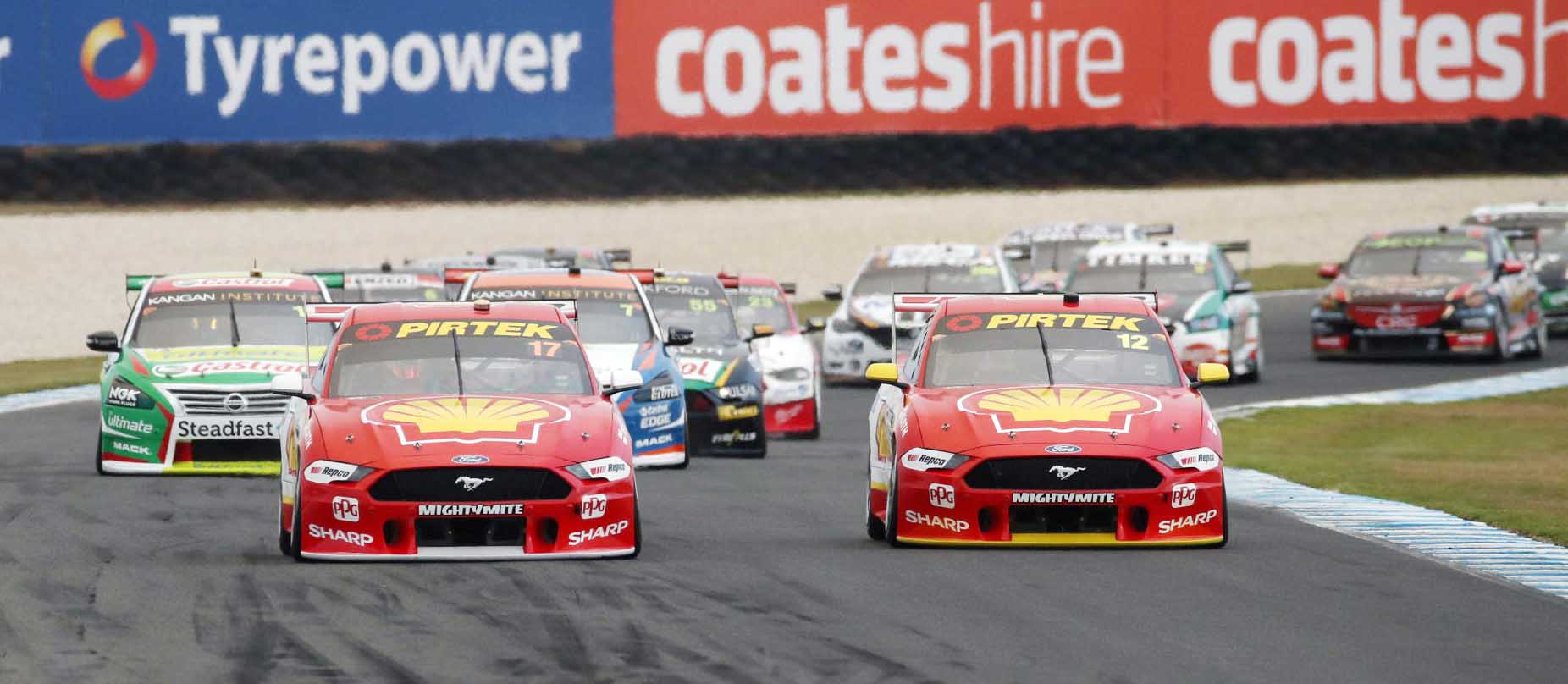 Jamie Whincup had a fiasco at his stop, with the front right wheel not bolted on properly, before continuing to fall off the vehicle on his out lap to force a DNF. Both Shell Mustangs were back at the front of the field by lap 14 as all cars had made their stops.

The Ford Mustang Safety Car appeared on lap 14, in order for Whincup's stricken vehicle to be recuperated from the outside of Turn 10. The race continued on lap 17, with McLaughlin and Coulthard pushing out to a one-sec lead over Andre Heimgartner in third.

McLaughlin reset the race lap record on lap 18, with a 1m30.9508s lap time, two-tenths quicker than what Coulthard had set earlier in the race.

An investigation was called into the pit stops for both Shell Mustangs, with the investigation moved to a post-race review. It will have no effect on the race result.

As the race came to a finish, McLaughlin took his 7th crown of 2019, with Fabian Coulthard following a place behind in 2nd – the team's third 1-2 finish of the year. McLaughlin hummed the Game of Thrones theme song as he crossed the finish line, due to the fact that this was the Game of Thrones Supercars round. As a part of the festivities, McLaughlin got to sit on the 'Iron Throne' during the podium ceremony.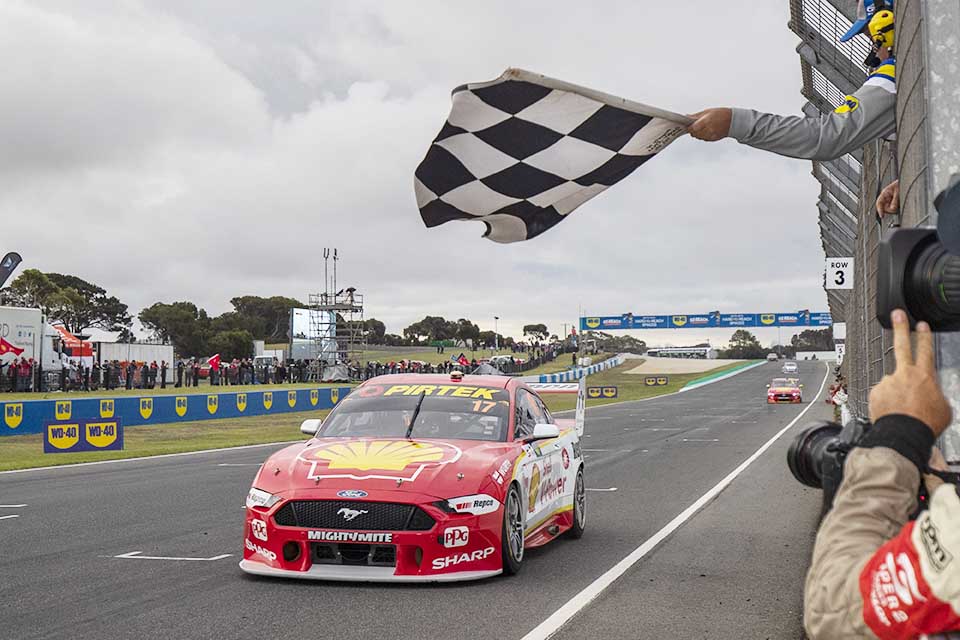 McLaughlin continues to lead the Drivers' title by an increased margin of 136 over teammate Coulthard, who himself is 65 head of David Reynolds in third. The Teams' points table now sees DJR Team Penske at the top of the grid, 418 points ahead of Triple Eight Race Engineering.

McLaughlin said of the event, "It's unreal, great for the team to get a 1-2. We just controlled the race from the start, it was a great race. We both had a strong start, we were so equal into turn one. Fabs didn't want to back out and I didn't want to back out either. It was a great battle, he's a great teammate. We've got great respect for each other, and that shows it. What an awesome result."

Coulthard went on, "Awesome for the team to take a 1-2, anytime you can do that it's been a good day. Tried my best to go around the outside there at turn 1, tried my best, that was all I had. It was good fun. We know the rules, raced hard, clean and fair. We have a lot of respect for each other, and you can see that in how we dealt with that through turn 1. I'll take second place, but a win isn't far away."

Race 10

After two more 1-2 finishes during final practice and qualifying to back-up yesterday, both Scott McLaughlin and Fabian Coulthard had strong starts and were again side-by-side into Turn 1. McLaughlin soon passed Coulthard before starting to pull away from his teammate.

On lap 3 McLaughlin set his fastest lap of the race, a 1m30.9920s only four-hundredths off the lap record he set yesterday.

McLaughlin stopped on lap 5 from a 1.5s lead, coming back to the circuit in position 19 and effective second place behind Cameron Waters who took less than half the fuel load of McLaughlin's No. 17.

Coulthard pitted from the lead of the race on lap 7, with a strong stop from the team seeing him get back on track in front of McLaughlin and in effective fourth place.

It set up a battle between the Shell teammates over the middle portion of the race, as they sat behind Chaz Mostert, Cameron Waters and Anton De Pasquale.

All cars in front of the two Shell runners were due to take much longer second stops, which would likely rearrange the race standings.

Once the first round of pit stops was completed on lap 14 Mostert led the race from Waters, De Pasquale, Coulthard and McLaughlin.

McLaughlin took his second stop on lap 16, which would be his final stop of the race. This took him out of the train of traffic behind Coulthard. He re-joined in p23, as the first driver to take their second stop.

As the other drivers took their second stops, Coulthard became the race leader once again on lap 18.

Mostert and Waters pulled out behind McLaughlin as he took advantage of the undercut, however De Pasquale pulled out in front of McLaughlin following second stops, to take the effective lead from the Shell driver.

Coulthard took his final stop on lap 19, re-joining the circuit in front of both De Pasquale and McLaughlin to take p16 and the effective lead. McLaughlin quickly passed De Pasquale at Turn 2 on the same lap, to be effective second behind his teammate.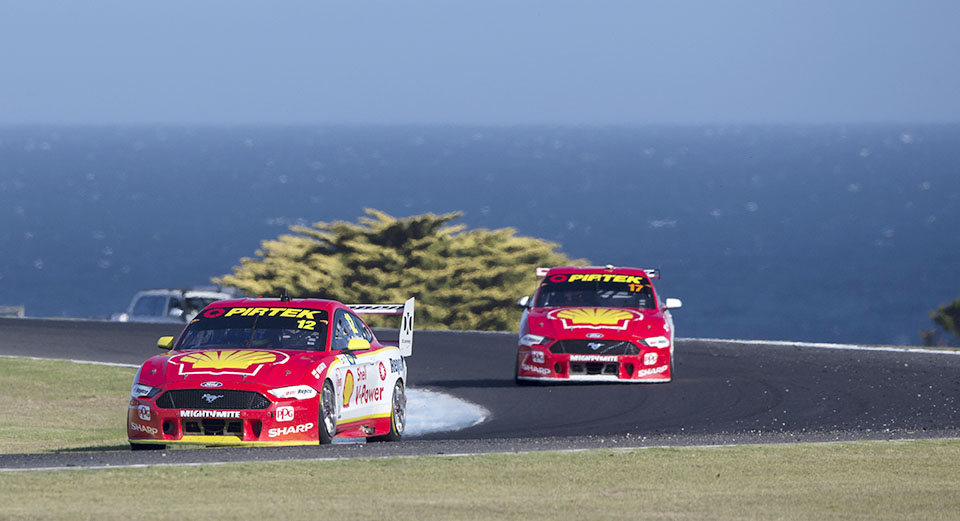 Coulthard moved out to a one-second lead over McLaughlin as they raced to the front of the pack through the final pit stop phase to lap 28.

All cars had made their final stops by lap 31, with Coulthard moving into the lead of the race, six-tenths in front of McLaughlin, which then grew back out to one-second as the pair managed the gap back to third placed De Pasquale.

By lap 40, Coulthard had the gap out to 1.1 seconds over McLaughlin, with De Pasquale 2.9s back from McLaughlin.

At the end of the race it was Coulthard's turn to sit on the Iron Throne, as he took his first race win of 2019, with McLaughlin right behind for another 1-2 finish.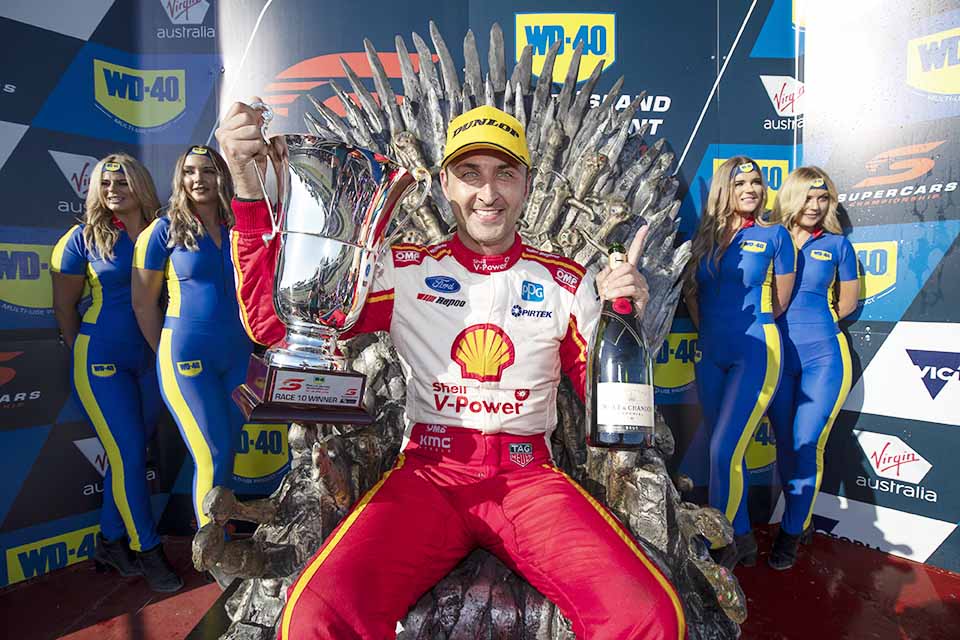 McLaughlin continues to lead the Drivers' points by 124 over Coulthard, with Shell V-Power Racing at the top of the Teams' points with a 511-point buffer over Triple Eight.

Coulthard said of the event, "It's always hard to get the first one, and I've got a class teammate. To take one off him is hard at the best of times, and I'm just so happy for my crew. It's been a long couple of weeks on the road away from our families, I'm so happy we've been able to grab a win. When you have two fast drivers, two cars that are fast, it speaks volumes for the team. It's a massive team effort. Everyone works so hard, and we're nothing without our team. Congratulations to everyone at Shell V-Power Racing Team. Now to eat some carrots and get ready for the Pirtek Perth night race."

McLaughlin added, "I think for the team it's been a perfect weekend. Two 1-2s, we know we have great speed and we can push-on for the next few races. It's been a good battle with Fabs this weekend, especially off the starts both days. I enjoy this track, I've got a great team behind me and everyone is pushing me so hard to get even more out of me. Fabian is pushing me hard too, so we're just going to keep lifting. A good points weekend for us, great results for the Teams' championship so it's been a strong weekend. Next we head west for some night racing in Perth, which I'm really looking forward to."