News
2019 Recap of Tasmania SuperSprint
Race 7

On the second commemoration of Shell V-Power Racing Team's first triumph, the group has accomplished a recurrent 1-2 result around Symmons Plains Raceway in Tasmania.

While that outcome in 2017 saw Fabian Coulthard take the group's first win, with McLaughlin second, it was a switch of results this time around the 2.4km circuit.

Regardless of fighting a sinus disease, McLaughlin qualified a solid second before getting a great start to beat pole-sitter Mark Winterbottom to the primary corner. He was then ready to build an extended lead over the opening stretch of the race.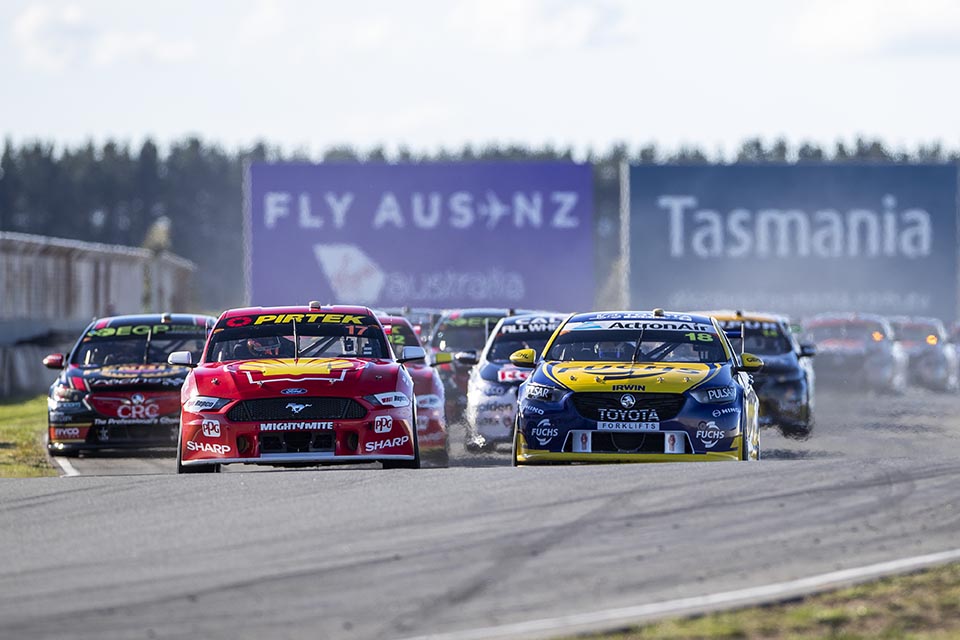 Coulthard began from fourth, opening into third with a solid pass on David Reynolds right off the bat in the race before driving up to Winterbottom ahead of his pit stop. Coulthard took service on lap 19, utilising the undercut to pass Winterbottom and claim second spot.

McLaughlin pitted a lap later, slotting back in front of Coulthard. The pair at that point had the capacity to cooperate to assemble a wide gap to Winterbottom behind.

The main risk to this was Shane van Gisbergen, who took his stop late and made use of his new tyres to drive up to the final podium position, however he came up short on time to catch-up with both of the Shell V-Power Mustangs.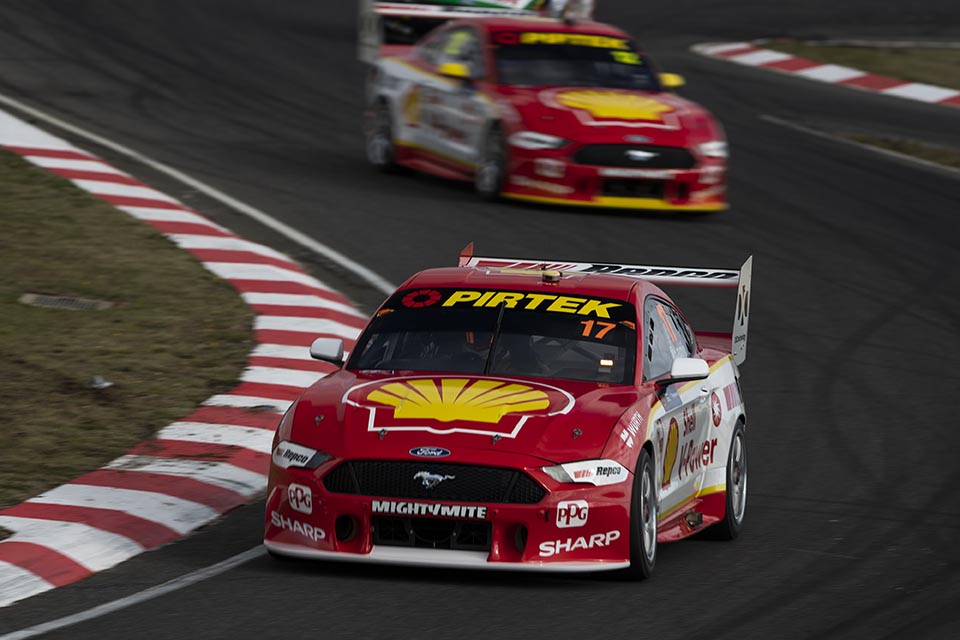 Following the 1-2 finish, McLaughlin is ahead of Chaz Mostert in the Drivers' Championship by 135 points, with Coulthard only another 7 points behind in third. DJR Team Penske leads the Teams' Championship by 227 over Brad Jones Racing, while Triple Eight Racing have since dropped to third place.

On Race 7, Coulthard said, "No matter what they throw at us, this team digs in and gets it done. I couldn't be prouder of everyone here at Shell V-Power Racing Team, we got the reward for the effort we've put in. We've had some rotten luck so far this year, but hopefully this is the point where it all turns around. We took at 1-2 here in 2017, and to take another one today is a credit to everyone."

McLaughlin said of the event, "Yeah, today was pretty tough. I've definitely felt better, but there's not much better medicine than a race win. I will have a good sleep tonight and come back better tomorrow. That was for Ford fans and our team. There has been a lot of stuff thrown at us but we just fight on. We are a strong group."

Race 8

Race 8 began firmly for both Fabian Coulthard and Scott McLaughlin, opening into second and fourth respectively for the starting laps.

Both kept up position through to the first pit stops, with McLaughlin heading in at a relatively early Lap 15. Coulthard took his first stop on lap 24, coming out just in front of McLaughlin. They then headed to the front of the pack as everybody took their second stops.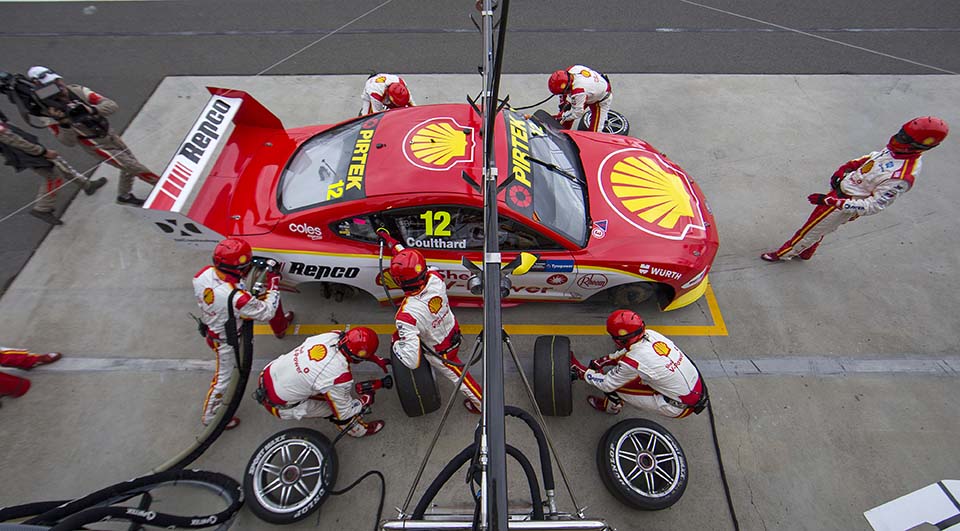 Coulthard overtook Van Gisbergen as the latter pitted, with McLaughlin closing in behind. The three would fight like this for a few laps.

It started to rain lightly at this stage, with Van Gisbergen able to get by Coulthard and David Reynolds; also passing McLaughlin to push the DJR pair back to second and fourth respectively.

They remained in those situations over the last stops and last stretch of the race, with a solid battle taking place between Coulthard and Reynolds happening in the back end of the race as light downpour fell. Coulthard held him off to take his second podium of the weekend.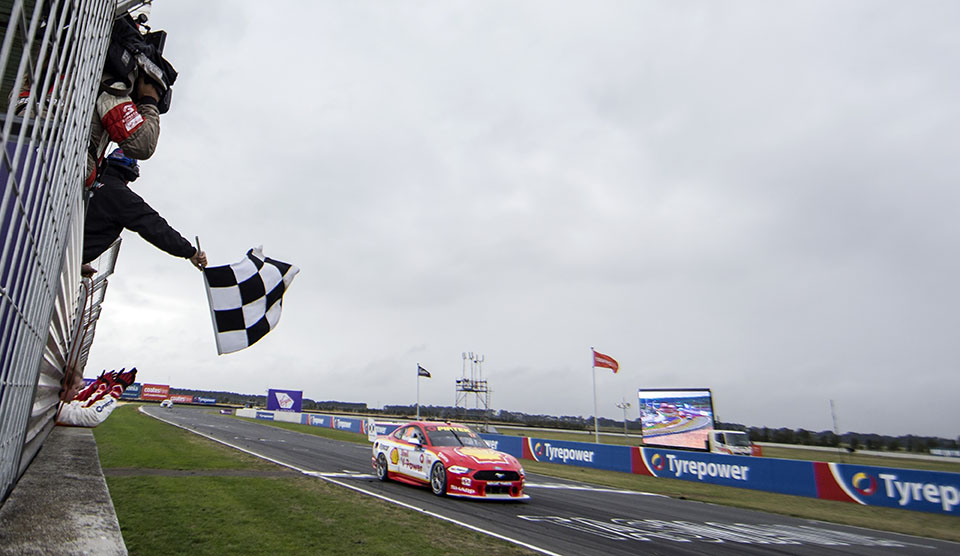 McLaughlin keeps the leading position in the Drivers' championship, with Coulthard now up to second, 124 points back. The group sustains the Teams' title by 232 over Triple Eight.


On the race, Coulthard added, "It was an awesome weekend for us. We arrived in sixth, and are leaving in second, so it's great to have been able to get some consistent results. I feel that we've had good speed this year, but haven't had my silverware to show for it. I'm getting happier and happier, and now I'm really looking forward to going to Phillip Island."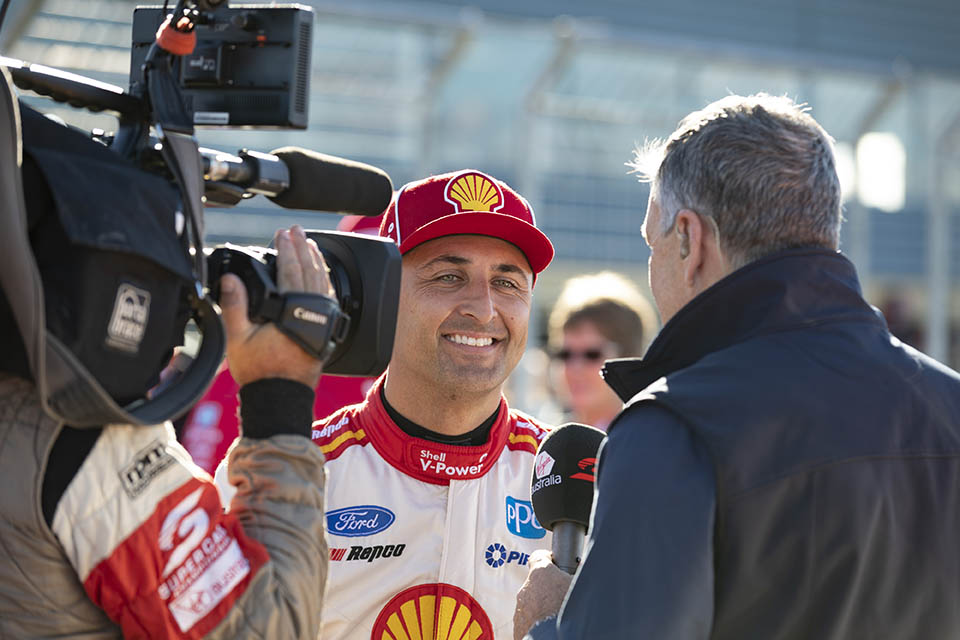 McLaughlin said of Race 8, "Qualifying didn't go to plan today, and if it had gone right things might have been different, as track position is so important around here. Our pace was good, it probably wasn't race-winning pace, but it was a solid result and we still lead the Championship so it's a good weekend overall."

DRIVERS' CHAMPIONSHIP POINTS

| | | | |
| --- | --- | --- | --- |
| 1. | Scott McLaughlin | 770 | |
| 2. | Fabian Coulthard | 646 | -124 |
| 3. | Jamie Whincup | 610 | -160 |
| 4. | Shane van Gisbergen | 604 | -166 |
| 5. | David Reynolds | 599 | -171 |
| 6. | Chaz Mostert | 593 | -177 |
| 7. | Mark Winterbottom | 556 | -214 |
| 8. | Tim Slade | 555 | -215 |
| 9. | Nick Percat | 541 | -229 |
| 10. | Will Davison | 524 | -246 |
TEAMS' CHAMPIONSHIP POINTS
| | | | |
| --- | --- | --- | --- |
| 1. | Shell V-Power Racing Team | 1416 | |
| 2. | Triple Eight Race Engineering (Whincup/SVG) | 1184 | -232 |
| 3. | Brad Jones Racing | 1096 | -320 |
| 4. | Tickford Racing (Mostert/Holdsworth) | 1010 | -406 |
| 5. | Tickford Racing (Waters) | 984 | -432 |
| 6. | Erebus Motorsport | 950 | -466 |
| 7. | Walkinshaw Racing | 839 | -577 |
| 8. | Nissan Motorsport (Kelly/Heimgartner) | 639 | -777 |
| 9. | Garry Rogers Motorsport | 601 | -815 |
| 10. | Team 18 (Winterbottom) | 556 | -860 |