News
2020 Recap of The Bend SuperSprint Round 10
Race 28

Fabian Coulthard - No. 12 Shell V-Power Racing Ford
Qualifying – Part 1: 6th (Fastest Lap: 1m15.9500s)
Qualifying – Part 2: 5th (Fastest Lap: 1m15.4749s)
Top 15 Shootout: 15th (Fastest Lap: 1m15.9711s)
Race 28: 9th (Fastest Lap: 1m16.9090s)

Scott McLaughlin - No. 17 Shell V-Power Racing Ford
Qualifying – Part 1: 1st (Fastest Lap: 1m15.3038s)
Qualifying – Part 2: 1st (Fastest Lap: 1m15.0343s)
Top 15 Shootout: 1st (Fastest Lap: 1m15.1994s)
Race 28 Finishing Position: 1st (Fastest Lap: 1m16.6074s)

Race 28 – Saturday 26th September

McLaughlin claimed his 55th Supercars Championship race win in Race 28 at The Bend SuperSprint.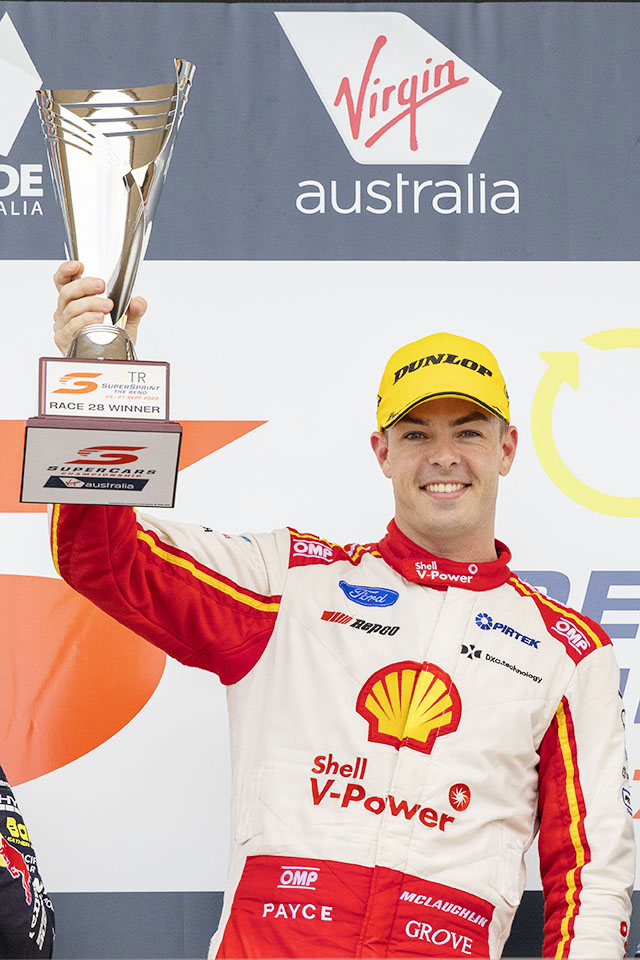 The weekend's racing was on the shorter 'West' circuit configuration which removes six corners and one mile from the 'International' circuit that was raced on last weekend.

In Qualifying, McLaughlin's form didn't falter from last weekend as he claimed his 74th career pole and started the race from the front row. Coulthard struggled with tyre temperature and only clocked a time fast enough for P15.

An issue with the lights forced a delayed start and a second formation lap. Because the race was time-certain, it was reduced from 32 to 31 laps. Once it got underway, McLaughlin got off the start line without any problems to immediately take control of the race. Coulthard jumped up three places to P12.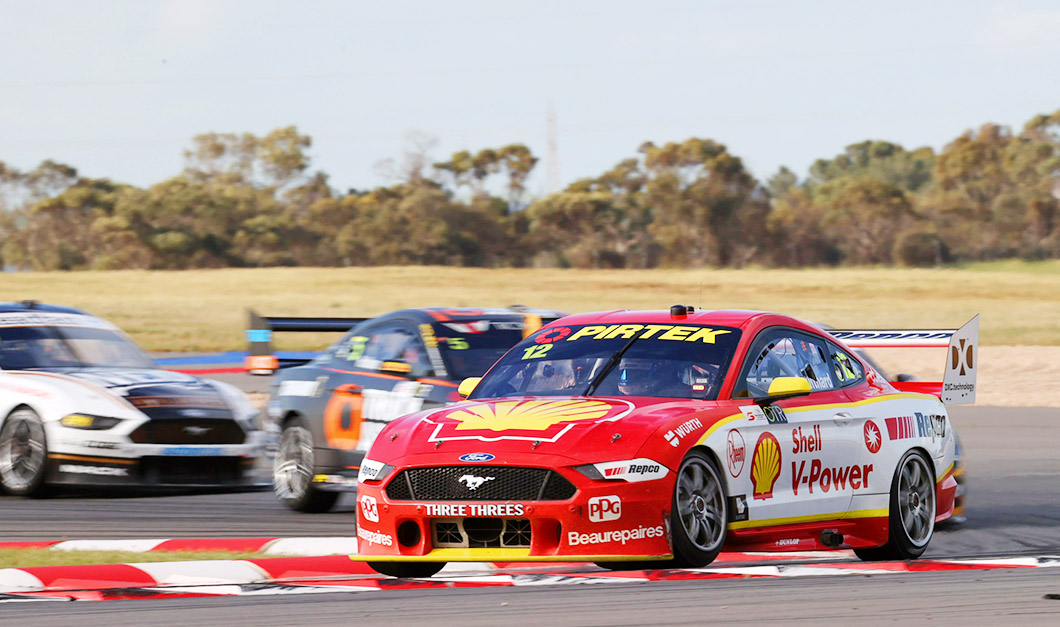 Fabian was the first of the DJR Team Penske drivers to stop on lap 6. He locked the wheels coming into his pit bay and overshot, but the crew still executed the stop perfectly and gave him fresh rear tyres. He rejoined the race in P19.

McLaughlin stopped two laps later and also took on two new rear Dunlop soft tyres. He returned to the race in P17 and in front of Le Brocq who stopped the lap earlier from P2.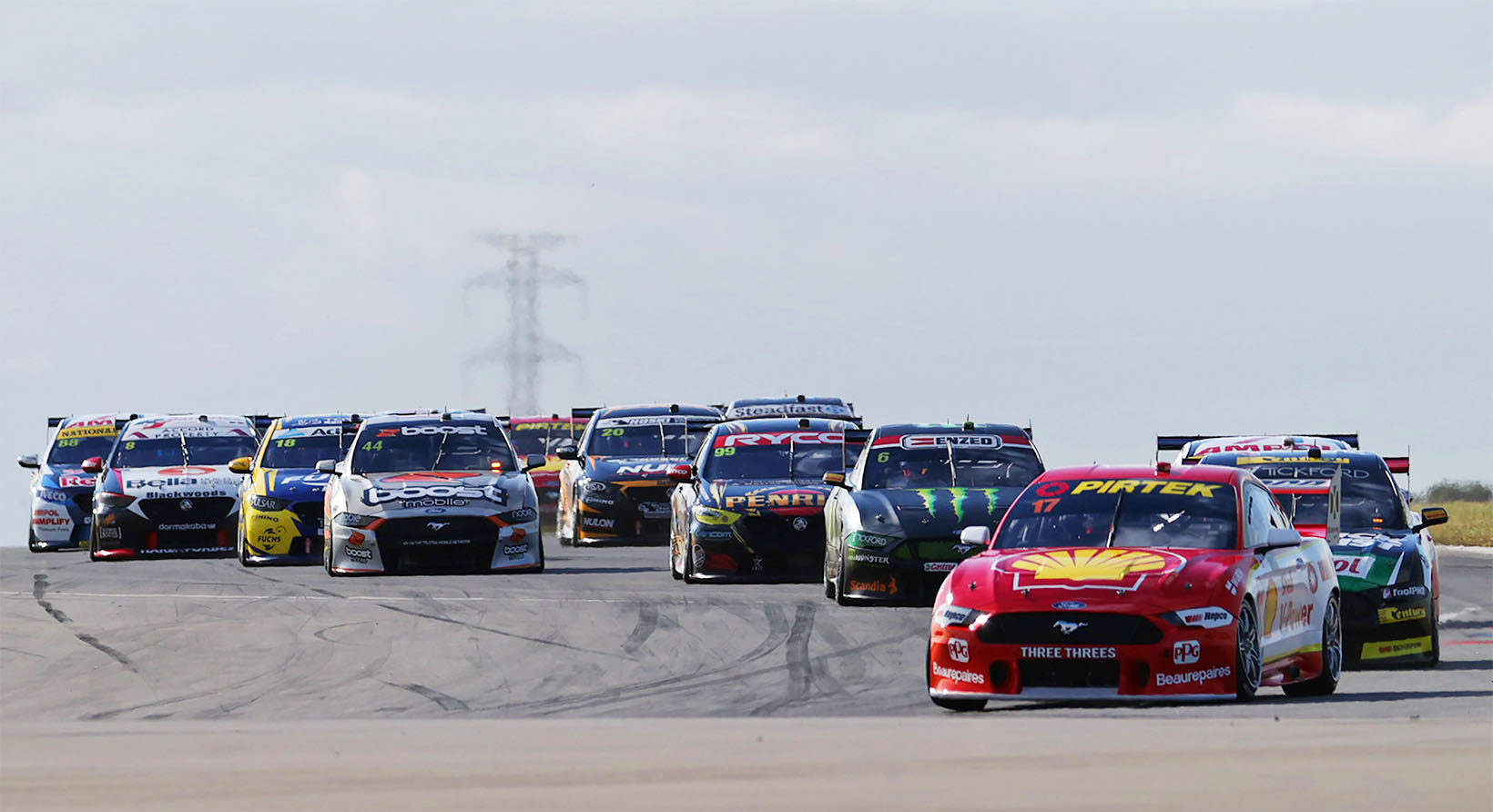 When the field had completed their stops, McLaughlin was the race leader but only had a gap of 0.7 to van Gisbergen who was on fresher tyres. Coulthard had fought his way up to P9 and able to hold off Whincup to the chequered flag.

Van Gisbergen didn't let McLaughlin extend his gap and was within half a second in the closing stages of the race. But McLaughlin was able to hang on to claim his 55th Supercars race win, his 12th this season.

McLaughlin extended his lead in the Championship to 263 over Whincup, while Coulthard sat 6th. DJR Team Penske has a 116-point lead over the Triple 8 Race Engineering team .

Coulthard spoke of the day, "I had a good race today. I have already apologised to the boys for overshooting the mark during the stop, and I'm in the clear for that."

"But I had a good battle with Jamie. He had 12-laps fresher tyres, and I was expecting him to get past, but I was able to hang on in key areas."

"We just need to work out what we need to do to switch the tyre on for one lap for qualifying, but we have some smart boys here, so I'm confident we'll get it sorted."

McLaughlin added, "I had a lot better start[s] than last Saturday, that's for sure. Shane was coming at me pretty hard there, but I tried to leave a little bit in the bank when he was coming at me so I could charge on. When he really got to me and got his tyres hot, and he was in the dirty air, it was quite difficult for him."

"The pit stop from the guys was fantastic, and I'm really proud of everyone at Shell V-Power Racing. Overall, I'm really happy. "

Race 29 and Race 30

Fabian Coulthard - No. 12 Shell V-Power Racing Ford
Qualifying: Race 29: 2nd (Fastest Lap: 1m15.4782s)
Qualifying: Race 30: 5th (Fastest Lap: 1m15.6196s)
Race 29: DNF (Fastest Lap: 1m16.9642s)
Race 30: 8th (Fastest Lap: 1m17.0839s)

Scott McLaughlin - No. 17 Shell V-Power Racing Ford
Qualifying: Race 29: 1st (Fastest Lap: 1m15.4506s)
Qualifying: Race 30: 1st (Fastest Lap: 1m15.3493s)
Race 29: 1st (Fastest Lap: 1m16.8108s)
Race 30: 2nd (Fastest Lap: 1m16.9061s)

Race 29 – Sunday 27th September

Trophies, podiums, pole positions, a Champion elect, and heartbreak - it all happened on the final day of racing at The Bend SuperSprint.

Race 29 proved to be highly emotional for DJR Team Penske. While McLaughlin claimed another race win, Coulthard had a heartbreaking finish to his race. He was comfortably sitting in P2 when a mechanical problem ended his race early.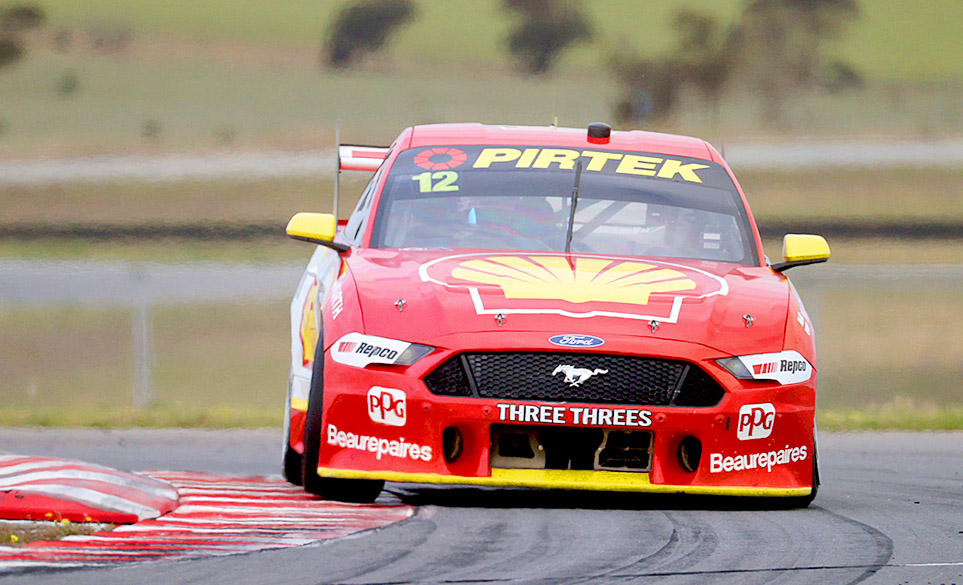 For the second time this season, it was a DJR Team Penske front-row lockout for the start of Race 29. Coulthard's qualifying lap time of 1m15.4782s was the second quickest of the session, just 0.02 seconds away from teammate McLaughlin who was on pole.

Coulthard got a superb jump off the start line and led the race over his teammate as they went into turn 1. McLaughlin defended against Whincup to hold onto P2. Five laps in and Coulthard was 0.6 seconds clear of the pack.

With a third Championship win on the line, Coulthard didn't make it difficult for McLaughlin to pass him on lap 7 and take control of the race. Just 3 laps later, Coulthard pitted for his compulsory stop. It was a clean and fast stop, and he returned in front of De Pasquale, in P12.

McLaughlin had a lead of 1.5 seconds when he made his stop on lap 12. He rejoined the race ahead of Coulthard, but Whincup was yet to stop with his team opting to leave him out in clear air. When he finally did stop, his crew had an issue which cost him around 3-4 seconds. He rejoined down the order and posed no threat to the DJR Team Penske Mustangs who were effective race leaders.

With 10 laps to go Coulthard had a heartbreaking mechanical problem which saw him lose power and park it up on the grass. Simultaneously, Reynolds also had a mechanical failure which saw him parked on the track and safety car called.

The race restart came with just 7 laps to go, and McLaughlin wasted no time blazing away. While van Gisbergen was charging through the field on fresh tyres, he didn't phase McLaughlin who won his 56th Supercars race by more than 1.1 seconds.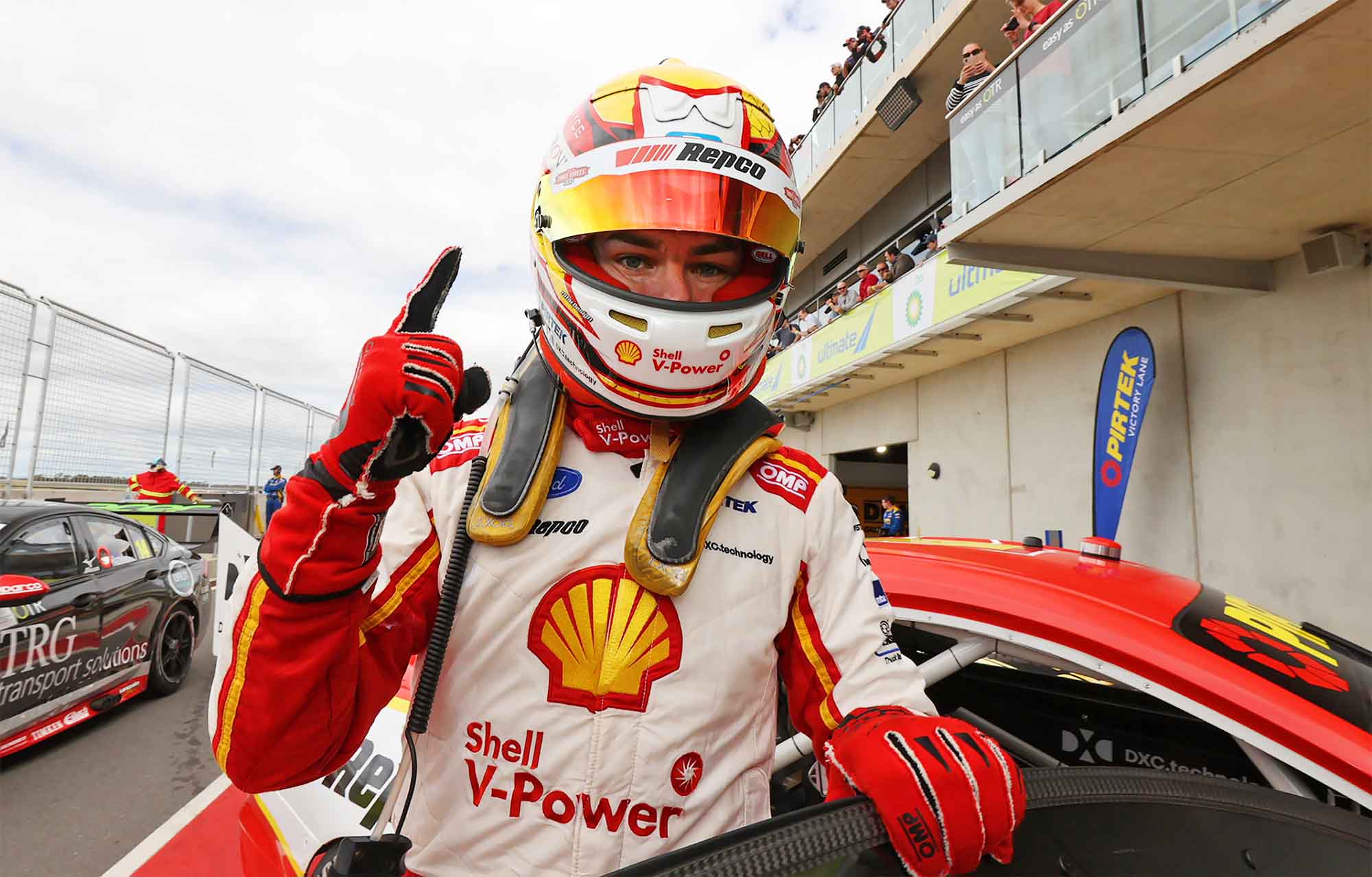 Race 30 – Sunday 27th September

McLaughlin was crowned the Supercars Champion elect after claiming his 21st podium of the season with P2, while Coulthard finished well inside the top 10 in P8.


Having taken a clean sweep of pole positions in qualifying today, McLaughlin again started P1 for the final race of The Bend SuperSprint. Coulthard had another solid qualifying session as well and started in P5.

Lining up next to McLaughlin on the front row, Waters was quick off the start line and took the outside line through turn 1 which saw him take control of the race. McLaughlin was left to hold off Whincup and slot into P2. Meanwhile, Coulthard dropped one place on the opening lap, but on lap 3, he made up the place he lost as he passed Mostert.

Again, Coulthard was the first of the DJR Team Penske Mustangs to stop for fresh tyres on lap 8. On the exit, Coulthard had Courtney just ahead, but after crossing the speed limit line he fired around him as Courtney struggled to accelerate.

McLaughlin followed Waters into pit lane on lap 9, but the No. 17 wasn't able to jump him during the stop. They rejoined the race with Whincup thundering down the straight hoping to get past, but he wasn't fast enough, and they resumed the order of Waters, McLaughlin, Whincup.

With all stops completed and 11 laps remaining, McLaughlin was still in P2 with Waters ahead and Whincup behind. Coulthard was in P7 with van Gisbergen behind, but with fresher tyres, van Gisbergen moved past Coulthard dropping him to back to P8. Their positions remained unchanged to the flag with McLaughlin finishing P2 and Coulthard P8.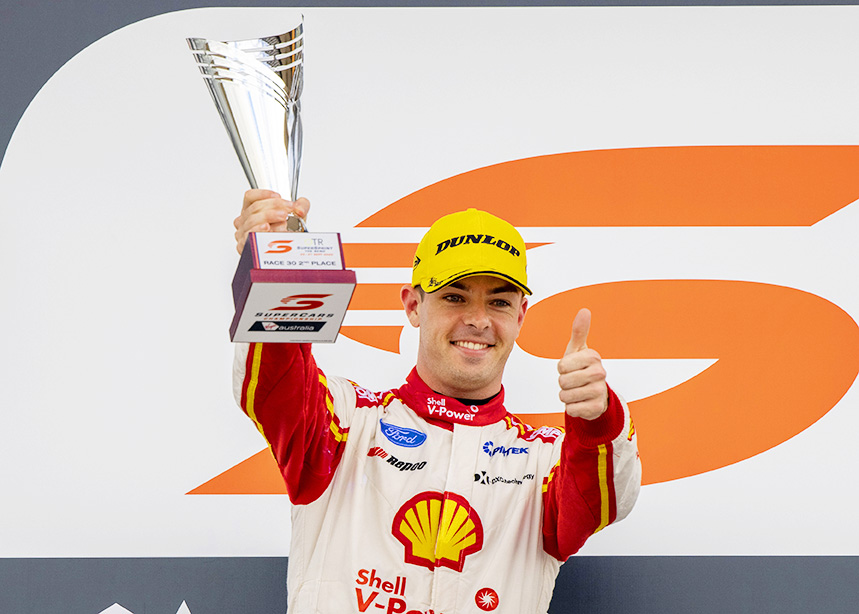 McLaughlin is now 305 points ahead of Whincup and is the Supercars Champion elect. Coulthard is on 1560 points and in P7. DJR Team Penske is 100 points ahead of the Triple 8 Race Engineering team in the Teams' Championship standings.

Coulthard said, "We qualified well in both sessions and were having a good run in the first race today, but unfortunately the mechanical failure put us out of that race. I was running P2 and a 1-2 would have been nice, and would have made Scott's run for the championship a little bit easier."

"I came through I think turn 8, and on the downshift into 6th, it felt like there was a little bit of movement within the gearbox. When I came through turn 8, I went on the throttle and there was just no drive, so I had no option but to leave the circuit."

"All-in-all, not a bad weekend but I just didn't get the results to show for it. But we were fortunate after the first race today to get the car fixed and out for the second one."
McLaughlin added, "It was a fantastic day for us and a pretty solid weekend. The two poles today helped our whole cause and the championship."

"It was a bit unfortunate for Jamie in the first race as it allowed us to be in a position to be able to capture the championship today, and we managed to do that."

"It really makes our job a lot nicer for Bathurst as we have less things to worry about and we can just focus on the biggest race of the year. I'm really looking forward to that."