News
Mark Lydiard Celebrates 40 Years of Service
From small beginnings in 1980, Pirtek has grown to a franchise network of 103 locations and over 1000 dedicated team members. Pirtek's incredible database of knowledge, combined with experienced and qualified individuals who make up its network is most evident with Pirtek's Fremantle franchisee, Mark Lydiard. Mark has just celebrated the incredible milestone of 40 years service with Pirtek.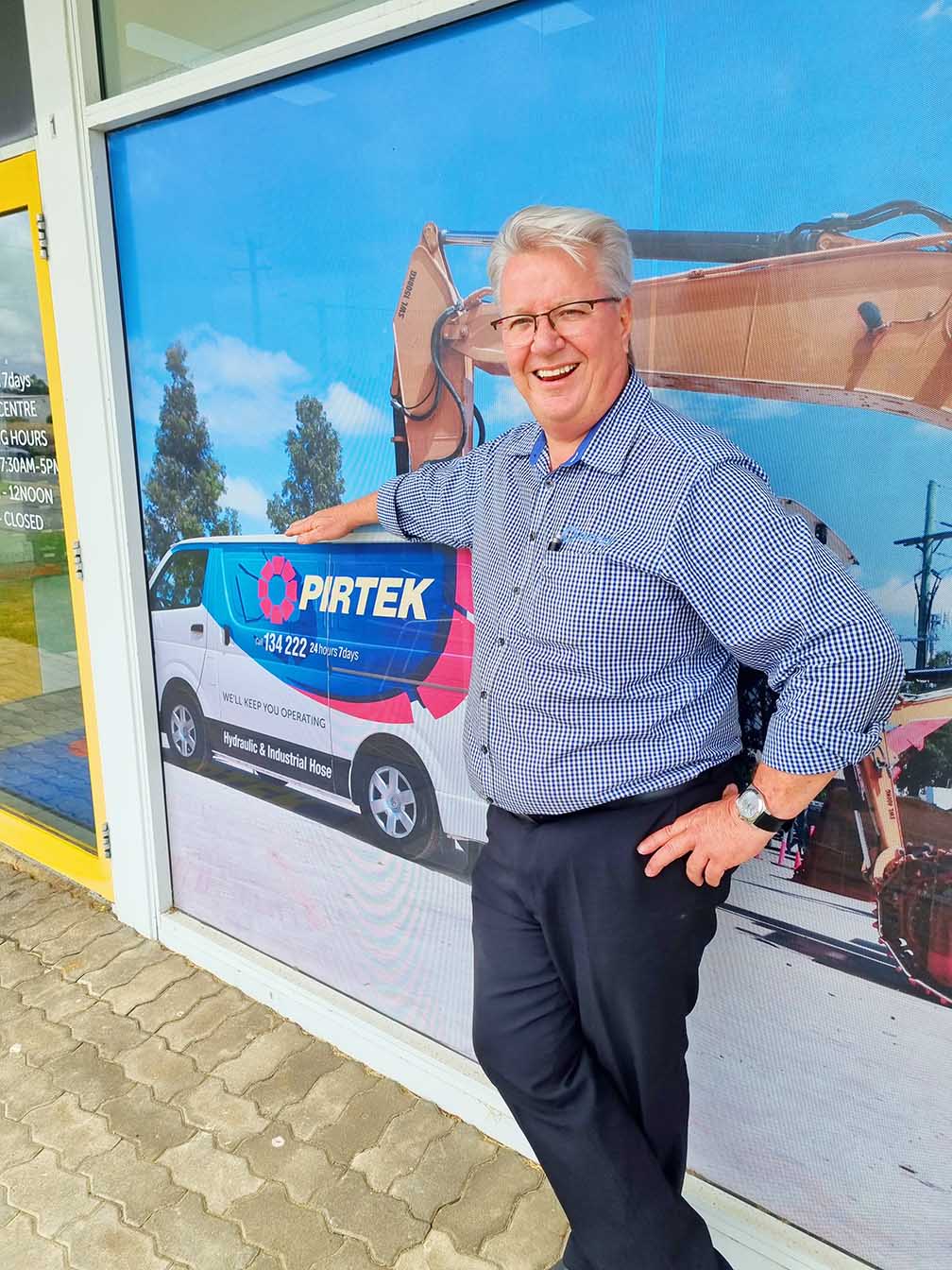 Mark commenced his career with Pirtek in February 1981 as a 21-year-old fitter and turner tradesman. In pursuit of a purposeful career, Mark ventured from Queensland to Sydney. Mark nostalgically recalls that in real 1980's style, he attended an interview with Peter Duncan (Pirtek Company Founder) sporting long hair and an earring. Despite Peters steadfast views on presentation, Mark made an impression, and as a result, started the next day manning the front counter and what ultimately turned out to be the beginning of a longstanding career.
Mark's initial tasks included working within the warehouse with inventory and utilising his trade qualification with hydraulic hose assembling. Serving customers at the trade counter also provided Mark with a valuable chance to develop a deep understanding of Pirtek customer requirements.
In 1983 Mark was seconded to Brisbane to assist with the establishment of a new Pirtek location. Following time in Brisbane, Mark returned to Sydney to take up the first Mobile Service Technician's role in NSW.
By 1987 and 27 years of age, Mark jumped at the opportunity to acquire a Pirtek franchise in Blacktown NSW. Understanding that it was a huge step up in skillset, Mark diligently set about developing himself and growing the Pirtek Blacktown franchise.
In 1995, Mark, with his wife Kerry, sold the Pirtek Blacktown franchise and purchased the Pirtek Fremantle WA franchise, which they still own today. Also, during that time Mark and Kerry expanded by opening other locations which were ultimately on sold to new franchisees.
Mark has witnessed consistent change withing the hydraulic industrial marketplace throughout Marks successful 40-year journey with Pirtek. Mark recalls that mobile breakdown service did not exist within the Australian market when starting his Pirtek career. Foresight and investment by Pirtek in this groundbreaking essential service were delivered for the first time by Mark.
Other notable changes in the market over 40 years, relayed by Mark, include Pirtek developing a narrow product range of low and medium pressure hose to an impressive 13,000 plus speciality product lines held today.
Throughout Mark's career, he has attended or provided recommendations for literally thousands of unique service jobs. Ranging from replacing hydraulic hoses on a dentists chair, complete hose changeouts on large mining equipment, defence projects, and even jumping on a boat for an urgent call out to Rottnest Island. However, Marks' most memorable job involved specifying and supplying hoses and fittings for the tagging and tracking of whale sharks off WA's coast.
The Pirtek team of people and their unique ability to identify solutions that others may miss whilst under pressure is what keeps our Australian customers operating. It is Pirtek people's skill set that provide its customers with the confidence that their problems will be solved when Pirtek arrives on site.
There's no greater collective experience or know-how than Pirtek when it comes to doing what it does.

Mark has stated that his future at Pirtek looks 'very positive' and that his business involvement is still keeping him young and active. Mark plans for the Pirtek Fremantle franchise to continue within his family. Kerry and Marks daughters Melissa and Kirsty are currently growing their experience and knowledge of the business systems with their ultimate ambitions to continue the Lydiard legacy and following on in their father's footsteps by taking the company to the next level.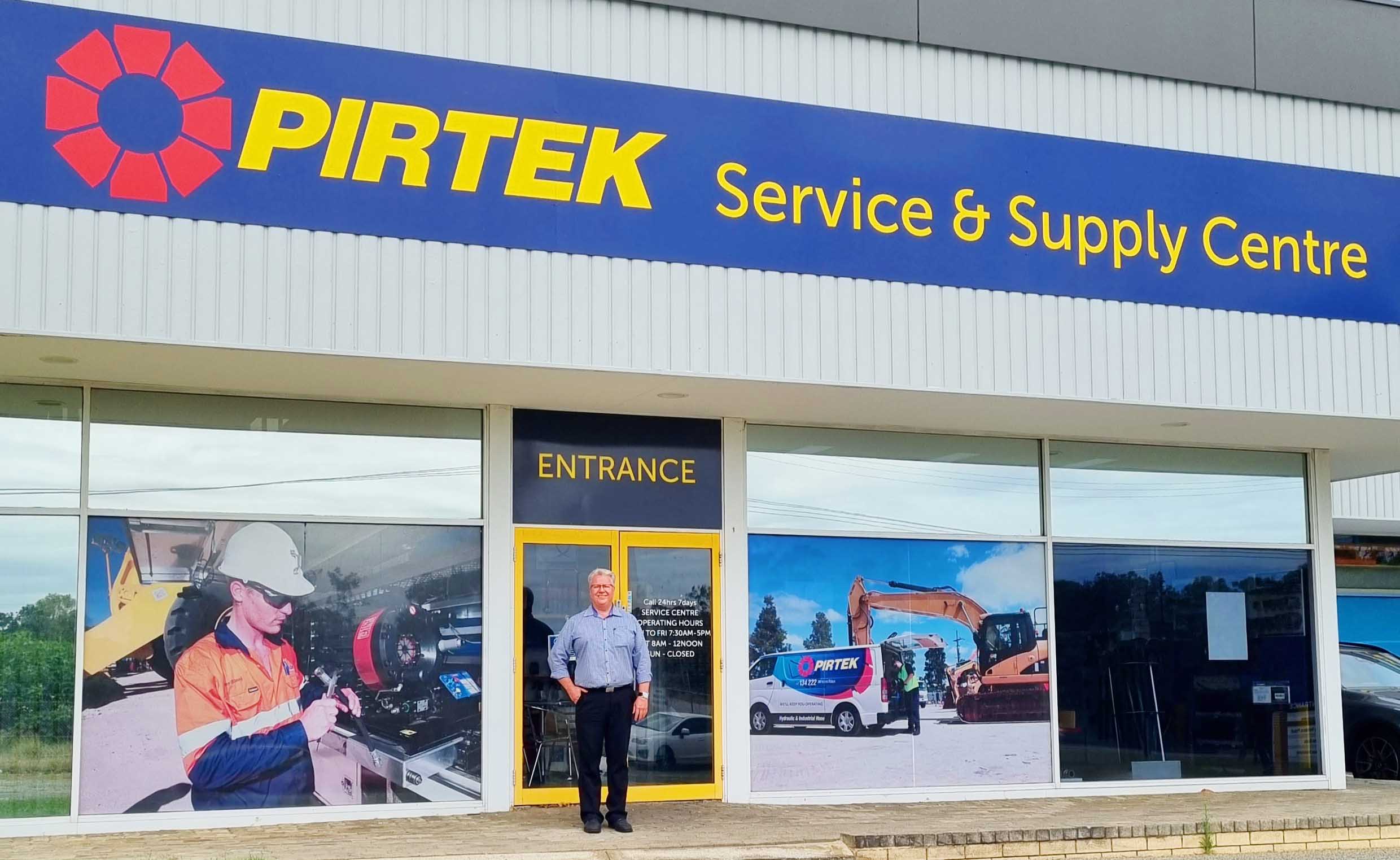 Please join Pirtek in congratulating Mark for his 40 years of service and wishing Mark many more years in the Pirtek network.