News
Pressure on Supercars duos as PIRTEK Enduro Cup arrives on Gold Coast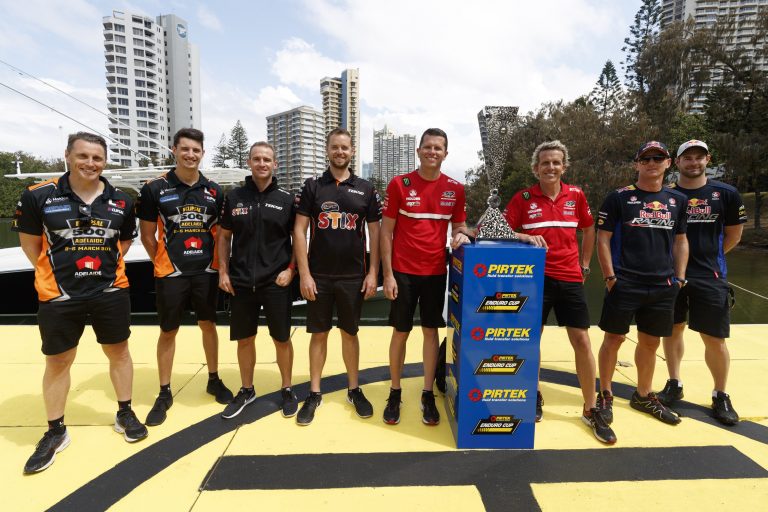 PIRTEK Enduro Cup contenders from left: Cameron McConville & Nick Percat (3rd), Will Davison & Jonathon Webb (1st), Defending Champions Garth Tander & Warren Luff, Alex Premat & Shane van Gibergen (2nd)
No driver combination that has led the PIRTEK Enduro Cup heading to the Castrol Gold Coast 600 has walked away with the trophy.

It is a scenario that Bathurst 1000 Champions, Will Davison and Jonathon Webb are keen to change. Heading into this weekend's Gold Coast race, there are 13 other combinations in the 26 car field that mathematically still have a chance to take the win.

Darrell Lea STIX Holden drivers, Davison and Webb – who this weekend were confirmed as undisputed Bathurst 1000 Champions – hold a six point lead in the endurance championship heading to the tight confines of the Gold Coast streets.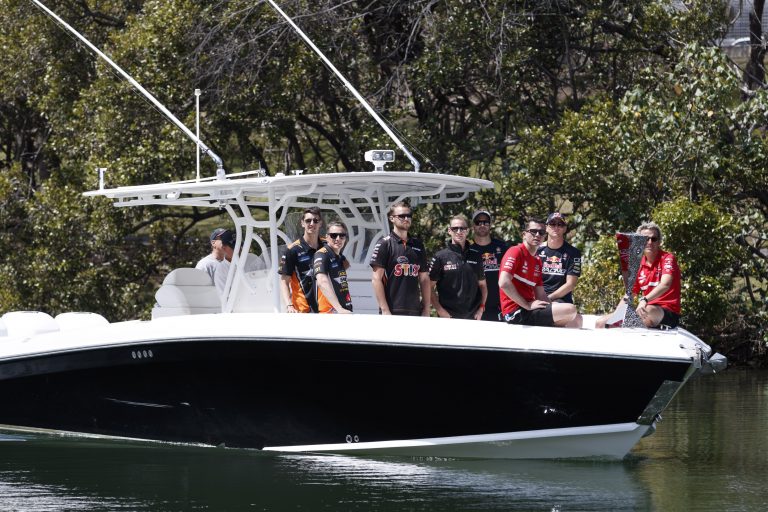 The PIRTEK Endure Cup was delivered to the circuit in typical Gold Coast fashion this afternoon on a 37ft (11m) powerboat.
Defending Champions, Garth Tander and Warren Luff were joined by the top three combinations in the chase for the Cup – Davison and Webb, Red Bull Racing Australia's Shane van Gisbergen and Alex Premat and Lucas Dumbrell Motorsport's Nick Percat and Cameron McConville.

Van Gisbergen and Premat are looking to create their own history. In the three years of the Cup, no driver from outside Australia has won the Virgin Australia Supercars Championship-within-a-Championship. It would be a double whammy for Kiwi van Gisbergen and Frenchman, Premat.

If they could secure the PIRTEK Enduro Cup, it would be the third won by Red Bull Racing Australia since its inauguration and would keep Holden's streak alive as the only manufacturer to have won the PIRTEK Enduro Cup.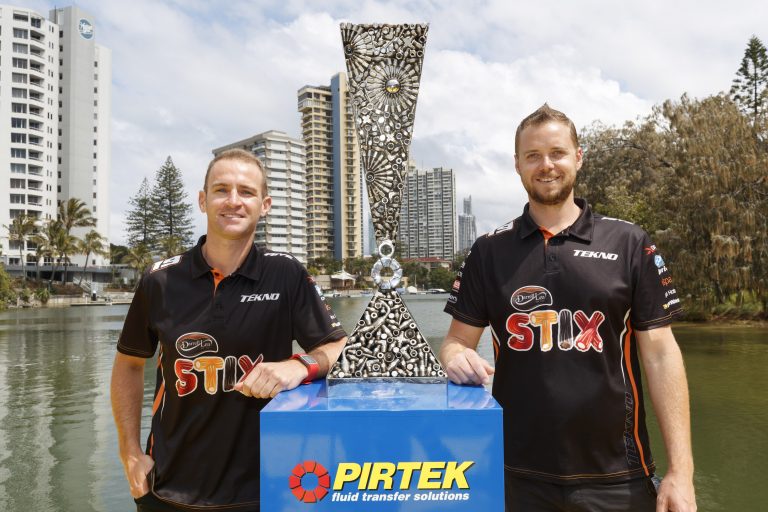 Ironically, van Gisbergen and Webb have the best success out of any drivers in the PIRTEK Enduro Cup era on the Gold Coast with two wins as a combination at Tekno Autosport and van Gisbergen adding to that with a second place. In seven of the last eight GC600 races, van Gisbergen has finished inside the top 10.

Percat and McConville have been the real surprise packets of the PIRTEK Enduro Cup thus far in 2016. The LDM team has benefitted from the experience of McConville joining with this year's Clipsal 500 victor, Percat.

Making the best of the changeable conditions at Sandown then pulling the strategy correctly in Bathurst has seen the duo in with a great chance of capitalising on the Gold Coast.
PIRTEK ENDURO CUP LEADERS QUOTEBOARD:

Will Davison:

"We were concentrating on the Gold Coast immediately after Bathurst and we are now getting on with adding the PIRTEK Enduro Cup to our wins this year," explained Davison.

"Our focus is on this weekend and obviously Jonathon (Webb) and the Tekno Holden have been fast on the Gold Coast over the last few years."

Jonathon Webb:

"The PIRTEK Enduro Cup trophy is special to our group, it has been a good year for us winning the 12 hour, winning the 1000 so it would be great if we could add this one too.

"If we could win the PIRTEK Enduro Cup, it would show the consistency of our group (TEKNO Autosport) – we didn't just win Bathurst, we stood on the podium at Sandown as well and expect to walk away with a couple of trophies this weekend too."

CASTROL GOLD COAST 600/PIRTEK ENDURO CUP TIMETABLE:

FRIDAY, OCTOBER 21, 2016
10:35am-11:05am – Practice 1 – 30 mins
1:45pm-2:15pm – Practice 2 – 30 mins
4:20pm-4:50pm – Practice 3 – 30 mins

SATURDAY, OCTOBER 22, 2016
10:45am-11:05am – Qualifying – 20 mins
1:55pm-4:20pm – Race 1 – 102 Laps

SUNDAY, OCTOBER 23, 2016
9:35am-9:55am – Qualifying
11:25am-11:50am – Top 10 Shootout
2:25pm-4:50pm – 102 Laps
PIRTEK ENDURO CUP POINTS (After Bathurst)
| | |
| --- | --- |
| DRIVERS | TOTAL |
| W Davison/J Webb | 558 |
| S van Gisbergen/ A Premat | 552 |
| N Percat/C McConville | 426 |
| F Coulthard/L Youlden | 408 |
| S Pye/T D'Alberto | 342 |
| S McLaughlin/D Wall | 335 |
| C Mostert/S Owen | 318 |
| T Slade/A Walsh | 306 |
| M Caruso/D Fiore | 306 |
| G Tander/W Luff | 300 |
| C Lowndes/S Richards | 294 |
| J Whincup/P Dumbrell | 276 |
| D Wood/D Russell | 270 |
| J Courtney/J Perkins | 251 |
| T Blanchard/M Jones | 246 |
| C Pither/R Stanaway | 246 |
| C Waters/J LeBrocq | 240 |
| T Kelly/M Campbell | 192 |
| S Davies/C Van der Drift | 186 |
| R Kelly/R Ingall | 156 |
| L Holdsworth/K Reindler | 138 |
| S de Silvestro/R Gracie | 126 |
| D Reynolds/C Baird | 102 |
| A Heimgartner/A Russell | 96 |
| J Bright/A Jones | 84 |
| M Winterbottom/D Canto | 72 |
| J Moffat/J Golding | 0 |