News
Tekno duo take PIRTEK Enduro Cup lead after Bathurst win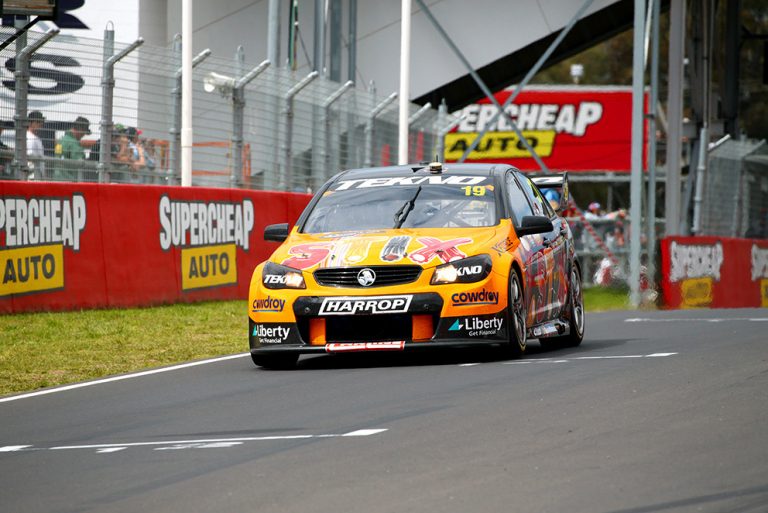 Will Davison & Jonathon Webb took the PIRTEK Enduro Cup points after their Bathurst 1000 win
Will Davison and Jonathon Webb have swept to a six point lead in the 2016 Supercars PIRTEK Enduro Cup after a dramatic Supercheap Auto Bathurst 1000.
The Darrell-Lea STIX-backed Tekno Autosport duo won the Great Race after not leading any of the 161 laps, when Jamie Whincup was handed a 15-second penalty following a late race collision with Scott McLaughlin, which also involved defending PIRTEK Enduro Cup Champion and Cup leader after Sandown, Garth Tander.

The incident put Tander and co-driver, Warren Luff out of the race, therefore leaving the Holden Racing Team duo without a Bathurst point.

Davison and Webb – who won last year's Gold Coast 600 – have taken a six point advantage over second placed Shane van Gisbergen and Alex Premat heading to the Gold Coast. Red Bull Racing Australia's 'league of nations' have recorded a second place in both PIRTEK Enduro Cup races this season.
Ironically, Bathurst 1000 third place getters Nick Percat and Cameron McConville have elevated themselves to third in the PIRTEK Enduro Cup chase – 132 points off the lead.

With 150 points per 300km race available on the Gold Coast, there are 14 combinations in with a mathematical shot of winning the PIRTEK Enduro Cup – including the HRT's Tander and Luff.

It stages for a dramatic conclusion to the fourth edition of the Virgin Australia Supercars Championship-within-a-Championship, where the teams are chasing the iconic trophy constructed from 400 parts out of the PIRTEK catalogue.

The win brings Webb to three all-time PIRTEK Enduro Cup race wins and he has elevated himself to be at the top of the winners list alongside Whincup and Dumbrell.

It is Davison's first PIRTEK Enduro Cup win, third Cup podium and second Bathurst 1000 victory.

Webb and Tekno Autosport became the first driver and team to win both the Bathurst 12 Hour and Bathurst 1000 in one season – ironically, the Gold Coaster shared a McLaren with van Gisbergen to win the February classic.

Holden continues to dominate the manufacturer statistics with 10 PIRTEK Enduro Cup race wins and with a podium lockout gives the red lion 27 podiums – well ahead of the next closest manufacturer – Ford – with nine.

On a weekend tinged with reflection for Peter Brock and Mark Porter who lost their lives 10 years ago, Will Davison dedicated his victory to the memory of Porter – after having the late Kiwi's 12-year-old son, Flynn by his side throughout the weekend in Bathurst.

The PIRTEK Enduro Cup will come to a conclusion over the weekend of October 21-23 on the streets of Surfers Paradise at the Castrol Gold Coast 600.

WILL DAVISON:
"It was a pretty amazing day, we knew the last 10 or so we knew Jamie had the penalty so in my head I knew we led the race.

"It's the biggest race of the year, Shane was always going to have a crack. The yellows were out at the Chase, so I knew that Shane couldn't have a go at me there, so I could roll out of the throttle to save fuel there.

"It is something that I've dreamed of to win this race since 2009, but to be involved in one of those amazing finishes makes it even more special.

"I had Flynn Porter with me all day today it was his first time to Bathurst and really first time to a Supercars race. He came with me on the Driver's Parade this morning and between every stint was literally at my side.

"He loved it and got really emotional this morning, I just wanted to make mention of Flynn and also Mark so we can remember him 10 years on, it really has added something else to this for me as well!"

JONATHON WEBB:

"Today is just awesome, it shows how strong our small crew of guys are, they work hard week in week out and obviously this guy beside me (Will) did a pretty good job today as well.

"It is cool to win twice at Bathurst this year, we joked about it after winning the 12 Hour hey let's just go do the 1000 now and at the time it was a bit of a joke – but we've got them now and the two trophies will look great together!

"The focus now switches to the Gold Coast and the PIRTEK Enduro Cup. Shane and I have won a few races together in that – but now we have the lead – Will and I have to focus on getting one over on him (van Gisbergen) and adding the Cup to the Peter Brock Trophy."

PIRTEK ENDURO CUP POINTS – TOP 10 (after 2 of 3 events):
1. Davison/Webb – 558 points
2. van Gisbergen/Premat – 552
3. Percat/McConville – 426
4. Coulthard/Youlden – 408
5. McLaughlin/Wall – 360
6. Pye/D'Alberto – 342
7. Mostert/Owen – 318
8. Slade/Walsh – 306
8. Caruso/Fiore – 306
10. Tander/Luff – 300