News
2019 Recap of Auckland SuperSprint
Fabian Coulthard - No. 12 Shell V-Power Racing Ford

Practice 3 – 9th (Fastest Lap: 1m02.2050s)
Qualifying – 5th (Fastest Lap: 1m01.8018s)
Race 23 – 7th (Fastest Lap: 1m02.7924s)

Scott McLaughlin - No. 17 Shell V-Power Racing Ford

Practice 3 – 4th (Fastest Lap: 1m02.0127s)
Qualifying – 6th (Fastest Lap: 1m01.8461s)
Race 23 – 5th (Fastest Lap: 1m03.0751s)

It was a solid day for the Shell V-Power Racing Team at Pukekohe Park Raceway on Saturday, with both cars in the Top 10 all day long.

Fabian Coulthard and Scott McLaughlin qualified side-by-side on the third row of the grid for the 200km Race 23, maintaining those positions off the start and across the opening period of the race.

Coulthard took to the pits on lap eight, on what should have been the fastest strategy. He took a short stop for fuel and tyres, re-joining in 22nd position. A safety car fell on lap 14 when Mark Winterbottom's Holden stopped at Turn 8 which saw the majority of the field take to pitlane.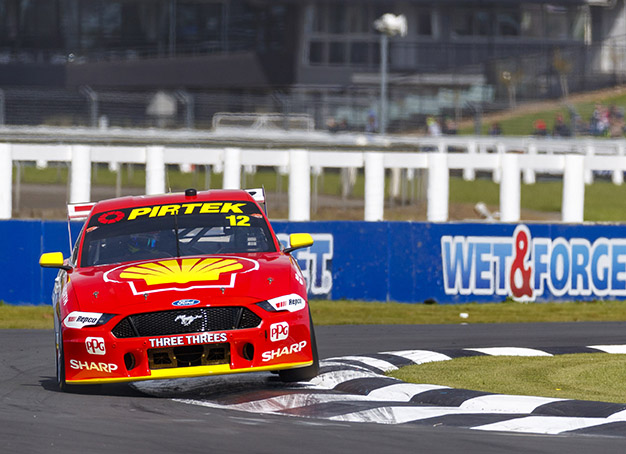 McLaughlin pitted and took on a large fuel load and fresh tyres, while Coulthard stayed on track to take the lead under the yellow flag conditions. Coulthard led the race from the restart on lap 18, until lap 24 when he slipped on oil at Turn 4 and relinquished the race lead to Jamie Whincup.

Final stops for Coulthard and McLaughlin occurred two laps apart, with the pair slotting into an effective fifth and sixth places for the run to the flag.

Coulthard began to struggle with a slow leak in his left front tyre, so had to be cautious and eventually a position to Lee Holdsworth. They crossed the finish line with McLaughlin fifth and Coulthard seventh, however they could each gain a position if second-place finisher Jamie Whincup is penalised for an in-race incident.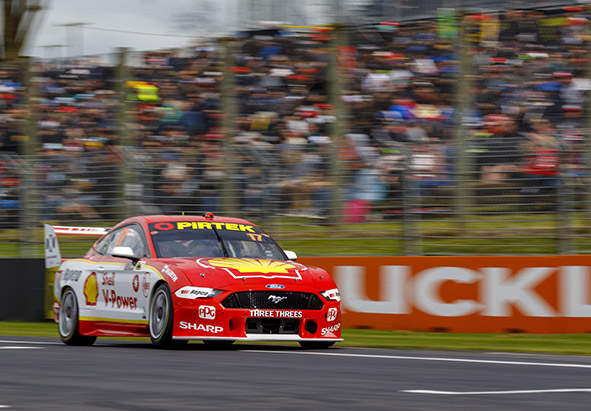 McLaughlin continues to lead the Championship by 577 points over race winner Shane Van Gisbergen, with Coulthard in third 24 points further back. Shell V-Power Racing Team continues to lead the Teams' points, with a 786-point buffer over Triple Eight.

Coulthard commented, "That safety car really didn't help us, so to salvage seventh isn't too bad. That didn't really go to plan. We pitted early to try to get some clean air and make up some track position, but the safety car meant we had to claw back around 15-seconds of fuel. The last stint my left front tyre was going down, so we had to drop off at the end there. I haven't had much luck on Saturdays at Pukekohe in recent years, so I'm just happy to finish! Overall pace isn't bad at all, so I think we'll be able to get back up there tomorrow."

McLaughlin added, "Coming from sixth was always going to be tough, and the changes to the Holdens have clearly given them something. We made some gains in the race, and I have to be happy with the result overall as it's given us some good direction for tomorrow. The safety car probably didn't fall nicely for us, but overall a reasonably smooth race. Finishing in the top five when we aren't at our best is a strong result. We'll aim to get back up the front tomorrow."

Fabian Coulthard - No. 12 Shell V-Power Racing Ford

Qualifying – 8th (Fastest Lap: 1m01.8654s)
Top 10 Shootout – 4th (Fastest Lap: 1m01.8964s)
Race 24 – 12th (Fastest Lap: 1m02.8520s)

Scott McLaughlin - No. 17 Shell V-Power Racing Ford

Qualifying – 6th (Fastest Lap: 1m01.7414s)
Top 10 Shootout – 5th (Fastest Lap: 1m01.9165s)
Race 24 – 1st (Fastest Lap: 1m02.6492s)

Scott McLaughlin has made Supercars history in New Zealand on Sunday, taking his 17th victory of 2019 to break the 23-year-old season win record set by Craig Lowndes in 1996.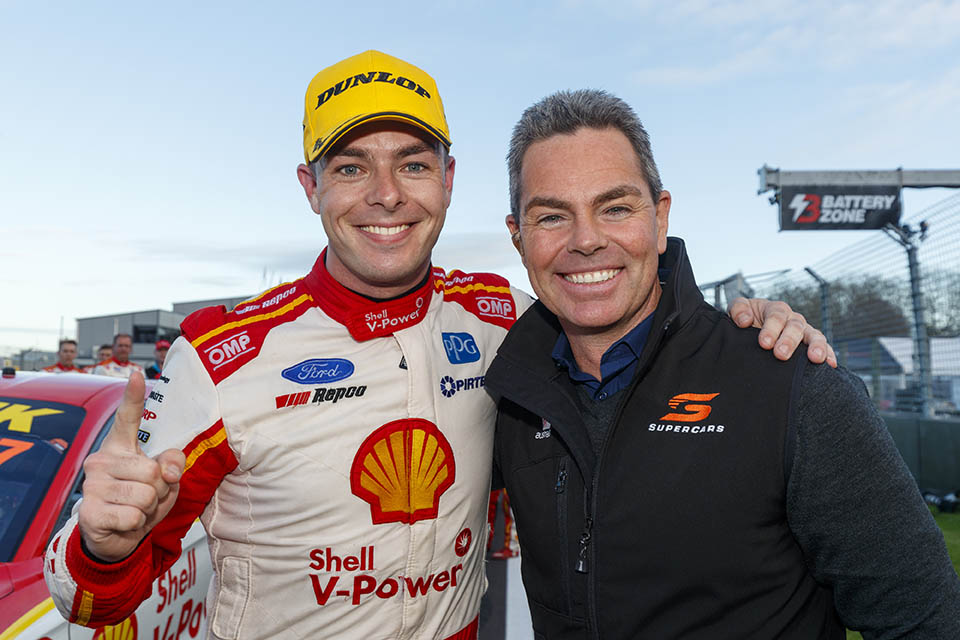 After starting fifth, McLaughlin took the win in some controversial circumstances, after a mid-race Safety Car that shook up the field and caused several front-runners to drop way down the field.

Shell V-Power Racing's Fabian Coulthard was one of those drivers affected when the Safety Car picked up Lee Holdsworth instead of then race leader McLaughlin, holding half the field at reduced pace for a lap before allowing them through to re-join the back of the train.

Coulthard started third, and was on-track for a potential podium before the issue which saw him finish the race in 12th position, despite having strong pace across the length of the 200km affair.


McLaughlin had a great battle with fellow kiwi Shane van Gisbergen for the lead of the race, holding him at bay to take the win in front of an adoring home crowd.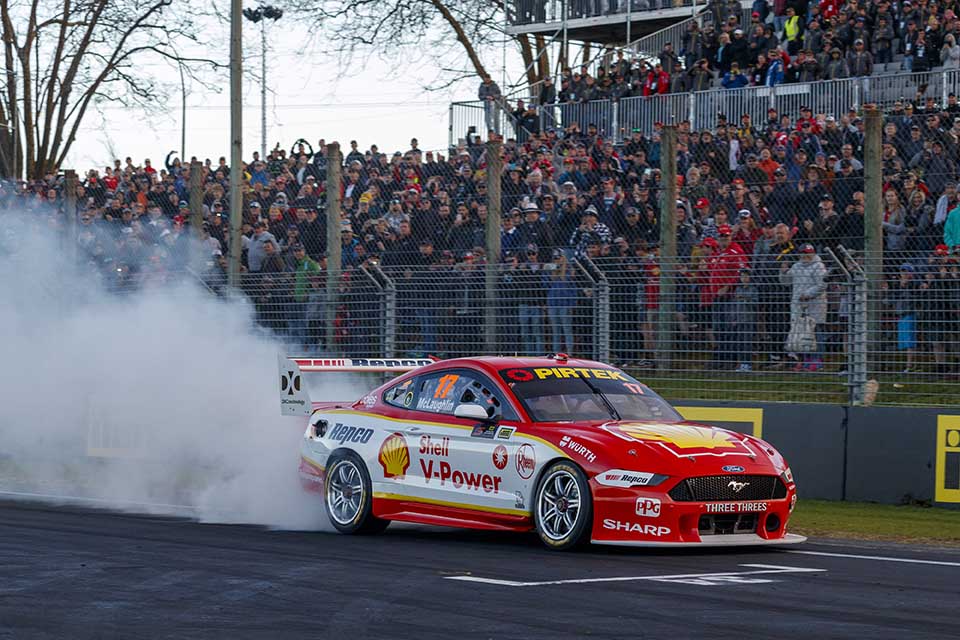 The victory saw McLaughlin break not only the Lowndes record, but also a long-held Team Penske record. The legendary Mark Donohue won 16 races for Team Penske across the 1968 season, which McLaughlin has now eclipsed to create the most-successful season for a Penske driver in the team's 52-year history.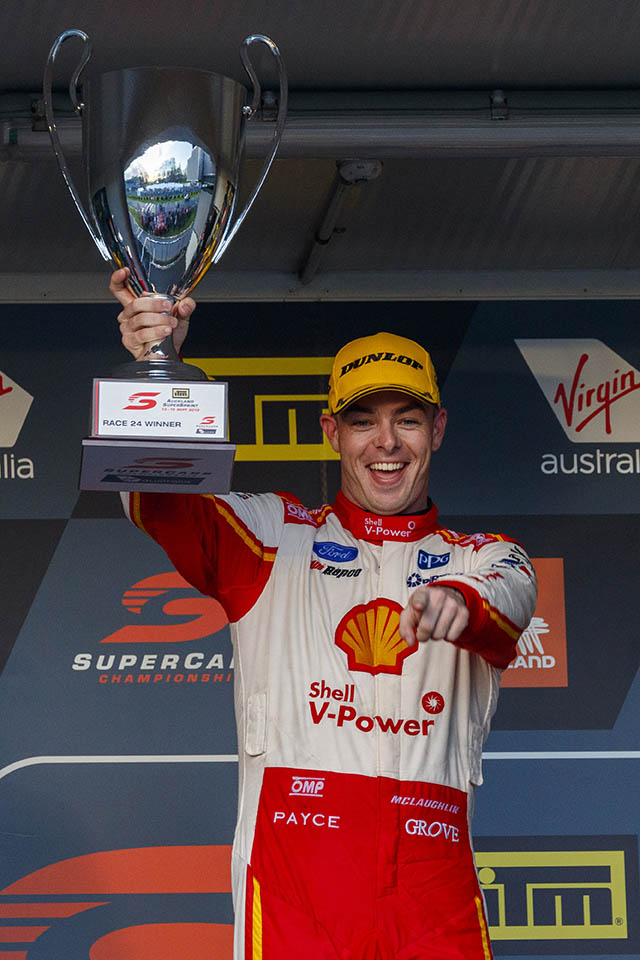 McLaughlin now leads the Championship by 598-points over Van Gisbergen, with Coulthard having dropped to fourth due to the safety car issue in today race.

Shell V-Power Racing Team continues to lead the Supercars Teams' points table, by 855 over Triple Eight.

Coulthard commented, "We got shafted a little bit by that Safety Car. I'm not sure how many times that kind of thing has to happen before we get it right. It's frustrating not just for us, but many others too. We had a good car today, and I think we could have been on the podium quite easily, but it wasn't to be. We've taken a hit today, but we know our package is good, we have a fantastic team and can now look forward to Bathurst."

McLaughlin said, "I am so stoked to get that done on home soil. We made the car so much better today, my team is just incredible and I am so fortunate to drive for them. Wow. Breaking that Lowndes record is very special, but doing it here in New Zealand makes it even more special. Thank so much to all of the amazing fans out here today, I'm so proud to have gotten it done today."