News
2019 Recap of Townsville 400
Race 17

Fabian Coulthard - No. 333 Shell V-Power Racing Ford

Practice 3 – 1st (Fastest Lap: 1m12.2862s)
Qualifying – 13th (Fastest Lap: 1m12.5761s)
Race 17 – 5th (Fastest Lap: 1m13.7250s)

Scott McLaughlin - No. 17 Shell V-Power Racing Ford

Practice 3 – 3rd (Fastest Lap: 1m12.4668s)
Qualifying – 3rd (Fastest Lap: 1m12.3015s)
Race 17 – 1st (Fastest Lap: 1m13.3699s – fastest lap)

Scott McLaughlin has won his 13th victory of the 2019 Supercars season, and his sixth win in-a-row, after a stellar performance on the Townsville Street Circuit.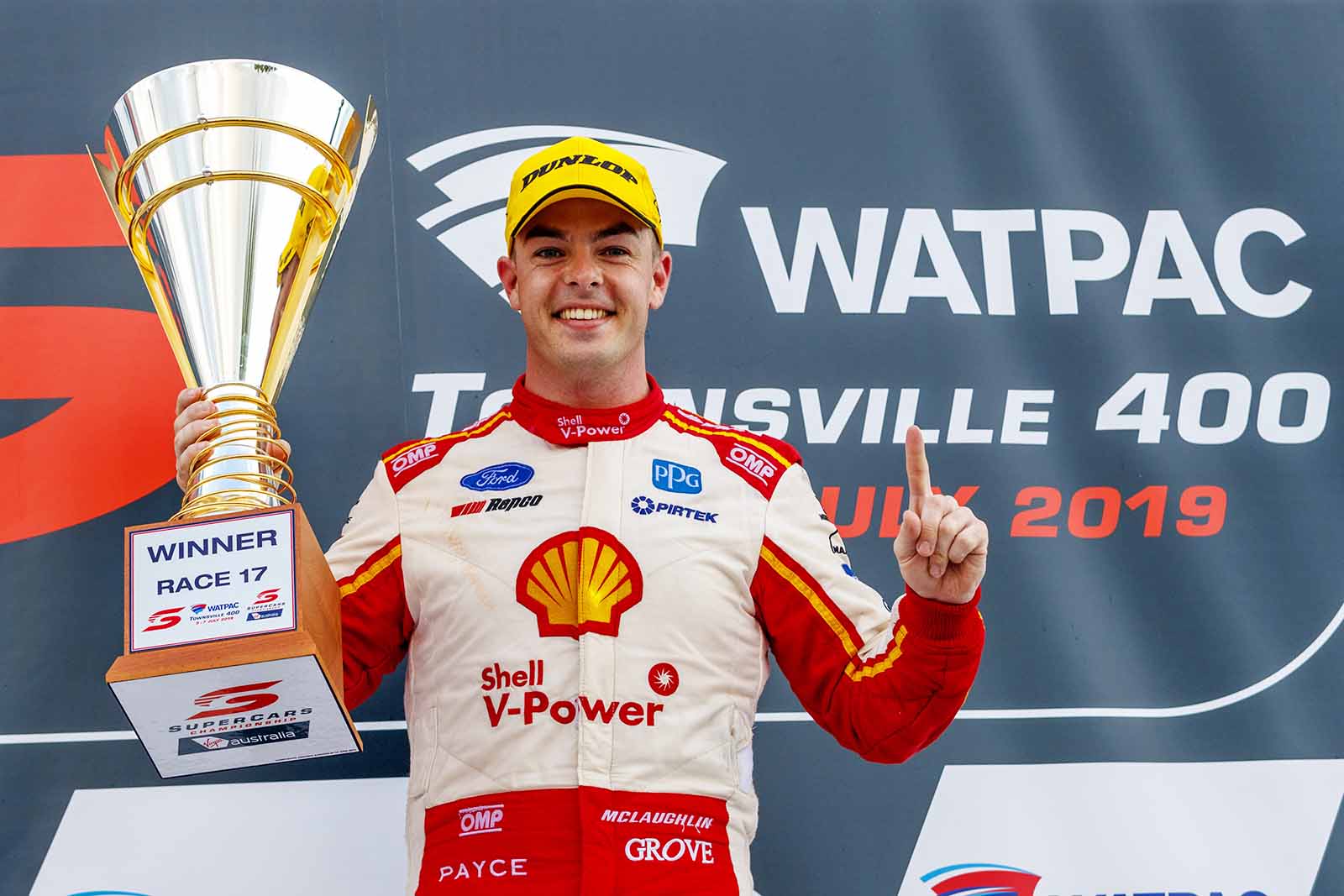 After qualifying for third, McLaughlin made a great start and used his superior pace, along with good team strategy to pass David Reynolds, Chaz Mostert and Jamie Whincup, to claim what appeared to be – after qualifying, at least – an unlikely victory.

McLaughlin shared the podium with Jamie Whincup, whose team experimented with an aggressive strategy play to bring his position up, and Chaz Mostert, who was a front row starter.

This new victory marks the continued winning streak of McLaughlin, which stretches back to the Saturday night race in Perth, and further lifts McLaughlin's lead up the points table seeing him 358 points over this teammate Fabian Coulthard. DJR Team Penske leads Triple Eight in the Teams' standings by 817.

Coulthard also had an extraordinary race day, pushing the No. 333 Mustang through the pack from 13th on the grid to finish 5th. It was a great recovery drive, and after finishing in front of Reynolds, Coulthard has a 149-point buffer over the Erebus driver seeing him at a comfortable second place on the Drivers' points table.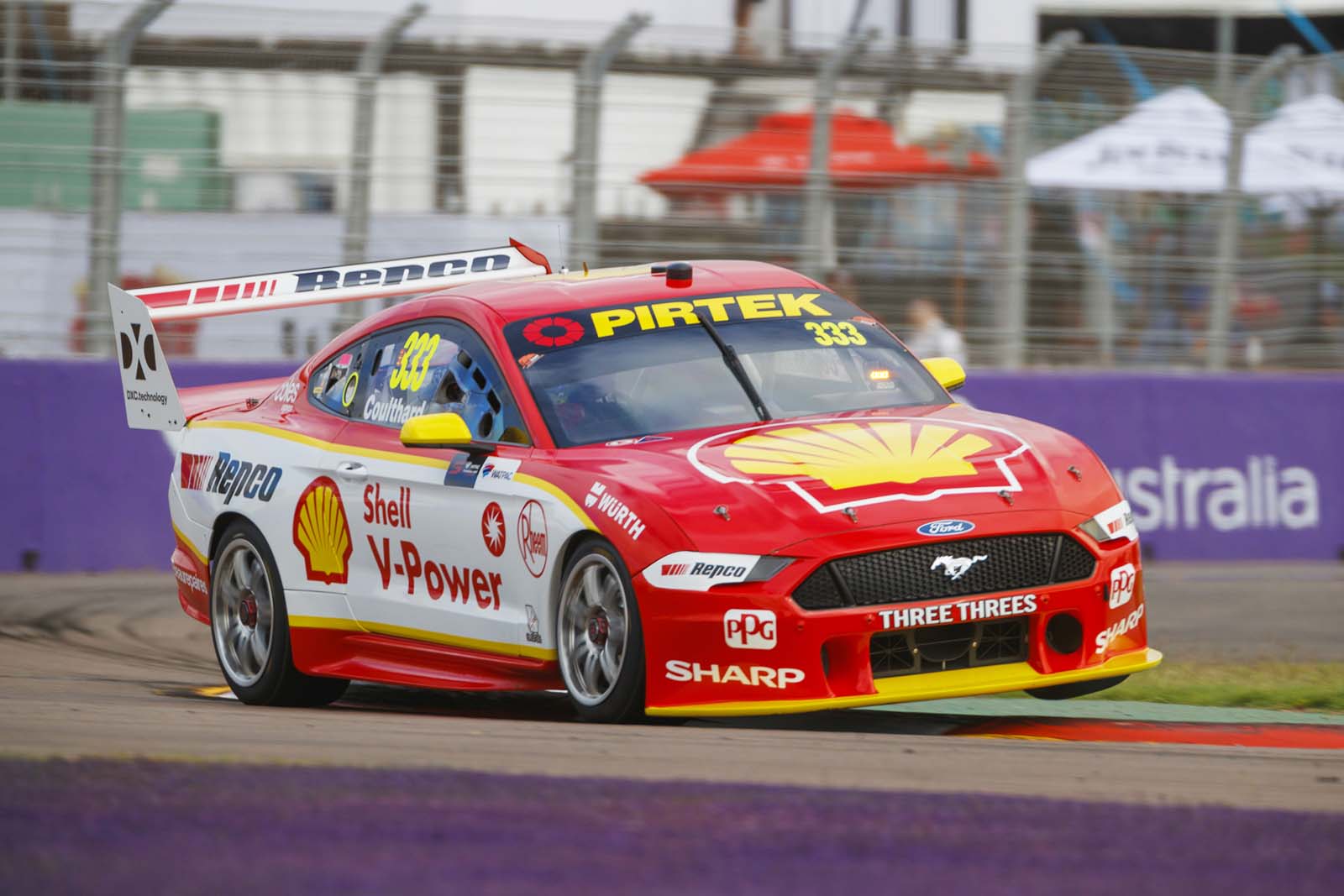 Coulthard commented, "We made it a bit tougher for ourselves qualifying in the pack, but the team gave me a really good car and executed the strategy perfectly so we could pull off some passes and end up with a Top 5 finish. We'll aim to be back up front in quali tomorrow, as we know the car is fast in race trim."

McLaughlin added, "We had some good battles in that race, especially with Chaz. That was great, lots of fun. I got an amazing start, but got boxed in and had nowhere to go. The car really switched on after around 15 laps, and I knew that we could do it. The pace just kept coming across the race, and being able to get past Whincup and then drive away was awesome. I'm so proud of this team, it's just fantastic that they keep on delivering. Hopefully we can do it again tomorrow."

Race 18

Fabian Coulthard - No. 333 Shell V-Power Racing Ford

Qualifying – 8th (Fastest Lap: 1m12.3969s)
Shootout – 5th (Fastest Lap: 1m12.8599s)
Race 18 – 2nd (Fastest Lap: 1m13.7513s)

Scott McLaughlin - No. 17 Shell V-Power Racing Ford

Qualifying – 1st (Fastest Lap: 1m12.1193s)
Shootout – 2nd (Fastest Lap: 1m12.5028s)
Race 18 – 11th (Fastest Lap: 1m13.7448s – fastest lap)

Fabian Coulthard has claimed a well-earned podium in his 400th Supercars race in Townsville, during Race 18, in one of the wildest races in recent history that featured crashes, clashes, rain and fire.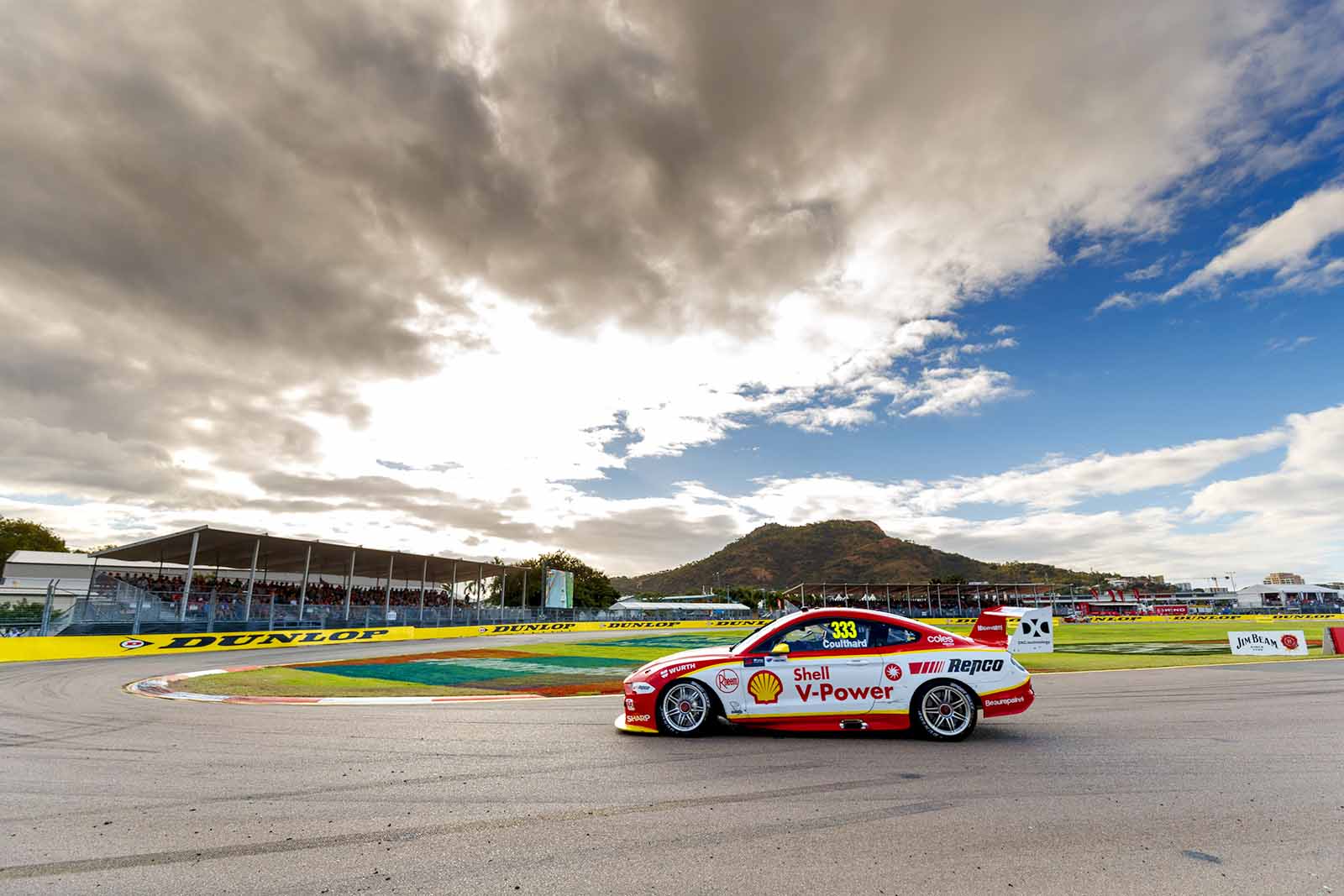 The race began in semi-wet conditions, with light drizzle falling across the Reid Park Street Circuit. This marked the first ever wet race in Townsville, and conditions only grew worse as the race carried on.

Beginning in the front row, Championship leader Scott McLaughlin was in second going into Turn 2 before he was hit in the rear by Erebus Racing's David Reynolds, knocking them both back to the rear of the pack.

McLaughlin then went back to pit with a right rear puncture, and then had to mount a recovery drive in order to get back up in rankings and minimise the damage to his 2019 Championship campaign.
In the remaining 69 laps, the rain conditions got worse to the point that wet tyres had to be called on Lap 30 and for the remainder of the race. McLaughlin drove a good recovery drive to finish 11th, a fantastic result considering his early damage and dropping a lap down. McLaughlin has a 292-point gap over Coulthard in the standings.

Coulthard began from fifth but rose to third at Turn 2, when McLaughlin and Reynolds clashed. He got himself to the lead position in the middle stint of the race after chasing down and overtaking Tickford's Cameron Waters.

When the rain started to fall, and the transition to wets occurred, Coulthard worked hard to maintain his lead position as he battled with Shane van Gisbergen and Chaz Mostert.

Another Safety Car was called very late in the race when Garry Jacobsen's Nissan caught fire on the track, and Nick Percat's Holden was set alight in pit lane due to a fuel spillage. This Safety Car period continued for a long time and the race ended up finishing under yellow flags.

Coulthard grabbed a strong second place, and remains second in the Drivers' Championship – 207 points ahead of Shane van Gisbergen. DJR Team Penske are 877 points clear of Triple Eight in the Teams' standings.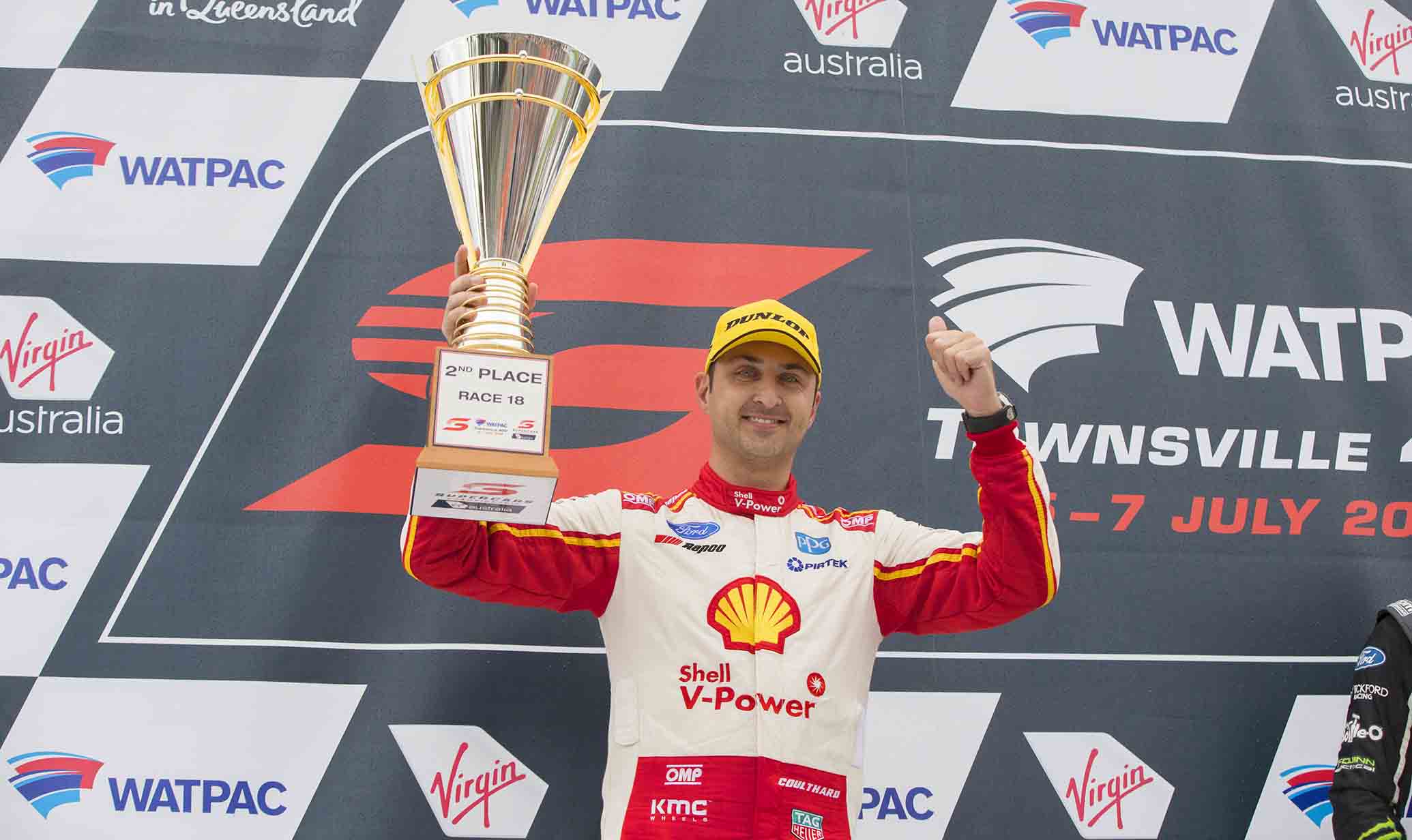 Coulthard said of the event, "It would have been great to win my 400th race, but whenever you get a podium in the category you're doing a good job so to finish second in those conditions is great. The track was changing with every lap. My car was so good in the dryer conditions, and then the rain came down. There were some wild battles with Shane and Chaz, and when you add spray to the mix it was pretty crazy. Great to finish on the podium and keep up our momentum."

McLaughlin continued, "It was full-on out there, especially on lap one. In those kinds of conditions, everyone was just managing risk in those tricky conditions, and Reynolds was the opposite, being a desperado. There was no gap there, but he stuck his nose in and not only hurt my race but ruined his own too. I finished in front of him, and built the gap so it didn't really work out for him. The team did a great job and got me fixed up and back out on track to gain a decent haul of points. You can't win them all, and we certainly rebounded very well which was great. The team got a podium with Fabs, so overall it's been a solid weekend."