News
2019 Recap of PIRTEK Perth SuperNight
Race 11

Fabian Coulthard - No. 12 Shell V-Power Racing Ford

Practice 2 – 4th (Fastest Lap: 53.3993s)
Qualifying – 2nd (Fastest Lap: 53.0264s)
Race 11 – 1st (Fastest Lap: 54.1397s – Under Old Lap Record)

Scott McLaughlin - No. 17 Shell V-Power Racing Ford

Practice 2 – 1st (Fastest Lap: 53.1252s)
Qualifying – 1st (Fastest Lap: 52.8141s – New Lap Record)
Race 11 – 2nd (Fastest Lap: 54.1761s – Under Old Lap Record)

As Scott McLaughlin took his 7th pole of the year during qualifying, with Fabian Coulthard right behind him, the DJR Team Penske pair started Race 11 in spectacular style at the PIRTEK Perth SuperNight.

From the front row, Coulthard got the better start before swiftly taking p1. McLaughlin got a slower start, dropping to p4 behind Chaz Mostert. The speed was quick from the get-go, with Coulthard setting a new lap record of 54.4202 on Lap 2, while McLaughlin took p3 from Mostert on Lap 3; quickly building a 0.5s gap.

Coulthard bettered his lap record again on Lap 4 with a 54.2341, a full 1.4s in front of Whincup in second. McLaughlin drove up closely to the back of Whincup by Lap 7, applying pressure while looking for a place to pass.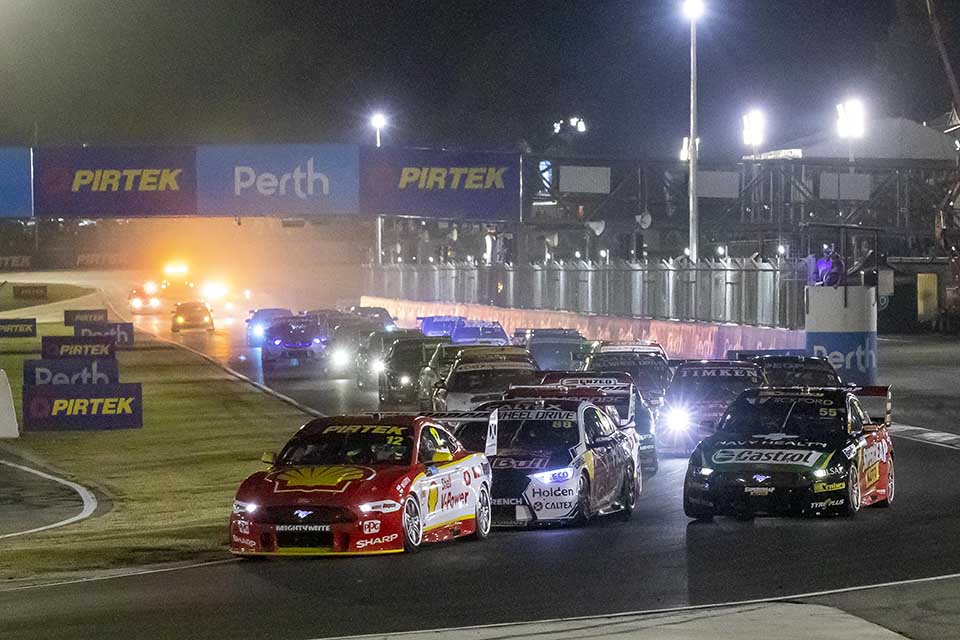 The lap record was beaten again on Lap 7, when Coulthard brought a 54.1803s time. By this time, all 25 cars had surpassed the old lap record thanks to the new track surface. By Lap 10, Coulthard was in front of Whincup by 2.1 seconds, as McLaughlin continued to apply pressure on the seven-time champion.

Coulthard's lead further extended to 2.2s by Lap 15. McLaughlin was still in third, now 0.6s behind Whincup before pitting. A solid stop for McLaughlin got him back to the track in 20th, as well as being first of those who'd stopped.

McLaughlin ran several fast laps, before setting a new lap record on Lap 17 with a 54.1761. Whincup stopped on Lap 18 from second, before Coulthard stopped on Lap 19 from first. Another great stop saw Coulthard rejoin in front of McLaughlin, with Whincup shortly behind. Whincup fought McLaughlin for a few laps, attempting to pass the latter many times before conceding and dropping back.

Lapped traffic proved to be a fair issue for the drivers as they came through the slower pack, with Coulthard picking his way through. McLaughlin maintained his defense against Whincup, before widening the gap.

By Lap 28, Coulthard was back in front leading the way, with McLaughlin following in second. The pair worked as a team to drive away from Whincup, building a 2.2s lead by Lap 38. Coulthard was 1.7s in front of McLaughlin at this stage.

As the final 5 laps came around, Coulthard's gap was out to 5.6s over Mostert in third, who passed Whincup. Coulthard 1.9s in front of McLaughlin.

Coulthard crossed the finish line 2.2s ahead of McLaughlin to take his second victory-in-a-row. McLaughlin remains the driver championship table's leader, with 112 points over Coulthard. DJR Team Penske leads the Teams' points table by 568 points over Triple Eight.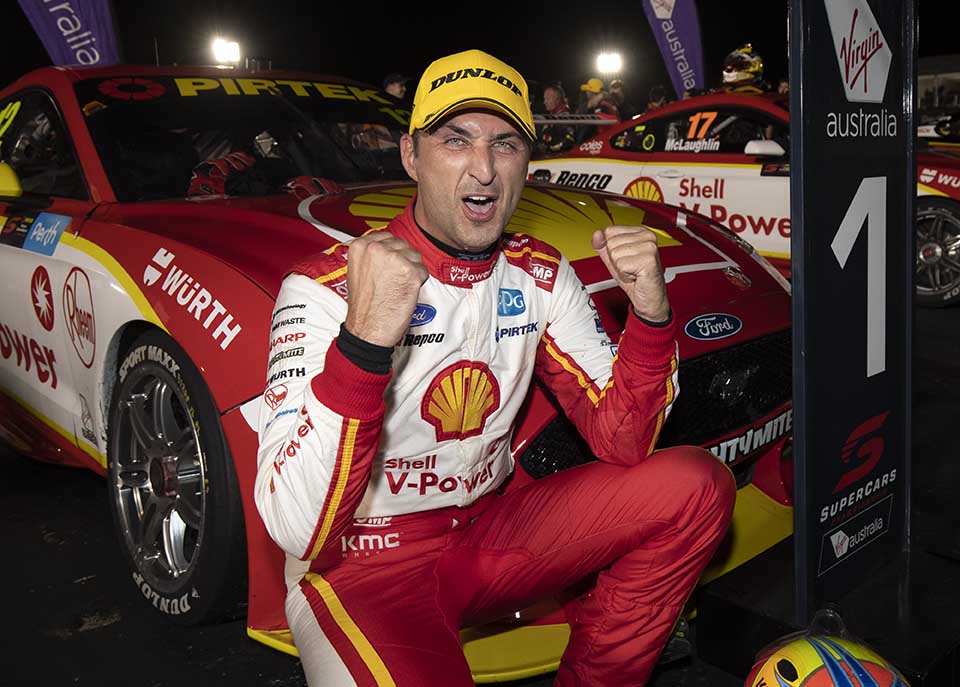 Coulthard said of the event, "It's awesome to win in the dark, all the good stuff happens after dark, so I'm pumped. Scotty and I spoke about it before the start, 'I either need a blinder to get in front of you or you need a blinder and I'll slot behind'. Thankfully it went my way, I got an awesome launch and was able to get the run into Turn 1. It's great to have a strong car and to be able to be back on the top step of the podium. Hopefully we can do it again tomorrow."

McLaughlin added, "I absolutely ballsed the start up, I need to look at it and see what's going on. But my team-mate did a great job, to get another one-two is awesome. I hope the fans enjoyed the night race, it's pretty cool from our point of view. The track was dirty, so I had a couple of moments, but it was awesome."

Race 12

Fabian Coulthard - No. 12 Shell V-Power Racing Ford

Practice 3 – 5th (Fastest Lap: 53.6480s)
Qualifying – 5th (Fastest Lap: 53.4001s)
Race 12 – 4th (Fastest Lap: 53.9557s)

Scott McLaughlin - No. 17 Shell V-Power Racing Ford

Practice 3 – 1st (Fastest Lap: 53.3841s)
Qualifying – 1st (Fastest Lap: 52.9052s)
Race 12 – 1st (Fastest Lap: 53.7958s - Fastest Lap of the Race)

McLaughlin started from pole after taking his ninth ARMOR ALL pole award earlier this afternoon. Coulthard would start the final race of the PIRTEK Perth SuperNight from fifth. Jamie Whincup got the jump off the start, leading McLaughlin into Turn 1. Fabian dropped into sixth off the start, behind Andre Heimgartner.

McLaughlin set a 54.1115s time on lap two, the fastest time to that point. He then improved that to a 54.1068s lap on lap five. By that stage he was 0.4s behind Whincup, with Coulthard still sixth, three-seconds further back.

Coulthard pitted from sixth on lap 12 for his first stop. It was a good stop saw him rejoin 19th, and first of those who'd stopped to that point. McLaughlin was 0.5s back from Whincup on lap 14, with a stop to follow.

Coulthard set about some fast laps immediately after his stop, dropping in a 53.9557s on lap 14.

McLaughlin pitted on lap 17 for his first fuel and tyres stop, which was a strong one. He pulled out in front of Coulthard in p16 and was ordered to push. He reset the fastest lap with a 53.8016s effort on lap 19 while looking for the undercut on Whincup. He did it again on the following lap with a 53.7958, less than seven-hundredths off the lap record.

Whincup pitted from the lead on lap 25, but McLaughlin's speed saw Whincup forced to drop in behind Car No.17. That made the effective order McLaughlin p1, Whincup p2 and Coulthard p3.

By lap 35 McLaughlin had a six-second lead over Whincup, with Coulthard four-seconds further back

Coulthard took his final stop on lap 47, from third on the road. It was a long stop due to fuel load, rejoining 13th and first of the second stoppers.

A Safety Car was called on lap 49 for a stranded Scott Pye at the final turn. McLaughlin pitted from the lead, and kept it through the stop, rejoining ahead of Whincup, Waters and Coulthard.

At the restart on lap 54, Coulthard battled Waters into turn one in an attempt to take back p3, but he couldn't get far enough alongside, and had to drop back into fourth.

McLaughlin pulled away from Whincup, with a 1.6s lead by lap 60. Coulthard continued to battle Waters for the final podium spot, the gap remaining under half a second. With 10 laps remaining McLaughlin was out to a 2.5s lead over Whincup, with Coulthard p4, 0.6s behind Waters.

The gap grew to 2.8s across the final laps of the race. Coulthard never got further than 0.6s behind Waters, but just didn't have enough to challenge him.

At the chequered flag McLaughlin took his eighth win of the season, making it four-in-a-row for Shell V-Power Racing Team. The win extended his Championship lead over teammate Coulthard to 142 points. The Teams' points lead is now 589 points over Triple Eight.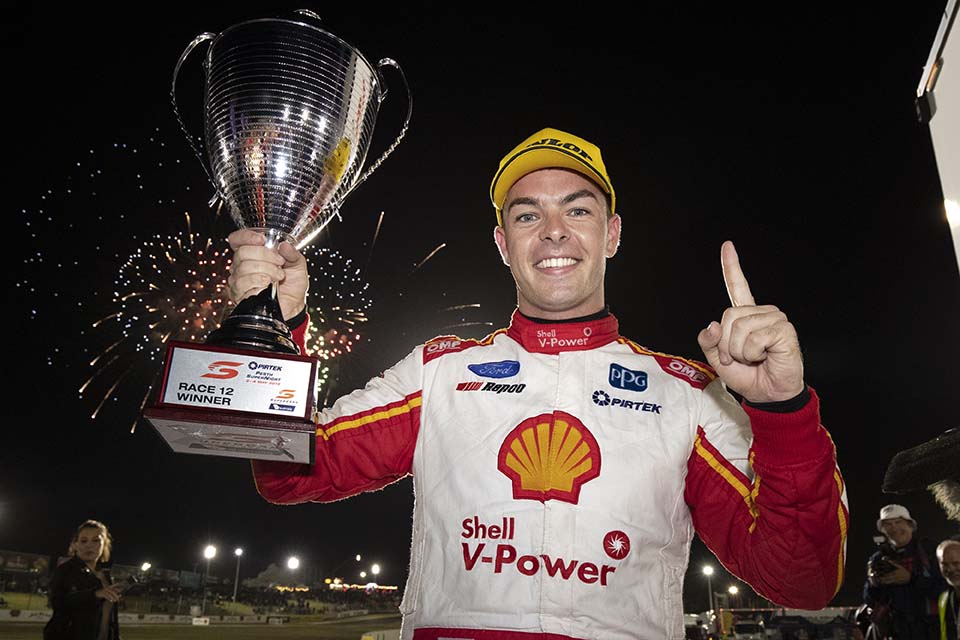 Coulthard said, "We didn't quite get it right in qualifying today, and starting a bit further back hurt our chances as track position is key around this place. Still, it was a decent race and we moved forward. The team worked hard, great stops and we're taking another big bag of points away. Another podium would have been nice, but we'll take those points. Next one is Winton, I took a win there last year so I'm looking forward to it."

Race winner Scott McLaughlin added, "I'm stoked. That was my first night win, I really enjoyed it here in Perth, it was such an awesome spectacle. Shell V-Power Racing Team gave us an awesome car, and that was the best way to respond. I made another balls-up off the start, so I've got to look at it. But we got it back and got the win. Thanks to the team, amazing work. To come out and take both poles and both wins this weekend as a team is a sensational way to respond to everything that's been going on. I'm just so proud of everyone."