News
2019 Recap of Darwin Triple Crown
Race 15

Fabian Coulthard - No. 12 Shell V-Power Racing Ford

Practice 3 – 15th (Fastest Lap: 1m06.7285s)
Qualifying – 10th (Fastest Lap: 1m06.6329s)
Race 15 – 7th (Fastest Lap: 1m07.0496s)

Scott McLaughlin - No. 17 Shell V-Power Racing Ford

Practice 3 – 1st (Fastest Lap: 1m06.1184s)
Qualifying – 1st (Fastest Lap: 1m06.0108s)
Race 15 – 1st (Fastest Lap: 1m06.7323s)

Scott McLaughlin has sustained his impressive run of 2019 form in Darwin this past weekend, winning Race 1 of the Darwin Triple Crown.

The victory marks his 11th of the 2019 season, which came after another dominant qualifying display in the morning where he claimed his 10th pole of the year and the 600th all-time pole for Team Penske.

He dedicated the victory to his race engineer Richard Harris, whose father David had passed away overnight.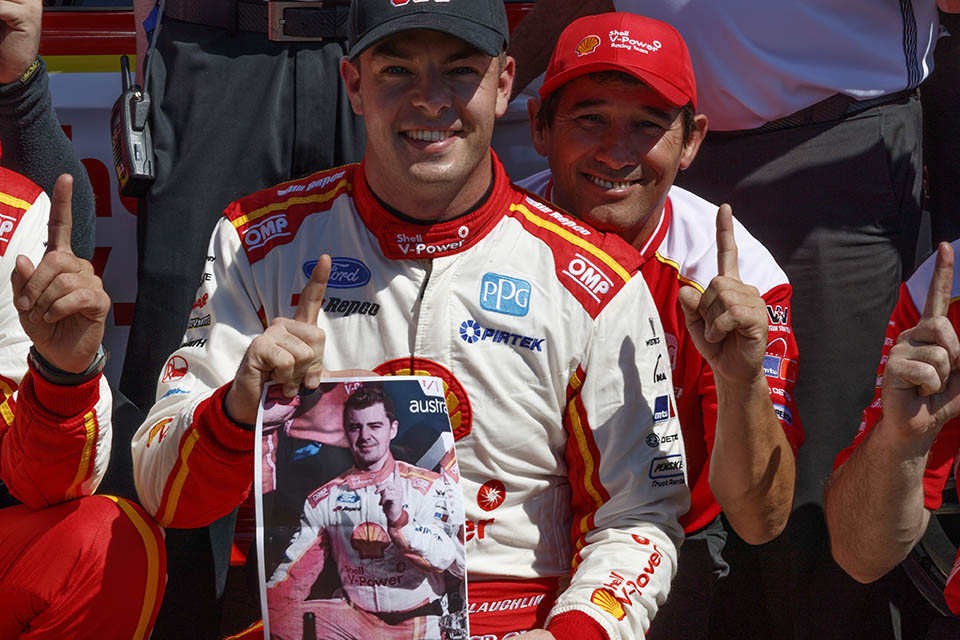 McLaughlin controlled the race from beginning to end, gaining the lead after fending off frontrunner David Reynolds, fast-starting Anton De Pasquale and fellow Mustang driver Will Davison into Turn 1.

Behind them chaos ensued, with two multi-car collisions across the opening laps with a Safety Car called on Lap 2 so the recovery team could remove Tim Slade's damaged Holden from the Turn 5 infield.

Fabian Coulthard, who started 10th after a mechanical problem in qualifying, was lucky to avoid the tussle and slid into 9th place across the opening stint, slotted-in between Jamie Whincup and Shane van Gisbergen.

After the restart, McLaughlin quickly set a strong lead and was five-seconds in front before his mandatory pit stop.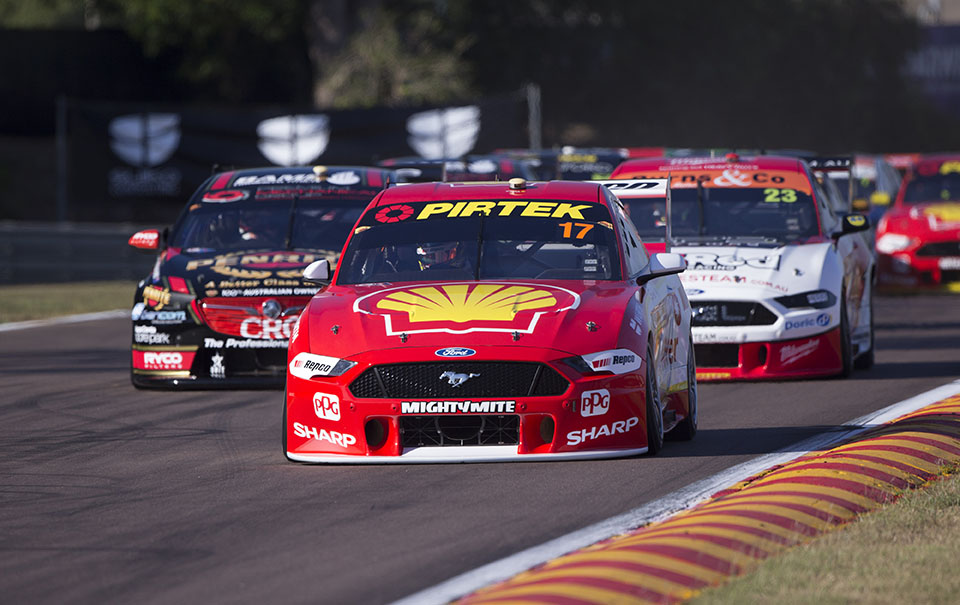 Solid work from the team in the pit stops meant that McLaughlin kept his lead, with Chaz Mostert jumping into second and David Reynolds third.

Across the closing 20 laps McLaughlin built an impressive lead, running consistently fast laps to cross the finish line seven-seconds in front of Mostert. It's the first step of three in taking the fabled Darwin Triple Crown, something that has never been achieved before.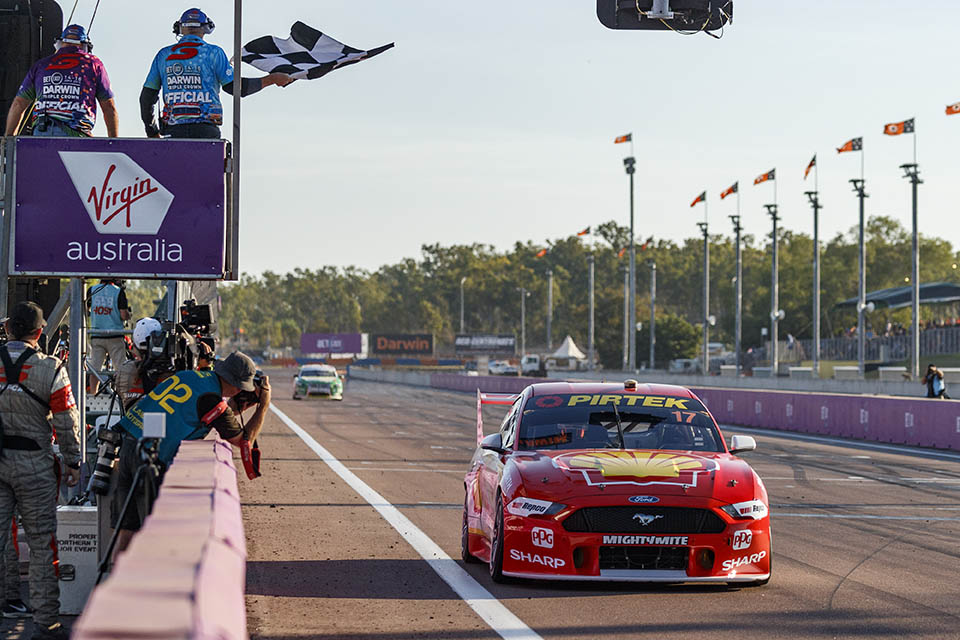 Coulthard worked hard across the 42 laps, being one of the last to pit on lap 25. He returned to the track in eighth, before passing Will Davison on the road to finish the race in seventh place for a solid top 10 result.

McLaughlin has stretched his Championship lead to 298 points over Coulthard, who is 149 ahead of Reynolds. DJR Team Penske is on top of the Teams' points table, 694 in front of Triple Eight Engineering.

Coulthard reflected, "We didn't qualify the best today, and we found out after the fact that we broke a rear pushrod which explains a lot of the issues I was having with the car balance. We were able to salvage a Top 10. That basically set up our day. When you're back in the pack it always makes things difficult. The aim was to move forward which we did, finishing P7. We've taken some good points, so we can't be too unhappy. Great day for Scott - the 600th Penske pole and another win. Great for the team. We'll have another crack at it tomorrow."

McLaughlin added, "I would love to win the Triple Crown for sure, but today I wasn't really even thinking about that. This one was for Richard, my race engineer, whose dad passed away overnight. I'm not too worried about the Triple Crown right now, just the welfare of my boys. They did an incredible job again today. It was a bit weird having Ludo back on the radio, but we all pulled together and got it done. Very cool to take the 600th pole for Penske this morning too, I'm very proud to be a part of this organization so a milestone like that is very special. Hopefully we can continue it tomorrow."

Top 10 Shootout & Race 16

Fabian Coulthard - No. 12 Shell V-Power Racing Ford

Qualifying – 9th (Fastest Lap: 1m06.1673s)
Top 10 Shootout – 2nd (Fastest Lap: 1m05.8412s)
Race 16 – 3rd (Fastest Lap: 1m07.2081s)

Scott McLaughlin - No. 17 Shell V-Power Racing Ford

Qualifying – 1st (Fastest Lap: 1m05.4737s - New Lap Record)
Top 10 Shootout – 1st (Fastest Lap: 1m05.8259s)
Race 16 – 1st (Fastest Lap: 1m07.0127s)

Race 16 loomed as the final piece of the Darwin Triple Crown puzzle for Scott McLaughlin, after snatching the pole position from teammate Fabian Coulthard in the Top 10 Shootout this morning.

That pole was his 11th for the season, and saw him equal the great Peter Brock on 57 career poles to be equal second on the all-time Supercars list. It was also his 40th pole for DJR Team Penske, which sees him sit equal fifth with four-time Indy 500 winner Rick Mears on the all-time Penske list.

With a Shell V-Power Racing Team front-row lockout, both cars needed to start well and keep it clean down the long run to Turn 1 here at Hidden Valley Raceway.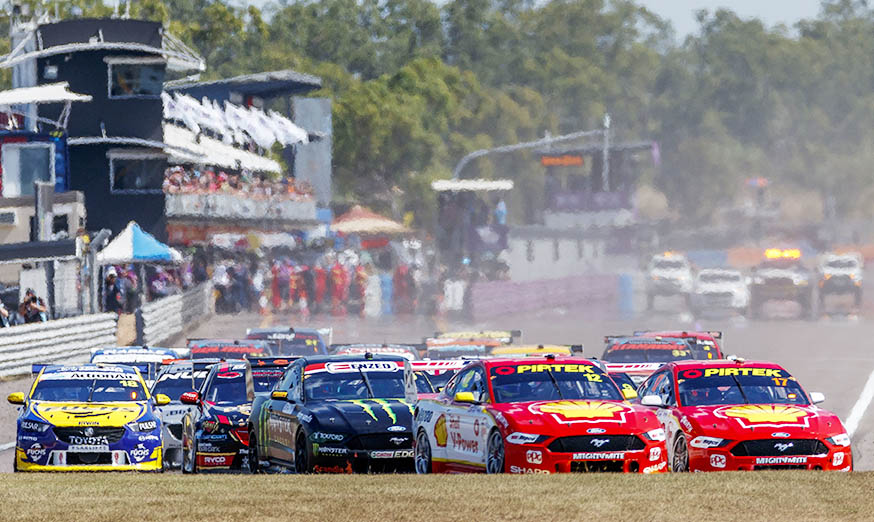 They were side-by-side though Turn 1, before McLaughlin took the lead on exit and Coulthard slipped to p3 as David Reynolds slid past.

McLaughlin worked to quickly build an impressive gap, that was over five-seconds after 10 laps. Coulthard struggled in the dirty air behind Reynolds' Holden, and stayed within half a second of him throughout the opening stint.

Coulthard took his first stop on lap 17, returning to track after good work in pit lane in effective third place. McLaughlin followed a lap later, having built a 7.5-second lead. He returned to the track as effective leader and was never headed, even maintaining the lead as he took his final stop.

Coulthard battled through the middle section of the race, making moves including an excellent pass on Anton de Pasquale at the final corner to nab third place. He pushed hard to get to Reynolds' bumper late in the race, however had to settle for the final place on the podium.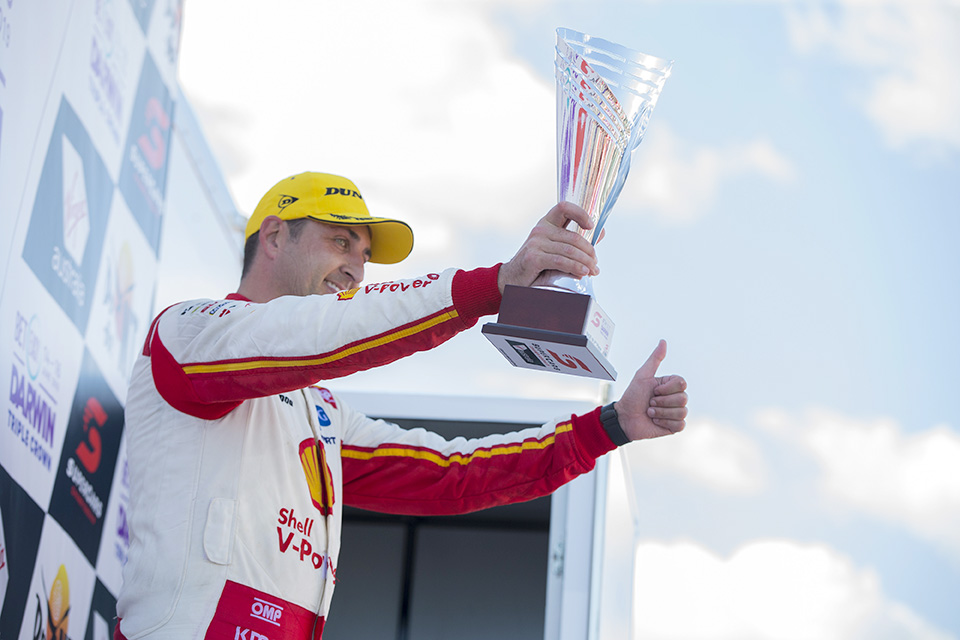 McLaughlin crossed the finish line 14-seconds in front of Reynolds to secure his 12th victory of the year and extend his Championship lead to 319-points over his teammate. Coulthard sits 140-points clear of David Reynolds in second place. The team continues to lead the Teams' points, now with an 814-point buffer over Triple Eight.

Coulthard commented, "We really turned it around today, the team put a great car under me and I was able to maximise in the Shootout to pull another front-row lockout for Shell V-Power Racing Team. In the race, we had great pace in clean air but we struggled a little bit when following, so taking third place was a good result. Congratulations to Scott and the team for taking the Triple Crown, that's a fantastic achievement and great reward for all their hard work."

McLaughlin went on to say, "That's something pretty special. I'm just buzzing after that. To do something that no one else has done is amazing, and I couldn't have done it without all the awesome guys and girls in my team. Thanks to Shell V-Power and Ford Performance for giving me an amazing car, I have a great team and they've given me such a great car. I'm living my dream right now, I love doing what I do and I'll never get tired of winning. What a feeling."