News
2021 Recap of Tasmania SuperSprint
SATURDAY 17 APRIL – PRACTICE, QUALIFYING, AND RACE 6
Anton De Pasquale - No. 11 Shell V-Power Racing Ford
Practice 1 – 9th (Fastest time: 51.0568s)
Practice 2 – 2nd (Fastest time: 50.7452s)
Qualifying – 7th (Fastest time: 50.8360s)
Race 6 – 3rd (Fastest time: 51.7079s)

Will Davison - No. 17 Shell V-Power Racing Ford
Practice 1 – 2nd (Fastest time: 50.8516s)
Practice 2 – 8th (Fastest time: 50.8943s)
Qualifying – 5th (Fastest time: 50.8360s)
Race 6 – 5th (Fastest time: 51.6010s)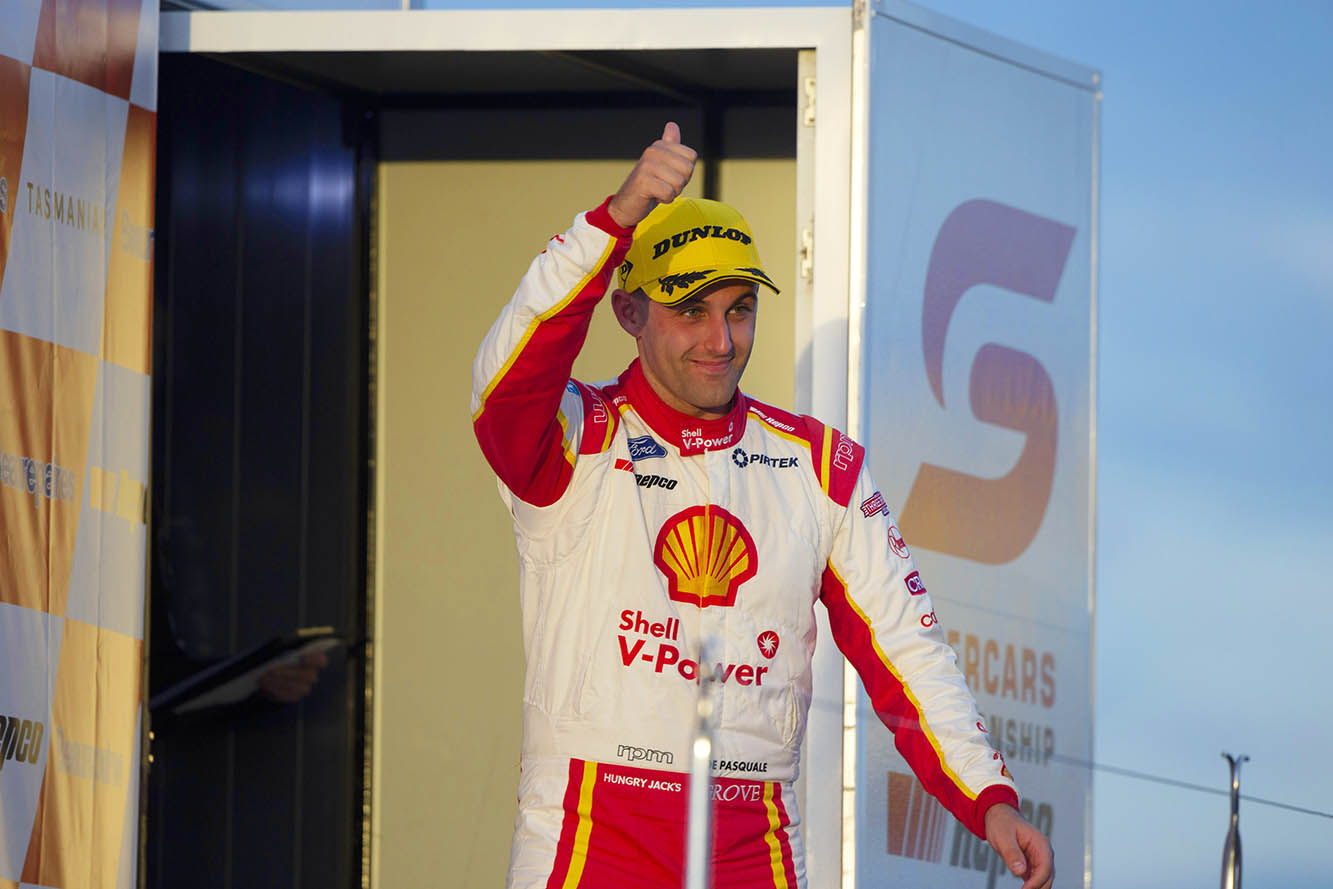 Day One Recap

In typical SuperSprint format fashion, Day One at Symmons Plains was a busy day on track for the Shell V-Power Racing Team. Two thirty minute practice sessions kicked off the event, where both Davison and De Pasquale got a feel for their Ford Mustangs straight out of the truck.

It was a positive start with Davison finishing Practice 1 second quickest and feeling positive about the cars setup. After a few setup adjustments, De Pasquale was able to convert his P9 from Practice 1 into P2 at the end of Practice 2.

Due to the short lap time of Symmons Plains, Qualifying would see the field split into two groups with the top eight from each session to progress. Davison headed out first in Group A and finished fourth quickest. In Group B, De Pasquale finished second quickest, missing top spot by just 0.03 seconds. Both drivers progressed to Part 3 of qualifying and went on to claim P5 (Davison) and P7 (De Pasquale) on the grid for the race.

Race 6

Both Davison and De Pasquale got off the line cleanly to start Race 6, with Car No. 11 advancing one spot into P6. Davison immediately applied pressure on Mostert, getting down the outside of the Commodore at turn 7, however he was on the wrong side of the road to make the move stick. Eight laps in, Davison was staying with the front pack, just two seconds off the lead. The gap from Davison to De Pasquale behind opened to one second.

Lap 12 and the crew brought Davison in for his stop. The No. 17 received two rears before heading back out to clean air. Two laps later and No. 11 was brought in for its two new rear tyres. It was a quicker stop than Davison's and as a result, De Pasquale re-joined just ahead of the No. 17.

Both Shell V-Power Mustangs showed great race pace, successfully undercutting both Waters and Mostert. With 20 laps to go, De Pasquale was effective P3 with Davison in effective P4.

On lap 28, Mostert was able to take advantage of fresher rubber and make a move on Davison at the second last corner. With 16 laps remaining, Mostert was slowly closing the gap to De Pasquale, with the margin hovering around six tenths.

Davison and De Pasquale were both able to hold their positions throughout the remainder of the race, with De Pasquale pulling away from Mostert who was applying earlier pressure. Davison closed the gap to Mostert however ran out of time to be able to get the position back. He crossed the line in P5.

De Pasquale advanced four spots in Race 6 and claimed his first podium for the Shell V-Power Racing Team, finishing in P3.

De Pasquale commented, "I had a good start to the race and made up a spot which set me up well early. Once we came out of the pits in front of Will in clean air, I figured we were in a good spot as I knew he was in podium contention before our stops. Then as the race played out, our tyre degradation was good with the increased cloud cover so I felt comfortable that I could bring it home.

We're still fresh in the team and we're getting better and better each round so it's really great to see the direction we're heading in."

Davison added, "It's been a good day. We've been competitive from the outset, rolling out of the truck strong. To qualify only a hundredth off the front row was a really positive sign and just reinforces how tight the margins are here at Symmons Plains.

All-in-all the race was pretty encouraging. Although the ultimate result was a little disappointing because we lost a little bit in the stop, our strategy and race pace was good which is promising for tomorrow."

SUNDAY 18 APRIL – QUALIFYING, RACE 7 & RACE 8

Anton De Pasquale - No. 11 Shell V-Power Racing Ford
Qualifying: Race 7 – 3rd (Fastest time: 50.8965s)
Qualifying: Race 8 – 3rd (Fastest time: 50.6701s)
Race 7 – 13th (Fastest time: 51.9394s)
Race 8 – 2nd (Fastest time: 51.7079s)

Will Davison - No. 17 Shell V-Power Racing Ford
Qualifying: Race 7 – 5th (Fastest time: 50.9066s)
Qualifying: Race 8 – 5th (Fastest time: 50.6943s)
Race 7 – 3rd (Fastest time: 52.1428s)
Race 8 – 3rd (Fastest time: 51.7079s)

Day Two Recap

The day kicked off with back-to-back qualifying sessions for Races 7 & 8. In the same fashion as Saturday, the field was split into two groups. Group A, which consisted of Davison, was the first out on track. On his second flyer, he went quickest in the first sector and crossed the line with a 50.9066s, good enough for P3.

De Pasquale was next out in Group B. He completed two warm up laps before heading back in for tyres. He also completed a two lap run with his fastest lap of 50.8965s good enough for P3. Davison's time set in Group A secured him a P5 start for Race 7.

In almost identical circumstances, both Shell V-Power Racing Team drivers qualified in the same positions for the second race of the day (De Pasquale: P3, Davison: P5).

RACE 7

It was a wild opening lap to Race 7 of the Repco Supercars Championship. De Pasquale was slow off the line and dropped three positions through the first three corners. Davison launched cleanly and held was able to hold his starting position.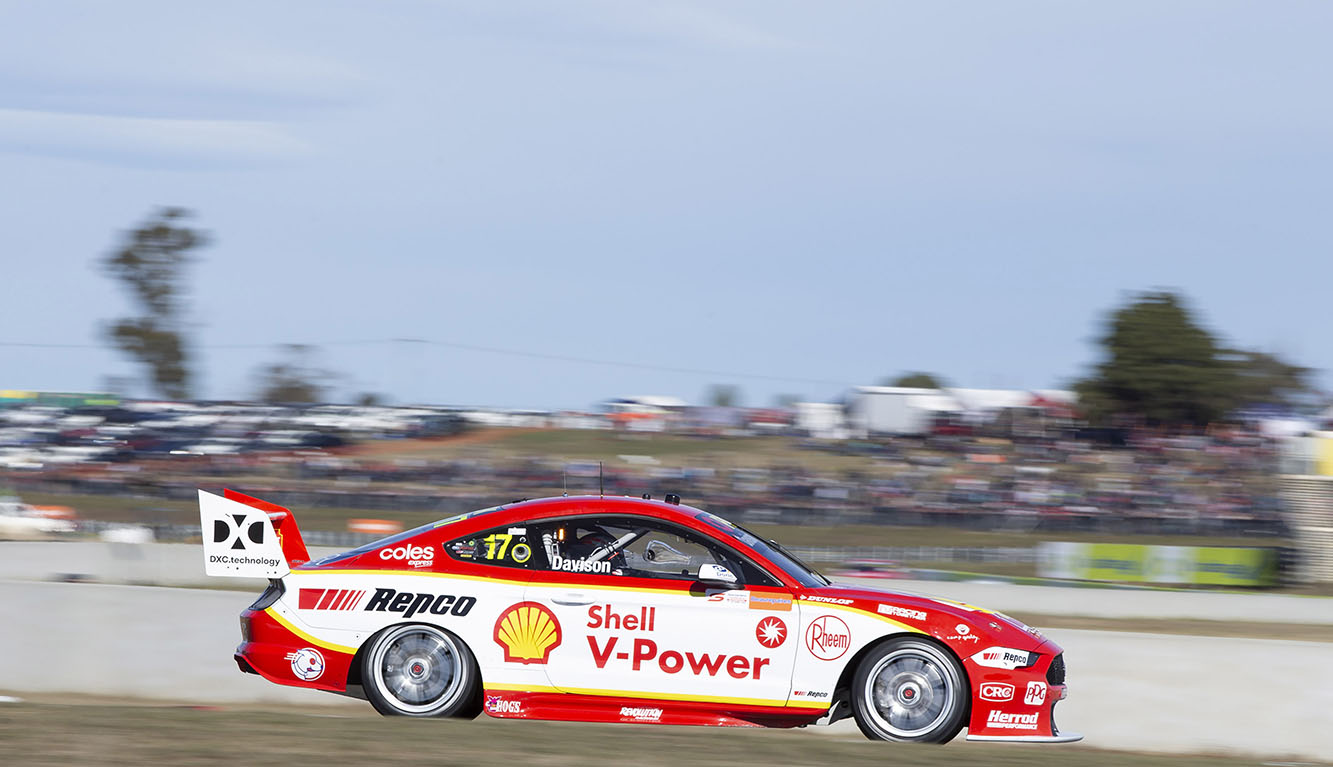 At turn four of the first lap, Tickford's Jack Le Brocq tried to get down the inside off De Pasquale, spinning him in the process. Subsequently, the No. 11 dropped to the back of the field, three seconds behind the rear car. De Pasquale got to work immediately, catching back up to the pack and started to make his way through.

On lap 14, the crew called the No. 17 in to pit lane to try and undercut Erebus's Will Brown in front. Davison made the decision to stay out for another lap as he saw Brown pit just ahead of him. It was a good decision with Davison pitting the next lap and successfully gaining the spot on pit exit.

Davison's race pace was solid through the middle of the race, closing the gap to Waters in front. Red Bull's, Shane Van Gisbergen made his was past Davison and in the process of passing Waters, Davison was also able to squeeze past at the turn four hairpin.

With 12 laps remaining, the crew brought De Pasquale into the lane for his compulsory pit stop. He pitted from the lead and returned in P16 with fresher rubber than those around. Within three laps, De Pasquale made his way through two cars and advanced to P14. On the final lap, he was able to get by Hazelwood at the second to last corner.

After dropping to P22 on the opening lap, De Pasquale drove hard and finished Race 7 in P13. Davison held his position and finished comfortably in third, claiming his second podium for the Shell V-Power Racing Team.

RACE 8

Both drivers launched well off the start line with De Pasquale holding P3 and Davison getting down the inside of Goddard at turn four to take fourth spot. Both drivers settled into their positions, holding a comfortable gap in front and behind.

With the pit sequence starting early, Davison was brought into the lane on lap nine to avoid getting undercut from behind. De Pasquale brought his No. 11 Ford Mustang into the lane the very next lap for two new rear Dunlops. It was a tight re-join with teammate Davison but the Shell V-Power Racing Team Mustangs maintained effective P3 (De Pasquale) and P4 (Davison).

On lap 29, Davison had a small off at the turn four hairpin, putting two wheels in the dirt, however he was able to recover and hold Whincup off from behind.

With six laps remaining, De Pasquale started to pressure the rear of Waters with Davison also close behind. With just two laps to spare, De Pasquale started closing in on a struggling Waters. He got a great run out of turn four and was able to get down the inside at turn five to take P2.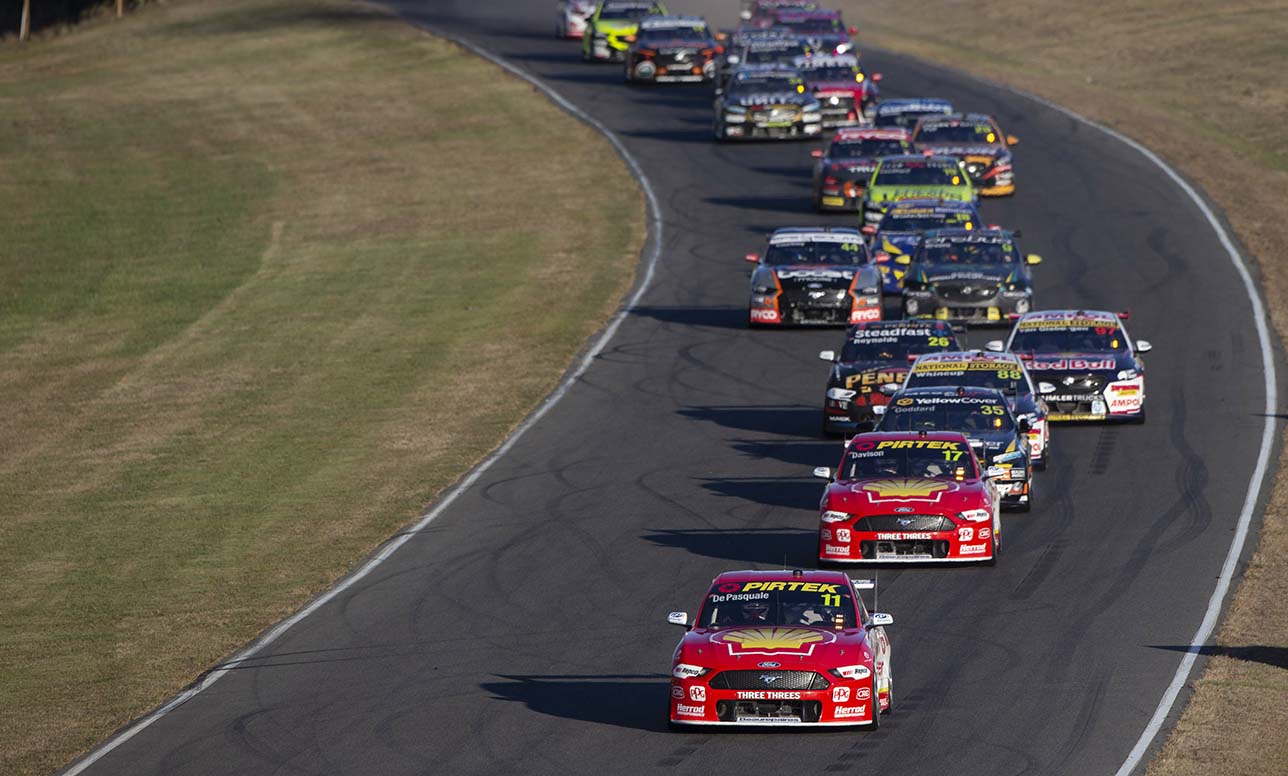 The next lap around, Davison jumped in on the action passing Waters in the same spot, securing himself the final spot on the podium. A terrific end to the weekend saw both Shell V-Power Racing Team drivers on the podium.

Davison is now 5th in the Championship. De Pasquale is now up to 8th. The Shell V-Power Racing Team now sits second in the Teams Championship, trailing the Red Bull HRT by 506 points.

De Pasquale said, "It's an awesome result for the team to have us both up there on the podium today. Our cars have definitely felt a lot better this weekend than they've felt at the first two rounds. I feel like we're well and truly finding our feet now which helps our confidence heading to tracks where the team have been successful in the past."

Davison added, "It was a really exciting race that I could see coming to life from about 15 laps to go. I was really comfortable with the balance of the car the whole last stint. Even though we pitted early, the tyres held up really well which gave me to ability to make a move on Waters late in the race."

"It was really great to be able to work together with Anton during the final stages of the race to bring home a great result for the team."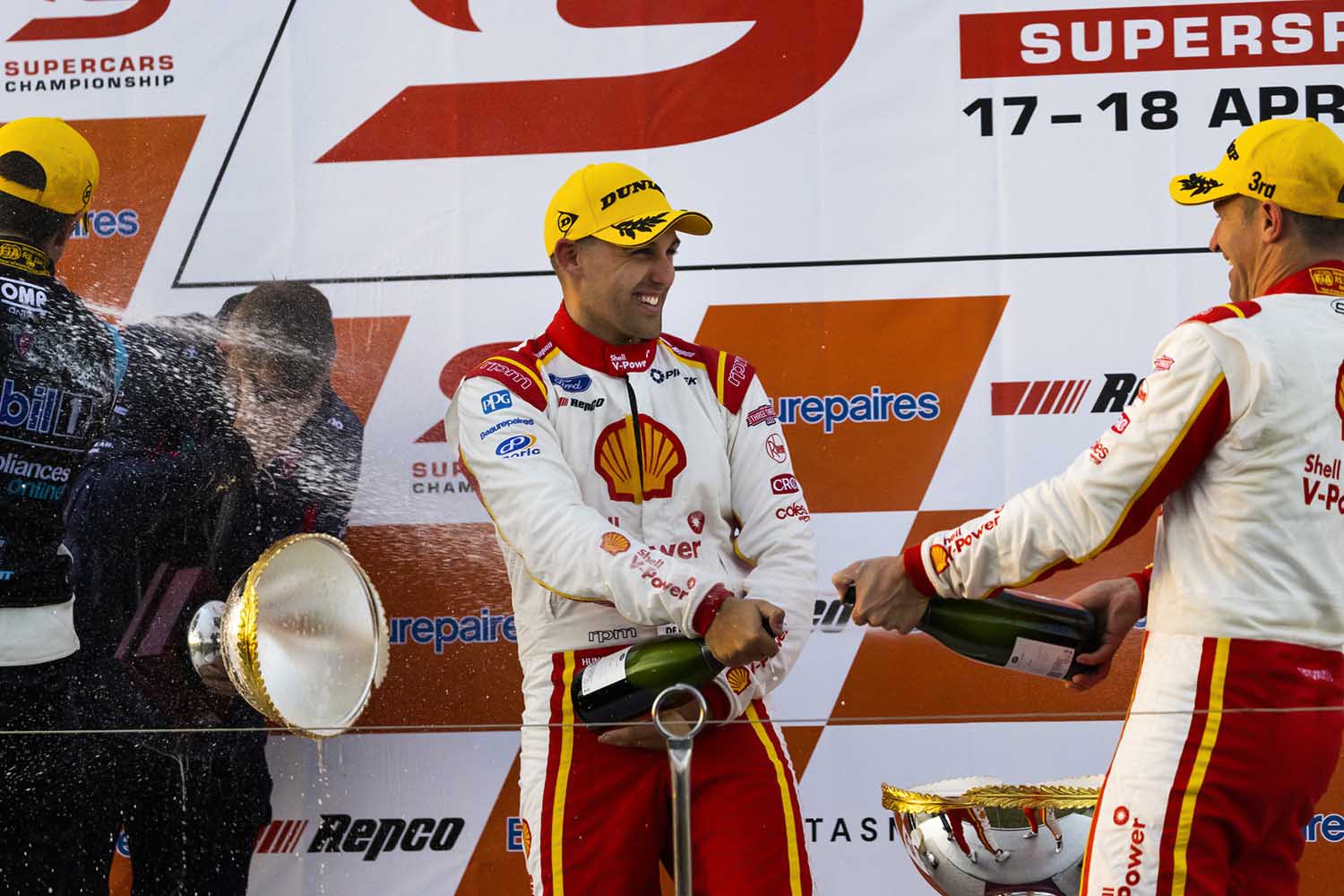 Photo credit: Speedcafe.com