News
2021 Recap of The Bend SuperSprint
SATURDAY 8 MAY – PRACTICE, QUALIFYING, AND RACE 9

Anton De Pasquale - No. 11 Shell V-Power Racing Ford
Practice 1 – 5th (Fastest time: 1:50.8267s)
Practice 2 – 25th (Fastest time: 1:51.3303s)
Qualifying: Race 9 – 4th (Fastest time: 1:50.6701s)
Race 9 – 3rd (Fastest time: 1:50.7425s)

Will Davison - No. 17 Shell V-Power Racing Ford
Practice 1 – 7th (Fastest time: 1:50.9271s)
Practice 2 – 3rd (Fastest time: 1:49.4893s)
Qualifying: Race 9 – 6th (Fastest time: 1:50.6701s)
Race 9 – 8th (Fastest time: 1:50.9899s)

Day One Practice and Qualifying Recap

Following a competitive weekend in Tasmania two weeks ago, the Shell V-Power Racing Team headed to Tailem Bend in Adelaide with good momentum.

The day started cool and clear, however light rain coated the track an hour before Practice 1. With the track still damp from the earlier rain, The Shell V-Power Racing Team rolled out on wet Dunlop tyres to start the session.

A red flag with just over six minutes remaining sent both Mustangs back to the garage to wait it out. On the restart, the entire field followed Davison and De Pasquale out for three more fast laps. Both drivers improved on each lap as the track continued to dry. Davison finish the session in P7, with De Pasquale in P5.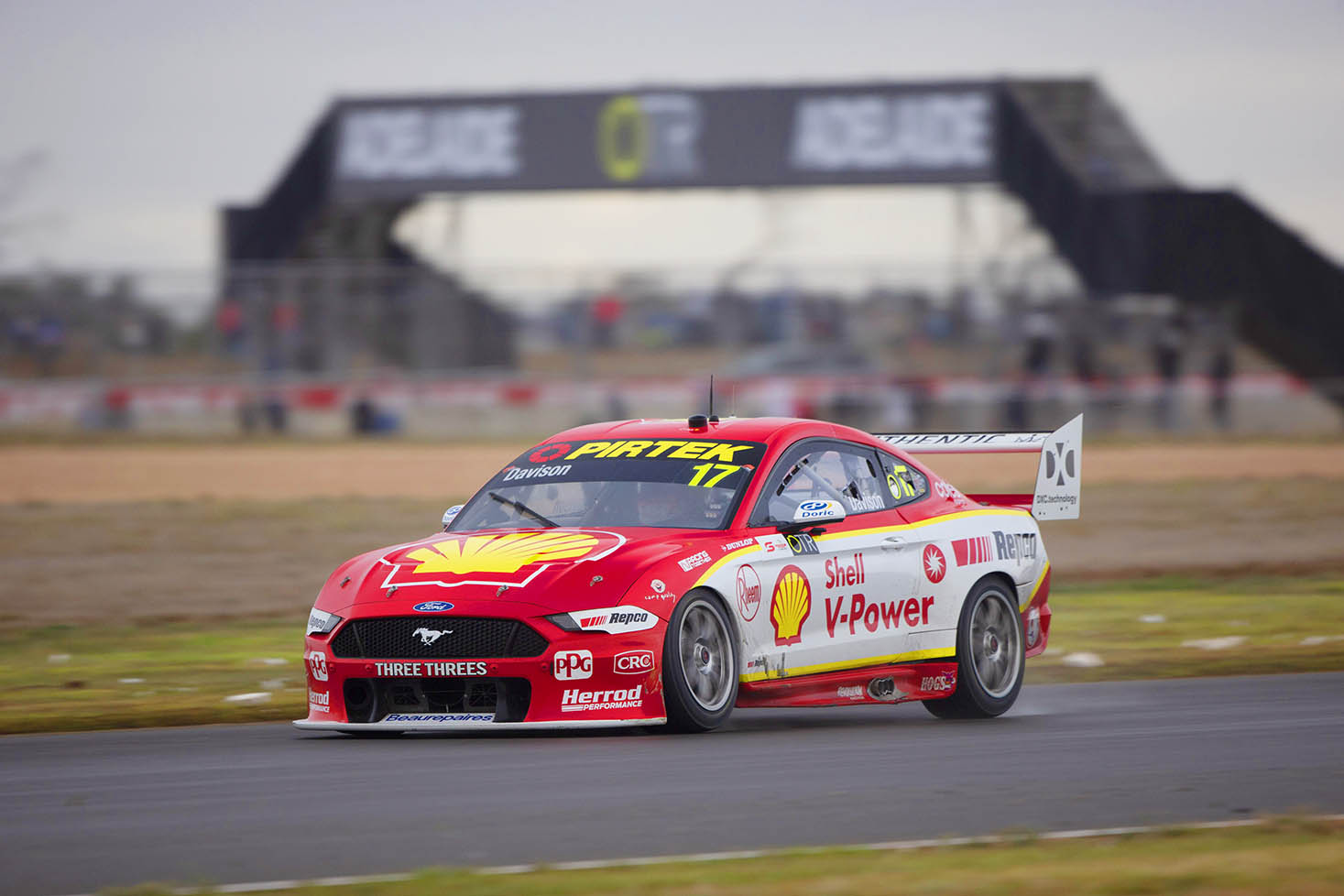 After a short break and another stint of rain, we rolled out for Practice 2 on a wet track. Once again, both Shell V-Power Racing Team Mustangs started the session on the Dunlop wet compound tyres. Both drivers were unhappy with track conditions and their wet tyres so after 10 minutes the crew brought both Mustangs in for slicks.

As both cars stopped for another set of green tyres, light rain started to fall again. De Pasquale was on a quick lap before making a small mistake through the second sector. He had time to reset and go for one final lap.

Davison also made an error on his first lap went again. On his second lap around he improved to P2, before getting bumped to P3. In greasy conditions, De Pasquale wasn't able to stitch his last lap together and finished the session in P25, not indicative of his true pace.

Both drivers rolled out for Part One of qualifying to rainy conditions. The Top 20 from this session would advance to Part Two. All cars struggled with grip around a drenched track. Both Shell V-Power Racing Team Mustangs completed four laps before the end of the session. Finishing the session in P3 (De Pasquale) and P6 (Davison), both drivers progressed to Part Two.

The Top 10 from Part Two would progress to the final 10 minute session. It was a close call for De Pasquale who needed to come back into the lane before he had completed a lap to have the fog cleared from his windscreen. He managed to get back out and complete one lap, which was good enough for P8. Davison finished the session fifth quickest with both drivers advancing into Part Three.

Once again, both Davison and De Pasquale went out to complete a four lap run. Davison completed his fastest lap of the session on his second lap, good enough for a P6 finish. De Pasquale left his quickest for last, jumping up four spots into P4.

Race 9

After periodic rain throughout the day, Race 9 was set to start on a wet track with all of the field starting on the Dunlop wet compound. Starting from P4, De Pasquale got a great start in wet conditions, moving up into the lead momentarily before going wide on cold tyres into turn six. He dropped off the track but was able to re-join in P6.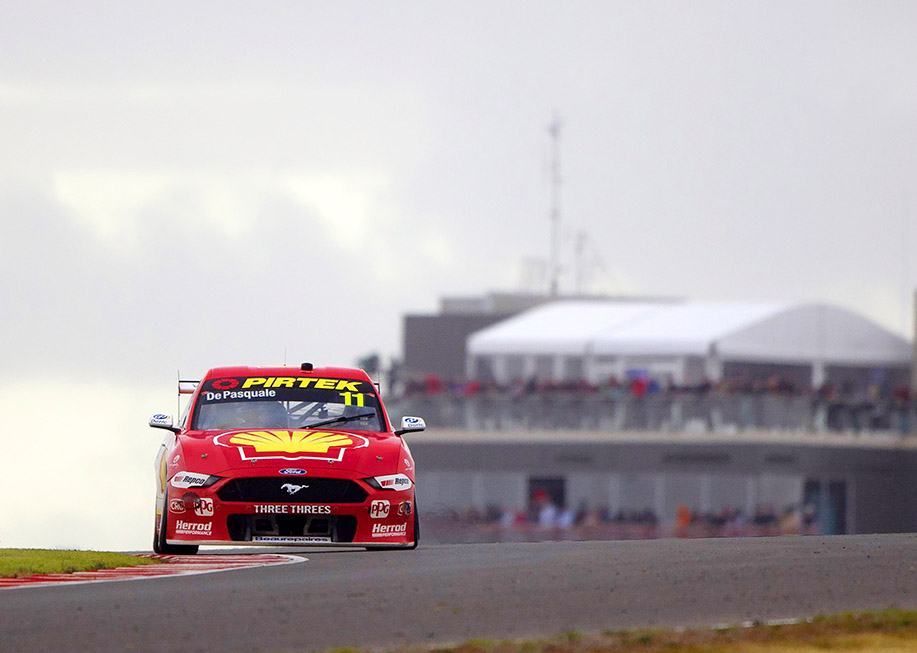 Davison also got off the line well, advancing two spots however the No. 17 Mustang fell down the order quickly, struggling with low grip. As soon as the pit window opened on lap six, the crew brought Davison in for his pit stop to get off the wets and onto four soft tyres. The next lap around, teammate De Pasquale also came in for his four soft tyres.

After two strong pit stops and issues for cars ahead, both Shell V-Power Racing Team Mustangs were in good positions following their stops. With the track slowly drying, lap times kept increasing. De Pasquale showed great race however Davison was still struggling with grip in his No. 17 Mustang.

On lap 17, James Courtney made contact with Davison sending him back two spots.

Nick Percat pitted from the lead on lap 20 and returned just in front of the No. 11. On warm tyres, De Pasquale was able to get by him through turn three and hang onto P3. As Percat's fresher tyres warmed up, De Pasquale was able to withstand the pressure and finish in P3, claiming another podium for the team.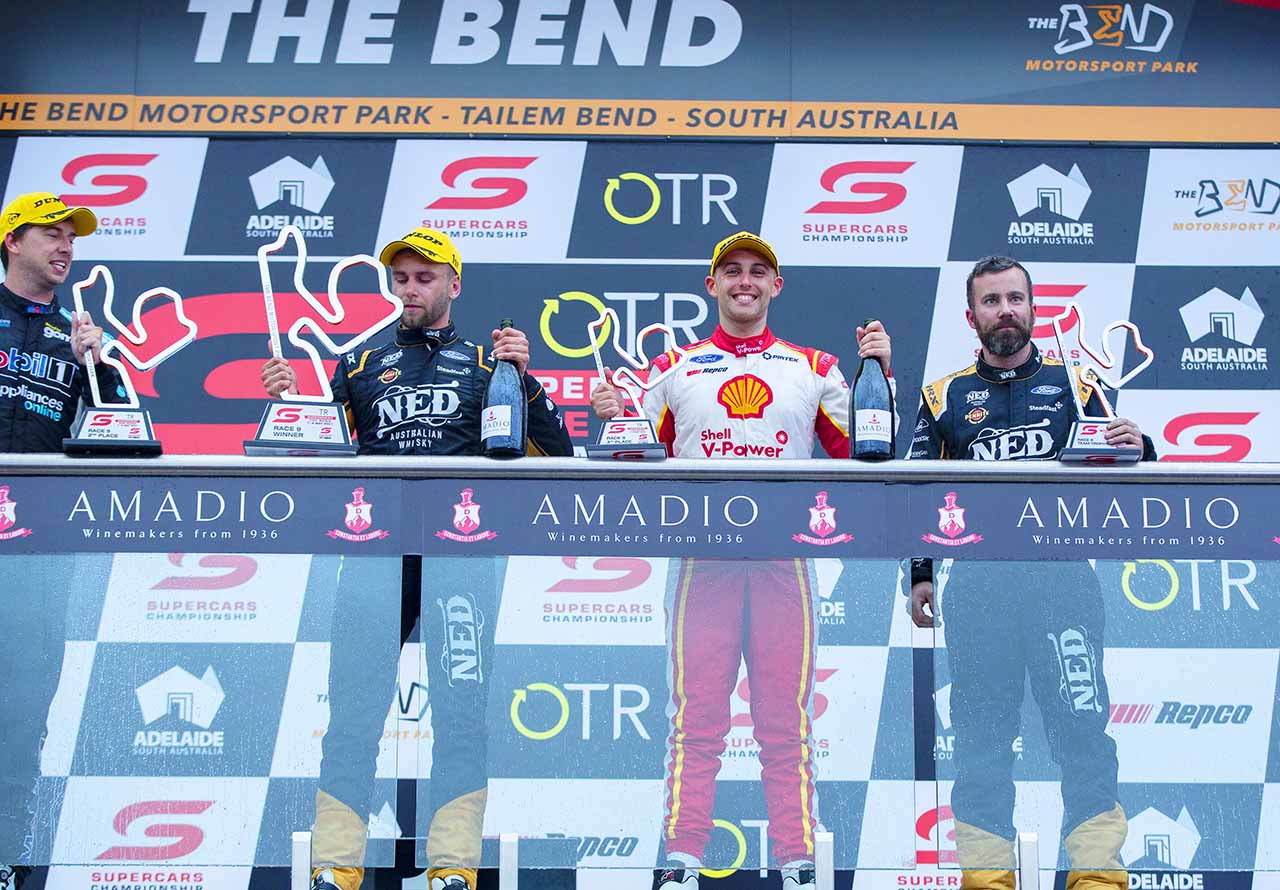 Davison battled with his No. 17 Mustang all race, struggling with grip on both the wet and soft tyres. He finished up Race 9 in P8.

De Pasquale said, "the main theme of today was the mixed weather conditions, which always throws curveballs. Off the back of a wet Sandown SuperSprint, my car were much better in the wet. A lot more comfortable.

We qualified up the front which is where we needed to be considering the conditions. My car was a jet for the first half of lap one, got to the lead but then I locked the fronts into turn six which was a little unnecessary. So a little annoyed I threw that away however we were able to claw a bit back and finish on the podium, so I'm quite happy with that."

Davison added, "conditions were really tough today which made me have to work really hard in the race. Ultimately we got away with some good points off the back of a tough race. I got a good start but then struggled in the wet conditions and was treated like a bit of a ping pong ball getting hit from pillar to post there for a bit there.

It was just one of those races where we lacked some pace and balance with the car which put us in defence mode. Was good to bring it home and get the points but the focus is now is on tomorrow and making the car a little nicer for me."

SUNDAY 9 MAY – QUALIFYING, RACE 10 & RACE 11

Anton De Pasquale - No. 11 Shell V-Power Racing Ford
Qualifying – Race 10: 1st (Fastest Lap: 1m48.6765s)
Qualifying – Race 11: 1st (Fastest Lap: 1m48.1859s)
Race 10 – 1st (Fastest time: 1:50.5928s)
Race 11 – DNF (Fastest time: 1:51.6088s)

Will Davison - No. 17 Shell V-Power Racing Ford
Qualifying – Race 10: 2nd (Fastest Lap: 1m48.8677s)
Qualifying – Race 11: 5th (Fastest Lap: 1m48.6044s)
Race 10 – 2nd (Fastest time: 1:50.6735s)
Race 11 – 3rd (Fastest time: 1:50.7425s)

Day Two Qualifying Recap

A big improvement in weather overnight meant we would roll out for our first dry session of the weekend. Coming off the back of a podium for De Pasquale in Race 9, the team was looking to continue momentum into day two at The Bend.

We rolled out for the first of two 10 minute sessions to clear skies and a dry track. Working on the same strategy, Davison and De Pasquale completed one fast lap before returning to the lane for another set of tyres.

De Pasquale put in a solid lap, going P1 by three tenths. Davison didn't quite get his lap together how he wanted and was P7. One more set of green tyres fitted and both drivers had time for one more flyer. De Pasquale went quickest and claimed his first career pole! Davison also went quick, just two tenths away from his teammate, finishing off a 1-2 finish for the Shell V-Power Racing Team.

After a quick break, Davison headed out at the start of the following session which would determine the grid for Race 11. Confident with pace, De Pasquale sat in pit lane and waited for a clear track to complete one flying lap.

Davison was forced to pit before setting a time, reporting that he was having an issue with his gear lever. The crew was able to fix it enough so Davison could head back out and complete a timed lap.

De Pasquale headed out with five minutes remaining for one effort. It was another great lap which sent him straight to the top. Davison bounced back well after the earlier gear lever issue. He put in a solid lap in traffic and ended up with the fifth quickest time.

De Pasquale's time remained the quickest giving him his second pole position from two sessions.

Race 10

Following a terrific qualifying session from the team, the Shell V-Power Racing Team occupied the first row of the grid for the start of Race 10. Davison and De Pasquale got great starts, drag racing each other into turn 1. They were side by side through turn two but De Pasquale held the front position with Davison slotting in behind.

Chaos ensued with championship contenders Chaz Mostert and Cameron Waters coming together behind the two Shell V-Power Racing Mustangs. Dealing with low tyre pressures, Davison locked up into turn one on the third lap but was able to recover and hold his position. Teammate, De Pasquale did the same on the next lap around, left the track, but also managed to hang onto his spot.

De Pasquale was brought in for his pit stop on lap seven for two tyres down the left side. He returned back in front of James Courtney who pitted the lap previous from P4. Davison utilised the fresh air and stayed out for another three laps before coming in on lap 11 for his stop. He returned in effective P3 but used his tyre advantage to get past James Courtney and back behind his teammate.

With eight laps remaining, Triple Eight's Shane Van Gisbergen returned from his pit stop behind Davison with much fresher tyres. Three laps later, Van Gisbergen was within a second of Davison, pressuring hard for P2. With two laps remaining, Davison was under serious pressure but was holding on. He did a great job keeping the Commodore behind him, finishing the race in P2.


De Pasquale drove a solid race, leading from start to finish, claiming his first win with the team and the teams first win of 2021. The win is also No. 400 for Ford in Supercars – an incredible result!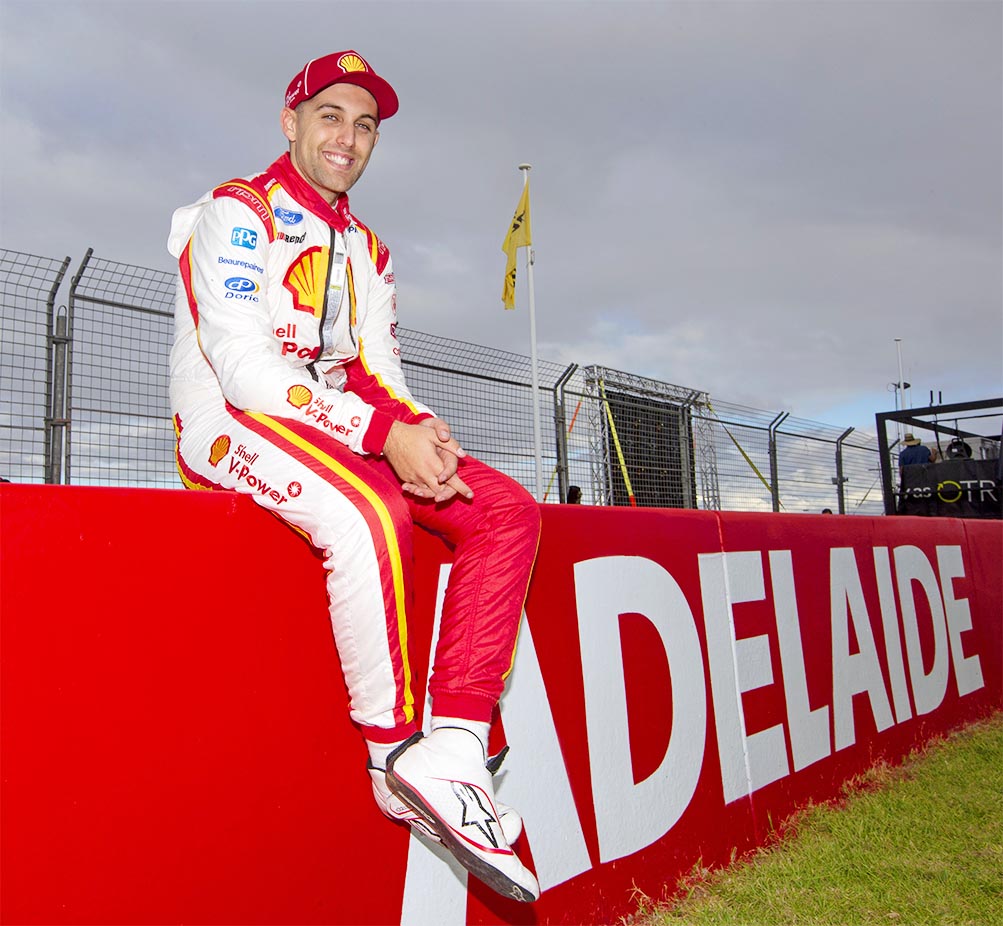 Race 11

With a tight turnaround between races, the crew worked hard to get both cars ready to line up for Race 11.

Once again, De Pasquale started from P1 with Davison starting on the third row in P6. De Pasquale continued his run of good starts, launching off the line well and holding the lead through the opening lap.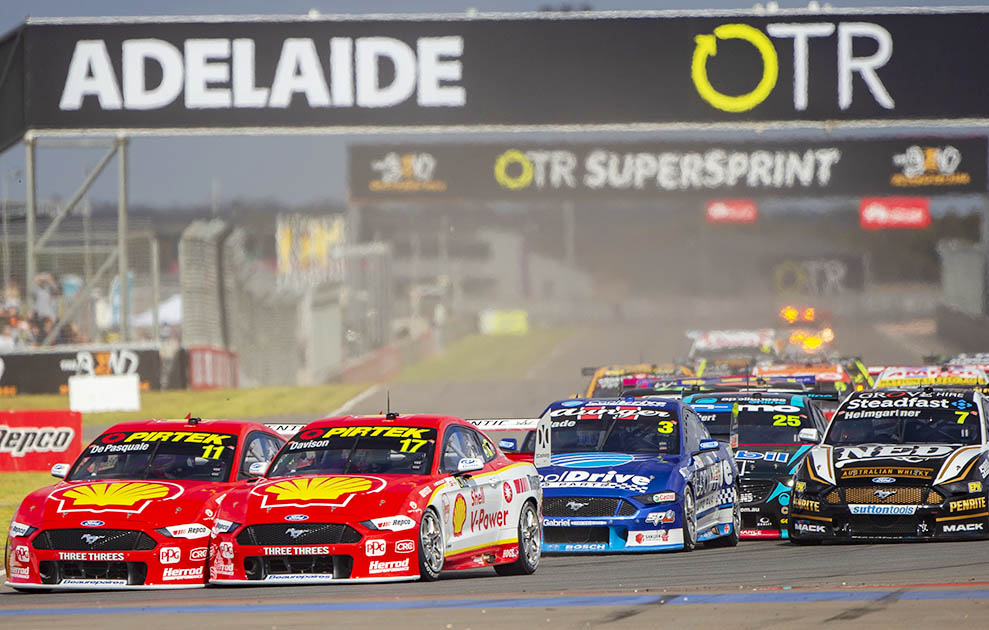 Starting a couple of rows back, Davison dropped two spots off the start before making them back immediately with a move down the inside at turn six.

Disaster struck on just the second lap with De Pasquale reporting an engine issue. He was brought into the garage and shortly after, his day was done.

Meanwhile, Davison brought his Shell V-Power Racing Team Mustang into pit lane on lap eight to attempt an undercut on Jamie Whincup. Two laps later, Whincup returned from his stop behind the No. 17 – a successful undercut.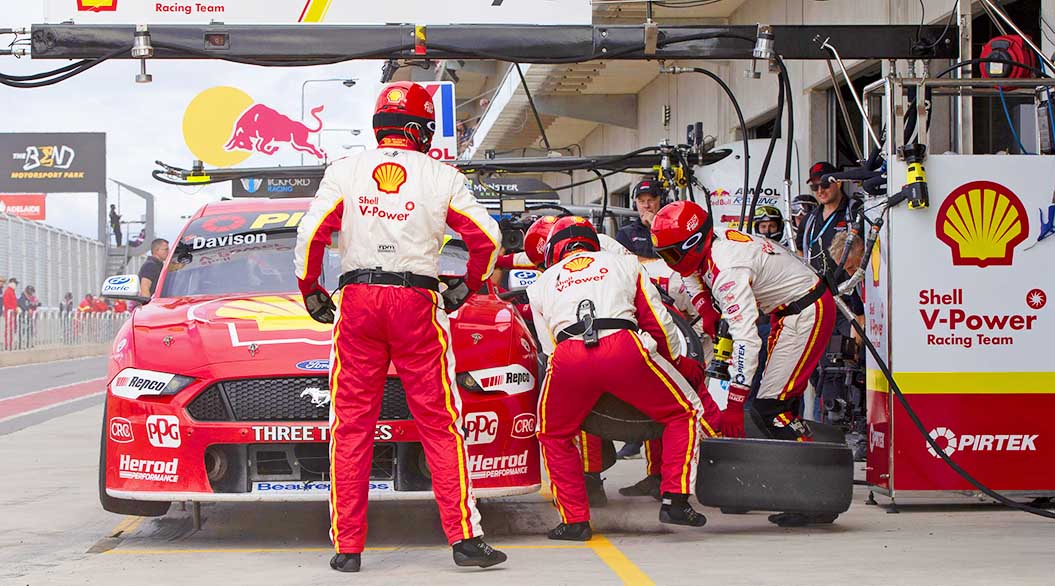 Davison maintained competitive pace throughout the middle of the race, holding a good buffer between himself and P4. With no pressure coming from behind, Davison was able to comfortably bring it home in P3.
A bitter end to a sweet day for De Pasquale after suffering engine issues on lap two of the race. Great race pace and a quick stop from the crew meant Davison was able to advance three spots and finish on the third step of the podium.

Davison is now 4th in the Drivers Championship, with De Pasquale sitting 7th. The Shell V-Power Racing Team is second in the Teams Championship with 1509 points.

De Pasquale spoke of the event, "It was one of those day which was close to being perfect. We got two poles, a win in the first race and in a really good position to win the second race. I had a good start, led the first lap and was really happy with how the car felt but then it all derailed from there with an engine issue."

"Overall it was still an amazing day. To get my first Supercars pole, add another one to the tally, plus win a race is pretty special and the cherry on top was to have Will complete the team's 1-2 in Race 10."

Davison said, "Definitely happy! Yesterday was tricky because I knew there was so much potential in the car so it was just frustrating with the weather and not being able to show it, so to have a dry day today, we really got to show the teams potential with a 1-2 qualifying and race result. A huge congratulations to Anton for the win. It's great to be apart of such a solid team result."

"A good salvage for me in the second race after starting fifth. We went really aggressively with the strategy pitting really early but I think it was definitely the right call so certainty really happy to keep the consistency up with another podium."