News
2021 Recap of The Darwin Triple Crown
The Shell V-Power Racing Team experienced the full spectrum of emotions on the opening day of racing at the Darwin Triple Crown. The day started on a high for young-gun Anton De Pasquale after claiming pole position and two records but ended in disaster on the opening lap of Race 12. Teammate Will Davison fought his way up to P14 in the race after a disappointing qualifying.
Anton De Pasquale - No. 11 Shell V-Power Racing Ford
Qualifying Part 1 - 12th (Fastest Lap: 1m06.4765s)
Qualifying Part 2- 6th (Fastest Lap: 1m05.7372s)
Top Ten Shootout - 1st (Fastest Lap: 1m05.2904s)
Race 12 - DNF

Will Davison - No. 17 Shell V-Power Racing Ford
Qualifying Part 1 - 24th (Fastest Lap: 1m06.9059s)
Qualifying Part 2 - n/a
Top Ten Shootout - n/a
Race 12 – 14th (Fastest time:1m07.4988s)

Race 12

Anton De Pasquale put together textbook qualifying, making his way through the two knock-out sessions to the Top Ten Shootout. He not only claimed his third consecutive pole position, but he also matched Mark Skaife's 30-year record and broke Scott McLaughlin's qualifying lap record at Hidden Valley. Will Davison was disappointed with his start to the day, failing to make it past the first qualifying session.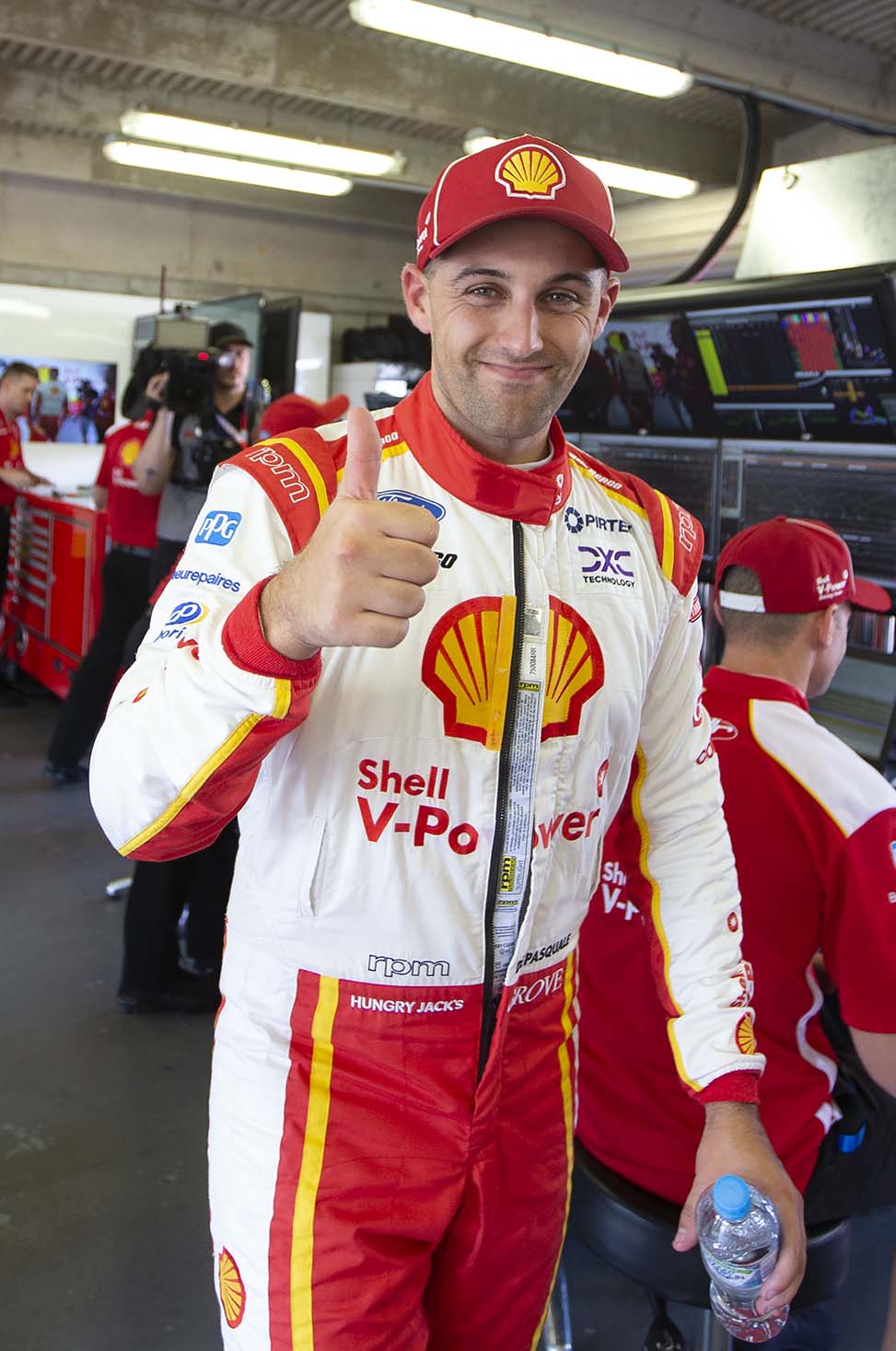 The start of Race 12 was hectic with Van Gisbergen quick to make a move on De Pasquale. He dived down the inside of the No. 11 Ford Mustang at turn one on the opening lap and move into P1. Mid-corner, De Pasquale was hit from behind by Pye which triggered a five-car pile-up. While Pye later received a drive-through penalty for the incident at turn 1, it was little consolation for De Pasquale, who had received significant damage to his car. His race was over.

Davison received a minor tap on his rear bar during the lap 1 carnage but escaped unscathed and was in P19 at the race restart. Davison made his compulsory stop on lap 21 and it was a solid stop by the crew. Rejoining the race in fresh air, Davison showed great pace as he closed the gap to Whincup.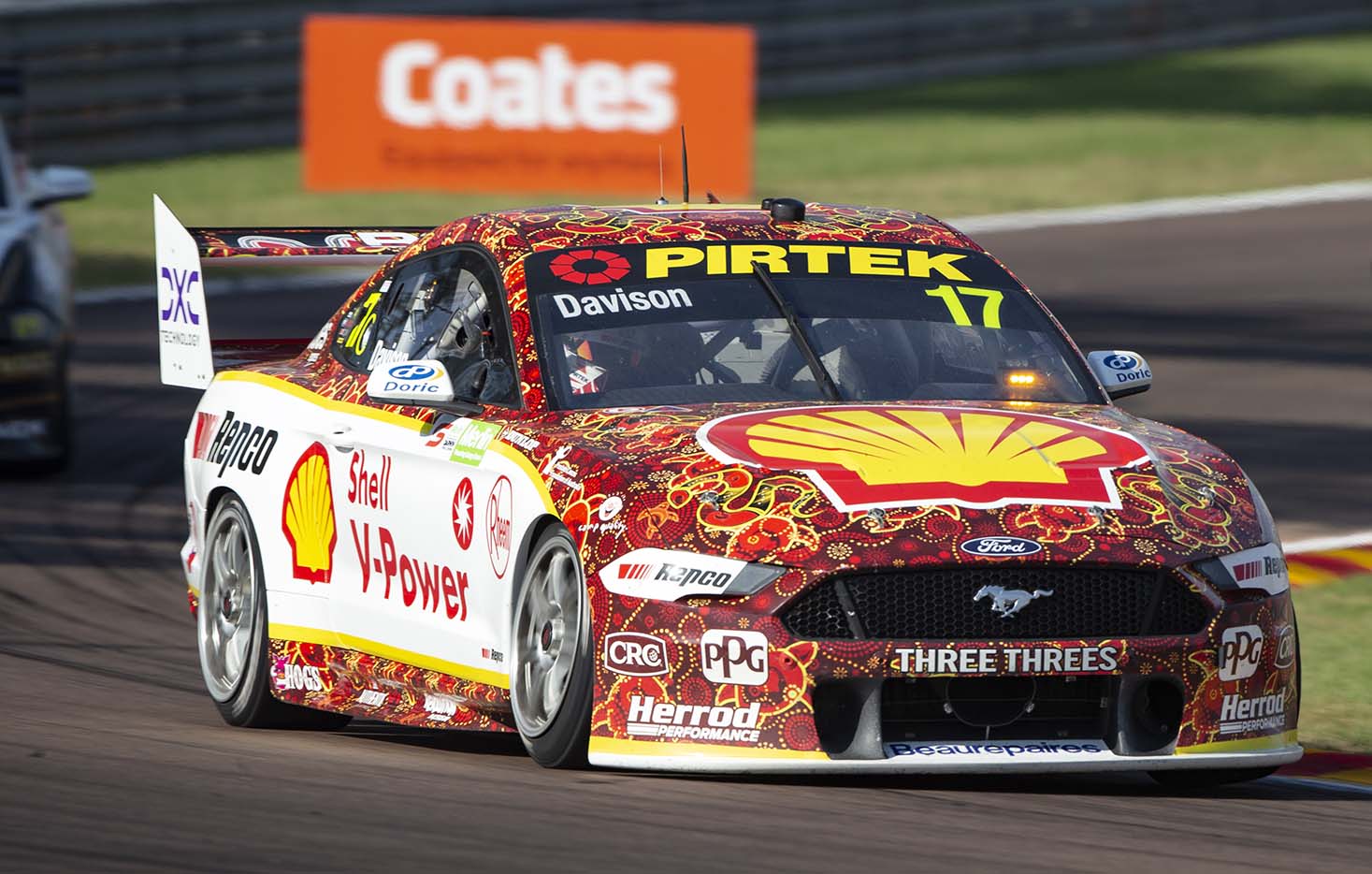 With seven laps remaining, he had driven up to the rear of Whincup and was in P13. Stuck in dirty air, Davison was unable to make his way past Whincup. On the final lap, Shane Van Gisbergen, on fresher tyres, was able to make his way past Davison. He finished Race 12 in P14.

De Pasquale commented, "Today started off really well. We made it through qualifying and into the shootout where I managed to put it on pole.

"Then what can I say about the race? It was over before it started. I just got hit from behind and that was the day done. I really disappointed by I know the crew will do an awesome job overnight getting the car ready for tomorrow, and we'll go again."

Davison added, "There's not a lot to say about today other than I'm it's over because it was very obviously disappointing. It was a very strange qualifying session; the track was massively slippery out of the gate, and we just missed out on that first segment with the track evolution. It was frustrating not to be able to really get a good read on the car."

"In the race, I tried to steer clear the carnage and the car was fast, but I got stuck in dirty air and there's not much you can do from there. But the good thing is we got a new day tomorrow."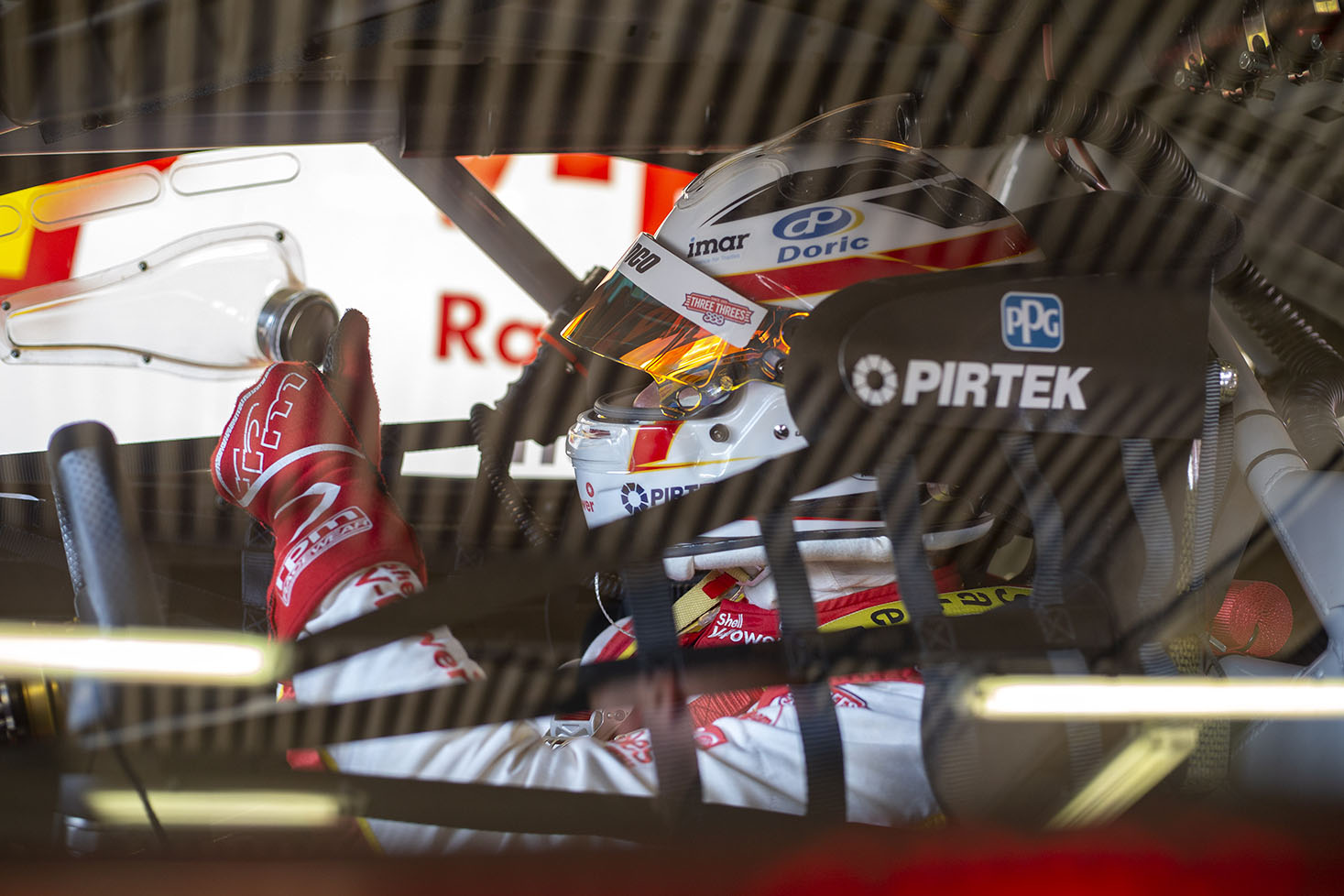 On Sunday, it was a day of redemption for Will Davison on the final day of racing at the Darwin Triple Crown, claiming two podiums, two consecutive pole positions (five consecutive pole positions for the Shell V-Power Racing Team), and more qualifying lap records.
Anton De Pasquale - No. 11 Shell V-Power Racing Ford
Qualifying Race 13 – 3rd (Fastest Lap: 1m5.4606s)
Qualifying Race 14 – 3rd (Fastest Lap: 1m05.0875s)
Race 13 – 6th (Fastest Lap: 1m07.4193s)
Race 14 – 12th (Fastest Lap: 1m07.5071s)

Will Davison - No. 17 Shell V-Power Racing Ford
Qualifying Race 13 – 1st (Fastest Lap: 1m5.0575s)
Qualifying Race 14 – 1st (Fastest Lap: 1m04.9553s)
Race 13 – 2nd (Fastest Lap: 1:07.3901s)
Race 14 – 2nd (Fastest Lap: 1:07.4369s)

Race 13

Putting the woes of yesterday behind him, Davison was on fire in qualifying this morning. He claimed his first pole position for the Shell V-Power Racing Team and broke the fastest qualifying lap time set by his teammate just one day ago. De Pasquale showed good qualifying pace once again, setting the third-fastest time of the session.

At the start of Race 13, Van Gisbergen was fast off the started and managed to take the lead from Davison by taking the inside line on the approach to turn 1. Winterbottom and Whincup went wide and tried to pass around the outside but couldn't get by, leaving Davison and De Pasquale P2 and P3, respectively.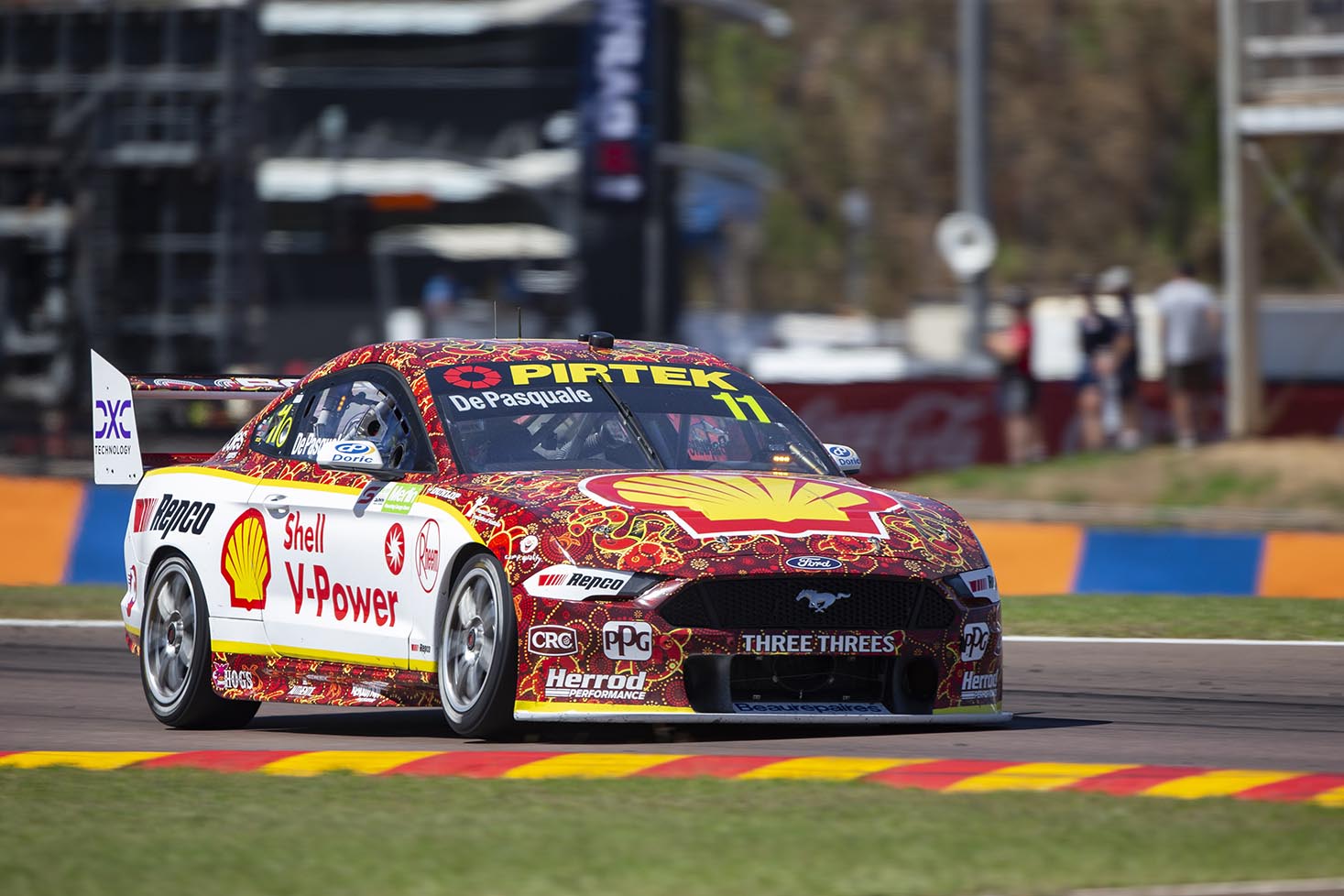 The No. 17 and No. 11 Ford Mustangs followed Van Gisbergen until their first pit stops. De Pasquale was first in for rear tyres on lap 10, but unfortunately lost time during the stop after a problem with a rattle gun. Davison made his compulsory stop just two laps later and also took on a fresh set of rear tyres.

Davison rejoined the race in front of a charging Mostert. When all stops were completed, Davison was still P2 behind Van Gisbergen, and De Pasquale had dropped in behind Whincup and Winterbottom in P6.

That's where they stayed to the finish line. Davison claimed the second step of the podium while De Pasquale finished the 38-lap sprint in P6.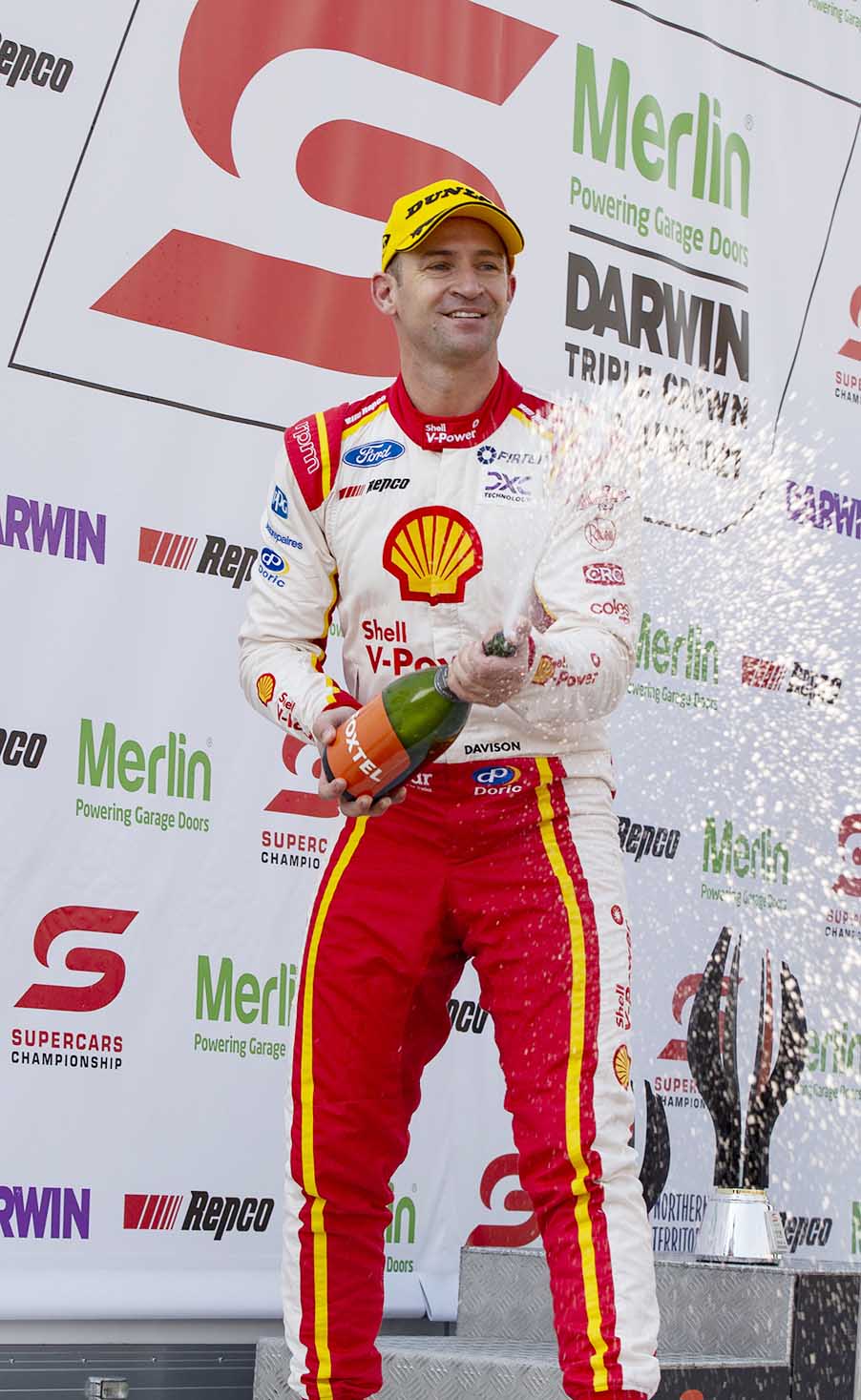 Race 14

The second qualifying session of the day was a carbon copy of the first, with Davison again claiming pole position, beating his previous fastest time. De Pasquale again clocked the 3rd fastest time.

Davison and Van Gisbergen locked out the front row for the start of Race 14, and it was Van Gisbergen who got the better jump when the lights went green. Davison slotted into P2. Meanwhile, De Pasquale battled side-by-side with Whincup in to turn 1 but held on to P3. Not letting Van Gisbergen out of their sight, the three front-runners settled into position ahead of Courtney in P4 and Whincup in P5.

De Pasquale was the first to stop for fresh rubber on lap 15 but stalled out of the box and was passed by Whincup in the lane. Two laps into his second stint, De Pasquale ran deep into turn 1, causing him to detour onto the grass, which cost him track position.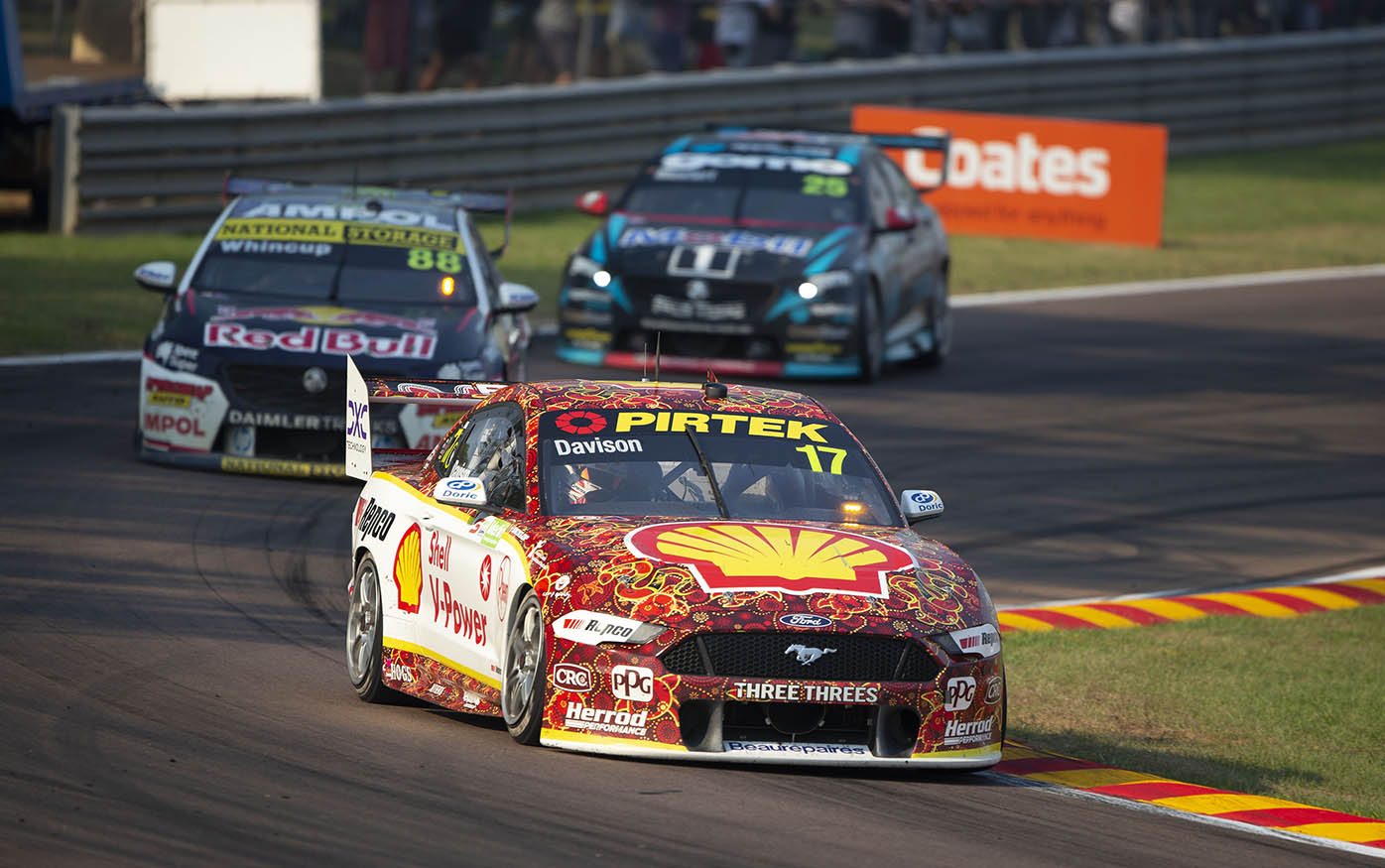 Davison made his stop on lap 16 and rejoined the race ahead of Whincup, who was trying to undercut him in the lane. Van Gisbergen kept his advantage over Davison when he pitted and returned to the race ahead of the No. 17 Ford Mustang.

Davison was unable to make up ground on Van Gisbergen in the second stint and had to be content with P2. When the pit stop cycle was complete, De Pasquale was in P12, and while he battled to make up positions in the closing stages of the race, he did not progress further.

Davison moves up to 4th in the Drivers' Championship while De Pasquale moves up to 8th. The Shell V-Power Racing Team is now 2nd in the Teams' Championship.

De Pasquale said, "It was really good to bounce back in qualifying this morning after yesterday's race. The car was fast, and I was trucking along in that first race today. But unfortunately, we had an issue with a rattle gun and I lost positions during the stop."

"Then in the second race, we were sitting third off the start, and again the car was really good. But during the pit stop I stalled and messed that up which put us back."

"Our focus now is on Townsville in a couple of weeks where hopefully we can get back to the front."

Davison went on to say, "I sort of feel good that I'm angry. Not angry, but it's just great to be back in this position. It's a tough game being up against the quality of our opposition. I'm loving it. Loving the challenge. It was a very rewarding morning after a really tough day yesterday. But all-in-all, the year's been really encouraging, and we're still learning all the time.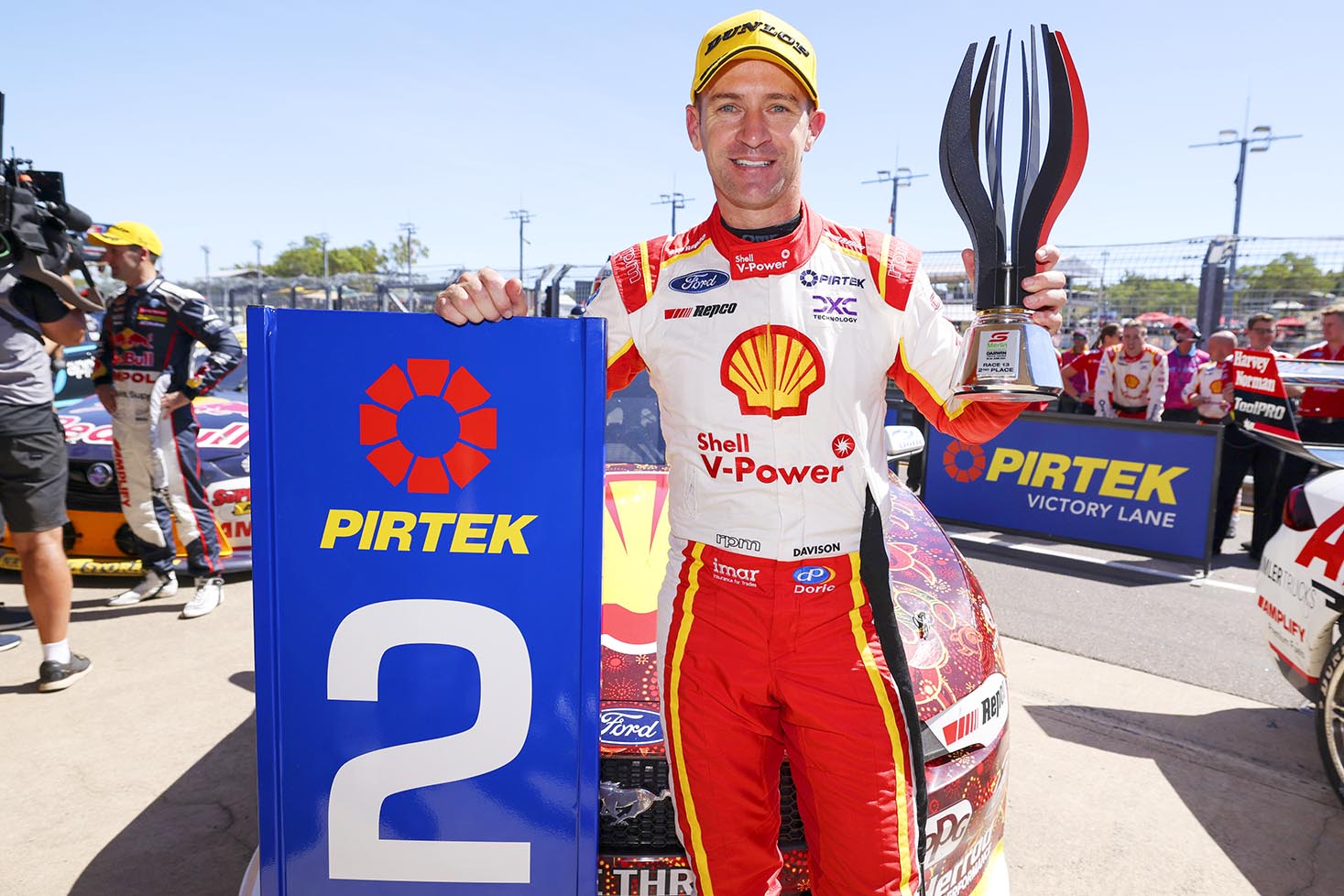 "We worked really, really worked hard last night. I didn't sleep much because I had such a bad day, and I was just a bit unsure what was going to happen this morning. It's very rewarding when you hook the car up and nail a couple of poles."

"I just couldn't quite match Shane off the line. It's as simple as that. I mean, I think the pace of the car was pretty strong all day, but it was tough in the dirty air."

"There was nothing between us, but track position was really key at the start. The team did an exceptional job, and our stops were good. Overall, it was a good, clean day."