News
DJR's 100th Win and Points Lead in Darwin
Race 15 saw contrasting fortunes for Scott McLaughlin and Fabian Coulthard. Starting second, McLaughlin settled into the second position for the opening stint of the race behind polesitter David Reynolds. The pit stops started on lap six, with McLaughlin taking his first stop on lap seven. The team changed right side tyres only, with McLaughlin emerging as the effective leader in front of Nissan's Rick Kelly. McLaughlin was back up to p10 on lap 17, and continued his charge back to the lead as the pit stop cycle continued.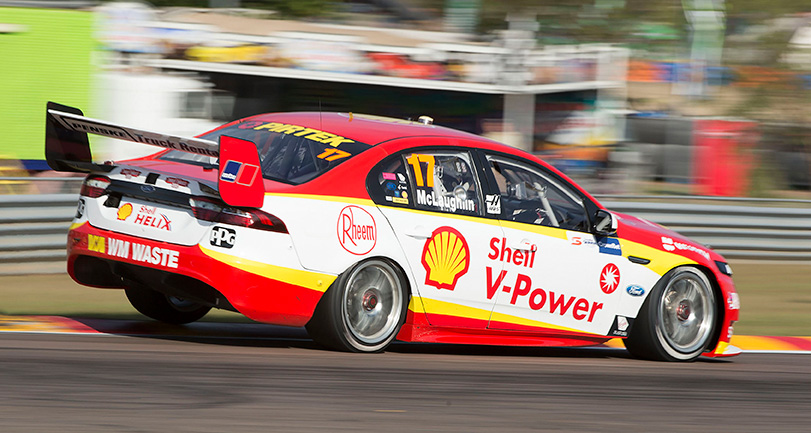 McLaughlin was challenged late in the race by Shane van Gisbergen, who pitted on lap 20 and was using much fresher tyres to charge through the pack. He got within half a second of McLaughlin by lap 33, but McLaughlin drove well and was able to hold him off to take the team's 100th all-time victory. Coulthard's race saw him start 14th. He got up to 10th position on lap one, and continued to push through the pack, pitting from fifth on lap 12, rejoining in 18th. He was back into 14th place late in the race, however as he began to struggle with tyre life, those who stopped late were able to push past Coulthard to see the No.12 driver finish 15th.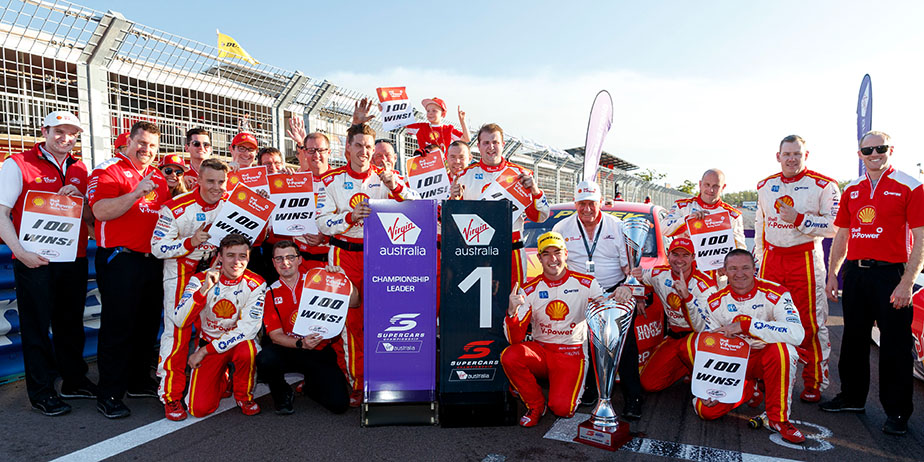 On the team's 100th win, Mclaughlin says "I'm glad I didn't have a heart rate monitor on – I would have blown the thing off the scale! Thanks to everyone at Shell V-Power Racing Team, they put a lot of faith in me to bring it home today, and thankfully I did. I wanted that win really bad to repay all the hard work the boys have been doing behind the scenes, and for it to be the 100th win for the team makes it a really great day."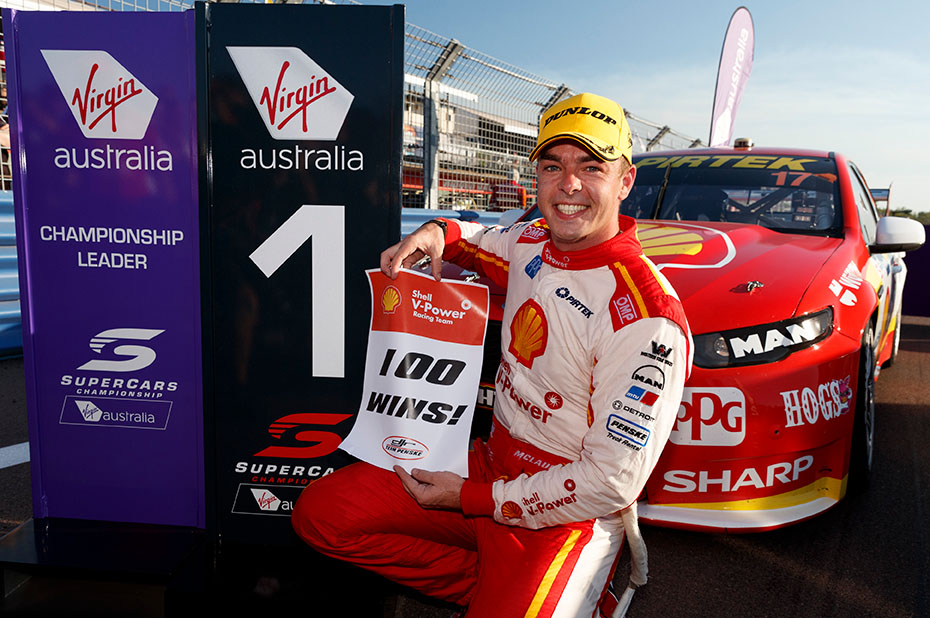 Race 16 started well for the Shell V-Power Racing Team, with both Scott McLaughlin and Fabian Coulthard getting off the line strongly on the long chute down to turn one. McLaughlin settled into third place for the opening stint, with Coulthard up one spot to seventh. The opening stint was longer than yesterday, with Scott pitting on lap 21 and re-joining p13 in effective fifth place on the road. In-car cameras showed that McLaughlin's cooling fan air hose had disconnected from his helmet, in a 68-degree Celsius cabin to test his preparation and fitness. To add to the issues, Car No.17 started to blow smoke around lap 30, with oil temps rising to cause oil surge/blow-by in the engine. Car No.17 engineer Ludo Lacroix coached McLaughlin to ensure that he got cooling air into the engine on the straight across each lap, and the problem was able to be managed as temperatures came back under control.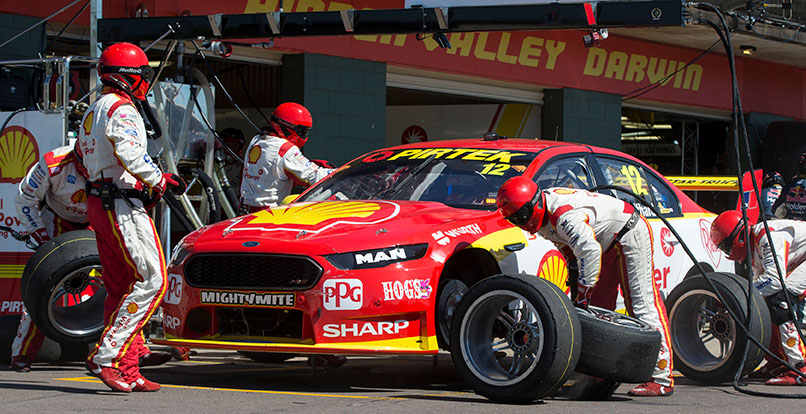 A lap 55 Safety Car bunched the field back up, however on the restart it was status quo at the front as Reynolds pulled away from McLaughlin, who continued to manage his engine issue whilst defending from Jamie Whincup behind him. McLaughlin was able to maintain position and took a hard-earned second place for his second podium of the weekend, extending his championship lead to 161 points. Coulthard was mid-pack after his first stop, and then made a series of moves to get through the field passing several cars to get himself back to 8th position. He was under some pressure late in the race but held the spot to finish where he started.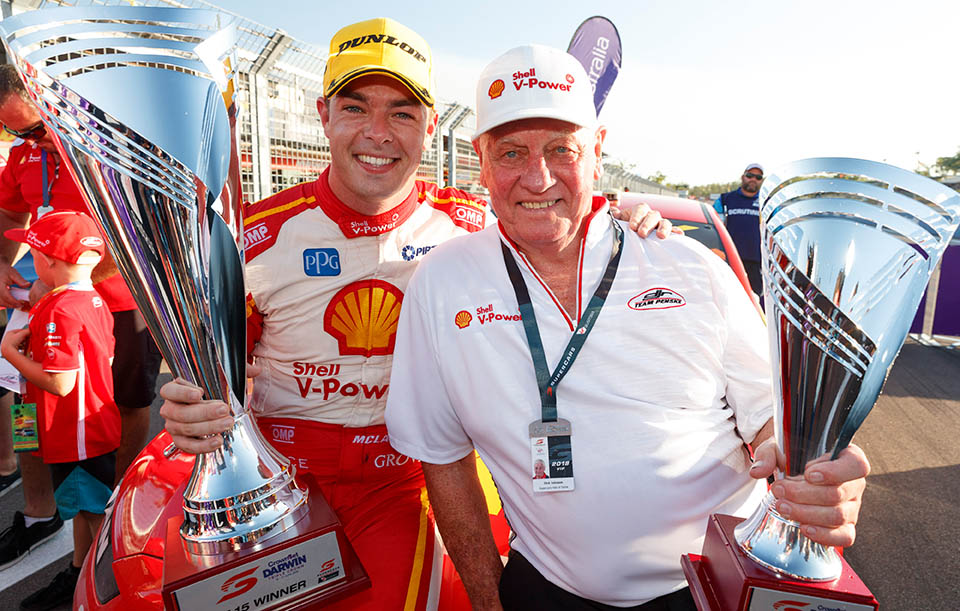 Coulthard maintains seventh place in the points, whilst the team continues to lead the Teams' points by 48 over Triple Eight. McLaughlin now leads the Championship by 161 points from Shane van Gisbergen.