News
Ipswich SuperSprint 2018 Recap
Shell V-Power Racing Team endurance co-driver Tony D'Alberto took to the circuit first up Friday morning, in both the No.12 and No.17 Fords for a 30-minute additional driver session. He rolled out for the first 15-minutes in the No.12, the car he will share with Fabian Coulthard across the upcoming Pirtek Enduro Cup, gaining important miles on track to reacquaint himself with these cars before switching into the No. 17.

Opening practice for main drivers ran without issue. Both drivers did sighting laps and then focused more on race pace than outright qualifying pace throughout the 45-minute session. The back half of the session was spent doing long runs in both cars, testing pace on used tyres and checking fuel economy in preparation for the 320km of racing ahead this weekend.

The final session focused more on qualifying pace, with a set of green tyres put aside for each car. They both worked through a program of changes, before bolting on greens for a run at the end. McLaughlin got a low fuel alarm on his final lap, so didn't complete his flyer. Coulthard went second fastest for the session, only 8/100ths off Shane van Gisbergen.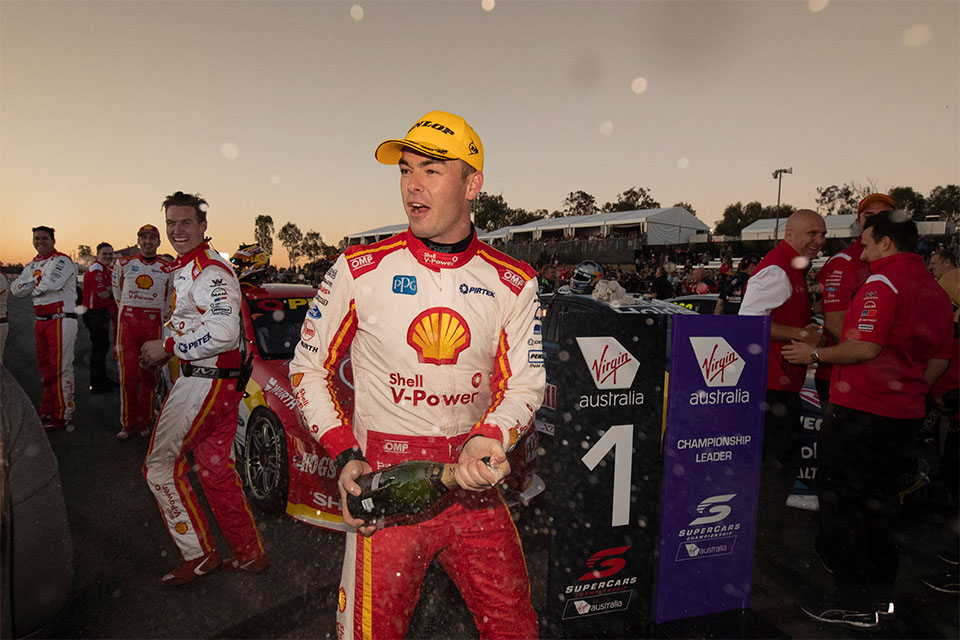 After a penalty for Chaz Mostert in Saturday's qualifying, the two Shell V-Power Fords started side-by-side on the front row of the grid with Scott McLaughlin earning his ninth pole of 2018. The start was strong from both cars, going into turn one side-by-side, with respect shown from both drivers, slotting into first (McLaughlin) and second (Fabian Coulthard) across the first stint of the race. McLaughlin took his stop on lap 14, and rejoined the race in effective first place, just in front of Chaz Mostert. McLaughlin was then able to maintain the lead across the rest of the race, managing the gap back to the field throughout to take a dominant win – his seventh of 2018.

Coulthard sat in second place until lap 14, when he was pushed to third by a charging Shane van Gisbergen. They pitted nose-to-tail and exited in the same order with Coulthard sitting in effective fifth. He passed Mostert on the road to claim fourth place, then chasing Lowndes in an attempt to gran the final podium place for the majority of the race. He was passed by Whincup – who was on much fresher tyres - late in the race and finished in fifth place.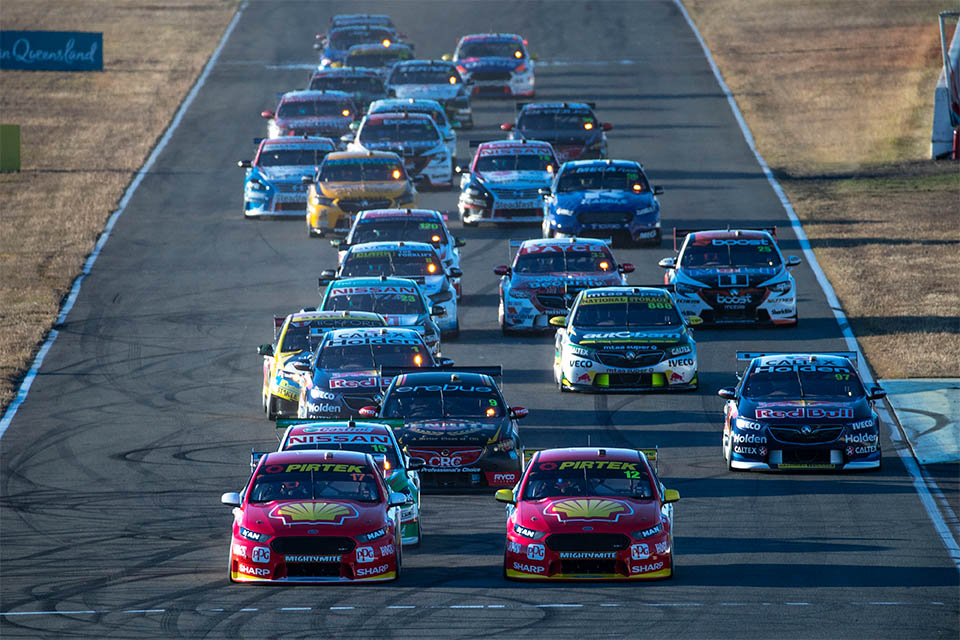 Scott McLaughlin started from first place on the grid after taking his tenth pole of 2018 earlier on Sunday. Shane van Gisbergen – who started off second – got a stellar start, pushing McLaughlin into second for the opening stint of the race. He took his first stop on lap 10 and came back out in effective first place after racing Chaz Mostert at pit exit. Scott maintained that position until his second stop on lap 35. Van Gisbergen took service one lap later and dropped out onto the circuit one-and-a-half seconds in front of McLaughlin. Despite his best efforts, McLaughlin would stay in that spot for the final 30 laps of the race.

Coulthard's race was a relatively lonely one, sitting in fourth place until his first stop on lap 11. He maintained that spot through the middle stint of the race, before taking his final stop on lap 38. Whincup jumped him in the final stops, so he rejoined in fifth position and stayed there for the remainder of the race, running to fuel and tyre wear numbers to make it to the finish. He remains sixth in the points, with the team second on the ladder. Mclaughlin maintains his Championship lead, 131 points in front of Van Gisbergen. The team is second in the Teams' points, 87 behind Triple Eight.

COULTHARD QUOTE: "My start was OK, but we just didn't have the tyre life of the guys in front of us today. We stuck to our strategy, and we weren't in much of a position to change it too much due to that tyre life we had. I was just driving to maintain the gap to those behind me and take some points home."

MCLAUGHLIN QUOTE: "We didn't get the start, and then once we got up to Shane we didn't have enough to get past. I think we probably had the pace if we'd been in front, and would have been able to keep the gap like he did. I think Shane and I probably had the two best cars out there, and we maximised those today. I can't be unhappy. Two poles, a win and a second, and we leave with the same points gap we arrived with. A good weekend overall."
DRIVERS' CHAMPIONSHIP POINTS

| | | | |
| --- | --- | --- | --- |
| 1. | Scott McLaughlin | 2321 | |
| 2. | Shane Van Gisbergen | 2190 | -131 |
| 3. | Jamie Whincup | 1870 | -451 |
| 4. | David Reynolds | 1838 | -483 |
| 5. | Craig Lowndes | 1821 | -500 |
| 6. | Fabian Coulthard | 1652 | -669 |
| 7. | Rick Kelly | 1522 | -799 |
| 8. | Chaz Mostert | 1517 | -804 |
| 9. | Scott Pye | 1489 | -832 |
| 10. | Tim Slade | 1397 | -924 |
TEAMS' CHAMPIONSHIP POINTS
| | | | |
| --- | --- | --- | --- |
| 1. | Triple Eight Race Engineering (Whincup/SVG) | 4060 | |
| 2. | Shell V-Power Racing Team | 3973 | -87 |
| 3. | Walkinshaw Andretti United | 2815 | -1245 |
| 4. | Erebus Motorsport | 2761 | -1299 |
| 5. | Tickford Racing (Mostert/Winterbottom) | 2743 | -1317 |
| 6. | Brad Jones Racing | 2727 | -1333 |
| 7. | Nissan Motorsport (Kelly/Heimgartner) | 2562 | -1498 |
| 8. | Garry Rogers Motorsport | 2015 | -2045 |
| 9. | NISMO (Caruso/De Silvestro) | 1904 | -2156 |
| 10. | Triple Eight Race Engineering (Lowndes) | 1821 | -2239 |