News
van Gisbergen and Premat first internationals to win PIRTEK Enduro Cup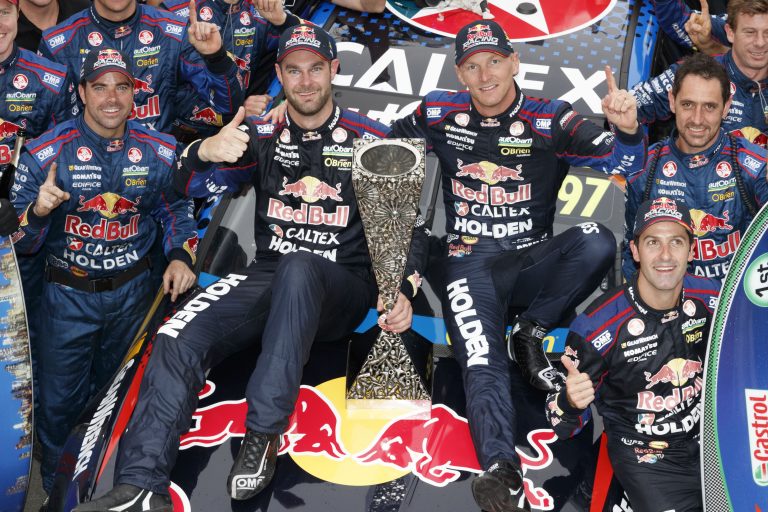 Shane van Gisbergen and Alex Premat accept the PIRTEK Enduro Cup on the Gold Coast
Shane van Gisbergen and Alex Premat have become the first non Australian driver combination to win the PIRTEK Enduro Cup after finishing second today at the Castrol Gold Coast 600.

The Red Bull Racing Australia pairing finished second in three of the four PIRTEK Enduro Cup races and won yesterday to be the most dominant force in the endurance specification of the Virgin Australia Supercars Championship.

In the end, van Gisbergen and Premat won the Cup by 159 points over Bathurst 1000 Champions Will Davison and Jonathon Webb who have had a stunning PIRTEK Enduro Cup.

Third placing was today's podium finishers, Volvo's Scott McLaughlin and David Wall who too had a stellar PIRTEK Enduro Cup campaign.

Red Bull Racing Australia's record in the PIRTEK Enduro Cup is nothing short of extraordinary – winning three of the four Cups held in Supercars' history.

Such was their dominance this year, that three of the top five cars were from the Triple Eight Race Engineering team, with a customer car – that of the Tekno Autosport team – also inside the top five.

Van Gisbergen is now the most successful podium place-getter in PIRTEK Enduro Cup history, eclipsing double Cup Champion Warren Luff with eight podiums, whilst Whincup and Dumbrell have pulled clear of Jonathon Webb as the most successful race winners in Cup history with four apiece.

Holden is the only manufacturer to have won the PIRTEK Enduro Cup and after this weekend and has extended its wins to 12 individual race wins.

Through his consistency in the PIRTEK Enduro Cup , van Gisbergen has opened his lead in the Championship overall.
SHANE van GISBERGEN:
"The guy beside me (Premat) has done a fantastic job right throughout the season. It has been great working with him and all the team finishing with second, second, first and second in the PIRTEK Enduro Cup races is great consistency.

"The PIRTEK Enduro Cup is getting more and more prestigious each year and our record from this year is pretty tough to beat.

"We're very lucky guys to be driving this car and carve through everyone like we did today.

ALEX PREMAT:

"It is great to win the PIRTEK Enduro Cup, I am very happy to be part of Triple Eight and Red Bull Racing. Four races and four podiums is a pretty good job. They make me stronger, I work hard and the team makes everything possible.

"I didn't scratch one part of the car right throughout the three races, I think Roland (Dane, Team Boss) was pretty happy with that.

"Being alongside the likes of Craig and Richo, Paul, Jamie and Shane and the whole team is incredible."

2016 PIRTEK ENDURO CUP POINTS:
Shane van Gisbergen/Alex Premat – 840 points
Will Davison/Jonathon Webb – 681
Scott McLaughlin/David Wall – 602
Jamie Whincup/Paul Dumbrell – 555
Craig Lowndes/Steven Richards – 516
Chaz Mostert/Steve Owen – 504
Nick Percat/Cameron McConville – 483
Fabian Coulthard/Luke Youlden – 468
Tim Slade/Ash Walsh – 468
Michael Caruso/Dean Fiore – 444