Products
Lubrication - General Equipment

Pirtek are pleased to announce the release of our comprehensive range of Lubrication 'General Equipment' products via our network of 97 Supply & Service Centres throughout Australia.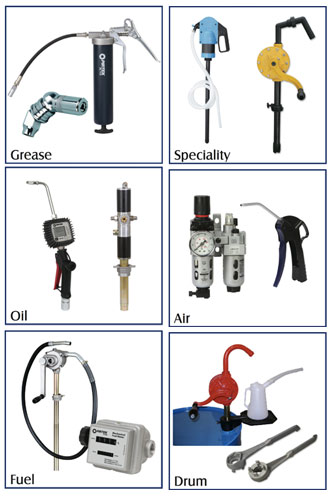 This exclusive Pirtek quality range provides end users with excellent value for money and fit for purpose functionality designed to meet the demands of this diverse market.
The product programme consists of;
• Greasing Equipment
Grease guns & accessories, fittings/nipples, pumps, meters, control valves etc
• Oiling Equipment
Pumps (drum, air-ratio & electric), control guns, meters, cans-funnels-measures etc
• Fuelling Equipment
Pumps (manual & electric), nozzles (manual & automatic), meters, filters etc
• Speciality Equipment
Pumps (chemical, syphon & lever), drum handling equipment & accessories
• Air Line Equipment
Filter-Regulator-Lubricators, blow guns & accessories
For product availability & pricing please contact your closest Pirtek Service and Supply Centre.
Click below for the Pirtek Lubrication – General Equipment Sales Brochure and the General Equipment Technical Catalogue: